Finty's 'in-house millennial' reviews new cloud-hosted digital bank – Up – and gives his thoughts on why digital banking is the future.
Millennials — more than any other demographic — don't trust the traditional banking system and are looking for alternative options.
How Up Bank is combating consumers expectation of convenience and transparency through push notifications, merchant ID identity, spending habits insights and much more.

Monthly account fee
$0.00
Interest rate
Up to 3.60% p.a. (0.00% p.a. + bonus 3.60% p.a.)
Highlights
Join in minutes and pay no monthly fees. Get Apple Pay™, Google Pay™, and Samsung Pay™ instantly.
Create and customize multiple savers for your life goals instantly.
Earn up to 3.60% p.a. interest once activated. Make 5 successful purchases using your Up or 2Up debit card, Apple Pay™, Google Pay™, or other digital wallets in a calendar month. (Terms and Conditions apply).

Product & offer T&Cs @up.com.au/terms. Up accounts issuer Bendigo and Adelaide Bank.
---
Pros
Enjoy no monthly fees.
Get monthly, weekly, and daily insights into your spending habits.
No International ATM fee at most major bank ATMs.
Up Bank will be bewildering for most baby boomers, puzzling for Gen Xers, and possibly a yawn for older members of Gen Y. That's fine, because Up Bank is not for them. It's for younger Millennials and members of Gen Z, like me. We understand it, and we need it.
When they weren't using cash, my grandparents' generation paid with cheques and tried to keep track of their balance by doing sums on the stubs left behind.
My parents scoffed at this, had their debit and credit cards manually imprinted, then swiped, then inserted, and by the time they got to waving and tapping they thought the future had arrived at last.
And for the rest of us, who know the future can never be pinned down, there's Up Bank and the Up app + debit card.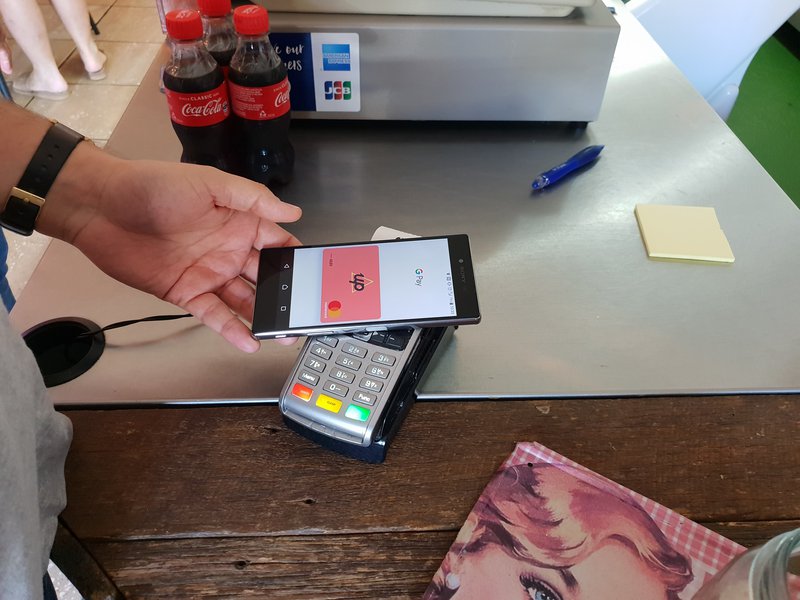 Digital next gen neobank
Up Bank got a head start on their digital neobank competitors by partnering with Bendigo and Adelaide Bank, so they were able to launch on 9th October 2018 without having to wait for a restricted banking licence. The banking platform is hosted by Google Cloud Services and is in fact Australia's first cloud-hosted bank.
Founder Dom Pym said at the launch that Bendigo and Adelaide bank gave them "the creative licence to design Up in the most 'non-bank' way possible. It has meant we can offer customers a new way to manage their money ahead of everyone else".
Banking Royal Commission and an outdated traditional banking model
I don't know about you, but the revelations in the Banking Royal Commission left me with conflicted feelings about traditional banks. I also realise it is 2019, so I'm not standing in line waiting for a teller, or even an ATM. I want to control my finances online as far as possible, just as I do with every other part of my life. So I was ready to give Up a go.
Got a couple of minutes? Get the app. Get a card.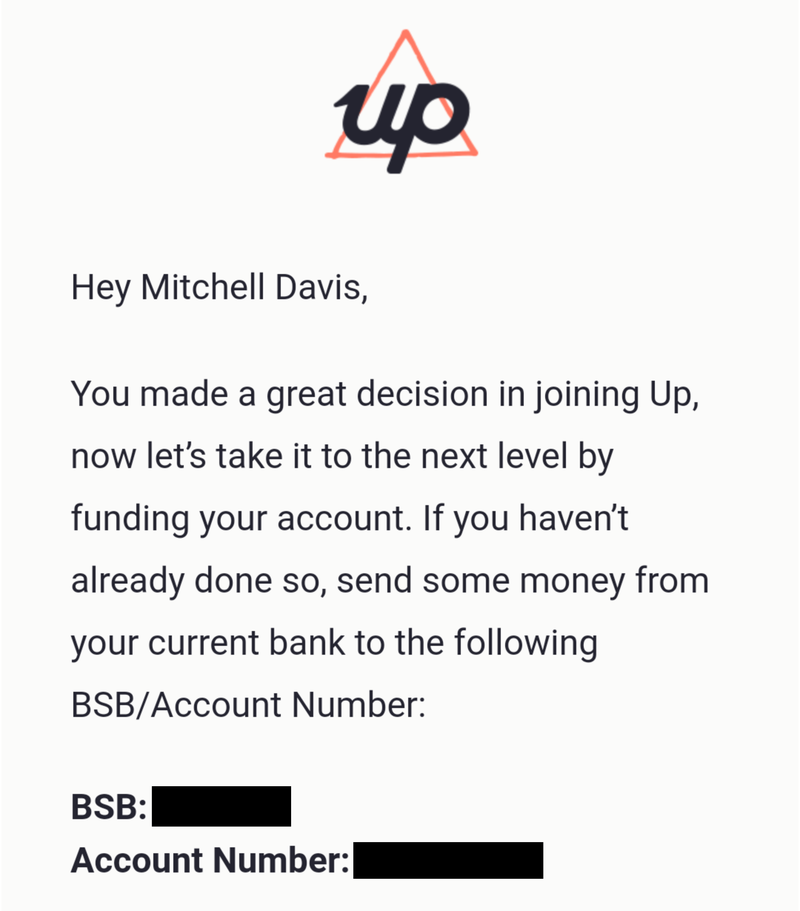 There's no waiting around with Up Bank. In less than three minutes I signed up, got the app and created my Everyday bank account after providing just my driver's licence details. (I could have used my Medicare card number or passport instead.) Nothing else required.
Another cool feature that saves me time is being able to pay with Google Pay via my Android phone and smartwatch. I always have my phone in-hand so it is even easier to use NFC to pay than conventional tap-and-go with a physical card. You can use Apple Pay if you have an iPhone or other Apple mobile device.
Up is also compatible with Garmin Pay and Fitbit Pay if you're one of those weird people who like to bank and pay while they're out exercising.
Loved their marketing material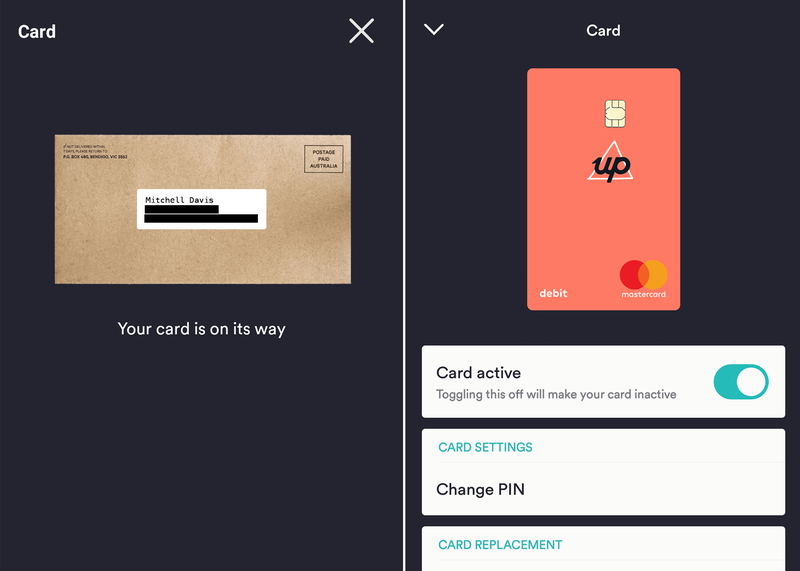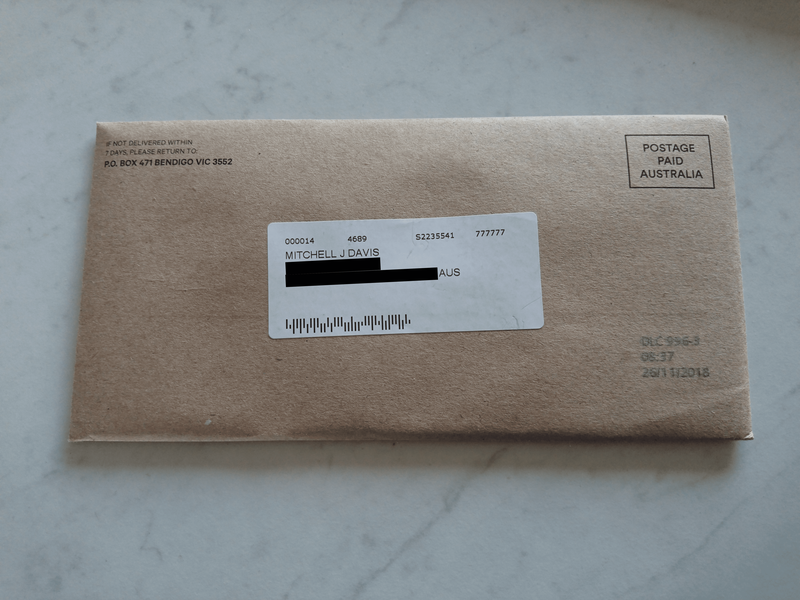 Working in the fintech space as I do, I absolutely love Up Bank's approach to packaging, presentation, and customer service. It's consistent from the moment you download the app until you have the card in your hand, and then use it.
Up sweats all the tiny details. The first little feature that had me hooked was the option in the app to click through and see my card before it arrived, neatly wrapped in the envelope it was in, complete with my personal details and address on the outside.
An embossed cardboard sleeve in 80s retro colours housed the card inside the envelope, with accompanying stickers emphasising the 'up YEAH!' message – which can't be missed because it's underscored by the card's pared-back and upended (i.e. vertical, instead of the traditional horizontal) design.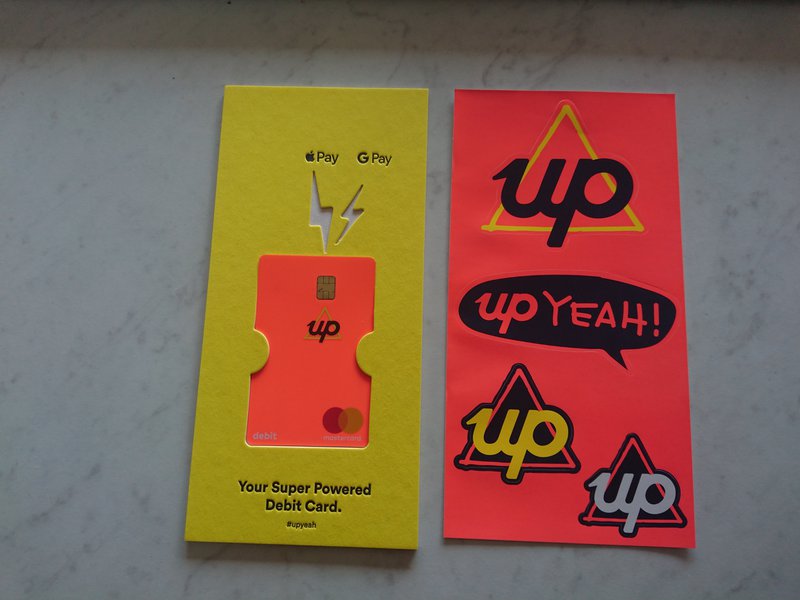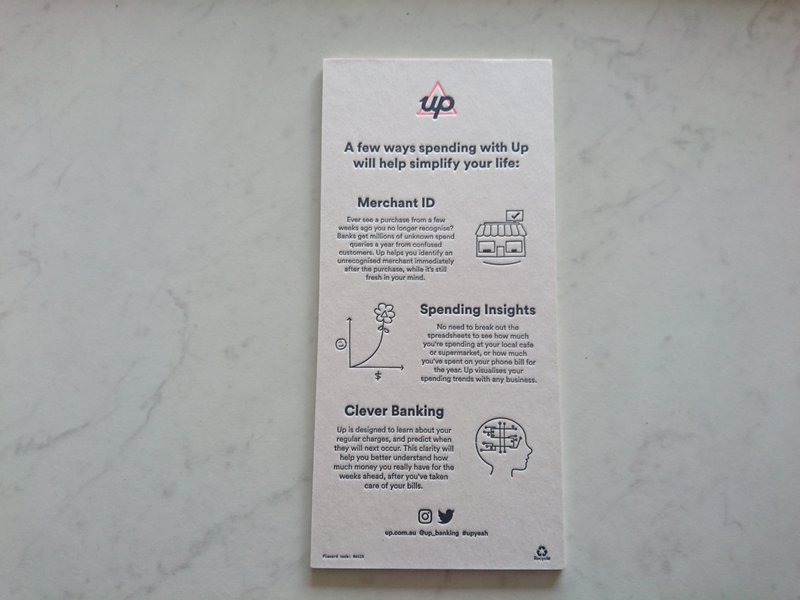 I have cards with a few different banks and none of them have managed to nail the App experience like Up Bank have.
Appreciated the UI and UX even more
If there is one thing that a lot of banks just cannot seem to get right, it is creating a simple app that is easy to use while maintaining full functionality.
Currently, I have cards with four different banks and none of them have managed to nail this area of their business. This isn't just me whining about my high expectations. If you have ever spoken to people about banks, or read any online forum about banks, it's a common complaint among customers.
Up's UI (User Interface) and UX (User Experience) are impressive. Everything is super easy to use and the platform feels like it has been created with user intent and tech as the primary consideration, and banking/debit card just being the product that happens to be hosted on this great app. You can tell that it's a bank built by techies, not bankers.
Having said that, the banking and card features are nevertheless truly awesome.
(Nearly) all the standard features, plus heaps that no one else has thought of
At the time of review I was using the beta version of the Up Bank app, which doesn't yet have all the features that will appear in the final version. But it does already have these standard banking app features:
Simple, secure sign-in
Access to mobile device payments
Transfer funds in/out of my accounts
Bank account management
Change PIN
Access to customer support
Alerts and notifications
Report card lost or stolen
Block/unblock a missing card 
Monthly spending automatically reported in categories, such as Good Life, Home, Personal, Transport makes budgeting so much easier
And it goes far beyond that. The extra features I particularly like are:
Push notifications of every spend, or other account transaction, in real time
Merchant ID, so that two weeks after the event I could identify, for example 'Port Macquarie Enterprises Pty Ltd' as being my local coffee shop
Merchant logos displayed next to the transaction, another at-a-glance ID aid
A ' Spending Insights' section, so that when I click on a particular transaction it tells me how many times I have made purchases at that business, total spend, and average spend per transaction
A 'Regulars' feature, which detects regular billers that I charge to my card and lists an estimate of upcoming bills so I get a heads-up before they are due, and some idea of how much discretionary cash I actually have
Notifications to tell you how much you spent last week, and how it compares to earlier weeks
Monthly spending automatically reported in spending categories, such as Good Life, Home, Personal, Transport
Optional inclusion of a balance display on every transaction notification – no need to swipe, drag, tap or log in to find out
A 'Time of Day' feature that tells you when, to the minute, a transaction occurred
A 'Location' feature that pinpoints where, geographically, you spent your money, even if you have location services turned off – it's a great memory jogger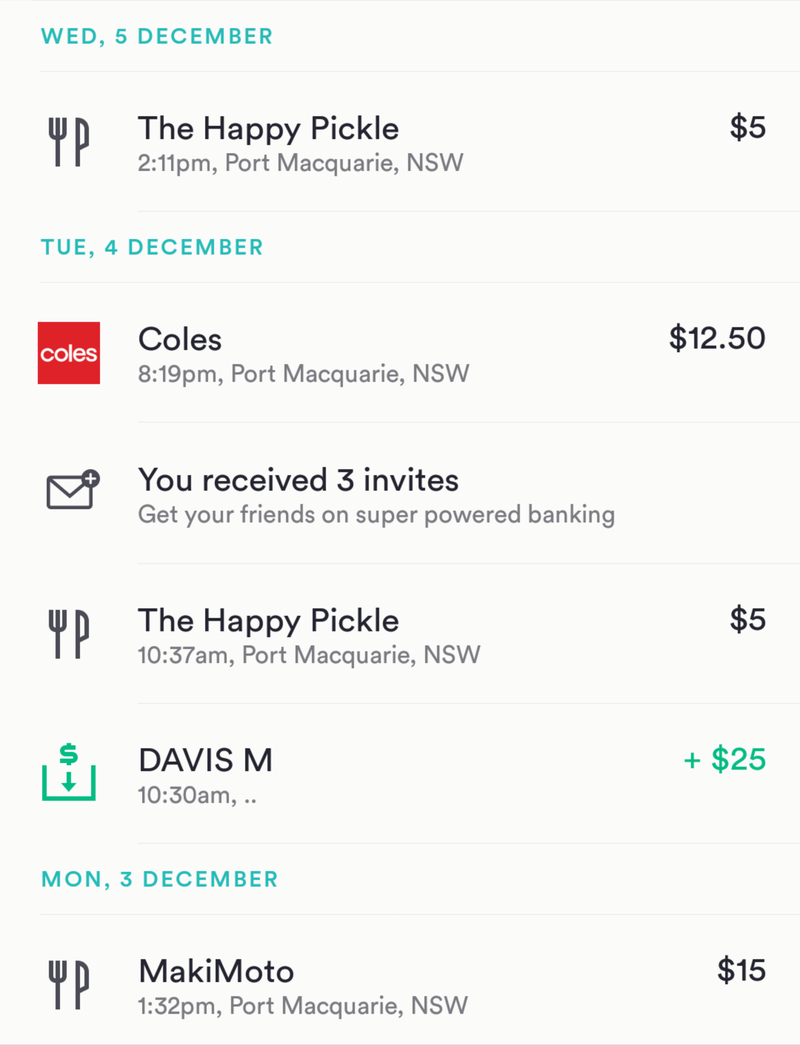 No overseas merchant transaction fees
There are a few debit cards, and also several credit cards, with no transaction fees levied on purchases made with merchants who use a processing centre located outside Australia. But charging a fee of between 2% and 3.5% for foreign currency conversion and/or overseas transaction processing is the norm.
So it's good to see that the Up debit card is one of the cards that don't charge this fee. It means that when I travel overseas, or shop online at places like THE ICONIC, I won't be slugged with an extra fee on top of the purchase price.
Other boring stuff that's actually really important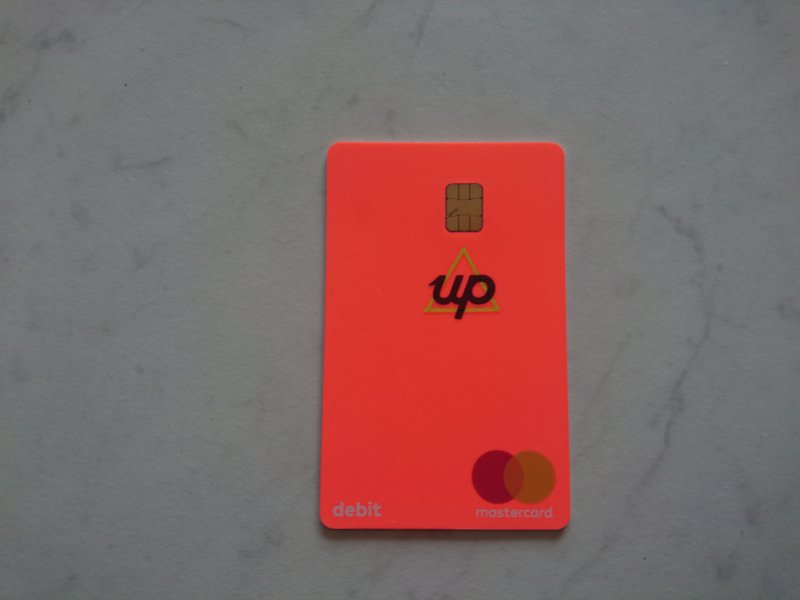 There were some other things I needed to take note of about the way Up Bank treats my money, mainly the potentially tedious things like fees and saving. I'm listing them here so that you don't need to search for them:
There are no monthly fees for using the card, no transaction fees, and no Australian ATM fees if you use an ATM at a major bank.
If you use an ATM overseas, you will be charged $1.50 for an enquiry, and $5 for a cash withdrawal.
If you overdraw your account, you'll pay an interest rate comparable to that charged by a 'low interest' credit card.
You can use the app to instantly create multiple Up Saver accounts (e.g. Christmas account, Holiday account, Apartment deposit account) to earn interest on your savings, with a special temporary bonus interest rate for new customers.
There's an optional round-up feature, to transfer your spare change to savings as you spend.
It may be neo, but it has old, solid backing
Call me a bit of a traditionalist if you like, but I believe you can't be too careful where your hard-earned money is concerned. I feel secure in knowing that Up Bank is backed by the Bendigo and Adelaide Bank for banking, Mastercard for payments, and the Google Cloud Platform for hosting.
Looking forward to digital bank credit 'cards'
Up Bank may not offer a credit card (yet), but I confidently predict that the day will come when digital banks are the norm and making us scratch our heads trying to figure out what credit cards will be called when the only place an actual card will be found is in a museum.