Looking for a foolproof gift for the man in your life? You can't go wrong with a wallet—it's an easy yet thoughtful present that he's bound to appreciate. Or are you just looking to refresh your daily carry?
We've trawled the web and researched oodles of stores selling wallets in Australia and abroad to put this article together. So without further ado, here are 5 of the best men's wallets that any man will love.
Bellroy Note Sleeve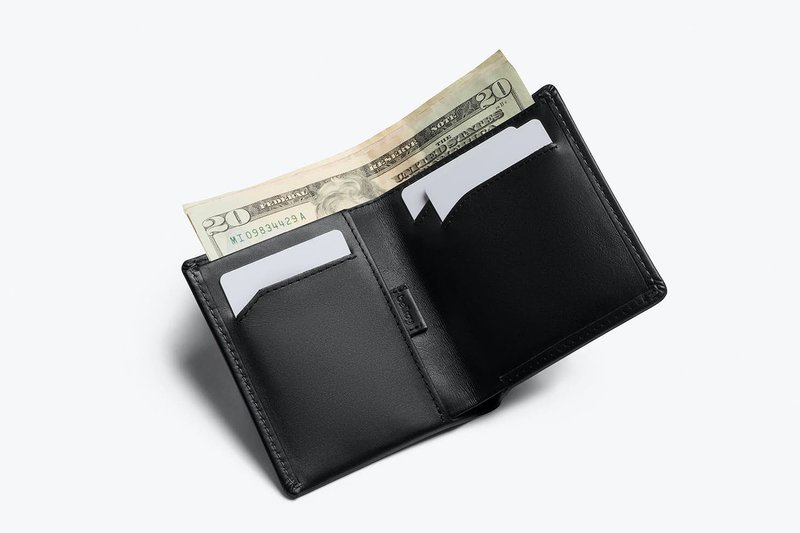 Price: AUD $129
Material: Leather
Dimensions: 102 mm x 90 mm
Colour: Black, Charcoal, Cocoa, Java, Navy, Racing Green, Red Earth, Teal, Toffee
RFID protection: Yes
This high-quality wallet is made by Bellroy, one of the top wallet brands available.
It is made of premium, environmentally-certified leather that will last for years to come. The wallet comes in different colours (cocoa, teal, racing green, etc.) to suit one's unique style. And, it prioritises security with built-in RFID-blocking.
There are 3 quick-access card slots for frequently used cards with a pull tab to store an additional 8+ cards safely. There's also a coin pouch and a full-sized section for notes.
Although several factors make this wallet a favourite, reviewers liked it because it's a bi-fold wallet rather than a trifold wallet. Unlike a regular leather trifold wallet, these cardholders are much slimmer and leave fewer folds in bills.
Dango M1 Maverick Rail Wallet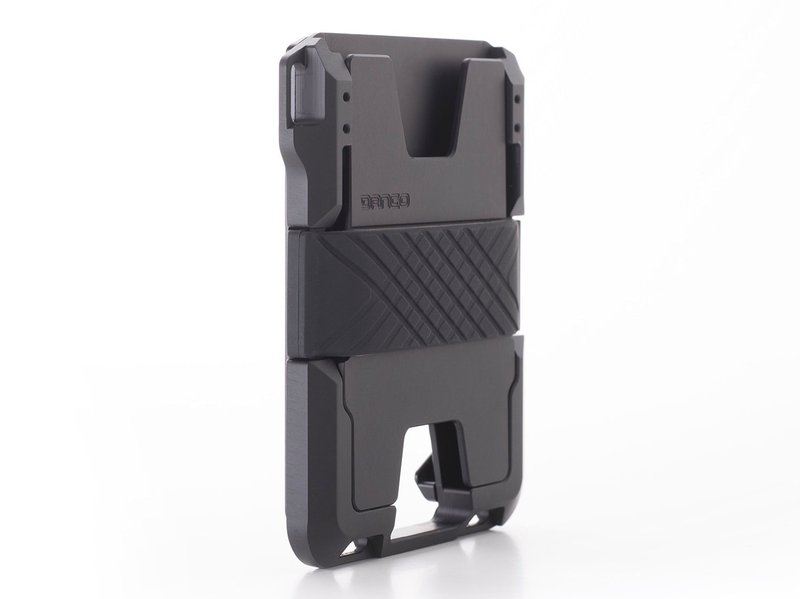 Price: USD $109
Material: Anodised aluminum
Dimensions: 103 mm x 80 mm x 13 mm thick
Colour: Satin Silver, Jet Black
RFID protection: Yes
The Dango M1 Maverick Rail Wallet is perfect for a minimalist. It is super thin and has an almost futuristic feel thanks to its 6061 aerospace-grade aluminium finish. The exterior has a metal plate that offers RFID protection and a silicone band that acts as a money clip, which can be used to hold additional cards or cash.
The front side is open, acting as an ID window so cards can be viewed or scanned without having to physically remove them. Removing a card is easy thanks to the sliding rail mechanism.
Moral Code's Parker Wallet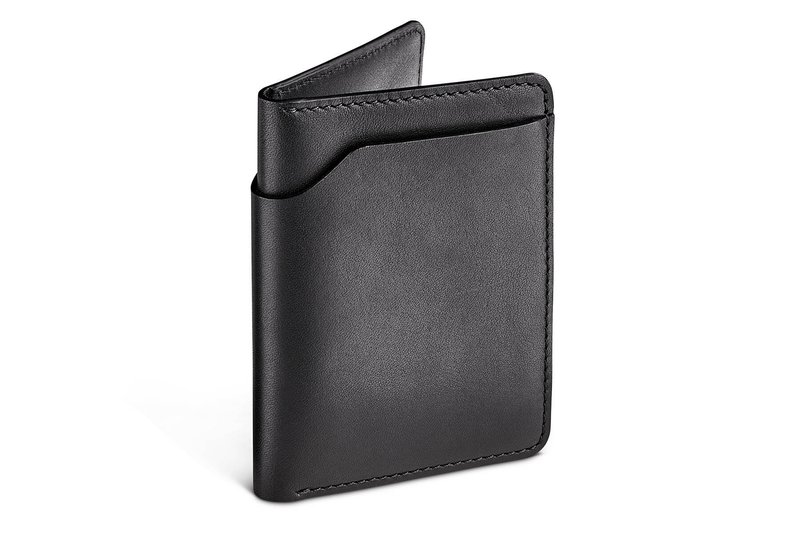 Price: USD $47
Material: Leather
Dimensions: 101 mm x 133 mm
Colour: Black, Brown
RFID protection: No
Many self-respecting gents are already familiar with Moral Code. While the company is mostly known for luxury footwear, it also makes other leather goods like wallets.
The slimline Parker Wallet from Moral Code holds cards and cash while easily fitting into a breast pocket, jacket pocket, etc.
What men particularly like about this cardholder is its aesthetics. The brown calfskin leather is a bit rugged while the black cowhide leather has a more sophisticated appearance.
Moral Code lets you customise the wallet with up to 12 embossed characters.
Mujjo Leather Wallet Case for iPhone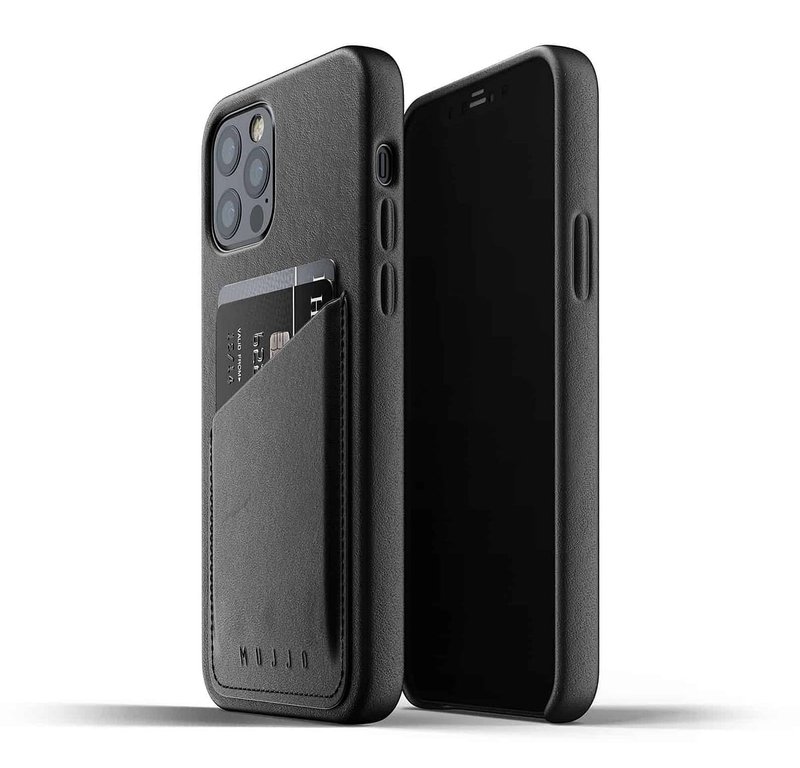 Price: USD $29.90 - $49.90
Material: Leather
Dimensions: Fits most models from iPhone 6 up
Colour: Tan, Black, Monaco Blue, Alpine Green, Slate Green
RFID protection: No
If you want an iPhone wallet case, Mujjo's range is your first port of call.
Their range of leather wallet cases are available for iPhone 6 all the way up to the most recent model. The wallet case can hold 2-3 cards. It can't hold bills or coins.
As a case, it has a nice grip in the hand and features a raised leather lip that protects your screen from scratches. Expect the leather to pick up a few scratches over time, but this only adds to the character.
The full-grain, Italian leather design is very trendy and the aniline oil treatment creates a naturally aged appearance for a classy look.
Ridge Wallet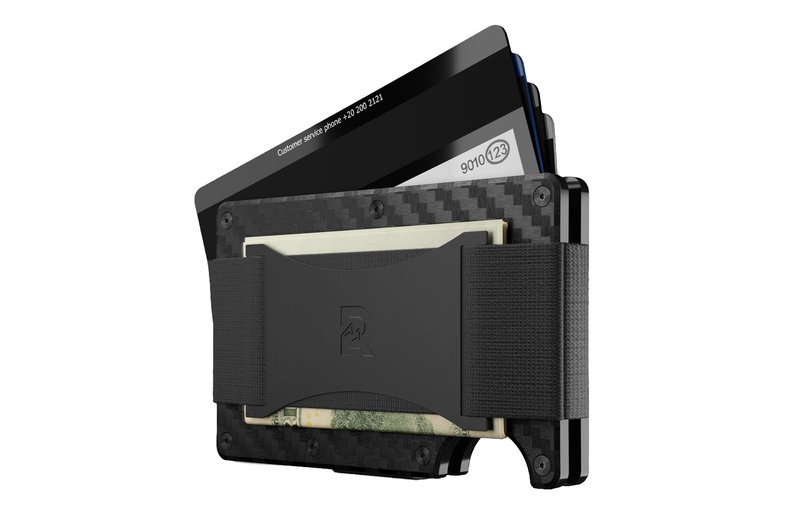 Price: USD $98 - $164
Material: Carbon Fibre, Titanium, Aluminum
Dimensions: 86 mm x 54 mm x 6 mm thick
Colour: Black, Gunmetal, Matte White, Navy, Stonewashed
RFID protection: Yes
With the Ridge Wallet, standard money straps are a thing of the past. It is very slim and has RFID protection as standard.
The credit card case has an elastic cash strap to store as many as 12 cards. It has a money clip add-on made from spring steel to store even more cards.
Even though the card case can hold lots of cards, you can easily slide them out just by pressing your thumb.
This is a seriously robust cardholder. And when we say tough, we mean military-grade tough. The carbon fibre, titanium, and aluminium options will keep your credit cards safe from the elements.
What is RFID protection?
Several of the wallets in this selection have RFID protection. What exactly does this mean, and why should you care about it?
In recent years, there has been an increase in electronic pickpocketers. These thieves use devices to remotely skim information from your credit cards and IDs without you even knowing.
A wallet with RFID protection stops stops these attacks by blocking the scanners most commonly employed by thieves.