There are few things that communicate the essence of a culture like its food and drink. When planning an international trip, there is always a list of "must try" food and drinks that serve as staples in their respective regions. There are plenty of travel guides provided by food and travel pros and amateur bloggers alike, but few of them talk about a major concern for travellers: cost.
Unless you have an endless supply of money, you're probably working within some sort of budget during your trip. According to ValuePenguin, vacationers spend an average of $520 across a 12-day period on food and alcohol, almost 15 percent of their total budget. As anyone who has spent much time travelling can tell you, these costs can vary greatly from country to country depending on tax, availability, and local cost-of-living.
With that in mind, we decided to try to determine the most reasonable places around the world to purchase and consume alcohol. Whether you plan on grabbing a cocktail at a downtown club or purchasing a bottle of wine to take back to the hotel, this guide will give you an idea of where you can plan on doing so most affordably.
Methodology
To determine which cities were the most budget-friendly for alcohol consumers, we looked at 6 different factors: (1) the cost of 0.5 L (16 oz) domestic beer in a local supermarket, (2) the cost of one bottle of table wine (good quality) at a local store, (3) cost of one cocktail drink in a downtown club, (4) cost of 1 beer in a neighbourhood pub (500mL/1 pint), (5) excise tax on alcohol, and (6) the number of bars per 100,000 people in the population.
**All prices are listed in USD.
We then assigned each category a score from 1 to 5, with a score of 5 denoting the most alcohol friendly locations. Each city received a score based on the sum of its individual category scored, which were then weighted for their significance to travellers.
The factors are listed below with their respective weights and source data:
Cost of 0.5 L (16 oz) domestic beer in a local supermarket
Weight: 1.75
Source: Expatistan
Cost of one bottle of table wine (good quality) at a local store
Weight: 1.75
Source: Expatistan
Cost of one cocktail drink in a downtown club
Weight: 1.75
Source: Expatistan
Cost of 1 beer in a neighbourhood pub (500ml/1 pint)
Weight: 1.75
Source: Expatistan
Excise tax on alcohol
Weight: 1.00
Source: World Health Organization
Number of bars per 100,000 people in the population
Weight: 2.00
Source: Yelp and World Cities Culture Forum
Least expensive cities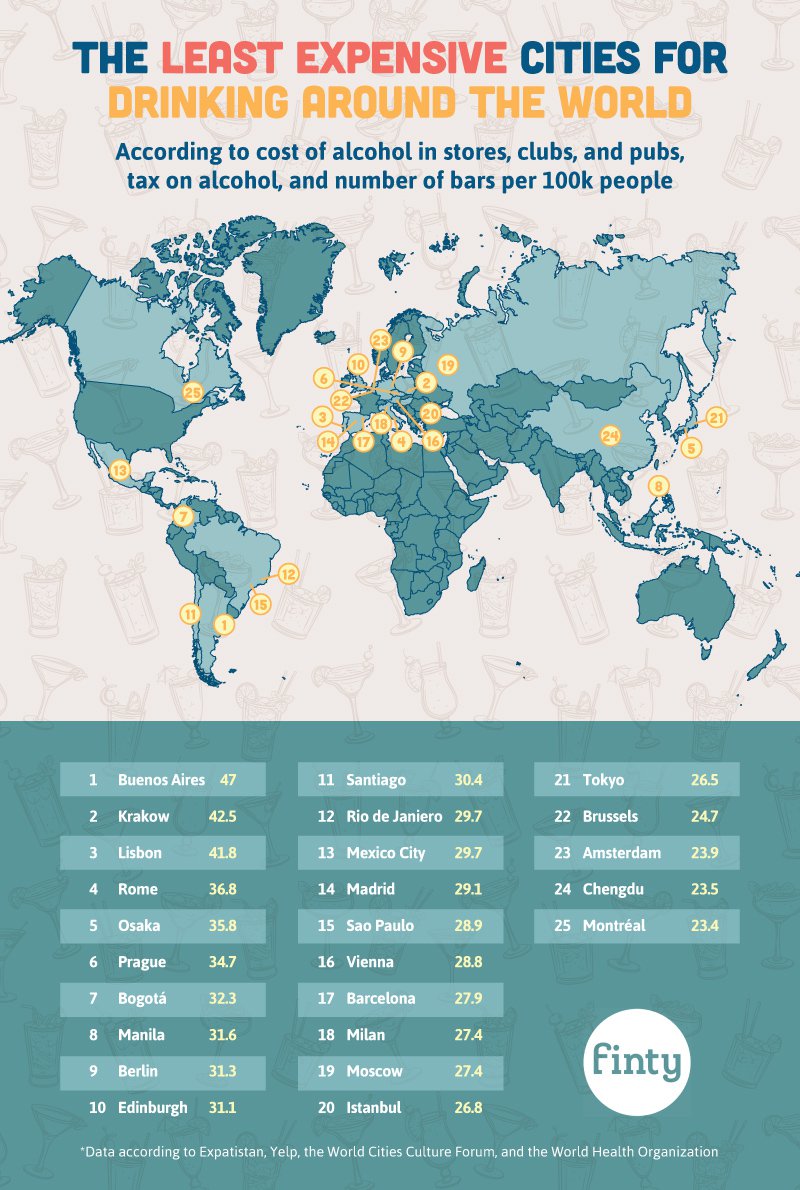 If you're trying to choose a single destination where you can try mixed cocktails and local beers without breaking the bank, then Buenos Aires is your place. Not only are the drinks cheap, but with over 300 bars per 100,000 residents, there are plenty of them to go around. In another Latin American city, Santiago, drinks are particularly cheap, but there are only about 10 bars per 100,000 members of the population –which is why the city is ranked lower on this list!
If you plan on visiting more than one country within a region, however, Europe is the place to be. With over 19 major cities represented in this list, they officially earn the title of "most drinker-friendly continent in the world". Europe's premier destination for alcohol is Krakow, Poland where you can purchase a beer at a local pub for less than $2.50, and a bottle of wine for $7.
If you decide you have an affinity for a trip to Asia, your best place to start would be in Japan. With Osaka making it into the top 5, and Tokyo coming in at number 21, Japan ranks as one of Asia's most budget-friendly travel destinations for drinkers.
Most expensive cities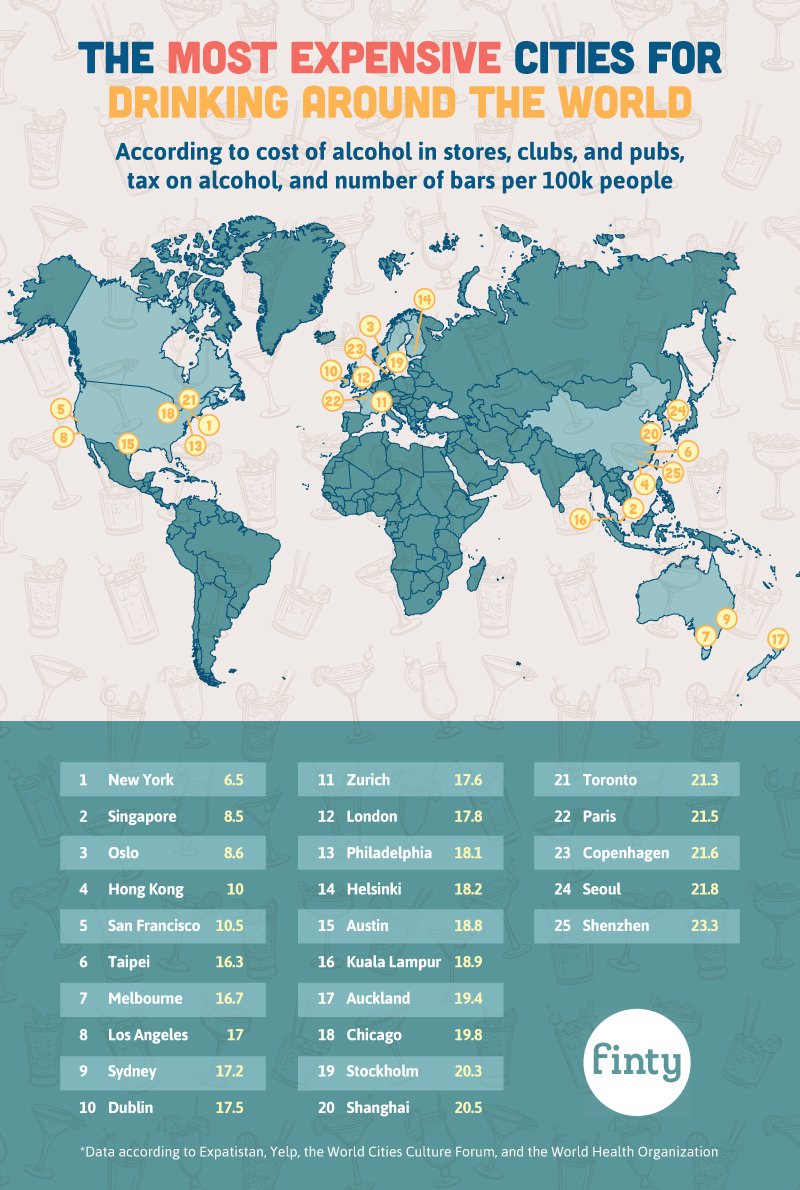 However, if alcohol is your focus, your #1 city to avoid when planning a trip is none other than New York City. Since it's famous for its bright lights and bustling city life, you can expect to pay more for what you get. In this case, you're going to be dishing out more than $17 for a cocktail in a downtown club, and $19 for a bottle of table wine at a local store. We think it's safe to say that alcohol enthusiasts not looking to break the bank are better off avoiding the Big Apple.
When it comes to other expensive cities to drink, you should steer clear of island nations not named "Japan," according to our data. Dublin, Ireland, Singapore, and Taipei, Taiwan all rank as some of the most expensive destinations on our list. Each of them has a combined score lower than 20, with Singapore charging four times the rate of Buenos Aires for a beer from a local pub.
Other well-known expensive cities to drink include major California cities such as San Francisco and Los Angeles. These are some infamously expensive destinations, and their local drink prices certainly live up to their reputations.
Looking for the price breakdown in your city? View our interactive data table here.
Wrap up
No matter where you go, international travel is always exciting. The opportunity to see new places and try new things is always enticing, and it can certainly be done on a budget. To make sure you are maximising the use of your budget, and earning rewards along the way, find a credit card that best suits all of your travel needs!