Miles can be redeemed for a variety of flight and non-flight items.
Flight redemptions can be with Singapore Airlines and partner airlines.
Discover the best way to maximise value per point, and how to use the Redemption Nominee system.
There are many ways to earn KrisFlyer Miles, but what can you use them for? Broadly speaking, there are two uses of KrisFlyer miles:
Redeeming flights and upgrades with Singapore Airlines and its partners
Redeeming non-flight options like hotel rooms, rental cars and merchandise
The table below summarises the choices available: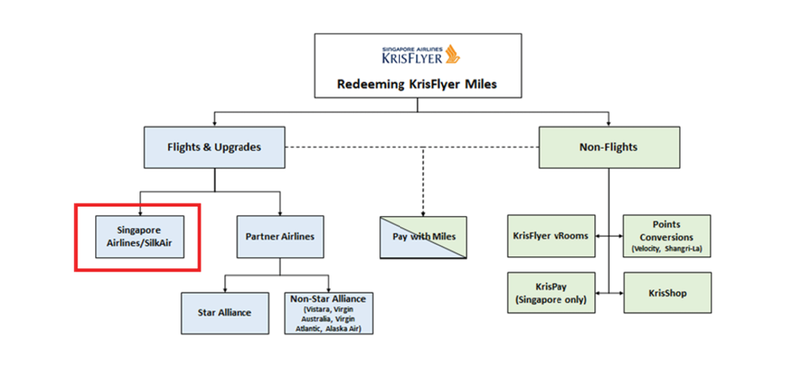 As you can see, there are many ways you can redeem your miles. However, not all represent equal value. The question then is: what should you redeem your miles for?
When it comes to any loyalty program, the best value redemptions will always be for that program's native reward. For example, you get the most value out of hotel points when you redeem them for hotels. And you get the most value out of rental car points when you redeem them for rental cars.
The same holds true for airline miles and flights – you'll maximise the value of your KrisFlyer miles when you redeem them for flights and upgrades on Singapore Airlines and its partners.
Although there may be rare instances where it makes sense to redeem your miles for non-flight options (e.g. if you have a small miles balance that is set to expire, getting suboptimal value is better than getting no value at all), these are the exceptions rather than the rule.
There are a few things to know about redeeming your KrisFlyer miles.
Your free ticket isn't totally free
Typically, your miles only cover the fare component on an award ticket; you're still on the hook for airport taxes and fuel surcharges.
The good news it that KrisFlyer no longer imposes fuel surcharges on Singapore Airlines/SilkAir award tickets. This means that the only out-of-pocket payment on a Singapore Airlines/SilkAir award redemption is airport taxes in the departing, arrival and transit (if any) country.
In the diagram below, I've illustrated what this may look like for someone flying between SIN and SYD in Economy Class. Note how I've coloured the different boxes, depending on whether they relate to the fare, the Australian taxes, or the Singapore taxes.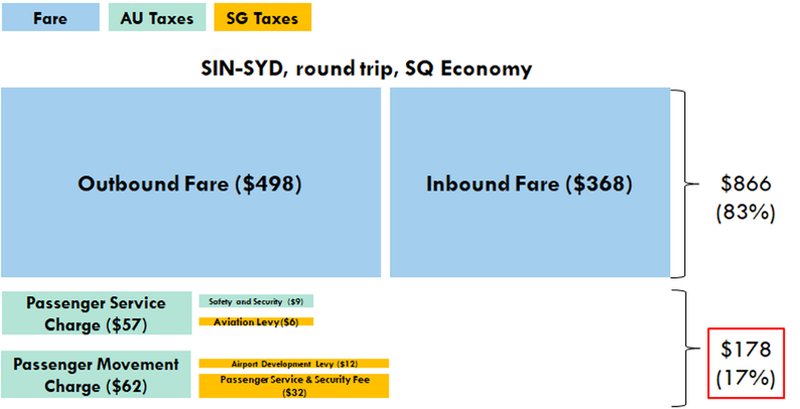 The inbound and outbound fare (blue box) are covered by miles. Therefore all I need to pay in cash is AU$178 of Australia and Singapore airport taxes (yellow and green boxes).
However, it's important to remember that if you're redeeming KrisFlyer miles for a partner airline which charges fuel surcharges, KrisFlyer will pass them on to you.
I've illustrated this in the diagram below, where we redeem miles for a hypothetical SIN-IST-LHR Economy Class redemption on Turkish Airlines.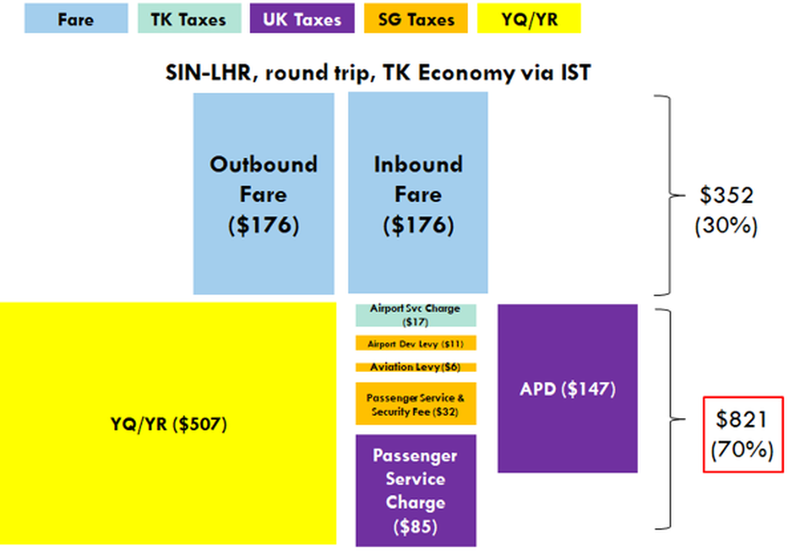 That big yellow box labelled "YQ/YR" represents fuel surcharges, and in this particular case they're even higher than the inbound and outbound fares combined! If we were to redeem this ticket, we'd be on the hook for AU$821 of airport taxes and fuel surcharges, making this redemption poor value.
This can get even more confusing because not all partner airlines impose fuel surcharges. To be sure, you can always refer to a breakdown of the miles and taxes on the booking screen on the Singapore Airlines website. I've shown a hypothetical SIN-PVG routing below, with the left hand side screenshot on SQ, and the right hand side screenshot on a mixture of SQ, TG and CA. Note the absence of fuel surcharges on the left, and their presence on the right.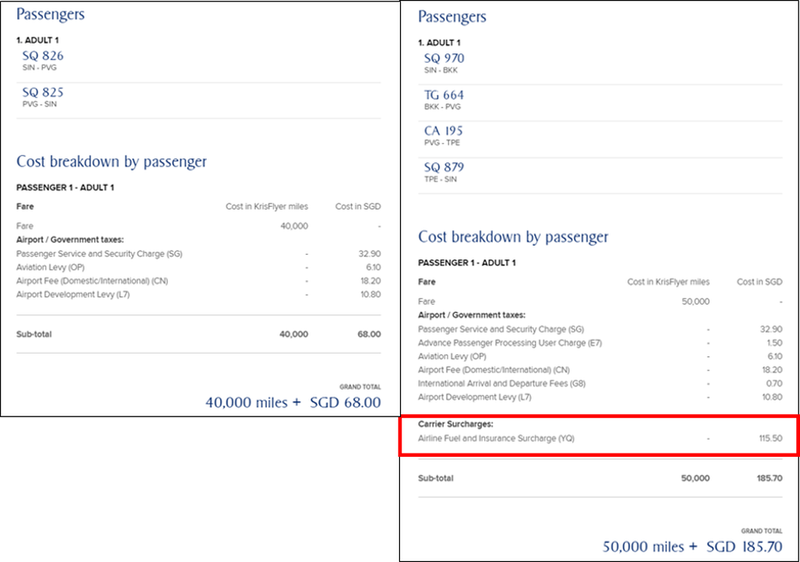 Reading the correct award chart
When you want to check how many KrisFlyer miles a particular redemption will cost you, you'll need to refer to the award charts. This may be confusing for first-time KrisFlyer users because the program actually has seven different charts:
Singapore Airlines/SilkAir Award chart
Star Alliance Award chart
Virgin Australia Award chart
Vistara Award chart
Virgin Atlantic Award chart
Alaska Airlines Award chart
Juneyao Airlines Award chart
The chart you refer to depends on the type of award ticket you're looking at.
If your entire itinerary is operated by Singapore Airlines/SilkAir, refer to (1).
If your itinerary contains a mix of Singapore Airlines/SilkAir and Star Alliance carriers, refer to (2)
If you're flying with a non-Star Alliance carrier, refer to (3)-(7) accordingly
It is not possible to combine non-Star Alliance and Singapore Airlines flights in a single award itinerary – that is, I couldn't book a single SIN-BOM-DEL ticket, using Singapore Airlines for the SIN-BOM leg and Vistara for the BOM-DEL leg.
However, I can combine Star Alliance and Singapore Airlines flights in a single award itinerary. For example, I can book SIN-BOM-DEL with Singapore Airlines for SIN-BOM and Air India for BOM-DEL.
Remember, though, that once I have even a single non-Singapore Airlines flight in my itinerary, the whole journey is priced according to chart (2). For my SIN-BOM-DEL example, here's how the pricing changes:

It doesn't matter that SIN-BOM represents the "substantial" or "majority" portion of my overall journey; the entire award is now deemed to be a Star Alliance award and charged at the more expensive Star Alliance rates. That's why it's generally preferable to redeem a Singapore Airlines award where possible – no fuel surcharges, and generally lower redemption costs.
The other reason why it's important to know which award chart to refer to is that there are different rules governing Singapore Airlines versus partner awards. We'll look at these in more detail in future guides.
The redemption nominee system
Flights and upgrades can either be redeemed for yourself, or for any of your redemption nominees. KrisFlyer allows you to nominate up to five individuals to redeem awards or upgrades for. Here are three key points to note:
There's no fee for adding new nominees.
However, there is a fee to replace or delete existing nominees, and once a nominee is added he/she cannot be replaced or deleted for six months. After six months, a nominee can be replaced for US$30 or 3K miles. Elite members enjoy reduced or waived service fees.

Child or infant nominees are treated the same as an adult (i.e. they occupy one of five slots).
To add a nominee, log in to your KrisFlyer account and look for the "Profile" tab.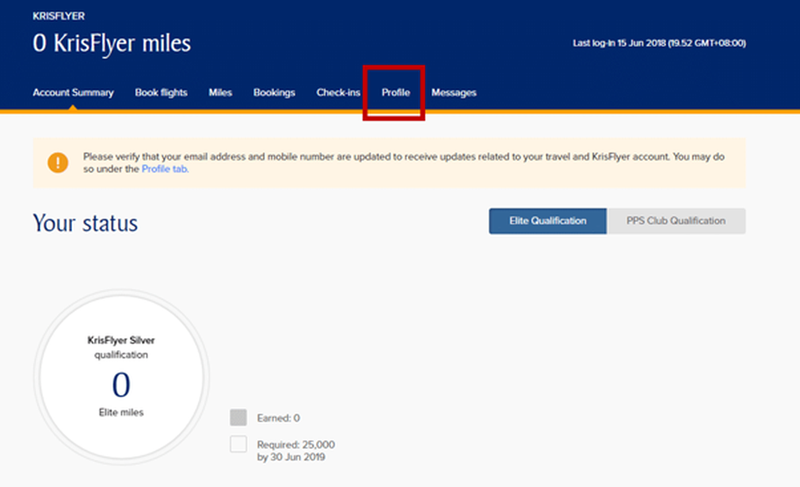 This will open up a sub-menu. Click on "Redemption Nominees".

Click on "Add Nominee".

Fill out the details of your redemption nominee.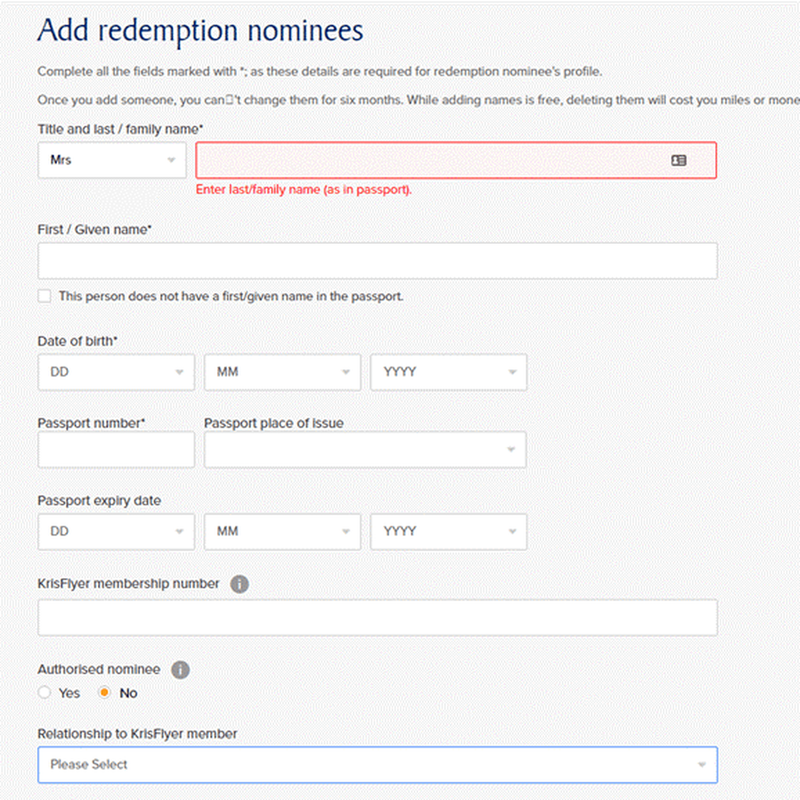 You will be asked in the form what your relationship to the nominee is. Don't worry, KrisFlyer clearly states that you can redeem miles for family and friends, so you can nominate pretty much anyone.

That's it! You'll now be able to redeem award tickets on behalf of this individual. Simply search for awards as per normal and select your redemption nominee's name from the drop down menu when you're prompted to do so. You do not need to be part of the travelling party when you redeem an award ticket for your nominee.
Having fewer redemption options is not a bad thing
Although KrisFlyer doesn't offer as many redemption options as some carriers (where miles can be used for lounge access, inflight Wi-Fi, inflight catering, movie tickets, retail gift cards, charitable donations and much more), most of the non-flight options are in any case a poor use of miles, and won't be missed.
Knowing how to effectively spend your KrisFlyer miles on flights is the cornerstone of a good miles strategy, and that's what we'll explore specifically in the next post.