Learn how to get the best value when upgrading your Singapore Airlines seat.
Find out what kinds of fares can be upgraded, the cost in KrisFlyer Miles, and whether it's worth it.
Get the lowdown on upgrade waitlisting and cancellation.
You might already know that your KrisFlyer miles can be used to upgrade revenue tickets (i.e. fares paid for with cash). But what types of tickets can be upgraded? What cabins can you upgrade to? How much does it cost? Do upgrades represent a good use of miles?
Read on and we'll find out...
Can your ticket be upgraded?
In January 2018, Singapore Airlines introduced three new fare types – Lite, Standard and Flexi. Each of these fare types has different rules about baggage allowances, cancellations, changes and upgradability. In the table below, I've listed the fare buckets that fall into each fare type, as well as whether they can be upgraded.

You can find your fare bucket during the booking process. Click on the "View Details" drop-down option that appears on the top right corner after selecting your flights.

If someone else booked your ticket, or you're already past the booking stage, you can still find the fare bucket listed under "Booking Class" on your e-ticket.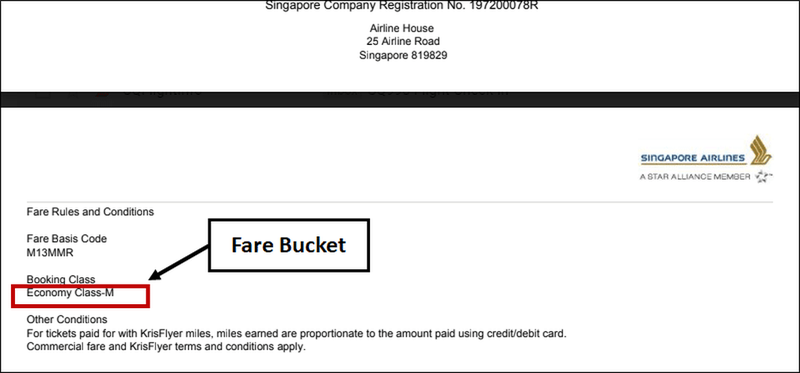 Your upgrade eligibility does not depend on where you buy your ticket from (e.g. Singapore Airlines website, corporate travel agent, OTAs like Expedia); rather, all that matters is the fare bucket.
One final point to note: codeshare flights are not eligible for upgrading, so for example if you purchase a Lufthansa codeshare flight operated by Singapore Airlines you won't be able to upgrade your ticket.
What cabin can you upgrade to?
Singapore Airlines used to operate a strict "one-cabin upgrade" policy where you could only upgrade from Economy to Business Class if the aircraft you were flying on did not offer Premium Economy.
That policy has since changed, and Economy passengers can now pay extra to upgrade directly to Business Class, even on aircraft where Premium Economy exists. Premium Economy passengers, however, can only upgrade to Business Class.

Is there upgrade space available?
In the case of Singapore Airlines, upgrade space and full awards come out of the same inventory. This means you can check for upgrade space by doing a dummy booking for full awards.
In the example below, we see that there are two seats available for Business Saver awards between SYD and SIN. Therefore, there must also be two seats available for Business Class Saver upgrade awards.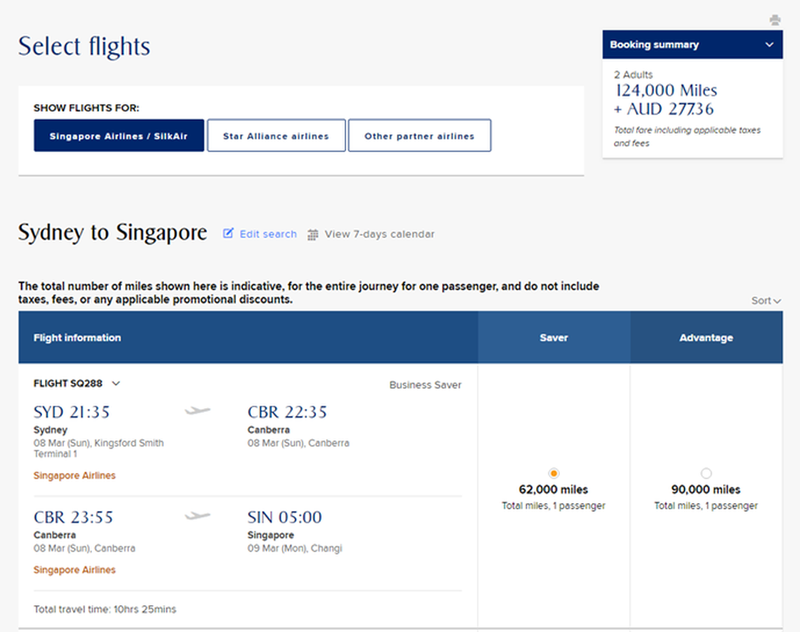 If your intention is to purchase a more expensive fare bucket and upgrade it with miles, you should run a quick search for that particular date to see if award space is available first.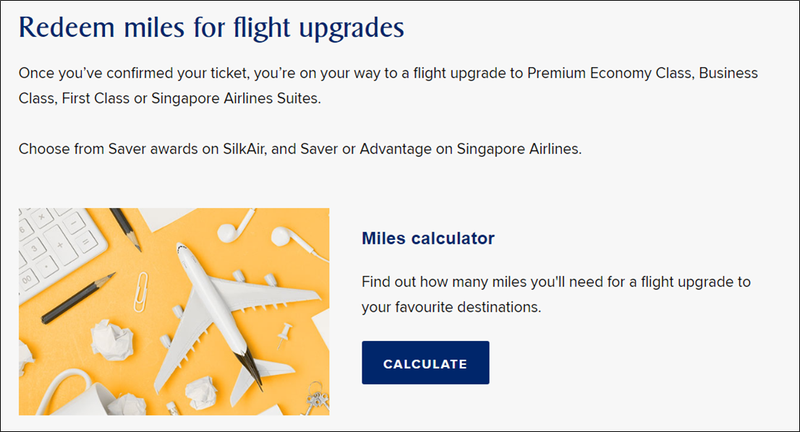 You can find out how many miles your upgrade will cost by referring to the KrisFlyer upgrade chart. There are seven upgrade charts to cover the seven different upgrade scenarios:
Economy Standard to Premium Economy
Economy Flexi to Premium Economy
Economy Standard to Business 
Economy Flexi to Business
Premium Economy Standard to Business
Premium Economy Flexi to Business
Business Standard/Flexi to First (Business Standard & Flexi rates are combined into one chart because there is no difference in the miles required to upgrade them)
You use the chart in exactly the same way you would for a full award – simply match up the zone you're flying from with the zone you're flying to.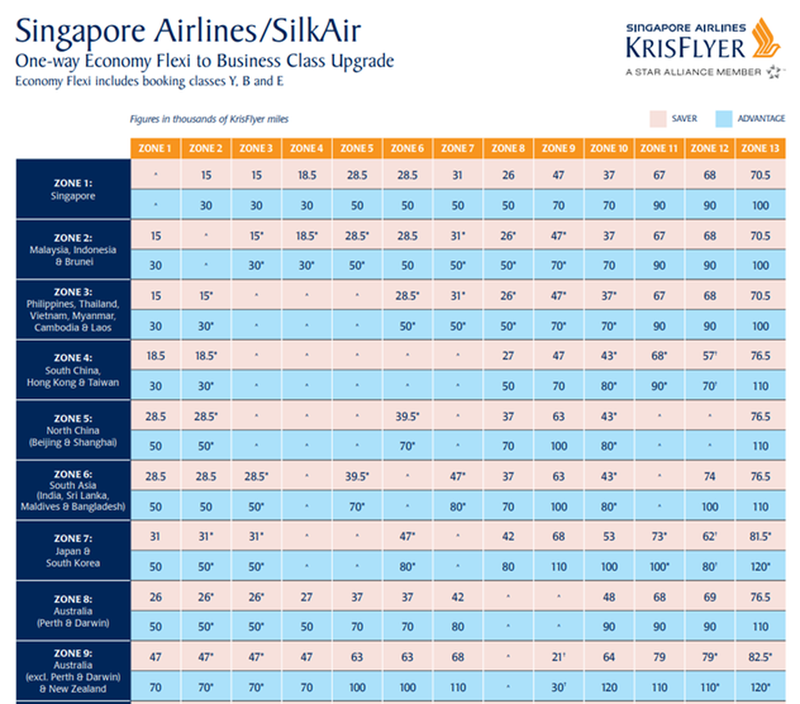 Note that just like full awards, upgrades also feature Saver and Advantage level pricing. Saver awards are cheaper, but have fewer seats available. Advantage awards are more expensive, but have more seats available.
Do I get good value by upgrading my ticket?
Does it make more sense to buy a revenue ticket and upgrade it with miles, or to redeem a ticket outright? 
Here's a helpful way of considering this question:
It costs 15K miles to upgrade a SIN-HKG Economy Standard ticket to Premium Economy Saver. However, I earn 1.2K miles on the Economy Standard ticket, making my net cost 13.8K miles.
It costs 24.5K miles to redeem a SIN-HKG Premium Economy Saver outright.
Therefore, it takes 56% (13.8/24.5) of the miles required for an outright redemption to upgrade a revenue ticket.
I've used this approach to plot the various scenarios for the charts below. The green bar shows the percentage differential for Standard tickets, and the blue bar for Flexi.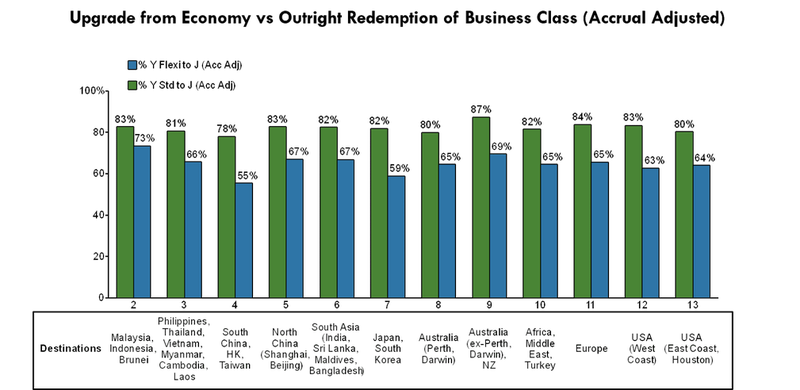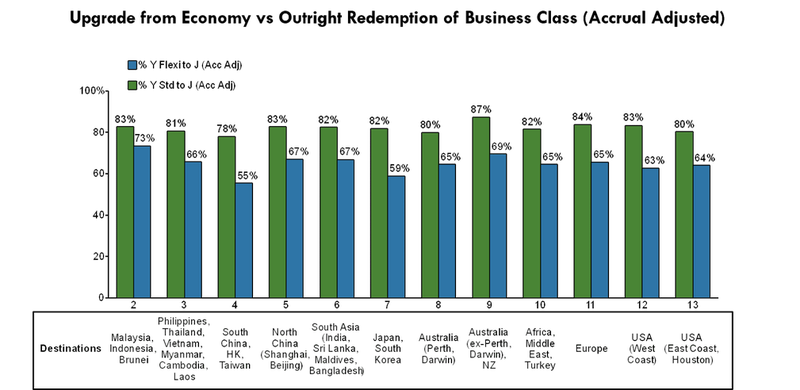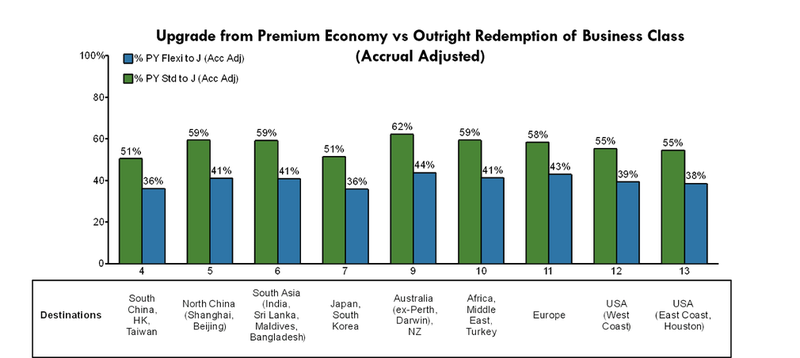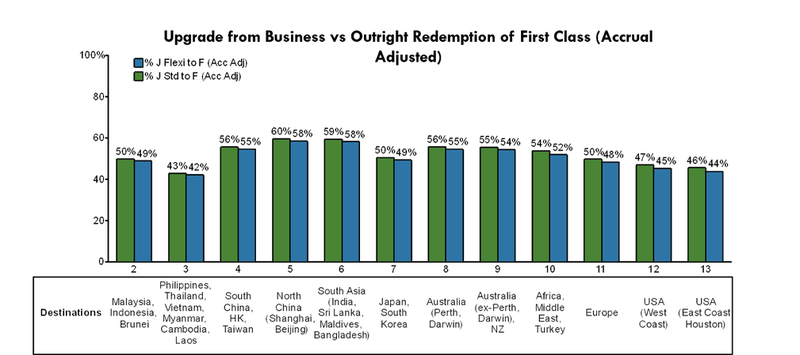 If that's too many charts for one sitting, just know this. The higher the percentage, the less worthwhile it it is to upgrade, because for a smaller miles increment, you could do an outright redemption without having to spend cash on a revenue ticket.
Here's the summary of the charts:

My overall take is that it generally doesn't make sense to buy a revenue ticket and upgrade it with miles, unless someone else (e.g. an employer) is paying for the revenue ticket. That's because the mileage differential between an upgrade and an outright award tends to be very small.
Take for example upgrading Economy Standard to Business Saver – not only do you need to pay cash out of pocket for the Economy Standard ticket, you pay 78-87% of the miles you'd need for an outright Business Saver redemption. You could buy an Economy Flexi ticket to bring the requirement down to 55-73%, but remember that Economy Flexi tickets are prohibitively expensive.
If someone else is paying for the revenue ticket, then, by all means, spring for the upgrade – it's basically a discount on the miles required for a full redemption.
Other points to note about upgrades
Upgraded passengers get the full entitlements of the upgraded cabin.
Singapore Airlines does not discriminate between upgraded passengers and those who purchased full fare tickets. As long as you're in the same cabin, you'll enjoy the same treatment. As a Business Class passenger, that means access to Book the Cook pre-order meals, lounges, priority baggage and priority boarding.
Upgrades can be waitlisted
In our guide to redeeming Singapore Airlines awards, we talked about the KrisFlyer waitlist system. What this means is that award space is currently not available, but you can put your name down and the system will alert you if a seat opens up.
The Singapore Airlines website is rather unhelpful because it shows you an "unavailable" message with no option to waitlist should an upgraded seat not be available for immediate confirmation. A simple call to KrisFlyer membership services can get you added to the waitlist, and after that it's a matter of crossing your fingers and hoping the waitlist clears. Remember, there's no obligation to take the upgrade even if it does.
Upgrades can be cancelled or changed, subject to a fee
Upgrades follow the same rules as full awards when it comes to changes or cancellations. In other words, it costs US$75 to cancel a Saver ticket (US$50 for Advantage).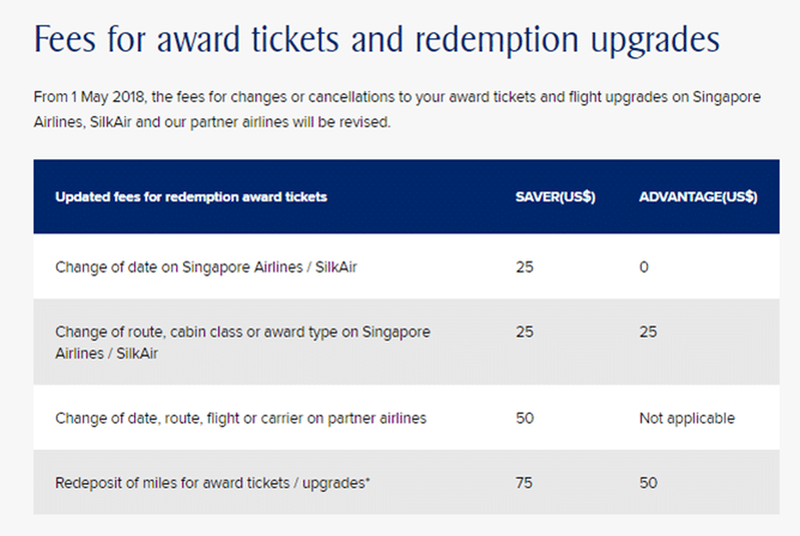 The situation is a bit trickier when it comes to date changes:
If the new date you're looking at has upgrade space, you pay a US$25 fee (Saver) or nothing (Advantage) to change your date, plus whatever change fees apply on the revenue ticket.
If the new date you're looking at does not have upgrade space, you'll have to pay a US$75 fee (Saver) or US$50 (Advantage) to cancel your upgrade, plus whatever change fees apply on the revenue ticket.
It's helpful to think of upgrades as an award ticket tacked on to your revenue ticket, following the same rules and penalties as an outright award.
The verdict
Because Singapore Airlines revenue tickets tend to be more expensive than competitors', it generally doesn't make sense to buy a ticket and upgrade it with miles. You'd get much better value by redeeming an award ticket outright.
However, passengers who are flying for work may find it a nice treat to live a little by upgrading themselves once in a while – and now you know how.