Coinsquare launched in 2014 in Canada.
Coinsquare claims to store 95% of all cryptocurrencies in cold storage.
There are only a handful of cryptocurrencies available for trading.
Deciding on which cryptocurrency exchange you want to spend your time and efforts on can be difficult, but the more you learn about the options available, the better equipped you are to make a decision.
We'll be looking at Coinsquare, and cover its fees, security features, coins on offer, and some of its special features.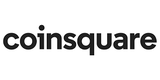 On website
Coinsquare
Highlights
Coinsquare's QuickTrade feature instantly makes trades between any two currencies, whether it's XRP to Ethereum, or Litecoin to EUR.
Has one of the most secure trading platform.
Enjoy low, transparent fees and no trading minimum.
---
Pros
Quick verification process.
820+ trading pairs available.
Has a referral program.
Cons
A limited selection of cryptocurrencies.
What is Coinsquare?
Coinsquare launched in 2014 and has a reputation for being a unique exchange in Canada. The platform offers a lot more than just cryptocurrency trading, as you get an Over-the-Counter (OTC) desk for large volume cryptocurrency trades as well as native mobile applications.
There are two ways you can trade on the market: through QuickTrade, or through the spot market. QuickTrade lets you conduct simple trades - you select the coin you want to buy as well as the amount you would like to spend and once you review your quote, clicking the 'Make This Trade' button will complete your trade . The spot market trading interface Is a bit more sophisticated but has a wide variety of tools and charts which will let you get access to the information you need before trading.
Is it safe?
The level of security is one of the most important things that you as a trader need to consider.
Coinsquare Ltd. (MSB M19566549) uses a security protocol for coin management, and 95% of the coins it controls are in cold storage.
Furthermore, Coinsquare claims all its servers are stress tested and not easily susceptible to Dedicated Denial of Service Attacks (DDoS) attacks. The exchange is SSL and 2FA enabled and runs multiple encrypted and distributed backups daily.
In 2020, Coinsquare admitted to the Ontario Securities Commission it had engaged in Wash trading of an aggregate value of 590,000 Bitcoin in 2018 and 2019. Coinbase paid a $1.6m fine and Coinsquare CEO Cole Diamond and President Virgile Rostand agreed to resign as part of the settlement. Company COO Felix Mazer had already resigned over the scandal.
Who is Coinsquare aimed at?
Coinsquare is targeted at cryptocurrency traders in Canada and Europe. It has a tight and selected choice of cryptocurrencies, so you won't find hundreds of them here. Coinsquare is targeting traders that only invest in the biggest and most proven cryptocurrencies and who want an OTC desk as well as a high level of security.
Tradable assets
Coinsquare trades Bitcoin (BTC), Bitcoin Cash (BCH), Bitcoin SV (BSV), Ethereum (ETH), Litecoin (LTC), Dogecoin (DOGE), Dash (DASH), Ripple (XRP), Ethereum Classic (ETC) and Stellar (XLM).
Notable features
Features that make Coinsquare stand out compared with other exchanges include the OTC desk, the native mobile apps, and Coinsquare Wealth. Here follows more details on each.
OTC trading desk
Access to the OTC desk lets you make trades at a lower rate than that available on the order books.
Native mobile applications
Coinsquare comes with its own native applications that run on iOS and Android devices.
Coinsquare Wealth
Coinsquare Wealth is an exclusive service you can use if you have a minimum of $25,000 or equal value in digital currencies. You will get an account director that is dedicated to the growth of your portfolio and the OTC trading desk.
Fees
Coinsquare charges a maker fee of 0.1% and a taker fee of 0.2%. QuickTrade fees are 0.2% for a single conversion rate and 0.4% for a double conversion rate. This fee structure is clear and concise in comparison to other crypto exchanges like Coinfield and Coinbase.
Pros and cons
Pros
Coinsquare offers a quick verification process for new accounts.
It is a user-friendly platform that beginners will love, and there are features for more advanced traders.
The Coinsquare Wealth service is appealing if you want to make bigger OTC trades.
It has a referral program where you can get paid up to 45% commission on its fees.
Cons
There is an extremely limited selection of cryptocurrencies on offer.
The support staff is not available 24/7 like the competitors.
Alternatives
A number of alternatives to Coinsquare are available. These exchanges offer similar functionality.
Newton. A Canada-based no-fee cryptocurrency exchange where you can buy and sell cryptocurrencies from any device.
Shakepay. A cryptocurrency exchange that allows Canadians to buy and sell cryptocurrencies as well as send payments to their friends. It is accessible on both desktop computers and smartphones.
Bitbuy. A Canadian-operated and owned cryptocurrency exchange that was founded in Toronto and allows buyers to access and trade a wide variety of cryptocurrencies.
NDAX. NDAX is another Canadian-based cryptocurrency exchange with a simple user interface and a high level of security that complies with the latest standards.
Coinberry. A Canadian digital asset trading platform that gives users easy and safe ways to buy and trade cryptocurrencies.
Comparisons
See how Coinsquare compares against other Canadian crypto exchanges with these side-by-side comparisons.
FAQs
Is there a demo account to practice with paper trading?
Unfortunately, there is no demo account available for paper trading on Coinsquare.
Is crypto stored with Coinsquare insured?
Coinsquare is not a member of the Canadian Investor Protection Fund (CIPF), which means that your investments are not insured. However, 95% of all cryptocurrency funds are kept in cold storage.
Do I need my own crypto wallet to use Coinsquare?
You are not required to use your own cryptocurrency wallet to use Coinsquare. Their wallet is secure and 95% of all funds are kept in cold storage.
Verdict
Coinsquare is a cryptocurrency exchange in Canada that works well. It has a simple and clean user interface that should fill the needs of a lot of investors, particularly those who are new to trading crypto. However, its limited choice of cryptocurrencies is something to consider before opening an account. If you want altcoin access, you'd probably be better off with a different exchange. However, if you just want a safe and quick way to invest in the main cryptocurrencies — Bitcoin, Ethereum, etc. — then it might be worth taking a closer look.