The first time you ever fly business class is bound to be a memorable experience. Especially when we are talking about an overnight long-haul flight.
Our Sales Analyst, Christelle Baudrin-Amoyal, is a frequent flyer but this was the first time that she had ever flown business class. And she was excited to do so with Emirates, known as one of the world's best airlines. She was on her way back to Europe after a week at our team meet up in Bali.
So, what did she think about her first business class experience?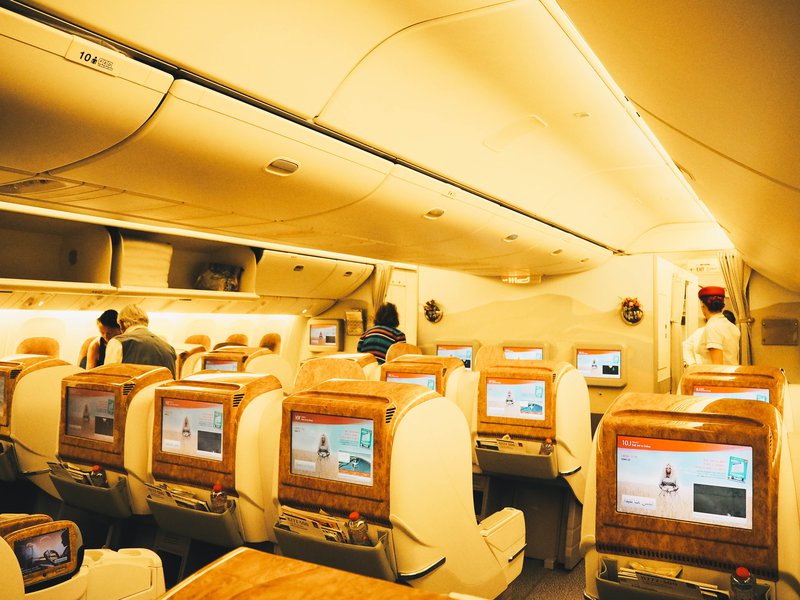 Flight details
Airline: Emirates
Route: Denpasar - Dubai - Munich
When: 16th June 2018
Cost: 96,000 Qantas frequent flyer points + $658.77 in taxes and carrier charges
Flight: EK451 & EK053
Aircraft: Boeing 777-300ER
Class: Business
Seat number: 11k and then 11J
Overnight flight: Yes leaving at 7.50pm in Denpasar and then leaving at 4am in Dubai to arrive at 8am in Munich 
Meal included: Yes
Amenity kit provided: Good headphones, quilt, amenities kit and mattress
Pyjamas provided: No
In-flight wifi: No
Duration: 9 hours and then 6 hours
Baggage: 2 of 32 kilos included 
Meal provided: Yes
Using points to book the flight
The booking process was fairly straightforward from what I can remember. I guess if I can't remember too much about it then I must not have experienced anything significant enough to make it stick in my mind.
I'd heard that availability for business class is generally quite limited. Thankfully, I was in the position where I could be quite flexible and there were a few EU cities I could have flown into that would work as a destination for me.
In the end, it was not a big hassle finding and booking a seat. I made the booking less than 3 weeks before the flight, but I had been keeping track of seats for a couple of weeks beforehand.
I booked a Classic Reward using Qantas Frequent Flyer points. The taxes, fees and carrier charges seemed quite a lot, but considering it was two flights across the globe, it's pretty good value, especially when compared to the cost of buying a ticket with cash.
You can use Qantas Frequent Flyer points to book seats on Emirates flights. One of the easiest ways to earn these points is with a credit card. We have compared credit cards that earn Qantas Frequent Flyer points here. You can also compare Emirate Skywards credit cards here, or compare all frequent flyer rewards credit cards here.
Checking in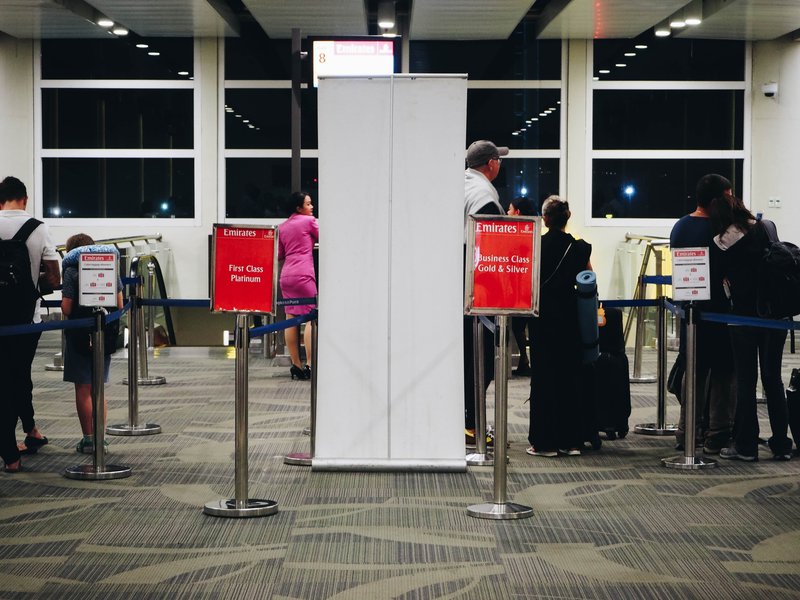 When I arrived at Denpasar Airport, the queues for economy and online check-in were long. Luckily for me, there was nobody in the line for business class so I was able to cruise on through. I was enjoying this business class experience already.
But then I hit immigration and security. It was packed and took 30 minutes to get through. Unfortunately, there was no fast track, so I patiently waited in line while looking forward to checking out the lounge.
After I finally made it through immigration, the duty-free shops reminded me of a day out at IKEA. No, I didn't pick out a new kitchen, but I was forced to walk past all the usual high-end brands you get at airports.
The lounge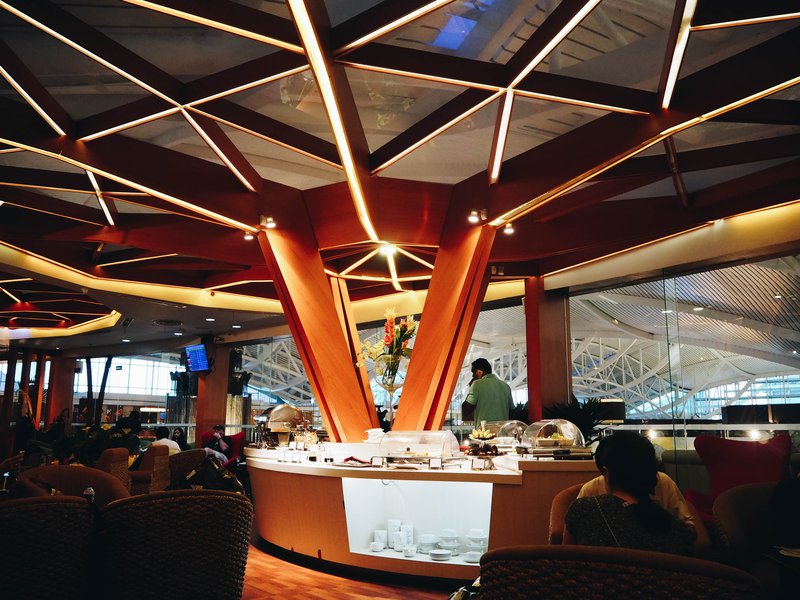 Despite not having flown business class before, I have been lucky enough to experience quite a few airport lounges around the world. So I have quite a few that I could compare my experience to and was keen to see what Denpasar had to offer.
I headed to the lounge located at the exit point of all the shops. It is a Premier Lounge and is shared by many airlines.
Honestly, it was generally a disappointing experience. It was one of the worst lounges I have been to. And I don't think that is just me being overly critical. I heard a lot of passengers saying the same thing.
The food was buffet style and it didn't really appeal to me all that much. On top of that, there were just 2 meals on offer—a penne as well as a local dish. And the choice of salad and dessert was poor by any standards. There were only a few bottles of wine available and the rest of the drinks selection was also nothing to write home about.
So if the food was a flop, surely the next best thing you go to the lounge for would be great—the internet connection. Nope, not to be. Truth be told, the public airport wifi worked much better.
I managed to catch a few glimpses of frozen screenshots of the France versus Australia World Cup game, but that was about it.
Heading to the gate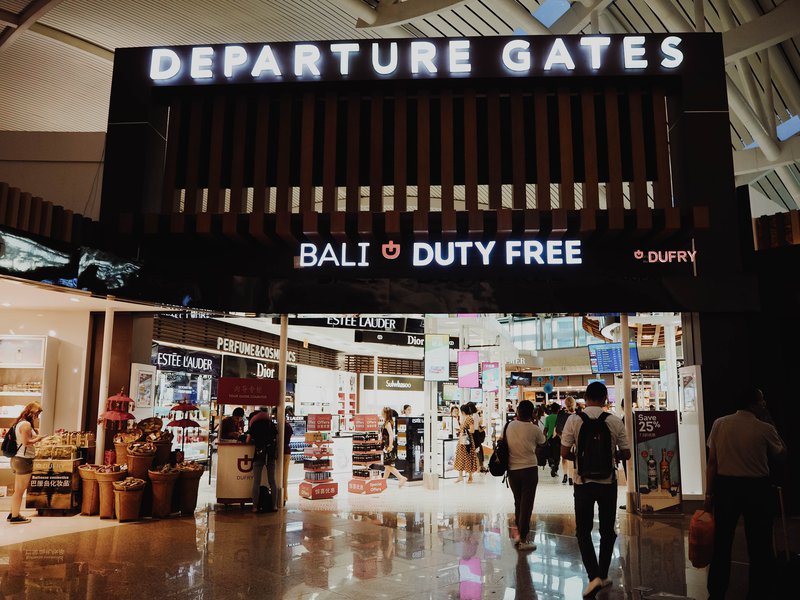 Since the lounge didn't impress me, about 45 minutes before the flight I headed to gate number 8 where the flight was due to depart. The gate was located at the end of the terminal, which was about a 10 minute walk away... past even more shops.
Once I reached the gate, the internet connection improved. As I saw the plane, I started to feel excited about my first business class experience. And with Emirates to top it off, one of the best airlines in the world!
When it was time to board there was a separate line for business class passengers, which meant I was one of the first to board.
The cabin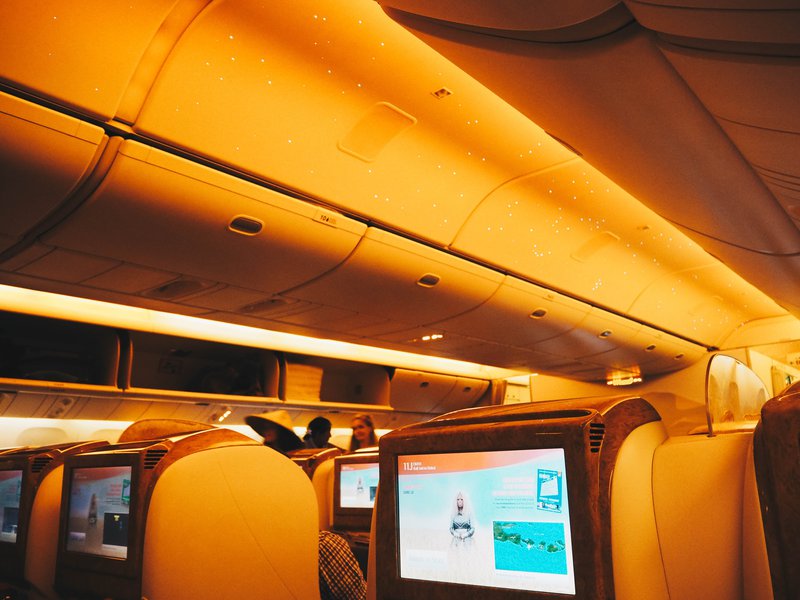 The cabin was beautiful. I loved the low lights and the sky with stars projected onto the cabin's ceiling. Lalaland music filled the cabin to create a lovely ambience and I was welcomed straight away with a glass of Moet champagne.
I was also provided with bottles of water straight away. For me, this was quite handy because with the air conditioning not working properly in the lounge, I was quite dehydrated.
Being one of the first to board the plane actually turned out to be annoying. Why so? I had to sit for about 30 minutes as all the people who were flying economy passed through the business class cabin on their way to their seats.
The cabin itself had 4 rows in a 2 x 3 x 2 configuration. There are two cabins, with 28 business seats in each. The seats themselves are nice and wide, so you can stretch your legs out entirely, but the purple-ish colour of the seats did feel a little dated to me. The colours of the cabin itself were quite neutral, with brown and beige combinations.
Since the cabin was only 30% full, I didn't have any neighbouring passengers in the closest five seats around me. It was a bit like a private jet as the lovely flight attendant, Mario, said to me.
The seat
I was seated in 11J, which was a window seat. Whenever I fly I tend to opt for the window, but in the case of business class, it is even better. I felt like I was in my own little cocoon.
Emirates provided a blanket, a quality headset, and an amenities kit with hand cream, toothbrush and toothpaste. Pyjamas and slippers were not provided, but I was still able to make myself comfortable with the blanket provided. Plus, it was quite hot in the cabin anyway. I was was also given a little mattress topper and the cabin crew even make your bed for you!
The cabin lights were mood-regulated and changed colour. There was a nice touch of projecting the sky with stars during the night.
Entertainment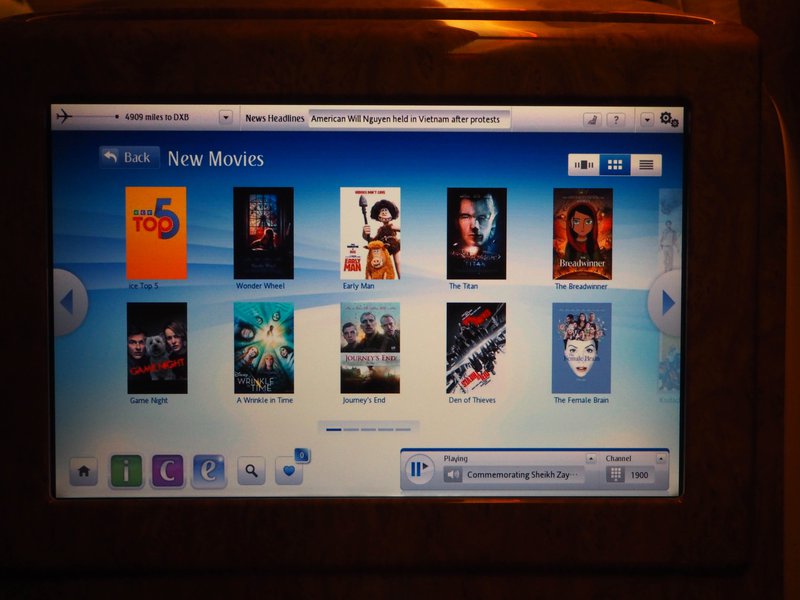 Before getting some shut-eye, I decided to check out what there was to watch on the much-heralded Emirates in-flight entertainment system. I found the little tablet closest to you (on the left of the seat) a bit clunky and difficult to use. Selecting options was difficult since it was so laggy.
However, the variety of entertainment options was very good. With more than 50 movies in the 'new movies' collection alone, there should be something to suit everyone. As well as Oscar-nominated movies, there was a big collection of Bollywood movies, Pakistani movies, Indian regional movies, Westerns, African movies, Asian movies, and European movies.
I watched a TV show for a bit, the latest McMafia from the BBC. I definitely recommend it, but there were a few too many ads for my liking.
Food and drink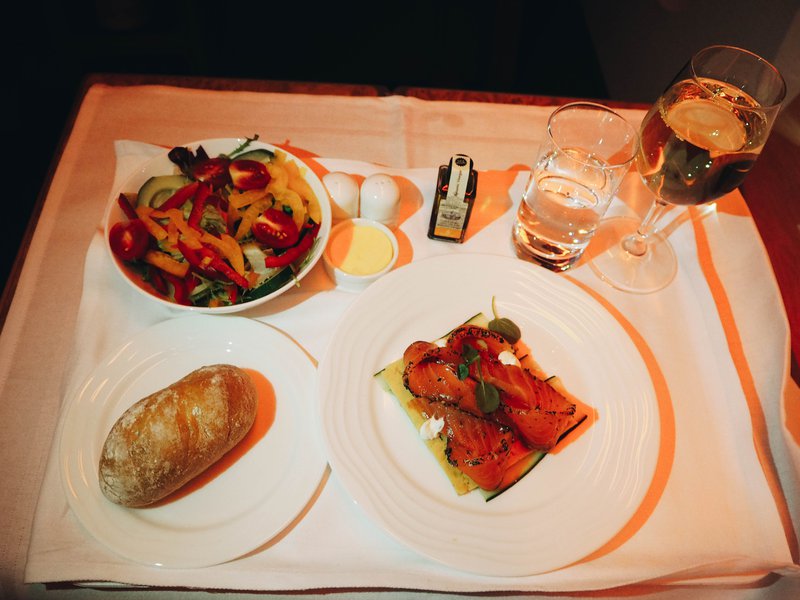 After being greeted on the flight with a glass of Moet, I was getting excited and couldn't wait to see what was on the food menu.
Unfortunately, there was no beef, which I would have liked to try, but I particularly liked the salmon blini, the mashed potato, the wine and the yummy brownie.
There was a huge selection of cocktails, mocktails, and wine. There was even a tempting 18 year old whisky on the menu.
For breakfast, I went for the European-style breakfast and chose yoghurt, granola, and pain au chocolat. It was really tasty. However, it was served 2 hours before the flight landed, which for me felt a bit too early. Ideally, it would have been about an hour later before it was served to maximise time asleep.
The bed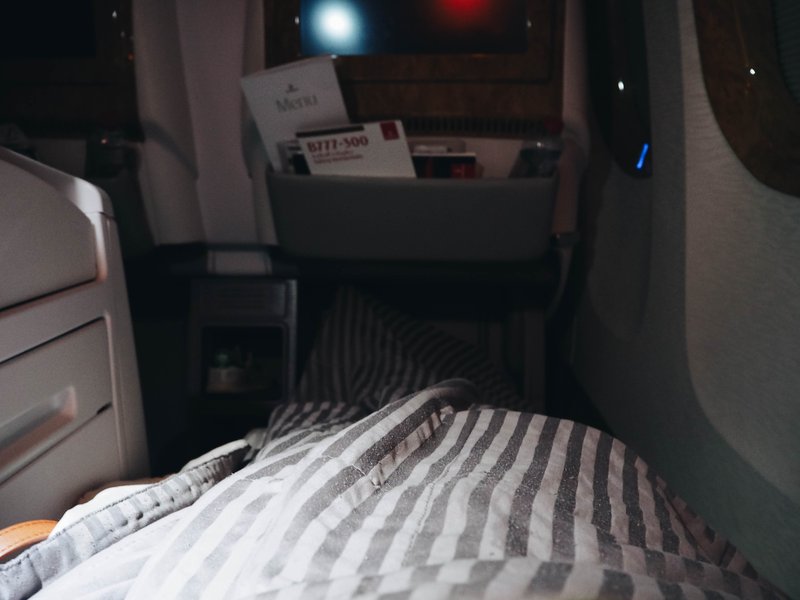 Of course, in between dinner and breakfast, it was time to test the little mattress and see how much of a bed-like feeling you could really have on a business class flight.
Emirates offers an almost fully flat bed on the B777. Inclining the seat to 160 degrees was just perfect for me and it's what I recommend. With the seat divider between the 2 seats, nobody could see me when I inclined my seat. Perfect!
(Note that if you have 11J as I had on the second flight, there is no seat divider between the seat and the aisle, hence people see you lying in the bed. Not as cool.)
Dubai stopover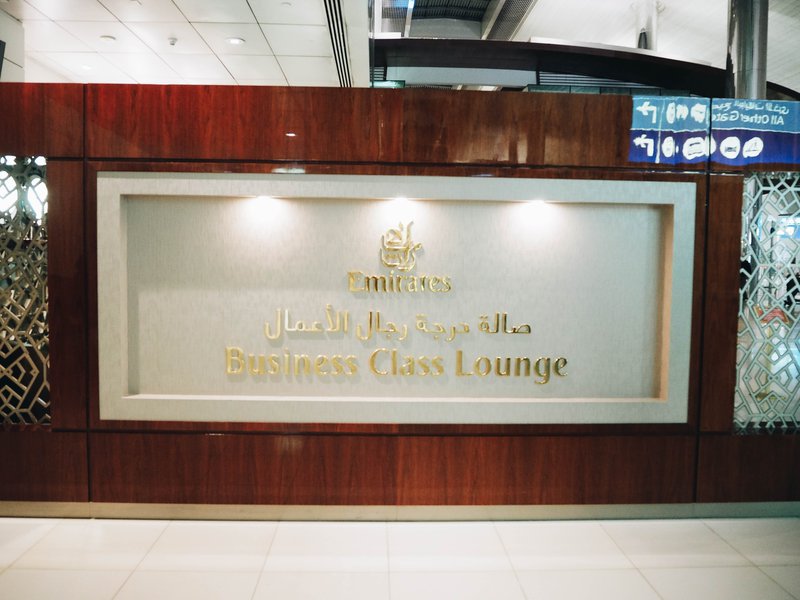 I arrived in Dubai on time and had a 3 hour layover, which I was glad of. I headed straight to the lounge. Emirates business and first class passengers have a fast track lane at Dubai airport, so it was easy to get through security.
The terminal is huge, so you need to be prepared to walk a lot. It was around 20 minutes before I got to the lounge itself.
The lounge had different areas with different international food (international, western and Asian) as well as a big selection of wine and whisky. All of the food choices looked quite appealing.
Despite being really big and being 1am in Dubai, the lounge was packed and noisy, even when in the cubicles. There was a really good internet connection here unlike Denpasar.
Onward to Munich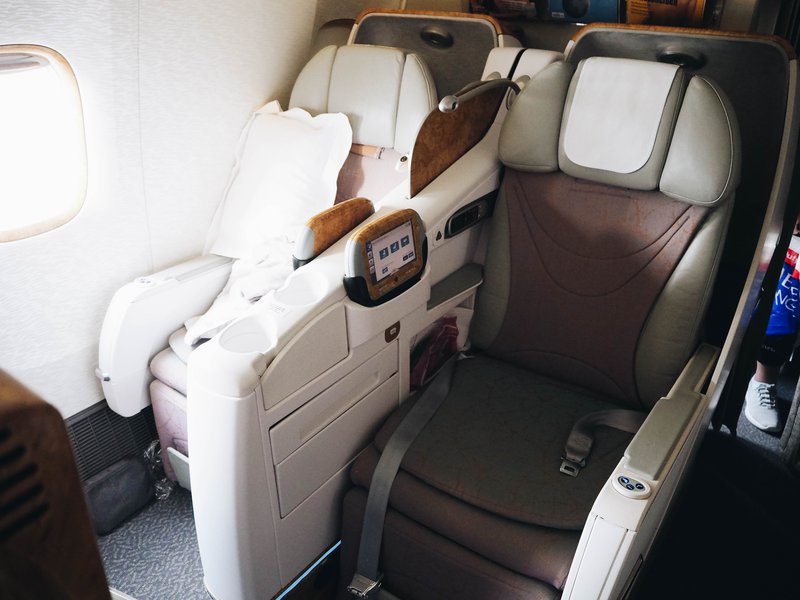 Three hours later, I was boarding my next flight to Munich. Same plane, same cabin and same row for me, but in the aisle this time. This was not quite as nice as the first leg of the trip as the flight attendant had to stand next to me to speak to the guy on the window seat.
I can't imagine being in the middle of the row of 3 seats. I don't think I would feel very comfortable there at all.
For this leg of the trip, there were a few more people in the cabin and so it didn't have the feeling I was onboard a private jet this time!
This time the amenities kit given included perfume, a brush and a toothbrush.
I was welcomed aboard by a lovely hostess who explained my food and wine choices.
The food options on this flight were little bites that we could order whenever we wanted and breakfast. I picked French toast and chocolate. It had been a long time since I had eaten something like this and it tasted great. I was also offered fresh orange juice, a croissant, and freshly cut fruit. It was all really good.
Again, I had the same issue as on the first flight from Denpasar. Breakfast was served too early and I wish I could have slept a bit longer.
When we landed, I left the cabin first and passed through immigration in not even 30 seconds with a European passport.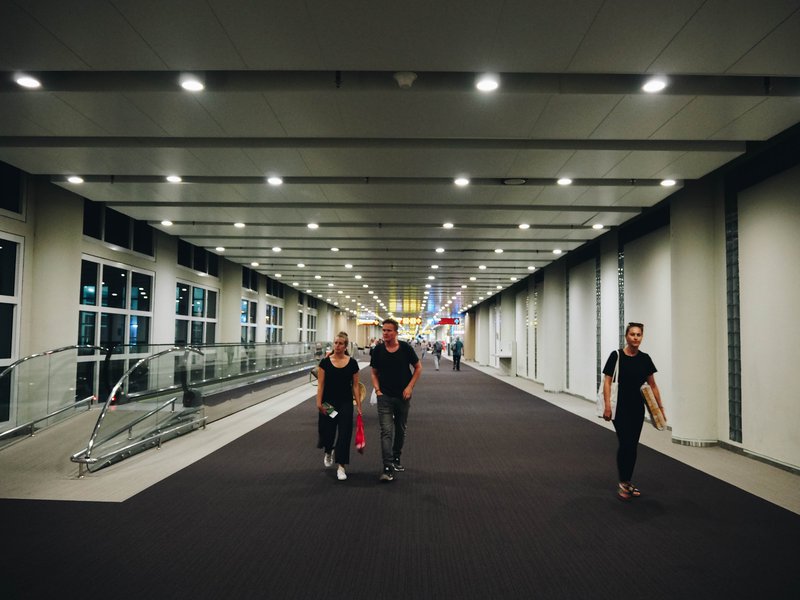 Final thoughts
I overheard a few girls from economy passing who mentioned that the flight is not long enough to upgrade yourself. Now that I have experienced business class, I would take every opportunity to upgrade... even on a 'short' flight. It makes the travel experience so much nicer and much more bearable.
It definitely didn't feel long with that level of luxury, excellent meal choices, great drinks, and more than enough space to accommodate my legs and even have an almost flatbed.
Normally when I travel, I fly economy and take advantage of being on a flight to just sleep and think about nothing. It's a welcome change from my real life where I'm always connected and surrounded by people.
But here I was wanting to test all the business class experience had to offer. I only slept for 4 of the 9 hour Denpasar — Dubai segment and another 4 hours on the 6 hour Dubai — Munich segment.
My tip for next time? Try and opt for the window seat.