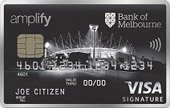 On Bank of Melbourne's website
Bank of Melbourne Amplify Signature Credit Card (Amplify)
Balance transfer
6 months at 0% p.a.
Purchase rate
19.74% p.a. ongoing
Annual fee
$139.00 for 1st year
Highlights
Earn up to 200,000 Bonus Amplify Rewards Points over 2 years when you spend $12,000 on eligible purchases each year.
Reduced annual fee of $139 in the first year, currently saving you $140.
0% p.a. for 6 months on balance transfers. Reverts to cash advance rate of 21.49% p.a.