With art, it is possible to be economical – especially in the current climate. For instance, the most expensive painting ever sold wasNo. 5, by Jackson Pollock. In 2006, David Martinez bought the painting in a private sale for the paltry sum of $140 million. Adjusting for inflation, that figure is now closer to $148.1 million. Although the 8′ x 4′ piece of art gave Martinez plenty of picture for the price, if he had applied himself he could have used the money, in a literal sense, to create his very own works of art, as these artists below have done.
Banknote cityscapes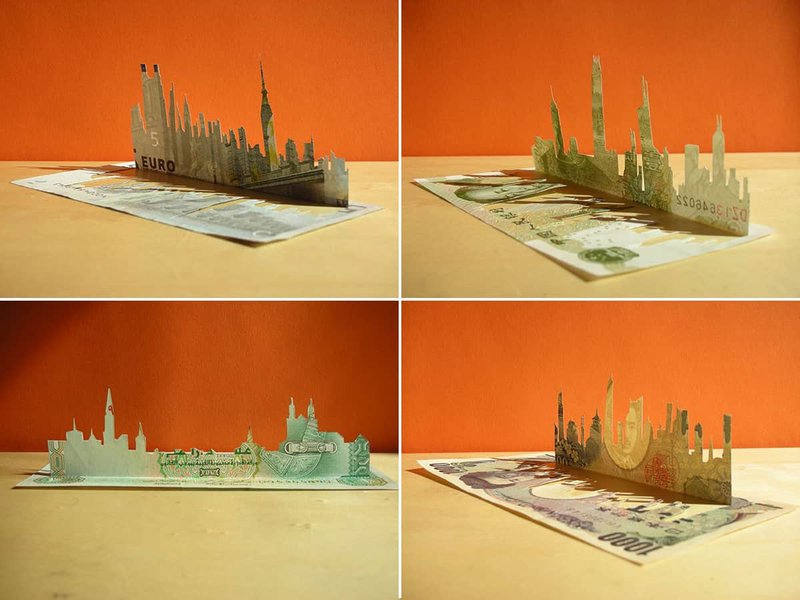 Creating a metropolis would usually involve a lot of money – however some cities are formed from as little as five bucks. Some clever soul over at Spluch created a number of city skylines from paper currency. Each silhouette is meant to represent the country of the note it's made from, though we're not sure why the Eiffel Tower and Arch de Triomphe are on the five pound note.
Laser-cut banknotes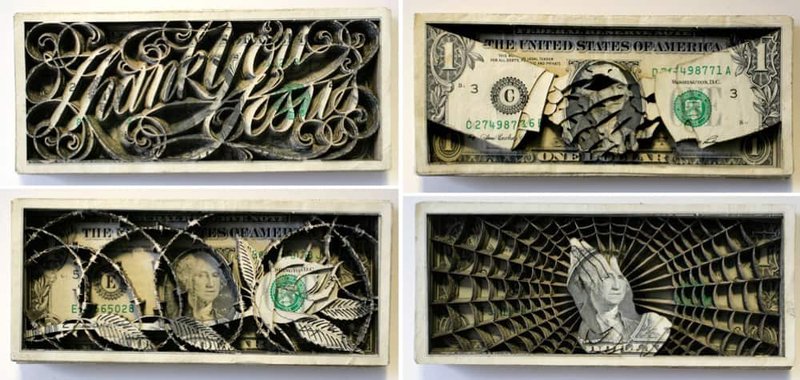 Tattoo artist Scott Campbell created some amazing money art by lasering some of his tattoo designs into used dollar bills. The result is pretty spectacular, and they're an amazing advertisement for his tattooing abilities because the precision needed to create some of them is unbelievably intricate.
Skeleton queens

Proving that drawing-on-money can force a new way of looking at things, Jake and Dinos Chapman doodle on a £20 note at Frieze Art Fair to create this terrifying modification of Queen Elizabeth. While some may question why an eighty-three year old looks so young on the currency, the brothers work may have aged her a little too far.
Bilingual coins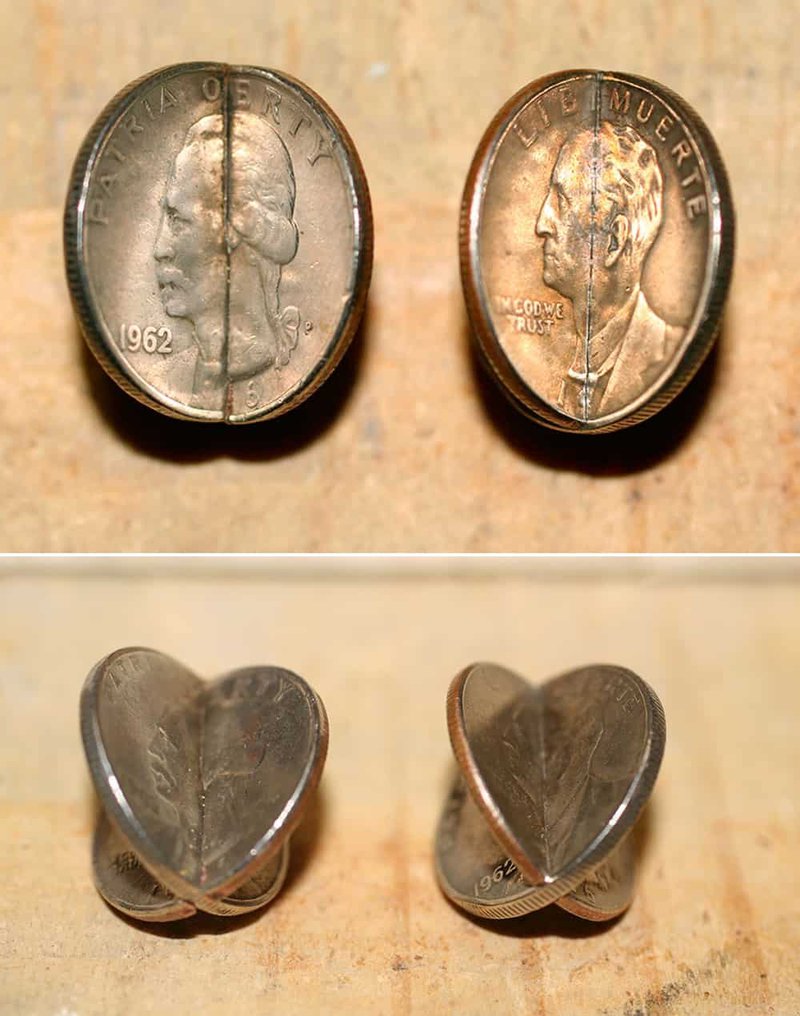 The artist responsible for this creation, Yoan Capote, is using money as art, and the importance of money itself, for political purposes. By combining the US quarter with a 20 cent Cuban coin, Capote brings the wealth of the two countries, and their financial and ideological systems, into direct opposition. The coins similarity in shape and colour act as a symbol of unification, suggesting the two countries could work together in harmony despite theses differences.
True patriots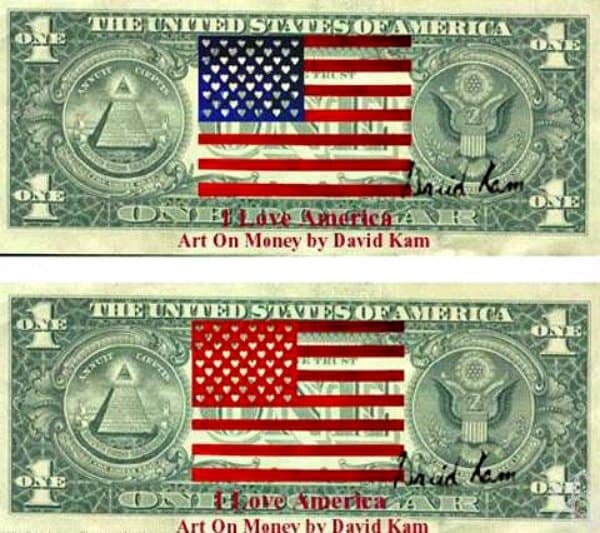 David Kam is another money-drawer, not because the printed President looks vaguely like an old TV host, but rather because the medium (the dollar note) is vital to the work's meaning. By overlaying images of love and patriotism on the notes, Kam is either fully supporting the capitalization of art, or vividly condemning it. If you know which, please send answers written on a bill of large denomination.
Banksy's Coronation of Diana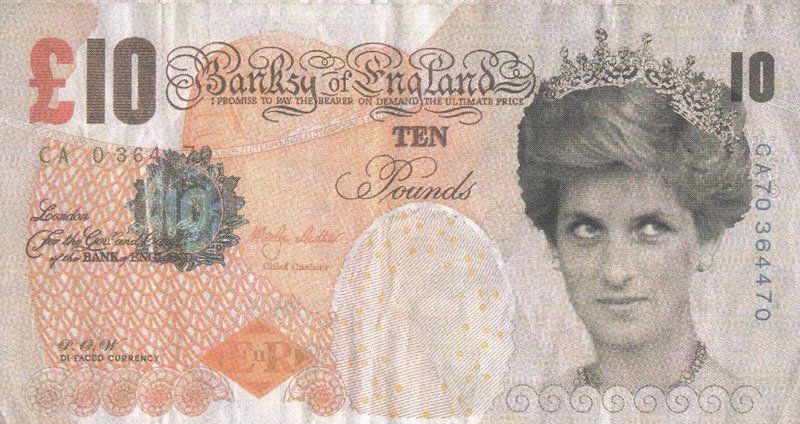 Guerilla artist Banksy uses a more complicated way of editing money than simply drawing on it. Banksy has superimposed a picture of Princess Diana onto a £10 note in the style of the Queen's head, which is traditionally found on all British currency. Banksy's work shows how naturally the Peoples' Princess would feature on the national currency, had she not have divorced Prince Charles in a separation where Charles is often viewed as the bad guy.
Dollar installations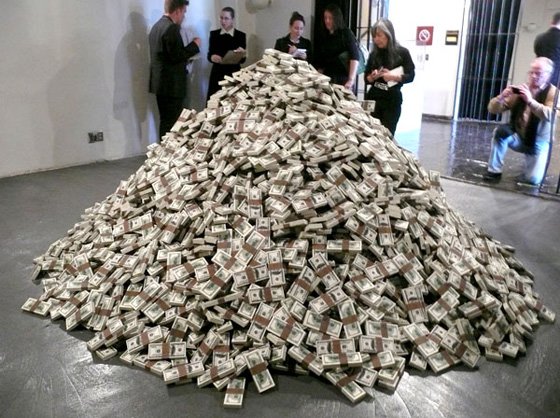 Srdjan Loncar uses these bundles of cash, surrounded by a stark room, to question the value of money itself – what use would all this money be if it alone cannot alter the drab setting it inhabits? Loncar is concerned with the complex division between society's implicit desire for money, despite an understanding of the worthlessness of money when it is stripped of its meaning and value, when it becomes merely bundles of paper.
Banknote origami hats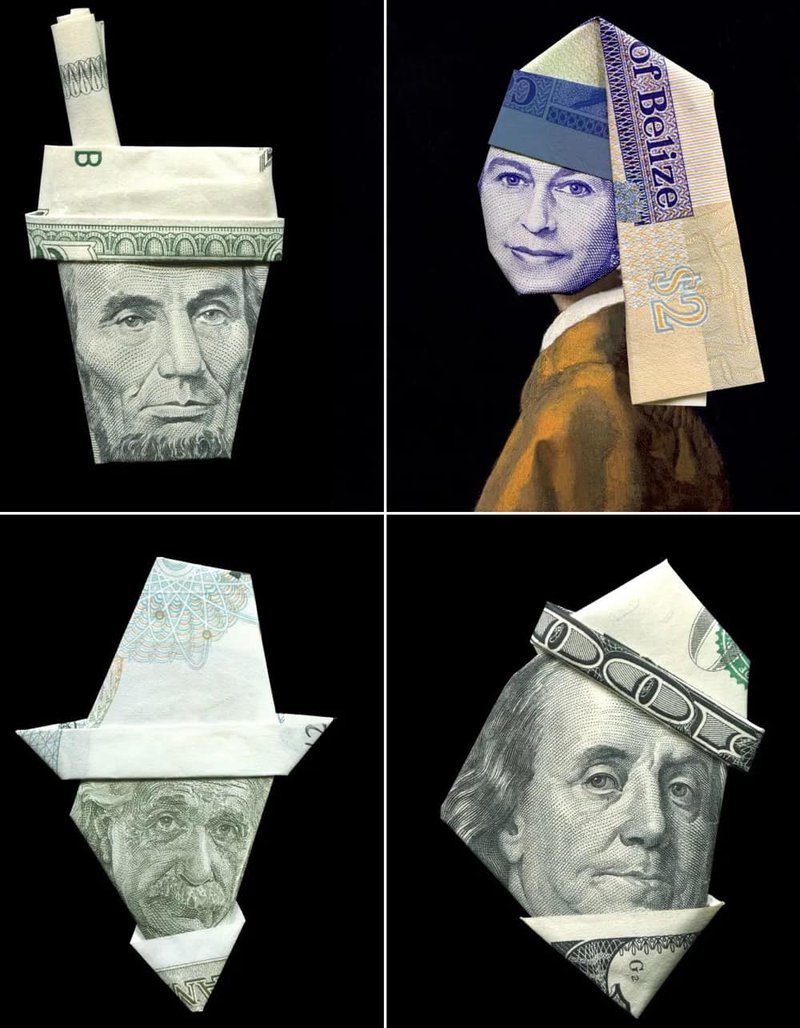 Origami using banknotes is a playful pastime for many, but for Taiwanese artist Yosuke Hasegawa, it is an opportunity to exploit the form of the note, and the printed face, to create an interesting object.