Qantas can lay claim to many things. They are Australia's largest airline carrier. They have a fleet of close to 300 aircraft transporting travellers to more than 150 destinations. They are consistently ranked as one of the best airlines in the world.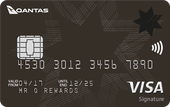 On NAB's website
NAB Qantas Rewards Signature Card
Highlights
Earn up to 130,000 Qantas Points when you spend $3,000 in the first 60 days from account approval date and keep your card open for over 12 months. Terms and conditions apply.
Earn 1 Qantas Point per $1 spent on everyday purchases up to $5,000 per statement period then 0.05 pts per $1 spent thereafter (capped at $20,000).
Complimentary Qantas Frequent Flyer membership fee valued at $99.50.
Seven complimentary insurances when you make an eligible purchase.
But there's one more thing. They also have a very frustrating website.
Maybe you've been using your Qantas credit card to build up points and now it's time to cash them in for a Classic Flight Rewards seat. And after searching for suitable dates, you've found what you were looking for. Now you just have to book it, which should be quick and easy... right?
Wrong!
Welcome to the Qantas booking system, which, if you haven't been logged out yet, is actually quite good compared to the train-wreck that is British Airways` effort (just try finding what days have reward seats available and you'll see what I mean).
And don't even try to book a reward ticket on your mobile phone. For some unknown reason, the Qantas mobile site won't recognise any city outside Australia!
I actually pity their development team. Building a consumer-facing booking system to handle reward seats on Qantas.com, often with complex itineraries, whether on Qantas or Jetstar metal or on one of their oneworld partners, is technically challenging since there is so much data moving between multiple distinct businesses.
It isn't surprising to get an error message from time to time. What is surprising, however, is the total lack of any context or meaning of the error. How on earth is the typical consumer supposed to figure out that, actually, Qantas was quite right to redirect me to an error message because, of course, the middle segment in my four segment flight is technically defined as a "through" route (whatever that means) and therefore should not be available to book?
It is these corner cases, these pesky errors, that we are going to strive to define. Here we go!
Error #9207 and #9200 — Unable to find flights for requested leg
A common issue that Qantas won't disclose is that you can't book two separate legs on a partner airline (like Cathay Pacific) if those same flights can be booked as a 'through' fare–even if the Qantas booking platform shows they are available.
Instead, they will be cancelled so Cathay Pacific can sell the tickets themselves. It's not a new issue either, with customers complaining about the #9207 error code for years.
A common problem seems to be taking a flight internationally (e.g. Melbourne to LAX) and then a domestic flight soon after (e.g. LAX to Fresno) on the same partner carrier.
Solution
There are a couple of different workarounds for this issue. If time isn't a factor, you can stop overnight in a transit city between legs. Alternatively, fly one of the legs on a different carrier to avoid the same-airline error.
Error #4002 [7597] and #15012-126 — Multi-stop bookings
If you're travelling from a city that isn't a major transport hub (like Sydney or Melbourne), you often need to take multiple flights to reach your destination.
And if you decide to book all those flights in one hit on the Qantas website, you could be in for a frustrating time with the 4002 [7597] error ruining your plans. Another error code for basically the same issue is 15012-126, which has been a common complaint from Qantas travellers in recent months.
In one such complaint left on the Qantas Facebook page, a Qantas Platinum Frequent Flyer tried making a multi-stop booking on the Qantas website for six hours and kept receiving the same error–even trying to contact the airline on Facebook Messenger returned an auto-reply error.
So, how does it happen?
This a screenshot I took late last year when this exact error occurred while booking my own flights. In fact, this event inspired this entire article.
As you can see from the above I needed 4 flights to line up in order to get to my final destination.
Singapore to Hong Kong, then on to Perth for a one-day stopover. From Perth to Sydney and then onto Port Macquarie.
I tried to book this via the normal route: using Qantas' Multi-City search function to break up each leg into separate flights, which is when I ran into the 4002 [7597] error.
Seemingly the error occurred because it recognised my flights as being within a 24-hour period, which is technically a 'connecting' service.
As I found out, such services are not eligible for multi-city bookings–even though they can be booked as separate flights. Frustrating right?
Solution
Thankfully, this one's kind of an easy fix. Instead of breaking up each leg of the journey into separate flights, either make the booking direct from Point A to Point B–or try breaking up the 24-hours so the system doesn't recognise any of your legs as ineligible connecting services.
Error #4620 — Credit card issues
Not sure about you, but speaking for myself nothing is more frustrating than going through the entire process of booking a flight only to have an error page pop-up saying my credit card didn't go through.
While sometimes it's simply a case of entering a different card, I know that's not a luxury for everyone.
In another Facebook message, and in several lengthy Facebook complaints, Qantas customers have experienced the 4620 error code saying:
"We are having difficulty with the credit card details provided. Please validate the credit card information in your profile and try again."
Solution
If you have a different credit card, the fastest solution is probably to use that instead. But if that's not an option, or if you are adamant the credit card should work, then getting in touch with customer service seems like your only option.
In this Facebook thread, there are multiple customers complaining about getting the same error, with little help from Qantas's social media team. PMs were sent to disrupted parties, but if it happens to you then you'll likely need to make your voice heard over the phone or online.
Error #3006 and #15235 — Generic errors when managing bookings
There are quite a few generic errors that occur even after you've made your booking.
When you jump onto the Qantas website and want to manage your booking, you may receive the generic error 3006 message. This often happens when you try to manage a booking immediately after you've booked a flight. You've gotta wait until you receive the confirmation emails. Don't panic or worry that somehow Qantas have lost your booking.
It might also happen when trying to select a seat on an upcoming flight, though it doesn't appear to discriminate between customers–so it may hit you at random.
Similarly, customers have complained about other generic error messages while trying to manage their bookings, namely code 15235, which tends to appear when you've logged into your booking and you try to access a seat preference.
Solution
For generic error #3006 just wait a few minutes until your booking confirmation has been emailed to you then attempt to manage your booking as your booking has not yet made it all the way through Qantas creaky legacy backend systems.
For both error codes, Qantas recommends clearing the cache and trying again, however several Facebook commenters tried and failed to make it work.
It appears that sometimes it works while other times not, and if the problem persists Qantas says to contact its Reservations team for assistance.
Error #66002 — No flights appearing on multi-city bookings
By this point you may have realised that Qantas' multi-city booking engine is inconsistent at the best of times–or as one forum user puts it: "very temperamental" and "not user-friendly".
The 66002 code appears often when using the Qantas website, especially on international journeys.
One customer tried booking a flight from Sydney to Hong Kong, and then a return journey from Bangkok back to Sydney. The main issue here seemed to be the arrival (Hong Kong) and departure (Bangkok) airports were not the same.
Booking a round-trip multi-city itinerary in this way appears to be what 'breaks' the Qantas booking system.
Solution
There are a couple of options here. If you are booking return flights–like the customer above–and aren't arriving and leaving from the same city, you'll need to either book the trips as separate journeys or make the booking over the phone, as the Qantas booking engine can't seem to parse this type of return journey.
Otherwise, Qantas recommends calling its Reservations team to sort the issue. The good news is you should be able to get the phone booking assistance fee waived as you are legitimately unable to complete your booking online.
Error: #15079-421 — Unable to confirm selected flights
This happens every single day with Qantas. Customers have gone through the whole process of making a booking—searched, selected seats, punched in your passenger information and payment details and hit submit–but been held up at the final stage with an error that reads:
"We are unable to confirm your selected flights. Select 'Start over' and choose alternative flights."
The frustration with the 15079-421 error is that those flights are available, even though the website says differently. Or if you're booking a Classic Rewards seat in any travel class, the points seat is not actually available to book even the website says the seat is available.
It tends to happen a lot on international flights when a user wants to spend their Qantas points with a partner airline. One Qantas customer tried this on a flight to Germany with Emirates and was met with the same error code. But it will happen on QF flights too. Credit Card Compare team members have hit this error many times when making bookings.
Solution
There's no online fix for this one. Instead, jump on the phone and walk the service agent through the steps you took when you made the booking. One customer did just that and had the agent reproduce the same booking error. The result was a booked flight using their reward points over the phone without incurring any extra charge for the phone booking. Negative outcomes also happen where no points can be made.
Error #15012 - 421
Customers have gone through the whole process of making a booking and are about to enter payment details – but are held up with an error that reads:
"Qantas.com flight search error: We are unable to confirm the fare for the flights you have selected from the airlines we search. Please cancel these segments and choose a different fare or flights and resubmit your confirmation request. (15012 - 421)"
This error has been happening for many years and tends to happen on international flights when someone wants to redeem their Qantas points with a partner airline such as Emirates. Credit Card Compare team members have hit this error many times when making bookings i.e. Barcelona to Singapore with Emirates.
Qantas says that they are aware of the problem and that you should call customer service to make your booking.
Solution
No online fix for this one. Jump on the phone and walk the service agent through the steps you took when you made the booking. Insist on not paying the extra charge for making a phone booking charge. If the website had of worked you won't not needed to call up.
Generic error — Timeouts
This problem isn't exclusive to Qantas and doesn't come with specific error codes, but a quick Google will reveal how common it is for bookings to time out before the transaction is complete–which means customers are losing their entire booking without any apparent cause.
Note: the lengthy reference codes change according to the customer (e.g. Reference #102.23a9645f.1519626597.8e027d4 or Reference #102.23a9645f.1413861782.15791f84).
Timing out can happen for a number of reasons–and this particular error has been affecting Qantas flyers for years.
It seems to happen when people are trying to book multi-city itineraries, in particular, however, the absence of a 4002 [7597] or 15012-126 error code likely indicates the issue has to do with either the Qantas server or the customer's strength of Internet connection.
Solution
Timeouts aren't likely to fix themselves with a simple refresh of the page–you may end up going through the whole process again only to be faced with the same error message. Instead, try using a different browser (if you tried to book on Chrome, use Firefox, for example).
Keep your logged in Qantas session alive by going back and forward in the booking process steps until you get it done.
Another good bet is to use your mobile phone to make the booking as it will use a different version of the Qantas website (mobile optimised) and hopefully avoid any timeouts.
As kooky as it may sound, if all else fails, turn off your Wi-Fi and make the booking on your 4G network, or use a computer somewhere else. It's a frustrating error, but one of these solutions should do the trick before you have to resort to making a phone call to Qantas customer service.
Generic error — Inconsistent flight options online and via phone
You may also run into trouble whenever an error appears where it says Qantas can't find the fare.
This often isn't true, as the flight will be available but for whatever reason, it simply doesn't appear on the booking site.
Solution
What you'll need to do here is call Qantas to book over the phone. The website often displays conflicting information to what the customer service representative has at their disposal.
If all else fails, get a direct line
Sometimes there may be too many factors working against you to sort the issue online. Or maybe you don't have enough time to scour the web for fixes and instead need to deal with Qantas staff directly.
If that's the case, the best solution is to jump on the phone and go through the booking process directly.
Don't try to contact Qantas Customer Care as your first port of call – it might seem like the most obvious fix, but getting bogged down in the complaints department won't get your flight booked any sooner. Plus, according to ConsumerAffairs, the Qantas complaints department doesn't have a very high satisfaction record from customers who've dealt with them.
What you'll want to do is go through the booking process over the phone. It might seem like you've done all this work online for naught, but it will put you in direct contact with a Qantas representative and you can talk through your issue with someone who understands systems like the Class Flight Rewards better than anyone else.
A booking error can actually be a win for you
Even if the issue gets resolved over the phone, that doesn't take away from the fact that you've lost the convenience of booking online. But take a moment to view the situation from a different perspective.
Since you've been forced to make the booking over the phone, you are actually in the best position to ask for a better deal, as Qantas wasn't able to back up the online service they claimed they could provide.
When speaking to the Qantas operator on the phone–and before you provide your payment details to complete the transaction–take the initiative and ask that they waive the booking fee.
Due to the inconvenience of jumping on the phone and the failure to book using your Classic Flight Rewards online, you should expect some sort of discount–and at the very least the deduction of the booking fee from the total flight cost.
Booking online is still more convenient... and cheaper
Despite the common errors outlined here, I still think there's no better way to book a flight and use your Classic Flight Rewards than through Qantas' online booking system.
It's quick, convenient and you can access a range of local and international flights through the airline's extensive partner list.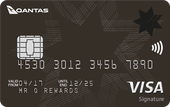 On NAB's website
NAB Qantas Rewards Signature Card
Highlights
Earn up to 130,000 Qantas Points when you spend $3,000 in the first 60 days from account approval date and keep your card open for over 12 months. Terms and conditions apply.
Earn 1 Qantas Point per $1 spent on everyday purchases up to $5,000 per statement period then 0.05 pts per $1 spent thereafter (capped at $20,000).
Complimentary Qantas Frequent Flyer membership fee valued at $99.50.
Seven complimentary insurances when you make an eligible purchase.