Using a credit card to buy Bitcoin is one of the quickest ways to get your hands on the cryptocurrency. While some credit card issuers block crypto purchases, many exchanges accept deposits from credit cards.
Read on for our step-by-step guide to buying Bitcoin with a credit card in New Zealand.
Unsure about what exchange to use?
Where to buy Bitcoin with a credit card
First time buying?
How to buy Bitcoin with a credit card

On website
Swyftx
Highlights
Receive $10 worth of BTC when you sign up and verify your account.
Trade over 260 assets on Swyftx including Bitcoin, Ethereum, Ripple and Litecoin as well as DeFi coins such as UniCoin.
Deposit or withdraw funds from your account using several payment methods (PayID, OSKI, POLi or bank transfers).
New to Crypto? Try Swyftx's demo mode, it allows you to mock trade with no financial risk while you learn the ropes of crypto trading.
---
Pros
Trade more than 300 crypto assets through the Swyftx platform.
Offers tight spreads and low trading fees.
Get support within 5 minutes through their live chat.
Practice trading with a demo mode.
Cons
Lacks access to advanced trading markets.

On website
Easy Crypto
Highlights
The first crypto broker in New Zealand to offer a 100% funds safety guarantee on every order.
Full custodial control over your crypto at all times.
Convert easily and quickly between cryptocurrencies.
---
Pros
Simple and easy-to-navigate interface.
There is a wide range of cryptocurrencies available.
Includes tracker which shows your portfolio's performance.
Cons
High transaction fees compared to other exchanges.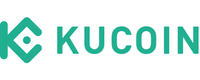 On website
KuCoin
Highlights
Safe and rapid Bitcoin purchase.
Multiple order types for all kinds of risk appetite.
Sign up and get a welcome gift.
---
Pros
Supports 600+ different coins.
Has low maker and taker fees, starting at 0.10%.
Opportunity to earn interest in your cryptocurrencies.
Cons
A limited choice of payment options is available.
Step 1: Choose what crypto exchange to use
Assuming that your credit card will not block crypto purchases, the first step is to sign up with a crypto exchange that accepts deposits made with a credit card.
Any of the exchanges listed on this page all accept credit cards.
Buying Bitcoin will be treated as a cash advance. Make sure you are clear about any of the fees that may be charged by the card issuer or exchange before proceeding.
You can use Finty to compare different crypto exchanges, their brokerage or spread, and what it costs to deposit and withdraw fiat currency.
Step 2: Authenticate and verify your ID
Once you've chosen a crypto exchange, you'll need to confirm your identity. This usually requires some form of photo ID like a driver's licence, passport, or any other proof of photographic identification. You may be required to take a selfie while holding your photo ID (so they can match you up).
I've signed up for a lot of exchanges over the years and in my experience, they generally make it quick and easy to complete this step.
Step 3: Decide how much to buy
As Bitcoin is a volatile asset, you must decide carefully how much you want to invest in the cryptocurrency. Factors like government regulations, supply and demand, investor and user sentiments, and media hype constantly cause fluctuations in Bitcoin's price.
However much Bitcoin you decide to buy with your credit card, make sure you can pay it off in full when your next statement comes through.
Step 4: Deposits funds
You can fund your crypto exchange account by entering your credit card information.
Funds deposited with a credit card are typically cleared for use within minutes of the transaction.
Step 5: Place an order
The easiest type of order to set up is a market order, which requires practically no configuration at all. Once submitted, the purchase will be made at the next available price.
At most exchanges, you can also set up a trigger order by entering the target price you would like to buy Bitcoin at. Trigger orders may take a little more configuration, but they can be used to execute a trading strategy to buy a dip or sell when the price drops.
With adequate funds in your account, you can set up a recurring order to purchase more coins on a regular basis. Using a recurring buy is a way to dollar cost average down.
Step 6: Buy
After deciding what type of order you want to place, fill out the form and make a purchase.
Still not sure?
Pros and cons
Pros
Fastest way to buy. Transfers made via a credit card typically take just minutes to complete.
Rewards and sign-up bonus. Depending on your credit card's terms, buying Bitcoin may earn rewards or credits that count towards a sign-up bonus.
Cons
Cash advance fee. Buying crypto is usually classified as a cash advance, resulting in a one-time fee that's typically 3% - 5% of the total amount.
Foreign exchange fee. You may also have to pay a foreign exchange fee if the exchange you are signed up with is based outside the New Zealand. However, not all card issuers charge this fee.
Crypto exchange processing fees. The crypto exchange may charge a fee for credit card deposits.
Some credit cards block Bitcoin purchases. Many credit card issuers in the New Zealand. do not allow cryptocurrency purchases. Some card issuers even penalize cardholders for trying to buy crypto.
How long does it take for funds to transfer using a credit card?
It normally takes a few minutes for funds to clear into your account at the exchange.
Can I buy Bitcoin with a credit card anonymously?
Yes, you can buy Bitcoin with a credit card anonymously. Some exchanges allow you to purchase a limited amount of Bitcoin using a credit card without identity verification.
Can I buy other cryptocurrencies with a credit card?
Yes, you can buy other cryptocurrencies with a credit card. After depositing funds into your account, select the desired cryptocurrency and execute the transaction.