Lots of crypto exchanges accept PayPal as a way to deposit funds and buy Bitcoin.
You may be here because you want to use PayPal as an intermediary, for example between a credit card that can't be used to buy crypto and a crypto exchange. If you are, the process is simple. In our guide, we assume that you have already got a PayPal account set up and have linked it to a source of funds such as a bank account, debit card, or credit card.
Read on for our step-by-step guide to buying Bitcoin with PayPal in New Zealand.
Unsure about what exchange to use?
Where to buy Bitcoin with PayPal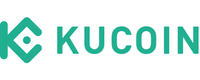 On website
KuCoin
Highlights
Safe and rapid Bitcoin purchase.
Multiple order types for all kinds of risk appetite.
Sign up and get a welcome gift.
---
Pros
Supports 600+ different coins.
Has low maker and taker fees, starting at 0.10%.
Opportunity to earn interest in your cryptocurrencies.
Cons
A limited choice of payment options is available.
First time buying?
How to buy Bitcoin with PayPal
Step 1: Choose an exchange that accepts PayPal
The first step is to pick an exchange that supports funds being deposited with PayPal. Not every exchange does, but we've collated a list of top exchanges that do on this page.
Apart from accepting PayPal, things to consider when comparing exchanges include available tokens, trading fees, fees to deposit and withdraw fiat currency, and the availability of other crypto financial services like having a card that can draw from your exchange balance or the ability to stake tokens you want to hold for the long-term.
Step 2: Complete the verification process
After setting up your exchange account, verify your identity by providing details of your passport, driver's licence, or another form of photo ID.
Every exchange has its own requirements for identity verification. You may be required to upload an image of yourself holding your photo ID so they can be matched up.
Step 3: Decide how much Bitcoin to buy
Bitcoin is known to be a highly volatile asset. Its price is influenced by a variety of factors. Sentiment and confidence are critically important to its price.
Take this volatility into account before making a decision about how much you want to invest. And, as ever, only invest what you can afford.
Step 4: Deposit funds in your exchange wallet
Funding your exchange wallet via PayPal is very straightforward.
The flow may be slightly different between exchanges. For example, on some, you may have to link your PayPal account to your exchange account from account settings. Others may ask you to log into your PayPal account and complete the transaction there, before redirecting you back to the exchange.
Either way, depositing funds into your exchange account with PayPal is not difficult and doesn't take long to clear.
Step 5: Place an order
Once your exchange wallet has been successfully funded, you can place an order to buy Bitcoin. Most crypto exchanges support various different order types, namely market orders (fast and require very little configuration), trigger orders (use them to buy or sell at a certain price in the future), and recurring orders (buy more periodically).
Step 6: Buy
Complete the order form to buy Bitcoin with PayPal funds.
Still not sure?
Pros and cons
Pros
Easy to use. Depositing funds with PayPal is very simple and fast.
Flexible alternative. Many people use PayPal as an intermediary so they can use a debit or credit card that blocks crypto purchases.
Safe and secure. PayPal provides extra security through end-to-end encryption and helps get your funds back in case of fraudulent activity.
Cons
Transaction fees. Depending on how you fund your account, there may be PayPal fees to take into account.
Not every exchange supports PayPal. Most of the big exchanges do take PayPal, but many smaller or domestic exchanges do not.
Additional exchange fees. Some exchanges may charge a fee to process funds deposited with PayPal.
How long does it take for funds to transfer using PayPal?
Funds show up in your exchange account instantly after you make a transfer using Paypal.
Can I buy Bitcoin with PayPal anonymously?
Yes, you can use PayPal to buy Bitcoin anonymously on peer-to-peer exchanges.
Can I buy other cryptocurrencies with PayPal?
Yes, you can buy other cryptocurrencies with PayPal. Once your crypto exchange account has been funded, you can buy any of the cryptocurrencies they have listed.