Find out if Zip Pay run a credit check when signing up for an account.
Learn how using Zip Pay may affect your credit score and future credit applications.
Australia's buy now pay later ecosystem has experienced rapid growth, with consumers increasingly choosing to buy now and pay later rather than spending on their credit card. Having gone mainstream, the question of how Zip Pay affects your credit score is increasingly of concern, particularly for those buying a house or considering a new application for credit.
Is it possible that Zip Pay could hurt your credit score and cause problems with opportunities and decisions in the future? Let's find out in our detailed guide to Zip Pay and your credit score.
Keep an eye on your credit score with Finty. It's free and really easy to set up. Check as often as you like. Get your credit score now.
Do Zip run a credit check when opening a Zip Pay account?
Zip Pay's relationship with credit reporting bureaus is quite well documented in their terms and conditions and privacy policy.
According to their terms and conditions, "all applications for credit are subject to ZIP's normal credit approval criteria". And quoting from their privacy policy, they also state that they will "use your credit-related information to assess your eligibility to be provided with finance".
Zip are very clear in this regard: they will check your credit score when you apply to open an account. This is a clear point of difference with Afterpay, who may run a credit check, but typically don't.
What do Zip Pay report to credit reporting bureaus?
Quoting from their privacy policy again, Zip will report to credit reporting bureaus "if you fail to meet your payment obligations in relation to any finance that we have provided or arranged, or you have committed a serious credit infringement".
Plainly speaking, this means Zip will report if you missed or have defaulted on a payment. The report of a default will stay in your credit history file for five years, and can reduce your credit score.
Can I use Zip Pay to rebuild my credit score?
In order to build your credit score, your repayments — including those made on time — need to be reported to the credit reporting bureaus. However, it is unclear whether Zip actually report all repayments, or just missed payments or defaults.
Referring to their privacy policy, Zip "can exchange ... your identification details, what type of loans you have, how much you have borrowed, whether or not you have met your loan payment obligations, and if you have committed a serious credit infringement (such as fraud)".
The key word is "can", which allows for plenty of wiggle room and therefore doubt that it would be an effective way to build a credit history.
Can I get Zip Pay with bad credit?
Since Zip will check an applicant's credit score, those whose report shows a history of late payments, defaults, bankruptcy or being recently discharged from bankruptcy, are less likely to be approved.
If you have damaged your credit score, it may be a good idea to improve it before applying to open a Zip Pay account, or choose Afterpay, who typically do not run a credit check when signing up.
Can Zip Pay affect a credit card or home loan application?
It has been reported that banks may consider applicants who have been using buy now pay later services as a higher risk because it may suggest someone struggling to make ends meet.
Every bank's credit risk profiling will consider Zip Pay differently. However, your application is less likely to be rejected if your credit score is good and you have a history of repaying on time, savings, and proof of a steady income.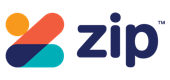 On Zip's website
Zip Pay
Highlights
Own it now, pay later. Interest free, always.
Up to $1,000 for your everyday spending, apply in minutes.
No establishment fee.
Choose how you repay: weekly, fortnightly or monthly.
Disclaimer: Minimum monthly repayments are required. A monthly account fee of $6.00 applies. Pay your closing balance in full each month and we'll waive the fee. Available to approved applicants only. Terms & Conditions apply and are available on application. See your contract for further details.
---
Pros
Always interest free.
Account fee of $6 is waived if you have no outstanding balance at the end of the month.
Enjoy product features such as Tap & Zip, Zip Bills, Gift Cards, Shop Everywhere and Refer a Friend.
Cons
There is a $5 late payment fee if minimum repayment is not paid within 21 days of due date.