Travel across the Pacific for 80,000 AAdvantage Miles plus $81 in taxes
One of the best ways to fly across the Pacific
Learn how to get AAdvantage Miles in Australia and fly with American Airlines
During the first half of 2017 I flew with American Airlines on AA72 for a 14 hour red-eye flight from Sydney to Los Angeles. It's a mid-morning flight that gets into LAX around 7am, ideal for starting your day in Los Angeles or catching a connecting flight, which is what I had planned.
This trip was a number of firsts for me. It was my first flight with American Airlines. My first time flying to Europe via the USA. And it was my first time connecting via LAX airport.
I have flown the "Kangaroo Route" from Australia to Europe many, many times before, but this time I wanted to try something different. I wanted to go the other direction via the USA. And so began my journey on what would be a massive round-the-world trip in 10 days — all booked using frequent flyer points.
Flight details
Route: Sydney – Los Angeles
Airline: American Airlines
Flight: AA72
Duration: 14 hours
Aircraft: Boeing 787-9 Dreamliner
Cabin: Business Class
Points used: 80,000 AAdvantage Miles plus $81 AUD taxes
Overnight flight: Yes
Meal included: Yes
Amenity kit provided: Yes
Pyjamas provided: Yes
In-flight Wi-Fi: Yes
Baggage: Carry on plus allowance for checked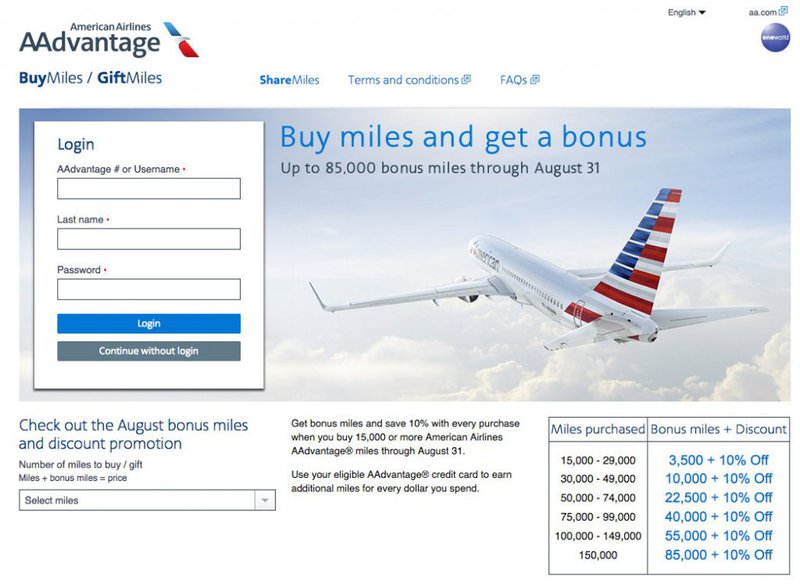 Booking with points
At the start of 2017 I had purchased a some AAdvantage Miles in a sale, knowing that later on that year I'd be flying on an international flight with either American Airlines or one of their codeshare partners such as Qantas.
You can buy AAdvantage Miles directly from American Airlines and hold onto them for travel at some point in the future. At the time of writing, there was another promotion running to buy AAdvantage Miles with a bonus 10% discount.
I booked a seat in Business Class seat using 80,000 AAdvantage Miles and paid $81 in taxes and surcharges. This was an excellent deal considering what these seats typically sell for. If I had used Qantas points to book the same seat on AA72, then it would have cost 96,000 Qantas points and $112 in taxes and surcharges.
But here's the more interesting comparison...
The exact same seat on the same flight, bought with cash, would have cost around AU$8,700. Using points, I was able to get a value of approximately 9.09 cents per AAdvantage Mile (calculated as points required divided by the cost), making this an excellent use of points.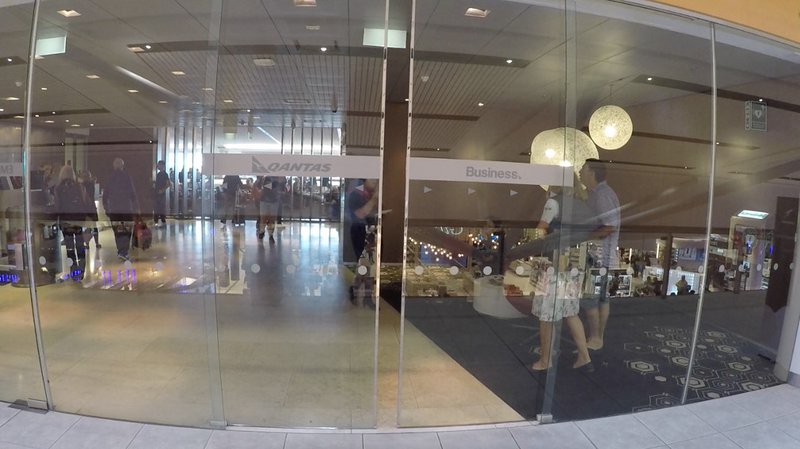 Lounge access
One of the best benefits of flying in Business Class is access to the lounge. And since American Airlines is a codeshare partner of Qantas, I got to make use of the Qantas Business Lounge at Sydney International Airport before boarding my flight.
Some may find this contentious, but in my opinion the international terminal at Sydney International Airport is quite good by international standards. It may not be the best in the world, but it definitely isn't the worst.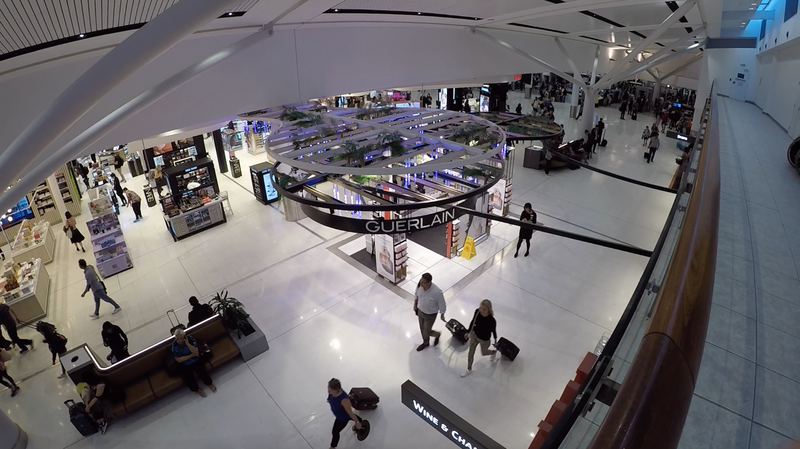 In fact, it has improved so much that it's now questionable whether it's better to head to the the Qantas Business Lounge or just put in the time at one of the many upscale restaurants, bars, and cafes. This is especially the case when time is short. There is a good selection of shops too (and not just the usual souvenir fare).
After connecting from a short domestic flight, I was really looking forward to a refreshing shower before my flight to LAX, powering up my devices, getting some food, and just relaxing in a comfortable seat before boarding.
The Qantas Business Lounge
Finding the Qantas Business Lounge is not difficult. Once through security and immigration, follow the signs past the shops and take the escalator up from the main concourse. Once on the upper level, walk past the entrance to the Qantas First Lounge to find the entrance to the Business Lounge.
The Qantas Business Lounge in Sydney International Airport is regarded as the airline's best business class lounge in Australia. It certainly ranks well compared to my experiences with Qantas lounges in Melbourne, Brisbane, and Perth in terms of facilities, location, and view.
It is quite a long and spacious lounge, decorated with a high-end style. However, it does get busy at peak times since Qantas, American Airlines, Cathay Pacific, and British Airways members—among others—all have access to it.
The lounge itself caters to a broad spectrum of travellers. You'll find a mix of suited and booted business travellers in the lounge (as you would expect) and plenty of holiday-makers too. If this is your first time here, you don't need to feel intimidated, but you should stick to the dress code.
If you've ever been in a Qantas Business Lounge, you'll be familiar with their well-stocked buffet, from which you can take whatever you want. You'll have a fairly typical choice of fresh fruit, yoghurts, cold meats, and hot food.
I generally go for light food before flying, but only so there's plenty of room left to enjoy the onboard meal!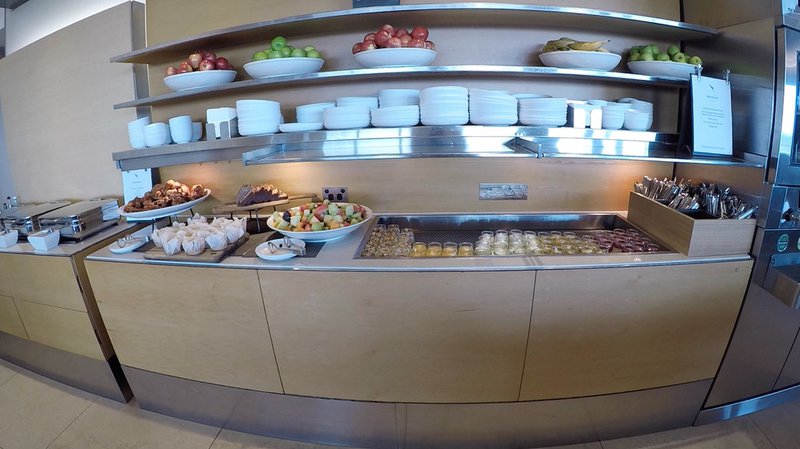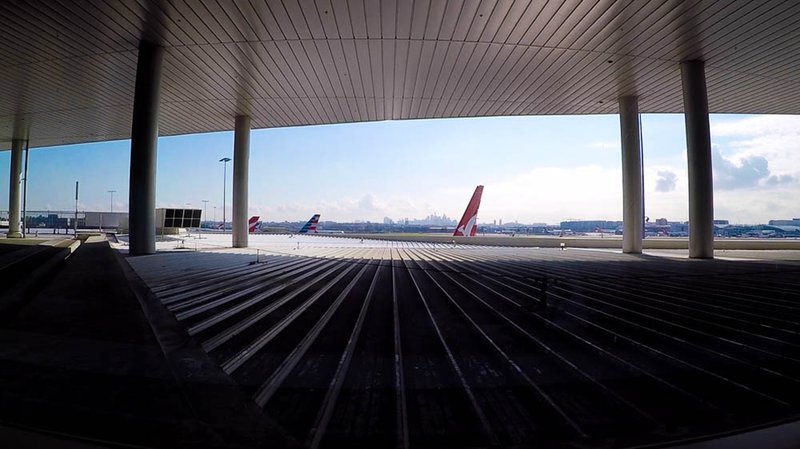 While the food and coffee are good, the views aren't. You can see the Sydney skyline, but the view of the airfield is quite limited because the lounge itself is actually set back inside the building. Having said that, the view is a lot more interesting than what you typically get... unless you frequent the outdoor pool at Singapore Changi!
Boarding
Getting from the Qantas Business Lounge to the boarding gate was only a short 5-minute walk (maximum). There was a dedicated jet bridge for Business Class, a nice touch that means you can board faster with less queuing. Economy Class passengers entered the plane separately.
I really appreciate a bit of banter with the cabin crew, so I enjoyed the pleasant cabin crew who were upbeat and took a moment to chat and get to know who I was, which was a friendly exchange.
This is a welcome and marked difference from the typical no-nonsense (bordering on gruff) treatment I've had in the past from cabin crew on many a Qantas flight.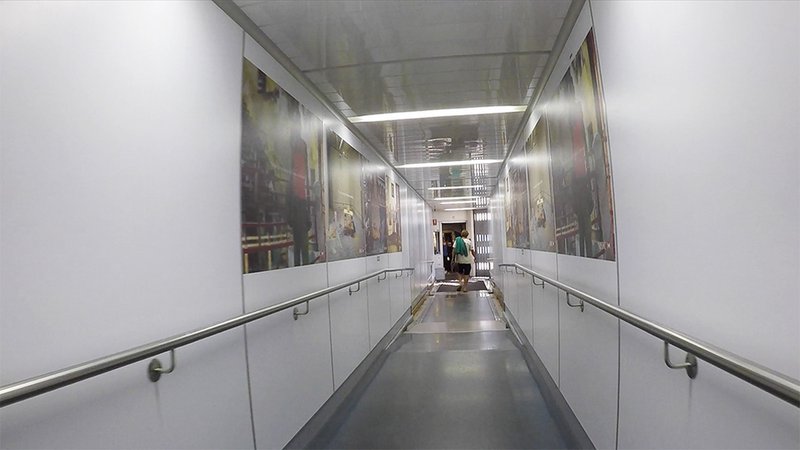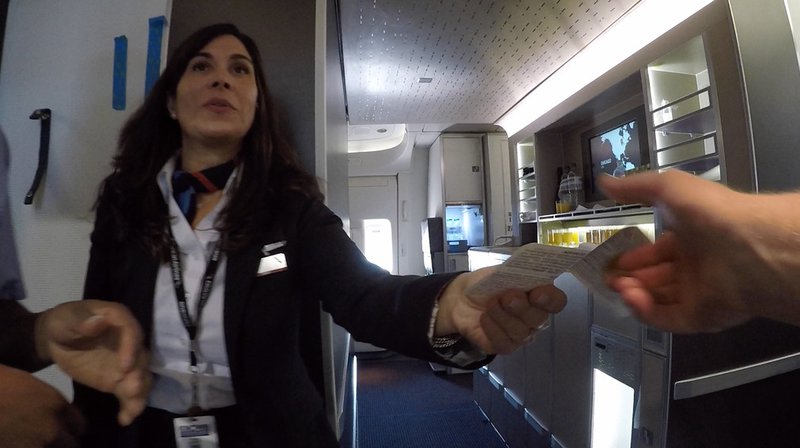 Takeoff!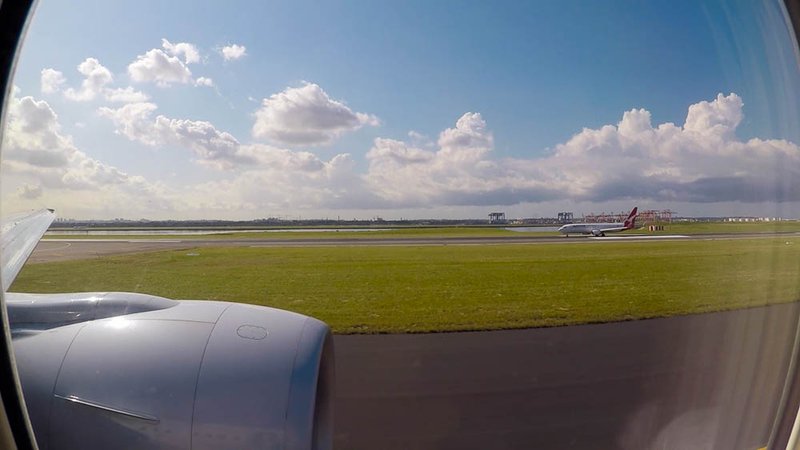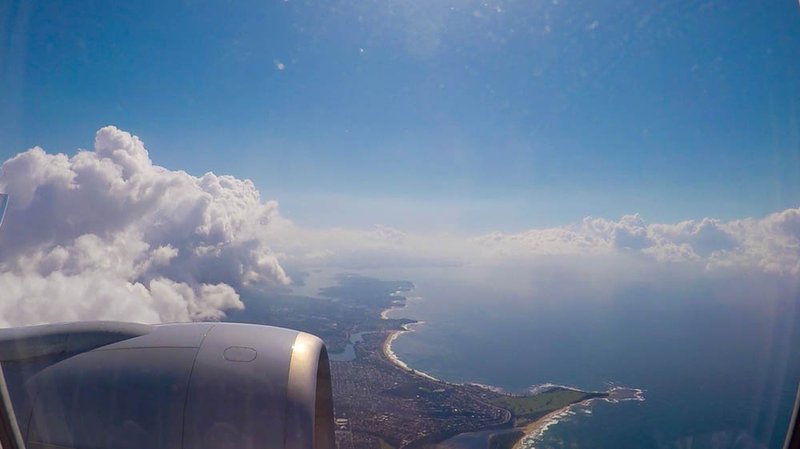 The Business Class cabin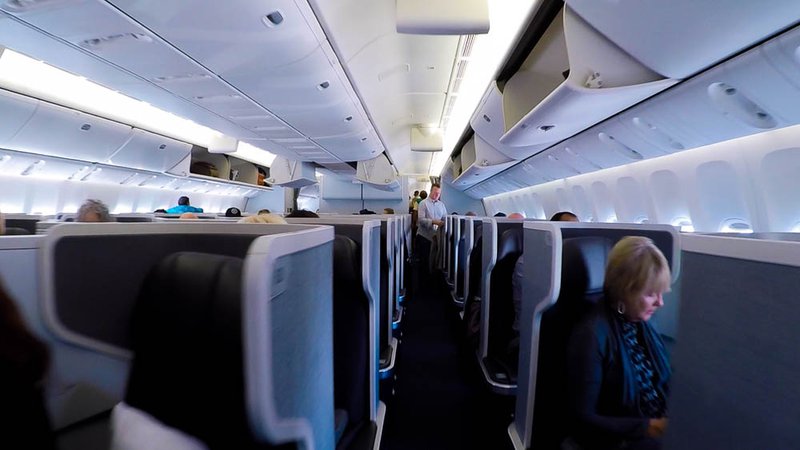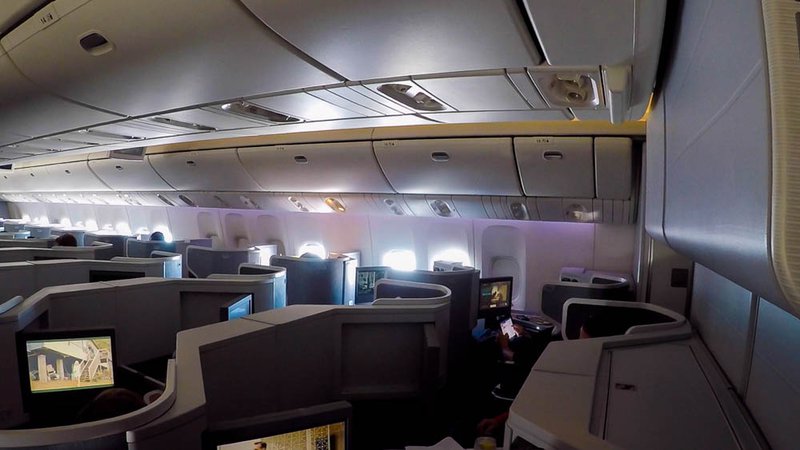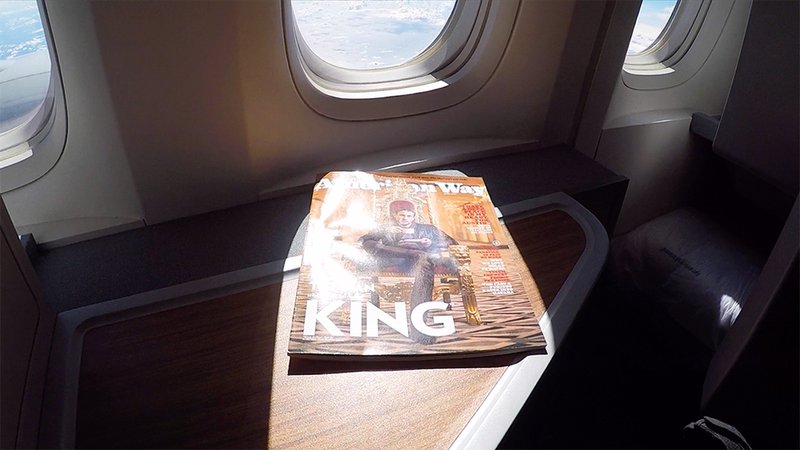 Inside, the business class cabin has a clean, modern look and it retains that "business" look and feel. There's a distinct lack of bling by comparison to the Middle Eastern carriers (Emirates, Etihad, and Qatar Airways) or even Singapore Airlines.
American Airlines roster a trusty Boeing 787-9 Dreamliner to serve this route. The business class cabin is configured in the herringbone 1-2-1 layout, which I really like. This is the same configuration you'll find on Virgin Australia, Qatar Airways, and Cathay Pacific long haul aircraft. The business cabin of my flight in April was fully booked with not a single empty seat.
The cabin layout lends itself well to privacy because you're facing away from the aisle. Once you're in your seat you don't really notice anyone else thanks also to the high sides surrounding the seat.
You barely notice people walking up and down the aisles.
The most important thing is your seat. My home for the next 14 hours. Thankfully, seats are fully adjustable and lay flat to make a comfortable bed when fully reclined. And there's more than enough room in the footwell to really stretch out. Each seat comes with a big comfortable blanket and pillow shown here stored in the footwell area. AA also give business travellers a well-stocked amenities kit to make the flight more comfortable.
As for the In-Flight-Entertainment (IFE) system, I was impressed. The decent sized touch screens have a UI that's easy to navigate. You wouldn't believe how many IFEs on other airlines that are buggy or clunky to use. I watched 2 movies from the 100's of on-demand movies to choose from.
I purchased a $19 Wi-Fi pass to get me online during the whole flight. But I shouldn't have bothered because it was so slow and patchy that I gave up. Frankly, Wi-Fi on any plane rarely ever works.
Interestingly for me, I was sitting a row in front of World Champion Surfer CJ Hobgood . He's a bit of a surfing hero of mine but I thought it better to leave him alone instead of interrupting his flight home. This is what flying business class cabins produce, a much more private flying experience where people tend to leave each other to enjoy the flight in peace. This is a large part of the appeal. You're not seating uncomfortably close to a completely random person for 14 hours.
Food & drink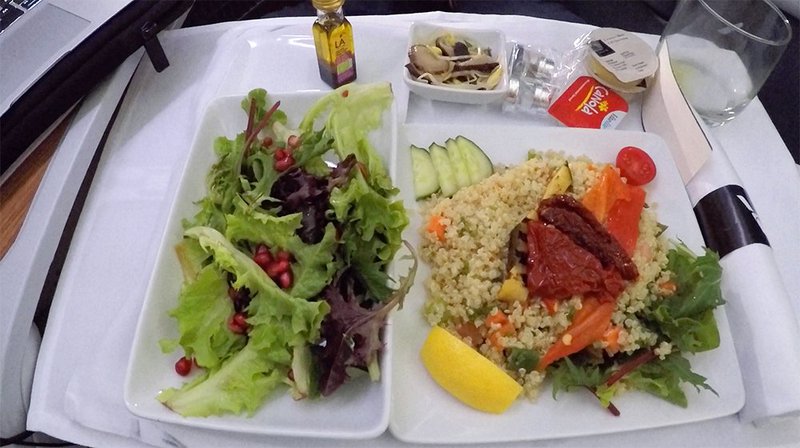 Not long into the flight, the friendly crew served up my first meal of the flight.
I opted for something light and didn't take pictures of the food. It's certainly not as exciting as an Arabic mezze platter on Emirates but it was healthy and high quality. Trust me, it was pretty good. No complaints from me! 
The snack galley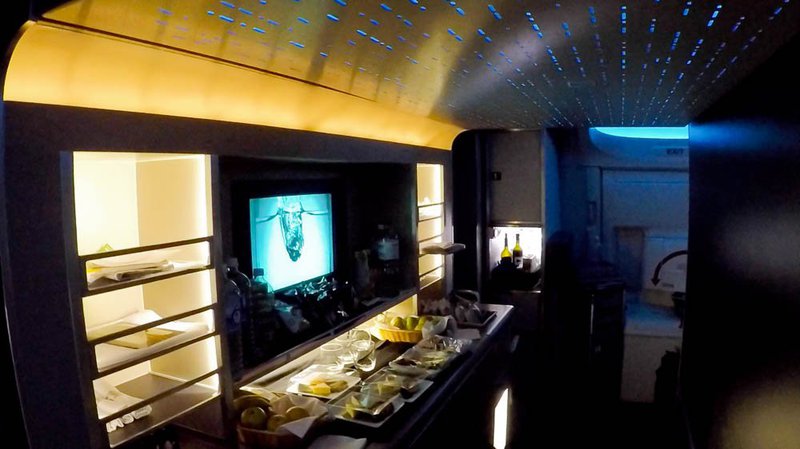 The blue LED lights above the snack galley make it the most striking part of the cabin. More importantly, it is constantly replenished as the flight progresses. You can go up and get what you want, when you want. And if they don't have something that you want you can always ask one of the flight attendants.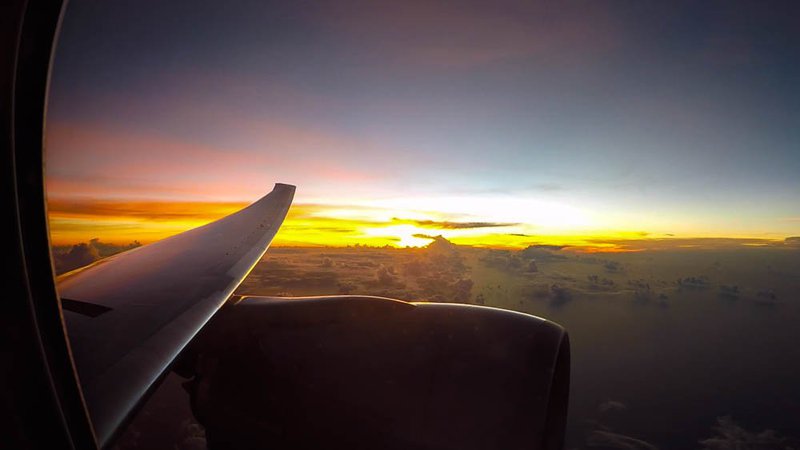 After a few movies and some dinner, this was the view from the wing from as we head into the night somewhere over the Pacific. I always find sunset creates a mesmerising spectrum of colour over the clouds. Time for sleep.
Speaking of which, the flat bed was comfortable. Even without the crew making up my bed with an extra layer of padding, the lay flat bed and blanket supplied was enough. I managed to get to sleep just fine.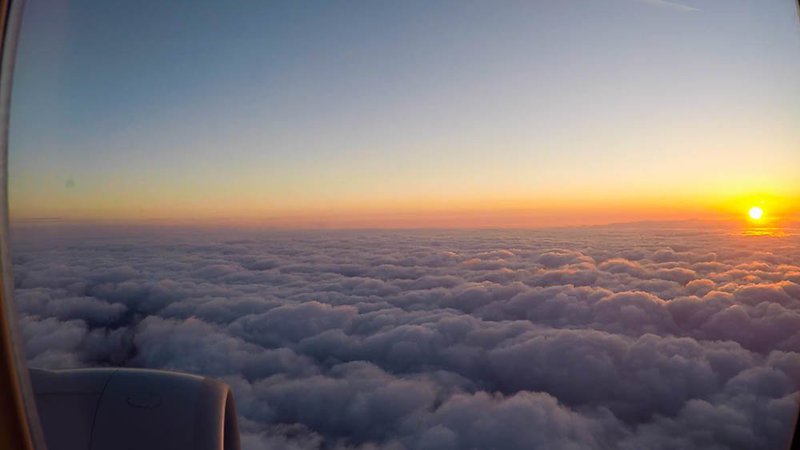 After the darkness comes the light! Good morning USA as the sun rises somewhere over the clouds west of Los Angeles. Time to shake off the sleepy head and get prepped for landing.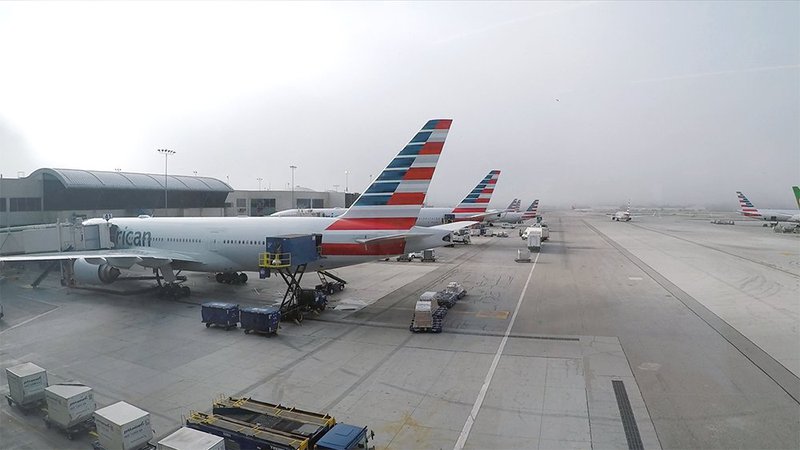 The view from inside the terminal after disembarking my flight was one dominated by American Airlines. Look at those grey skies! Thankfully I was only passing through Los Angeles.
Useful things I learned on this flight
Use SeatGuru to help pick the best seats away from toilets or busy areas. 10A was a solid choice.
Think carefully about paying for inflight Wi-Fi. Hold onto your $19 at least until they fix it up properly.
If you've slept through the flight, don't leave getting ready to get off the plane until the very last second. Organise your clothes, shoes, bags and last toilet visit so you can actually get off the plane promptly with everyone else... unlike me!
Don't forget to bring a pen for those tedious immigration paper forms. Thankfully, you no longer need to do the departure form from Sydney.
Try to avoid flying into LAX if possible. The airport has had a bad reputation for a long time. And even though the recently opened Tom Bradley international terminal feels like a high-end shopping mall—it is tremendous—the rest of the airport has suffered from years of neglect. The immigration processing is just painful and getting from one terminal to another is also painful.
Would I fly with American Airlines again?
I really enjoyed my first flight on American Airlines and had a great flight.
Without a doubt, for the right fare or points seat availability I will fly AA again, but I would also like to try the other options for the Sydney - Los Angeles route. Qantas and Virgin Australia are high on my list and for the scenic route with the stopover, I'd love to try Hawaiian, Fiji Airways and Air New Zealand.