We explain the details of American Airlines AAdvantage frequent flyer program, and how to become a member.
Take a look at the seats and benefits in American Airlines First, Business, Premium Economy and Economy cabins.
Find out the best ways for Australians to collect and redeem AAdvantage miles.
Credited as the world's largest airline in both revenue and passengers carried, American Airlines has a global reach from its Fort Worth, Texas headquarters. The carrier boasts 6,700 daily flights to over 300 destinations in 50 countries, including Auckland, New Zealand and Sydney, Australia.
If you have flown aboard American Airlines or their oneworld partners, you know that you can earn American AAdvantage miles with every flight. But does its loyalty program offer good returns for international flyers? More importantly – can you turn those miles into free travel and upgrades?
About American Airlines AAdvantage
Credited as one of the first frequent flyer programs in the world, American Airlines AAdvantage was launched on May 1, 1981. As of October 2011, it was also the largest airline loyalty program in the world, with over 67 million members holding an active AAdvantage number. On February 1, 1999, American Airlines became one of the founding members of the oneworld airline alliance, along with British Airways, Cathay Pacific and Qantas. Through the alliance, members could use AAdvantage miles for flights aboard other member airlines' aircraft.
Despite its name, American Airlines has deep ties to both Australia and the Pacific Rim. Miles can be used on flights from many Australian cities to the U.S. via American Airlines, Qantas, Qatar Airways, and many other airlines. American Airlines also has a partnership with Etihad Airways, allowing travellers to use those miles for flights aboard the Middle East carrier to Europe and beyond.
How to join the program
It's free and easy to join American Airlines AAdvantage. To begin, visit American's website at aa.com, select the "AAdvantage" tab at the top of the page, and click on "Join AAdvantage." During enrolment, you will be asked for your name, address and phone number, and you will be given the option to select a username and password. If you have a TSA Redress Number or Known Traveler Number, you will also have the opportunity to connect those to your account. Once complete, you will immediately receive your AAdvantage number, which you can apply to future flights on American or their oneworld partners.
Where do American Airlines fly to?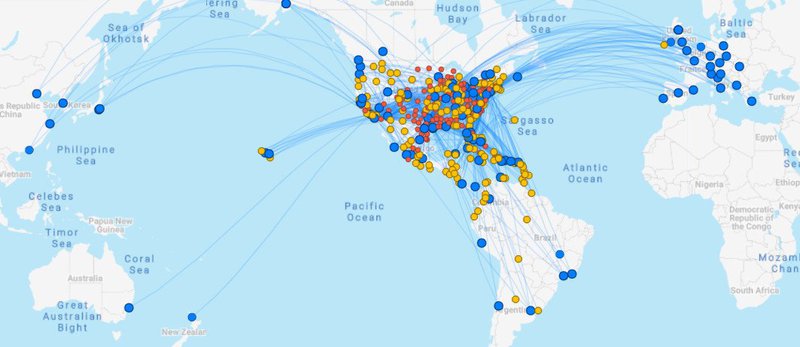 True to their name, American Airlines flies primarily from and within the United States. However, the carrier also offers direct flights to the United States from seven major Pacific Rim cities. Direct flights to the United States include:
Sydney (SYD) – Los Angeles (LAX)
Auckland (AKL) – Los Angeles (LAX)
Hong Kong (HKG) – Los Angeles (LAX) 
Hong Kong (HKG) – Dallas/Fort Worth, TX (DFW)
Seoul Incheon (ICN) – Dallas/Fort Worth, (DFW)
Shanghai (PVG) – Los Angeles (LAX) 
Shanghai (PVG) – Dallas/Fort Worth (DFW)
Beijing (PEK) – Los Angeles (LAX) 
Beijing (PEK) – Dallas/Fort Worth (DFW)
Tokyo Narita (NRT) – Los Angeles (LAX) 
Tokyo Narita (NRT) – Dallas/Fort Worth (DFW)
Tokyo Narita (NRT) – Chicago O'Hare (ORD)
Tokyo Haneda (HND) – Los Angeles (LAX)
Codeshare partners
Through the oneworld alliance, American Airlines has 13 codeshare partners, including two partners dominant in Australia: Cathay Pacific and Qantas. Other partners in the alliance include: 
British Airways
Finnair
Iberia
Japan Airlines
LATAM
Malaysia Airlines
Royal Jordanian Airlines
S7 Airlines
SriLankan Airlines
Fiji Airways (oneworld Connect member)
Royal Air Maroc (Joining in 2020)
In addition, American also has partnership agreements with 10 airlines outside of the oneworld alliance. With most of their partners, you can book award flights directly from the American website. These partners include:
Air Tahiti Nui
Alaska Airlines
Cape Air
China Southern Airlines
Etihad Airways
Hawaiian Airlines
Interjet
Seaborne Airlines
Silver Airways
Your earnings and award costs will vary based on the partner and class of service you want. But we'll get into that later on in the article.
What do the average seats look like aboard American?
On international flights, American Airlines offers four cabins of service: First Class, Business Class, Premium Economy and Economy. As with all cases, the premium cabins (First and Business) will cost more in both cash and/or points.
American Airlines First Class
Designed with both privacy and comfort in mind, the best First Class seats aboard American Airlines can be found on its Boeing 777 and 787 Dreamliner seats. Each seat features a lie-flat option, direct aisle access, and remote-controlled in-flight entertainment systems. The 1-2-1 herringbone layout optimises space and ensures all travellers fly in comfort.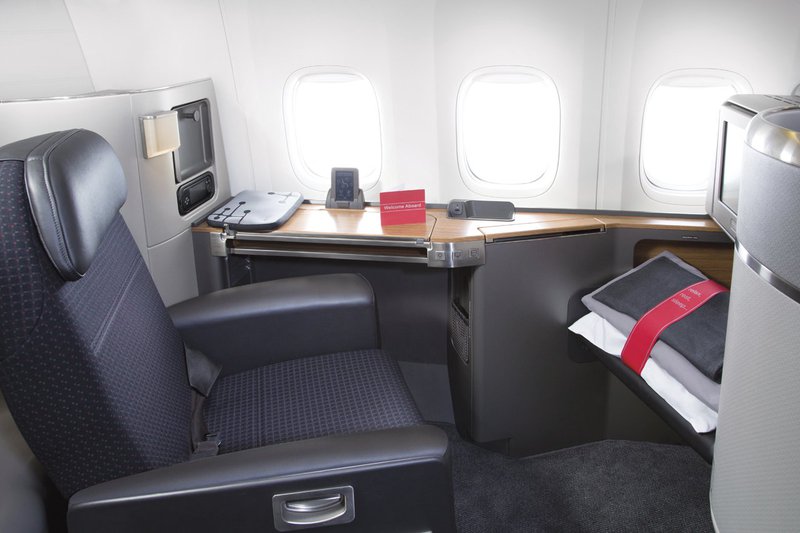 American Airlines Business Class
Much like the First Class cabin, American's Business Class cabin maximises space and comfort. Configured in the 'reverse herringbone' layout, the cabin is slightly more cramped but still offers the comforts business travellers have come to expect, including a lie-flat seat and upgraded amenities. To learn more about the American Business Class experience, read our review of the Sydney to Los Angeles route.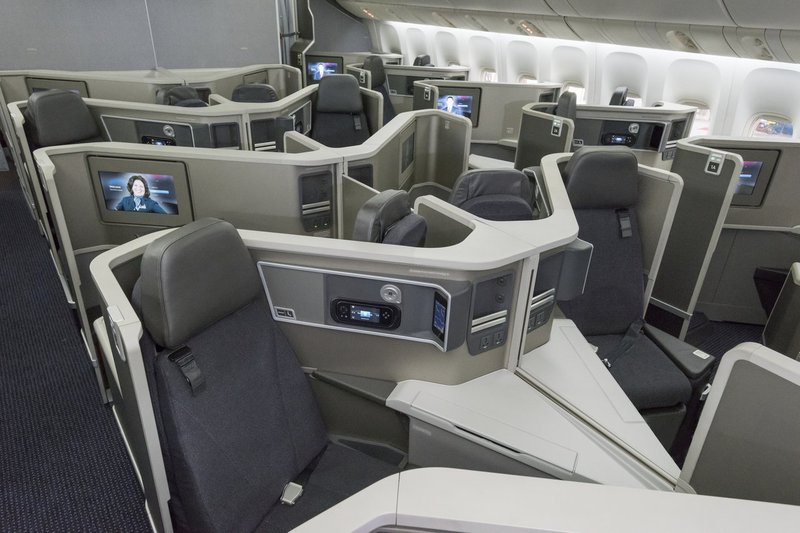 American Airlines Premium Economy
In 2015, American became the first US-based airline to offer a true Premium Economy cabin for international flights. Like comparable products, these seats are wider and offer more room between seats. While these seats don't lie flat, they do offer a leg rest, so flyers can travel in better comfort compared to Economy. The seats also come with their own amenity kits and an upgraded menu.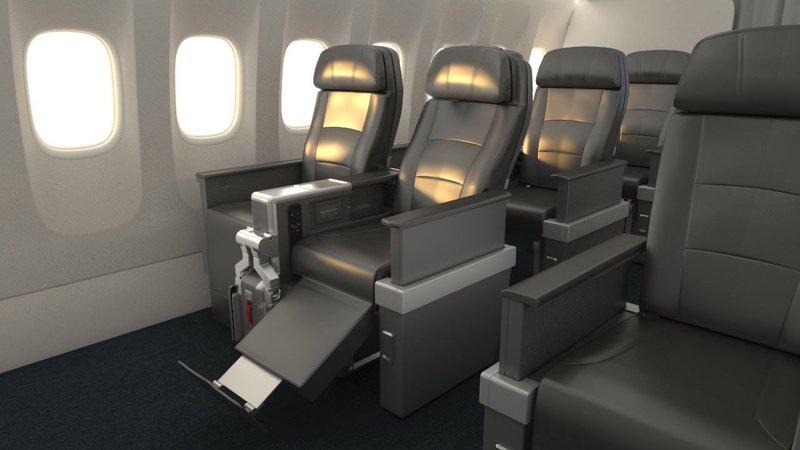 American Airlines Economy
American's Economy service is in the main cabin. On most aircraft, expect a 3-4-3 layout across the cabin, with around 30 inches of pitch between seats. Each seat is outfitted with an in-flight entertainment screen, and both meals and beverages are provided.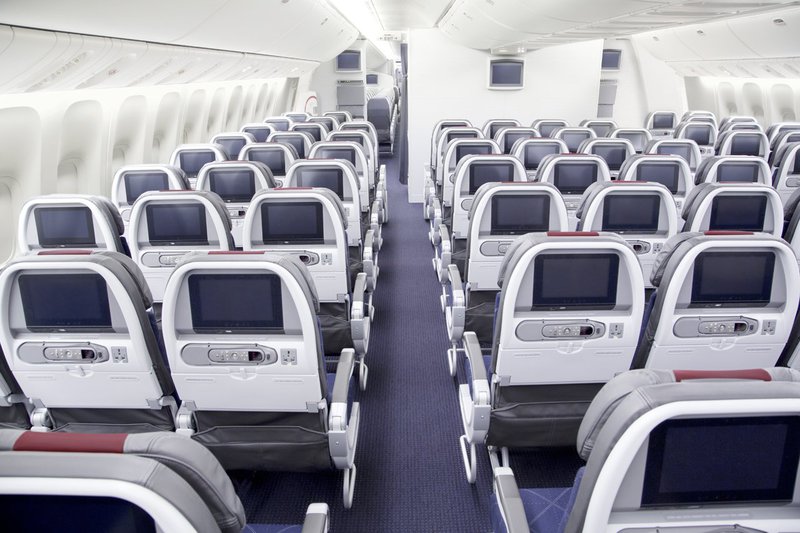 Inside American Airlines' Admirals Club
American Airlines operates or co-operates 33 Admirals Club lounges around the world, including Los Angeles, San Francisco, New York, and Tokyo Narita Airport. Paid Admirals Club members also get access to over 60 partner lounges around the world, including most Qantas Club and Qantas International Business Lounge locations. 
To get access to an Admirals Club, flyers must be: 
A paid Admirals Club member
Flying on a qualifying departing international flight on American Airlines or another oneworld airline
An AAdvantage Executive Platinum, Pro Platinum or Platinum member on a departing international flight aboard American Airlines
A oneworld Emerald or Sapphire elite member from a frequent flyer program within the alliance. 
If you do not qualify above, flyers can purchase a one-day pass for $US59 at the lounge. Lounge passes cannot be purchased or transferred online. Access to lounges brings you better seating, more outlets to charge electronics, as well as complimentary snacks, soft drinks and some alcoholic beverages. Some Admirals Club locations offer meals and beverages for purchase.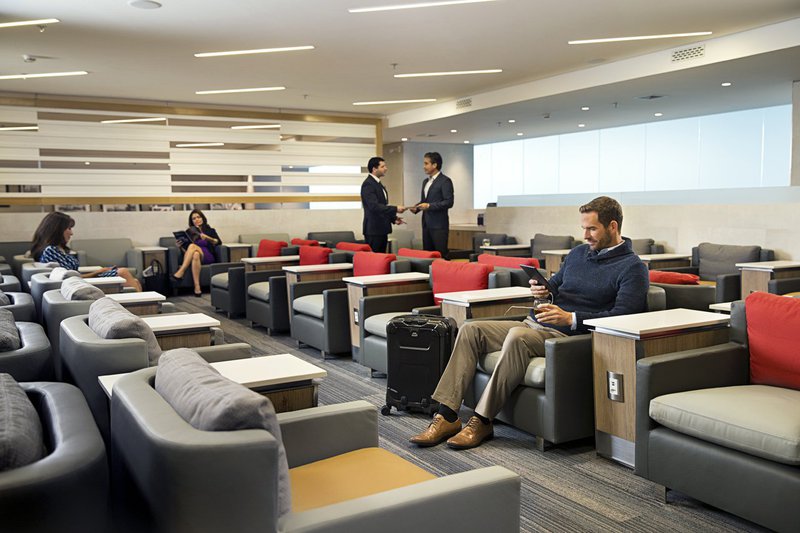 Status levels
There are four tiers of elite membership in the American AAdvantage program, earned based on flight activity and the amount of money spent on airfares with the carrier.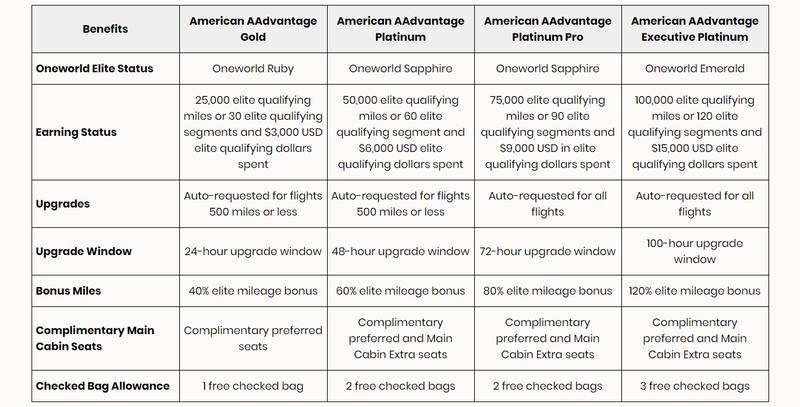 In addition to benefits aboard American Airlines flights, AAdvantage elite membership comes with benefits across the oneworld network of airlines. Members at the highest tiers of Sapphire and Emerald can expect lounge access and priority boarding when flying aboard other oneworld airlines. In order to receive the benefits, flyers must put in their elite number with the status when booking a ticket aboard another alliance airline.
How to earn AAdvantage miles
While there are four primary ways to earn American AAdvantage miles, Australians are limited in their methods. The two most common ways to pick up extra miles are through flying aboard American Airlines, oneworld partner flights, or by purchasing miles directly.
Fly American Airlines (or other oneworld airlines)
When flying aboard American Airlines, Qantas, Cathay Pacific or other oneworld partners, you can use your AAdvantage number to earn American Airlines miles. Your earnings will vary based on the partner airline – you can check how much you could earn per flight on the American Airlines website.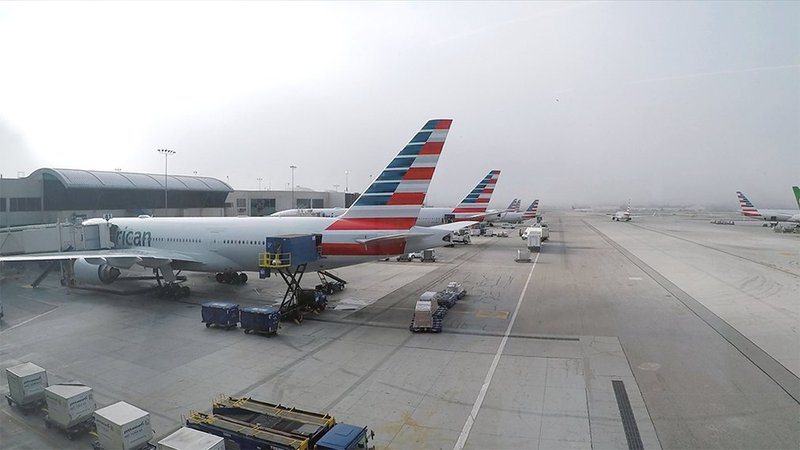 Buy AAdvantage miles
American AAdvantage members can also pick up extra miles by purchasing them directly from the airline. Miles cost $94 USD per 2,000 miles, but you can earn extra miles based on how much you purchase: 
15,000-29,000 miles purchased: 3,500 mile bonus and 10 percent discount
30,000-49,000 miles purchased: 10,000 mile bonus and 10 percent discount
50,000-74,000 miles purchased: 22,5000 mile bonus and 10 percent discount. 
75,000-99,000 miles purchased: 40,000 mile bonus and 10 percent discount. 
100,000-149,000 miles purchased: 55,000 mile bonus and 10 percent discount. 
150,000 miles purchased: 85,000 mile bonus and 10 percent discount.
Also, watch out for the airline's regular discount or bonus offers on the purchase of miles.
Earn AAdvantage miles from credit cards
Currently, there's no way to directly earn AAdvantage miles from purchases on Australian credit cards. However, since American Airlines are in the oneworld alliance, you can get a credit card that earns Qantas Frequent Flyer points and then use those to redeem for a flight with American Airlines. You could also transfer points to your Qantas Frequent Flyer account from an American Express credit card that earns Membership Rewards points, Altitude Rewards and Amplify Rewards (among others).
Earn AAdvantage miles from shopping portals
Unfortunately, Australians cannot earn AAdvantage miles from American Airlines AAdvantage eShopping. According to the terms and conditions, members must be a legal resident of the United States or its territories to use the portal to earn miles on purchases. 
Using AAdvantage miles for flights
As one of the major programs in the world, it should come as no surprise that it's easy to use AAdvantage miles for international flights. Using American miles, flyers can book flights aboard British Airways, Japan Airlines, Qantas and Qatar Airways. You can also book flights on partners Etihad Airways and Fiji Airways on the American Airlines website. 
However, you can't book flights aboard Cathay Pacific on the American Airlines website. In order to make Cathay Pacific reservations using AAdvantage miles, you will have to call an American Airlines reservations centre. 
One of the advantages of the AAdvantage program is the unified award chart for all American Airlines and oneworld partners. Some of the best redemptions from the South Pacific region include: 
Qatar Airways Qsuite: Considered one of the best Business Class cabins in the world, Qatar Airways' Qsuite is available between the airline's headquarters in Doha and Australia. Award seats in this cabin costs between 80,000 and 85,000 AAdvantage miles one-way, based on your destination.
Cathay Pacific Business Class: If your goal is flying to Asia, Cathay Pacific might be the best option for your AAdvantage miles. Business Class flights cost only 40,000 miles one-way – cheaper than the 65,000 Qantas Frequent Flyer Points for Perth to Hong Kong, for example. The only downside is that you can't book this flight on the American website – you have to call in to get this flight.
American Airlines Business Class: Flyers who have their sights set on America may want to consider booking their flight aboard American Airlines. Despite the steep 80,000 miles for a one-way ticket to the United States, flyers will have plenty of options to get where they want with American Airlines' large North American network.
In summary
If you travel around to different parts of the world often for work or pleasure, there may be some value in crediting your frequent flyer miles to American AAdvantage. With generous allowances for flights throughout Asia and the Middle East, racking up AAdvantage miles can lead to big rewards later on. 
But if you don't fly outside of the South Pacific or Asia on a regular basis, this might not be your best program. There is no way to earn miles on the ground, so your overall return may take years before you can book that dream flight. Instead, consider crediting your spending to a more localised program such as Qantas or Virgin.