Emirates First Class using 90,000 Qantas points plus AUD $590 fees and taxes (5.8 cents per point).
All the bling you'll ever need, except for the A380's shower.
Was it a good points redemption or not?
Emirates are one of a growing number of airlines providing vital connectivity between Ireland and the world. I'm sure that half of the people onboard my flight were probably expats leaving again for Dubai or beyond.
Since I was making the return trip to Sydney from Dublin, I decided to use my Qantas points to snag an award seat in First Class. Was it worth it? Let's find out!
Flight details
Airline: Emirates
Flight number: EK164
Route: Dublin (DUB) – Dubai (DXB)
Duration: 7 hours 25 mins
Cabin: First Class
When: Oct 2017
Cost: 90,000 Qantas Frequent Flyer points plus $590 in taxes
Aircraft: Boeing 777-300ER
Seat number: 1A
Overnight flight: Yes
Meal included: Yes
Amenity kit provided: Yes
Pajamas provided: Yes
In-flight Wi-Fi: Yes
Baggage: Carry On
Booking with points
Booking an award seat from Dublin to Dubai in Economy or Business Class was surprisingly easy—there was plenty of choice on Qantas.com.au using Qantas Frequent Flyer Points.
There was also an open seat in First Class for the Dublin (DUB) to Dubai (DXB) segment of my journey back to Sydney.
It cost 90,000 Qantas Frequent Flyer points earned from running spend through a Qantas credit card plus AUD $590 in fees and taxes, but it was well worth it.
Here's why.
To buy a one-way ticket using cash on Emirates.com would have cost around AUD $5,200, so I was getting $0.0577 per point.
Tip: You can redeem Qantas Frequent Flyer points for flights with Emirates. You can also earn Skywards Miles with a credit card or transfer Membership Rewards points earned with an American Express credit card.
Boarding
Believe it or not, most people boarding First Class play it totally cool, like this is something they're almost bored with. Not me! I am blessed and I appreciate it. It was hard to miss the big grin on my face as we boarded using a dedicated jet bridge. As soon as I had boarded, I knew it was going to be an incredible experience!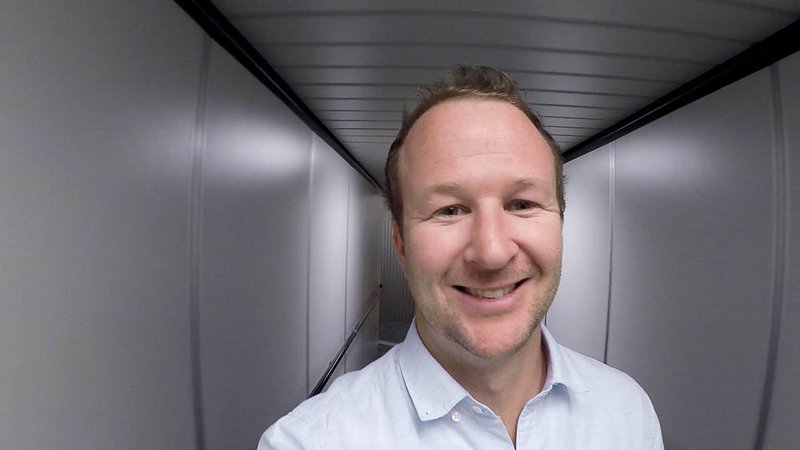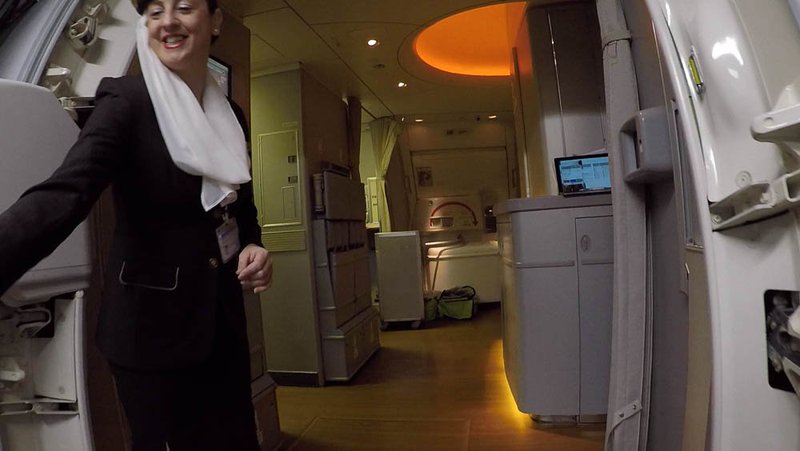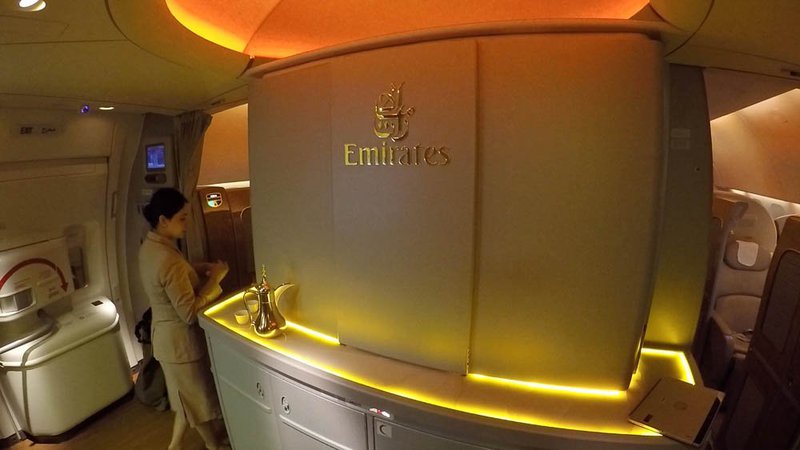 The cabin
The Boeing 777-300ER aircraft operating this route is the historic backbone of the Emirates fleet and the First Class cabin feels glamorous and luxurious. You could make a legitimate comparison with a luxury yacht. That's right, Emirates First Class is a giant sky yacht!
Emirates First Class is a giant sky yacht!
Even those who fly Business or First Class on a regular basis would find it difficult to complain. Emirates First Class on a Boeing 777-300ER delivers an amazing experience despite it being a smaller, older plane in comparison to the A380. Unlike First or Business Class on the A380 aircraft, there isn't a bar area or shower spa facility aboard.Does that matter? Not really. You'll find the crew so attentive that your glass will never be empty.
The seat
My flight, including First Class, was fully booked. I chose seat 1A so that I could get a good view during the descent into Dubai, but any of the eight seats would have been fine.
As you can see, this really is a pleasant cabin. Seats have more than enough personal space and if you want even more, you can close the suite's door. Is it a gimmick? I don't think so. You will appreciate it if you are a light sleeper since closing the door means you are less likely to be woken up by cabin crew as they carry out their duties.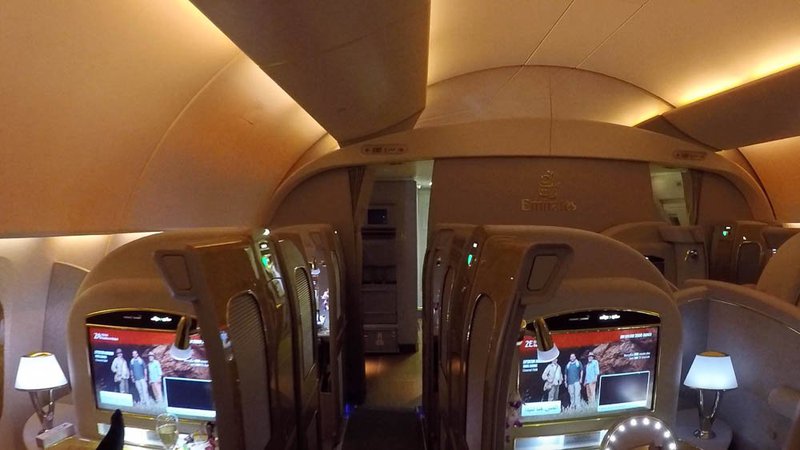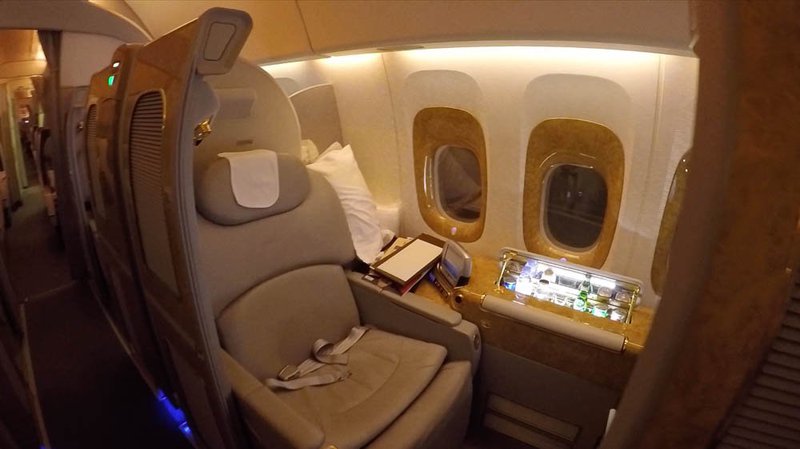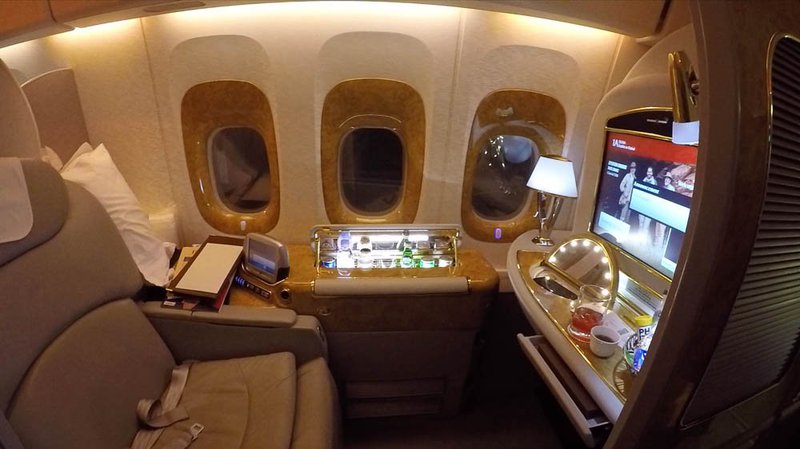 Of course, nobody flies for the free personal minibar. And yet, there's something so entertaining about having your own fully-stocked mini bar integrated in your seat! It's like something out of a Bond movie.
But what if you don't want any of the choice of soft drinks? Well, there's always the Dom Perignon Champagne 2004 vintage to fall back to. And as if that wasn't enough, you could enjoy an incredibly expensive night cap: Hennessy Paradis Rare Cognac, which retails for AUD $1,400 a bottle in Australia.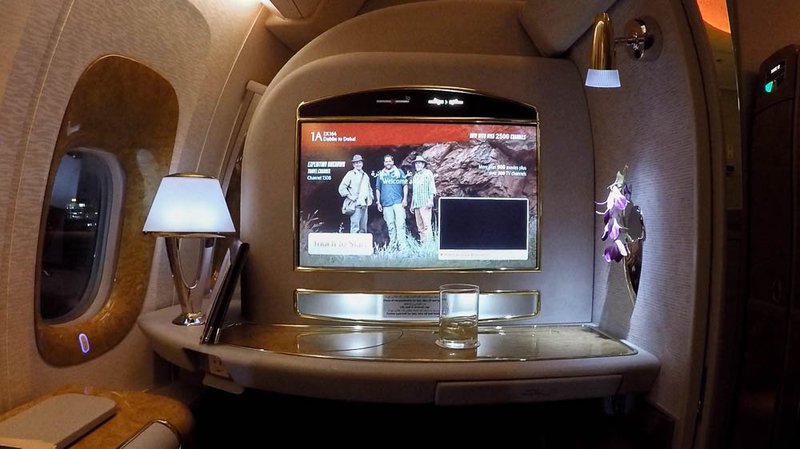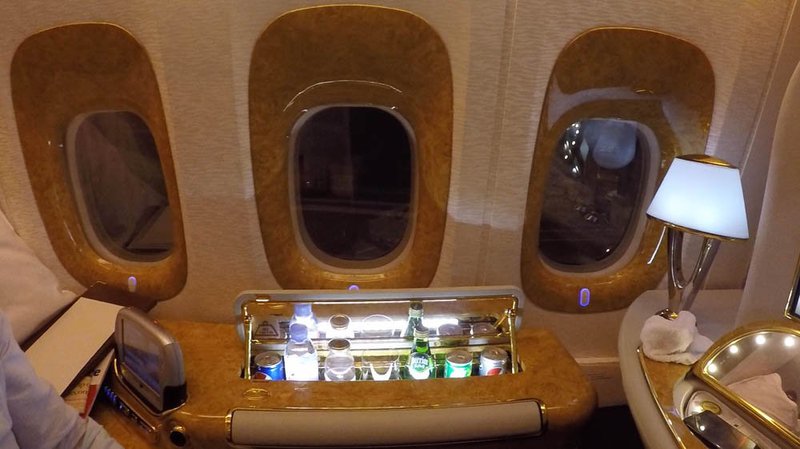 This was a night flight and I was tired after a 3 hour drive to the airport, so I asked the cabin crew to set up my bed as soon as we got to cruising altitude. And a comfortable bed it was, complete with a mattress topper, soft pillow, and high thread count duvet.
One thing I noticed—a clear difference between business and first—is just how much room there was when the bed was made up. Dublin to Dubai is just about long haul. You'll have enough time for about 4-5 hours of sleep.
(Sorry, but it was difficult to capture good quality photos of my seat using my GoPro.)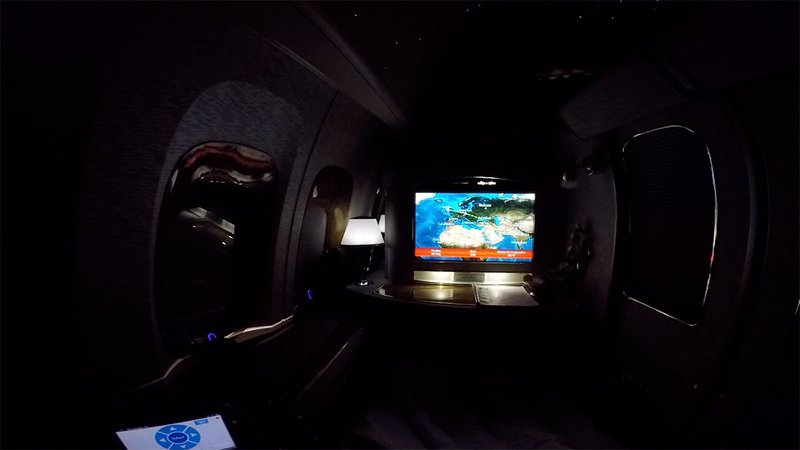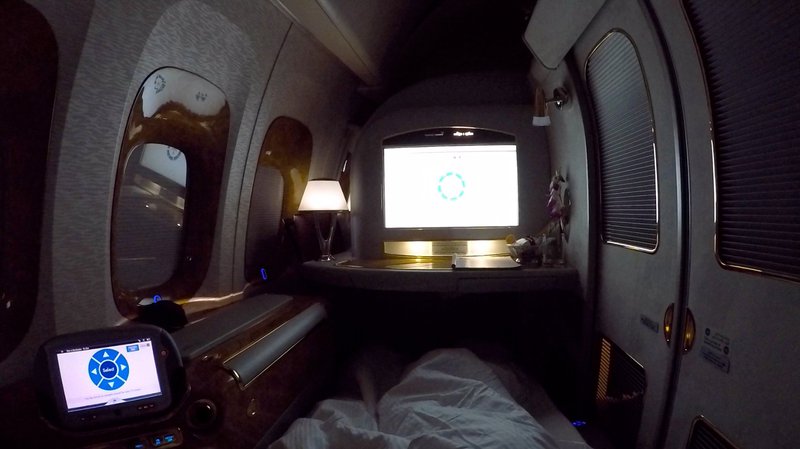 Breakfast
I woke after about 5 hours of sleep. We were starting our descent into Dubai, so it was time to get changed out of the complimentary pyjamas. When I returned to my seat, the cabin crew had already tidied everything away for me and I had enough time for a quick breakfast and a strong coffee.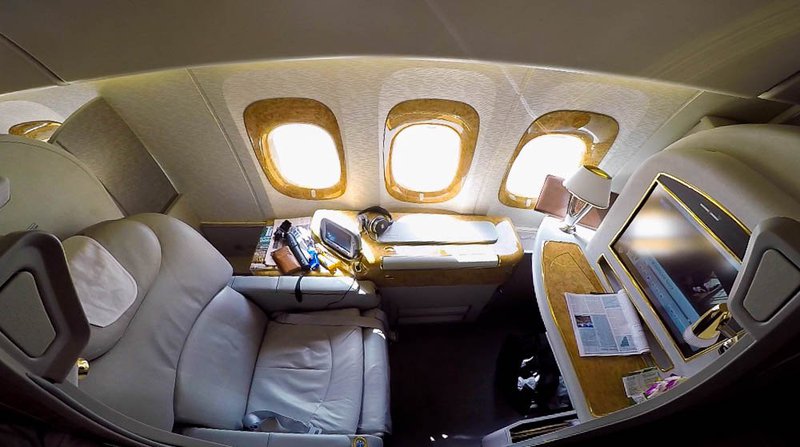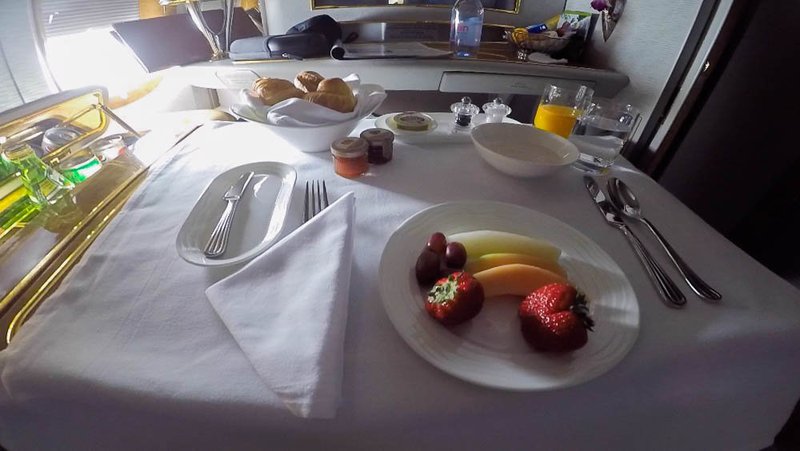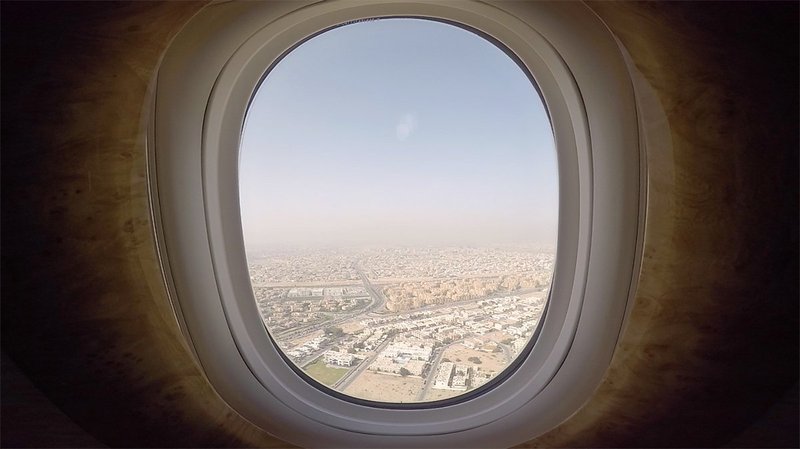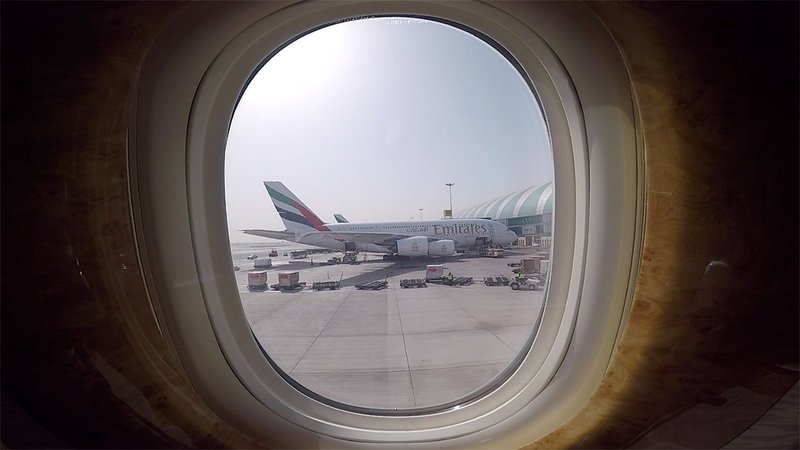 In the end
Overall, this was a great experience. There were plenty of award seats to book using Qantas points on the day I wanted to travel and while it did cost a lot of points and the extra charge for taxes is way too expensive, the service and comfort was well worth it. The Boeing 777-300ER isn't as incredible as the First Class on the A380, but come on, it was still incredible.
Want an alternative take on the Emirates B777 business class experience? Here's our review for Bali to Munich.