A visual tour of China Eastern First Class Suites from Shanghai to Frankfurt..
Fly in First Class for 114,000 Qantas Points + $380 taxes.
Not the well-polished 5-star experience that you'll get from the world's top airlines.
Chinese airlines take a beating online at the hands of customer review sites and travel bloggers. Which is precisely why I chose to fly with them for this 12-hour overnight flight from Shanghai to Frankfurt.
I cashed in my Qantas Points to be one of the lucky passengers flying in First Class to show you what it's like and see if all the criticism is fair or not.
Flight details
Airline: China Eastern
Flight: MU219
Route: Shanghai (PVG) departing midnight to Frankfurt (FRA) arriving 6:05am
Duration: 12 hours
When: November 2018
Cost: 114,000 Qantas points and $380 in taxes
Aircraft: Boeing 777-300 ER
Class: First Class
Seat number: 1A
Overnight flight: Yes
Meal included: Yes 
Amenity kit provided: Yes
Pyjamas provided: Yes
In-flight Wi-Fi: No, Wi-Fi wasn't working
Baggage: 2 x 32kg pieces of baggage. Total of 64kg.
Booking China Eastern First Class using Qantas points
China Eastern is one of China's top three airlines, based out of their Shanghai Pudong Airport hub. And thanks to a tie-up with Qantas, you can book seats fully on points.
This was the second leg of my journey from Australia to Europe. I looked for all sorts of flights, but my fruitless searching made me try something new. I would travel from Brisbane to Shanghai in Business Class and then onwards to Frankfurt in First Class with China Eastern. Once in Frankfurt, I could fly pretty much anywhere in Europe. As you can see, it pays to stray off the beaten Kangaroo path via Singapore and the Middle East. Points booking availability on Qantas.com was wide open in all classes.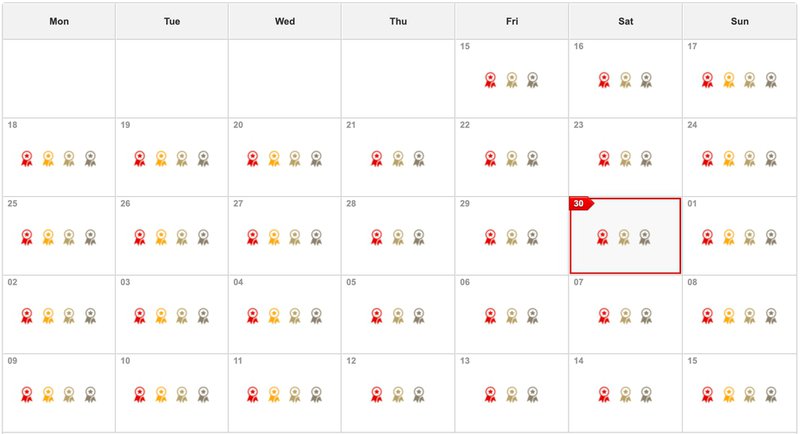 No one wants to fly Economy class on long international overnight flights if they can help it. The Business Class cabin is the sweet spot for travellers booking on points. This leaves First Class on China Eastern an option that just had to be explored. I redeemed 114,000 Qantas Frequent Flyer points earned with a Qantas points credit card and paid only $380 in taxes to book this First Class ticket.
What use is it to bank 10,000's of Qantas points and not use them? And, how sad is it to cash in your points for low-value travel in Economy class when you could do in style?

This ticket routinely sells for over $13,000, so a Classic Rewards redemption made a lot of sense and worked out at 11 cents per point.
Problems in Shanghai
I landed in Shanghai and immediately ran into a problem that could have caused a major disruption. The main issue was with check-in. I was told that China Eastern couldn't check my bags through from my previous flight from Brisbane to Shanghai due to a booking error in the Qantas system.
Thankfully, this issue wasn't going to scupper my plans because I had a five-hour layover in Shanghai. I had to retrieve my bags and come back to check-in again – this required a special tourist visa, which I also had to queue for.
Long story short, if you are travelling with kids or on a short transfer, this would be very stressful.
The airport lounge in Shanghai
The lounge was large and had an extensive selection of Chinese food, but it didn't cater much for the Western diet (again, a potential issue if you were flying with kids).
I disliked the lack of fast wifi and the fact I couldn't access any websites owned by Google or Facebook due to The Great Firewall in China. This is a small but perhaps problematic issue if (like me) you had work to do on your layover.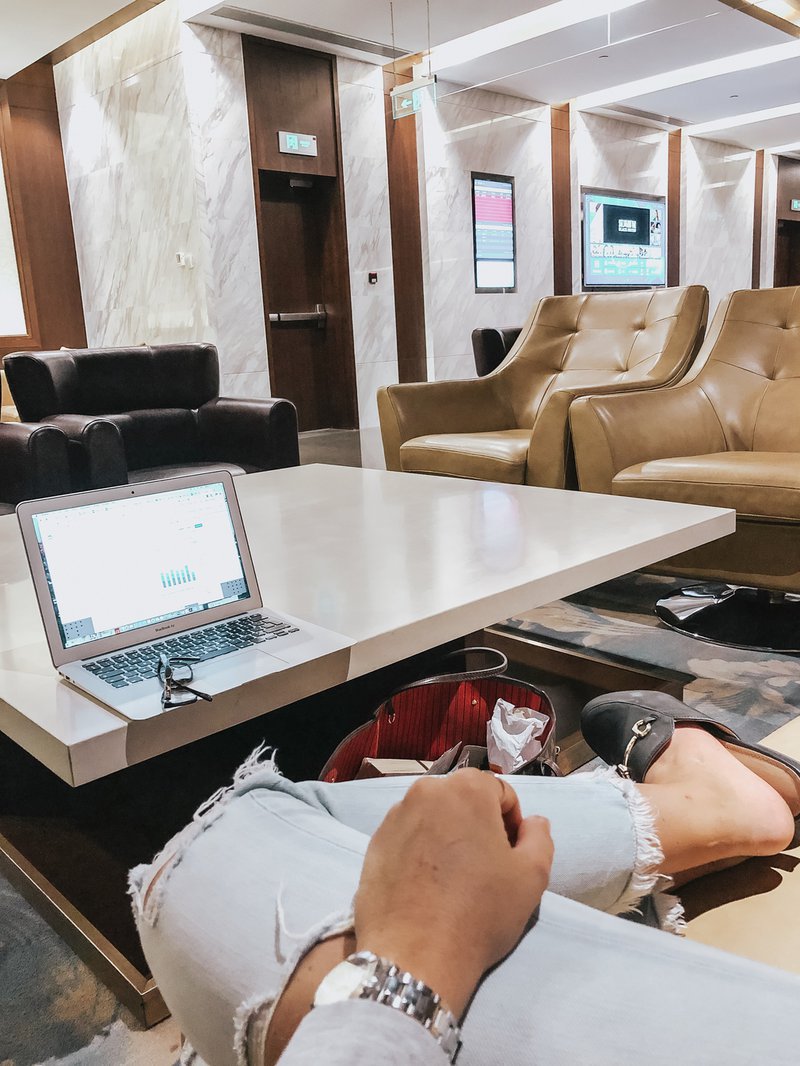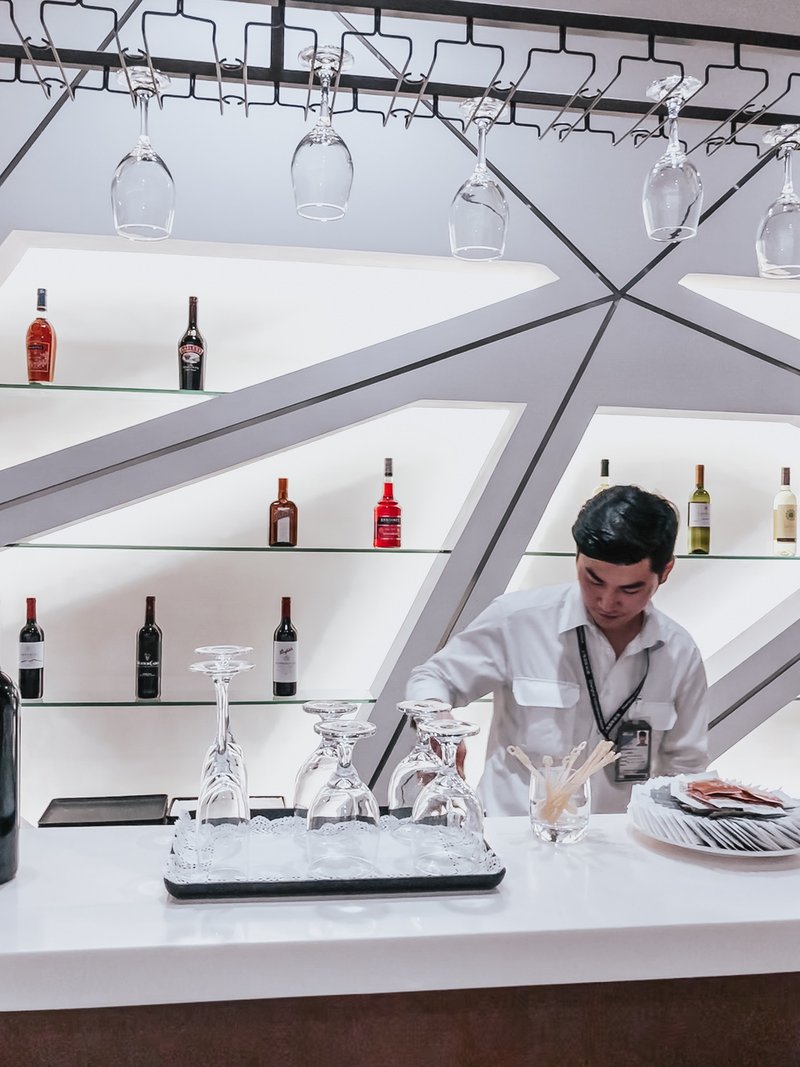 Welcome aboard 欢迎乘坐中国东方航空
The flight itself was on time.
China Eastern rank outside the top 30 for cabin cleanliness on Skytrax, but thankfully the First Class cabin was very clean and tidy. The galley, suites and the toilet were all clean, if functional. Thankfully there was no cigarette smoke either.
The cabin crew were all Chinese and maintained a level of professionalism with a lot of smiles and nods. The level of English was average, but this did not cause any major communication barriers.
Having said that, you might find yourself disappointed if you are expecting top-notch service with staff trained to welcome you by name. The flight experience definitely lacked hospitality compared to the other premium airlines. None of the staff noted my name despite being the only First Class passenger. This journey was in stark contrast to my last trip with Qatar Airlines, where the staff greeted every single passenger by name on a very full Business Class on an A380.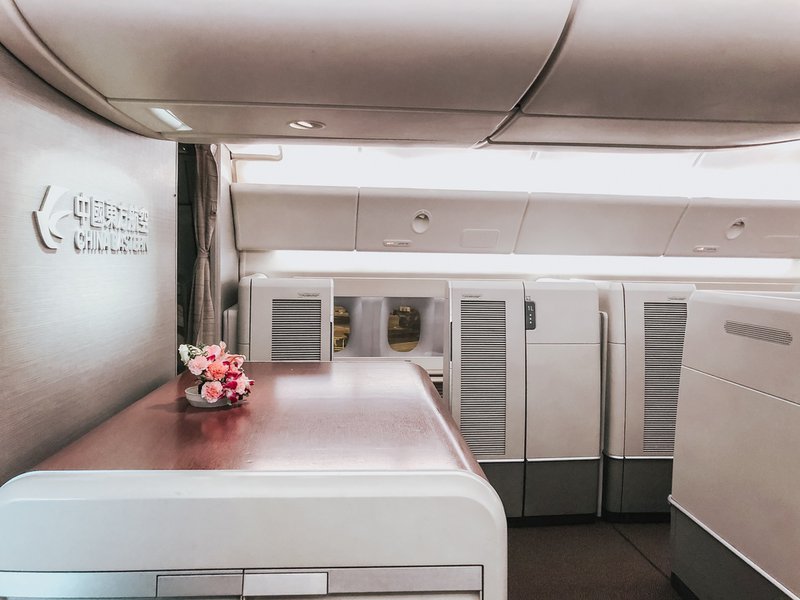 The seat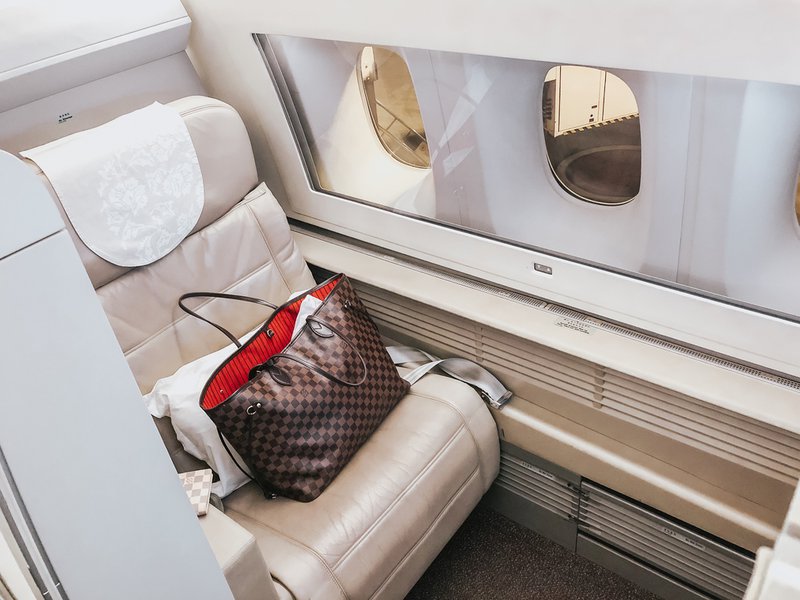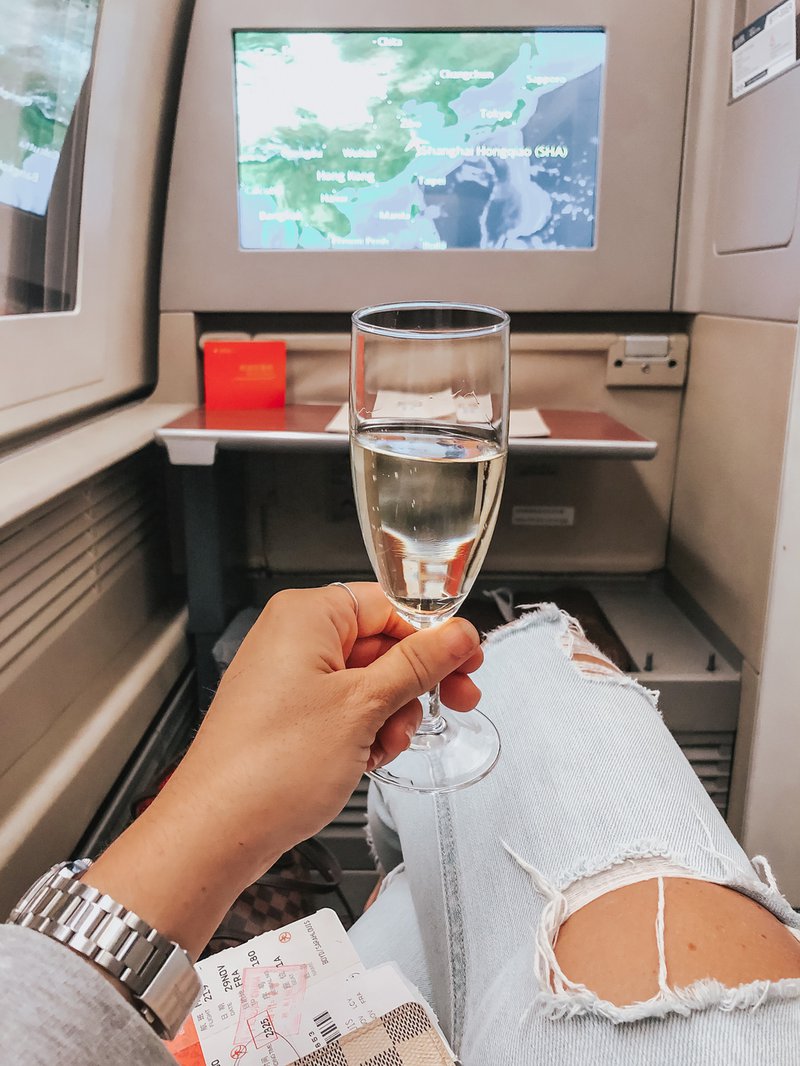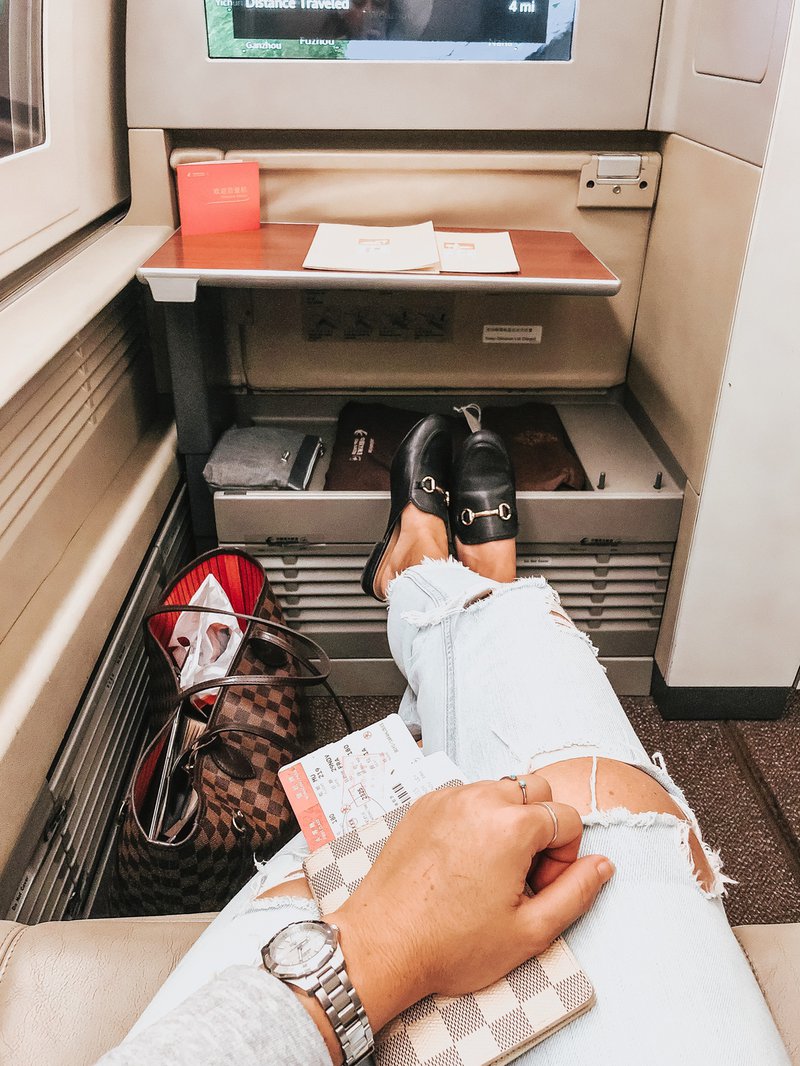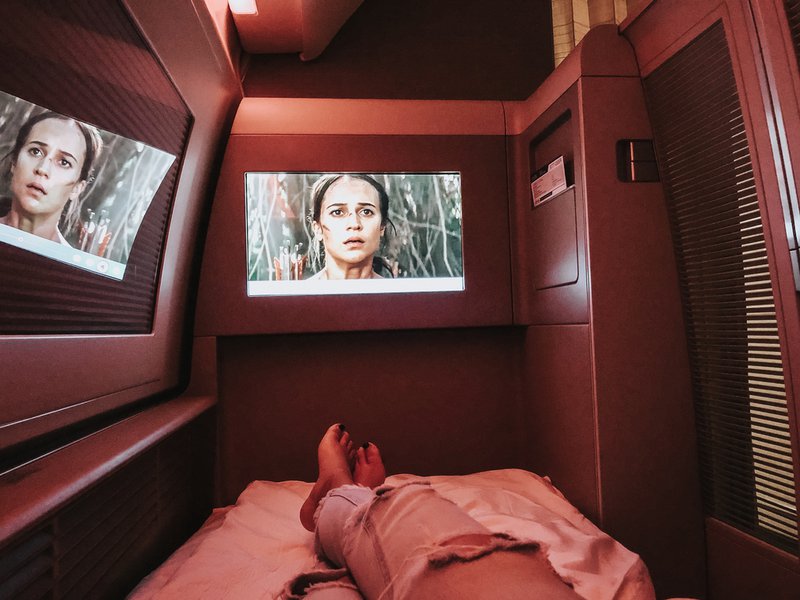 China Eastern rostered a Boeing 777-300ER (77W) for this route. It's a plane that's had this First Class cabin since 2015. That means it has clocked a few miles, but it's still in great condition.
Once you close the panelled sliding door, it is the ultimate private experience. In the central suites, the central divider can scroll down and be joined together.
It's definitely a First Class experience, but that luxury feel just doesn't carry all the way through the whole experience. Perhaps I'm being pedantic, so let me give you an example. The tablecloths used weren't pressed, and were instead covered in creases.
There are only six suites in First Class and each suite is actually very spacious. The seat has a 26.5-inch width that turns into a full two metre long flat bed. That is a lot of room. I managed to sleep for around seven hours of the 12 hour overnight flight.
You've got massive 24″ HD screen, a host of power outlets and USB ports, storage units and jacket hanging wardrobe. There was allegedly Wifi, but it didn't work. I had the same issue on my previous leg with China Eastern.
The food
The food was mostly Chinese. Expect a good selection of dishes to choose from, but the delivery manner was a little clumsy in comparison to Etihad or Singapore.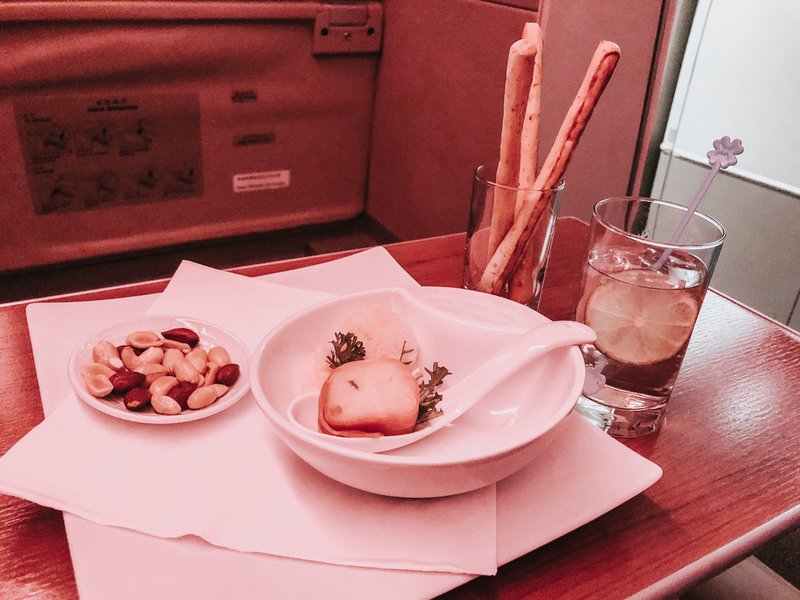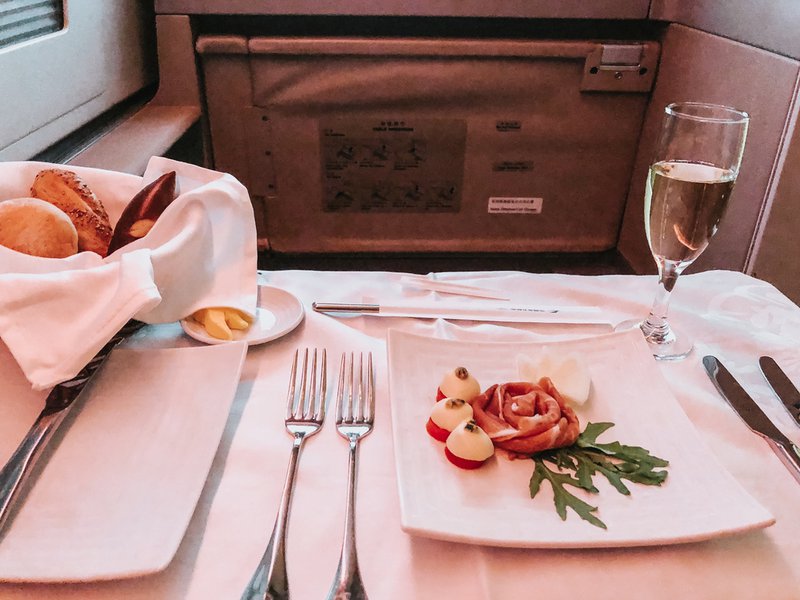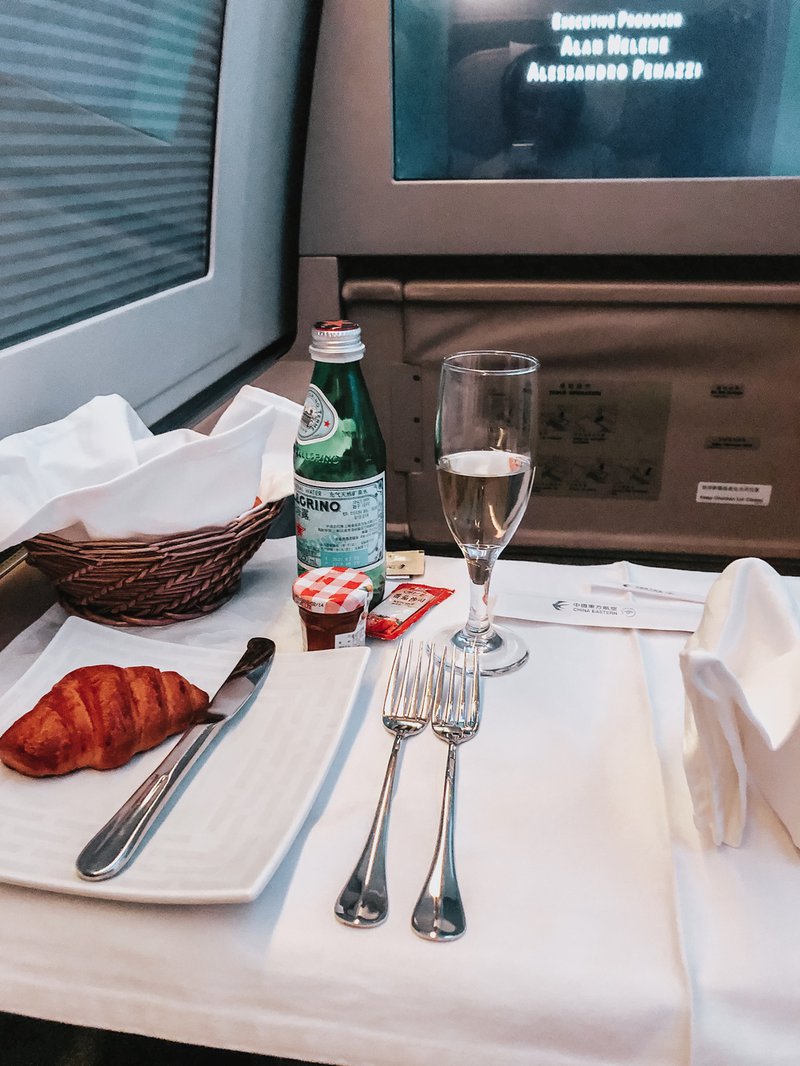 Even the cabin crew got comfortable
My flight wasn't busy. I was the only one in First Class. Even the cabin crew made themselves comfortable. One male member of the cabin crew slept in the suite behind me. I didn't know he was cabin crew until the end of the flight!
During the flight I noticed a female staff member complete some paperwork in a First Class suite nearby. I cannot imagine this ever happening on Singapore Airlines.
Final verdict
China Eastern gets beaten up online in Trip Advisor reviews from Westerners travelling in Economy on international flights. Most bad reviews centre around customer service issues arising from flight changes, last minute flight cancellations and poor customer service from cabin crew. We can only imagine what mainland Chinese say in their reviews on Weibo. The language barrier accounts for some of those complaints and the rest put it down to not being customer service focussed like the leading airlines. The same can't be said for China Eastern First, or at least not for the same reasons.
Could China Eastern actually be one of the most overlooked airlines to fly from China to Europe? Yes, and for good reason.
For single travellers or a couple of people flying together for business, it would be fine. It's a longer, less-direct, and potentially more complicated way of getting from Australia to Europe.
You shouldn't expect the same seamless, well-polished 5-star experience that you'll get from the world's top airlines. That being said, the overall experience remains okay (provided nothing goes wrong) and availability is wide open for anyone booking Classic Rewards seats.
There is a noticeable step up from Business Class to First Class on China Eastern. If you've flown in the pointy end with another highly ranked airline, e.g. Emirates, Singapore Airlines, etc., then China Eastern will fall flat in comparison.
In short, China Eastern's international service to Europe is very practical with a luxurious touch. If you're expecting lashings of luxury and attention to detail, you won't get it with this airline. That being said, it's an easy way to fly First Class on points.