New Qantas international Business Class lay flat seat on the A330-200
Successful upgrade request for four out of five people travelling as a group
Comfortable and compact updated seat configuration with great quality food
This is the story of how a group of five managed to get upgrades to Business Class, leaving one unlucky passenger stuck in Economy.
The Sydney to Manila route is very busy with business and leisure travellers, as well as Pinoys flying home to the Philippines, which means it can be difficult to find Classic Rewards seats in Business Class. But we managed to get four upgrades. Here's how.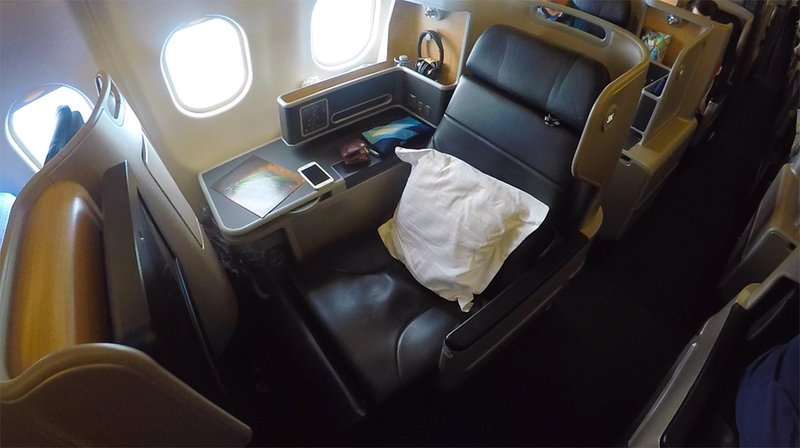 Flight details
Airline: Qantas
Flight number: QF19
Route: Sydney (SYD) – Manila (MNL)
Duration: 8 hours 05 mins
Cabin: Business Class
When: June 2017
Cost: $1,200 per Economy ticket plus 50,000 Qantas Points per upgrade
Aircraft: A330-200
Seat number: 7F
Overnight flight: No
Meal included: Yes, breakfast or lunch
Amenity kit provided: Yes
Pajamas provided: No
In-flight Wi-Fi: Yes
Baggage: Carry on
Getting upgraded into Business Class
There were no Classic Rewards seats available when we needed them, leaving two options.
Buy Business Class tickets for around $3,500 each (not going to happen).
Buy Economy Class tickets and request an upgrade at 50,000 QFF Points each (sounds like an option).
We chose to buy Economy tickets and then request an upgrade. This is not the most cost-effective way to fly Business Class on this flight since we could have booked Classic Reward Business Seats for 60,000 QFF Points each way + taxes.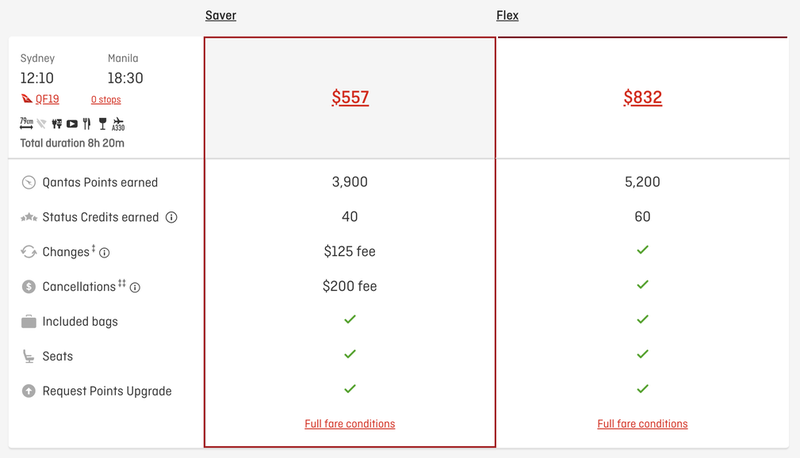 Let's dispense with a myth about getting upgraded. You should be respectful and courteous to airline staff all the time regardless of what you need. That said, being nice to airline staff won't get you upgraded per se but it will help them try harder and get your request for an upgrade processed. Sometimes that pays off. Most of the time it doesn't.
Requesting points upgrades for five people
Here's the kicker. Four out of five passengers had Economy saver tickets eligible for an upgrade, so I put in the request for all of us to be upgraded using points. However, Leo's Economy ticket was not eligible for an upgrade. Lesson learned.
There are only 28 Business Class seats on the A330, and this is a very busy route, so the chances of getting upgrades were slim at best. It happened to be my birthday, which I thought was worth dropping into the conversation. More importantly, we were patient and pleasant with the Qantas staff in the business lounge. The Qantas rep told me to return later when the flight was called for boarding. I held my breath, not expecting good news.
It wasn't until the boarding call when we found out that we had been upgraded, less than an hour before take off. We were delighted, especially since this would be the first time a few of our gang would experience Business Class.
Positioning for QF19
If you want to actually use your rewards points, then you have to be flexible with your schedule and expectations.
Not everyone lives in a major city with an international airport. So in order to catch our flight, we had to get ourselves to Sydney. Our choice? Take the QantasLink Dash 8 from Port Macquarie or drive four hours plus pay for parking at Sydney Airport.
We chose to fly.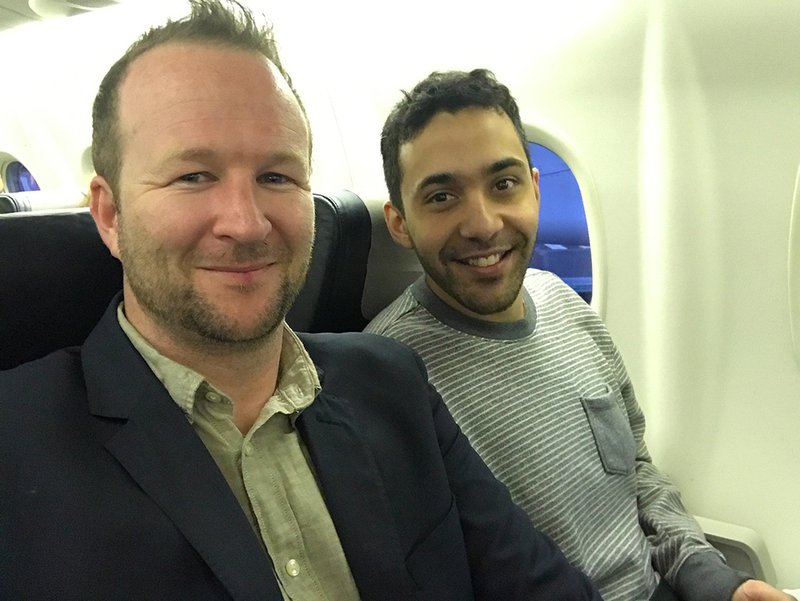 We caught the 6:30am flight from Port Macquarie to Sydney. Since QF19 is scheduled to depart for Manila around lunchtime, we had plenty of time to spare just in case something went wrong.
Before the flight
It gets a hard time, but I personally quite like Sydney Airport's international terminal. There are lots of options for food, duty-free shopping and fun things to do. Leo tried on this VR Headset for a game of golf.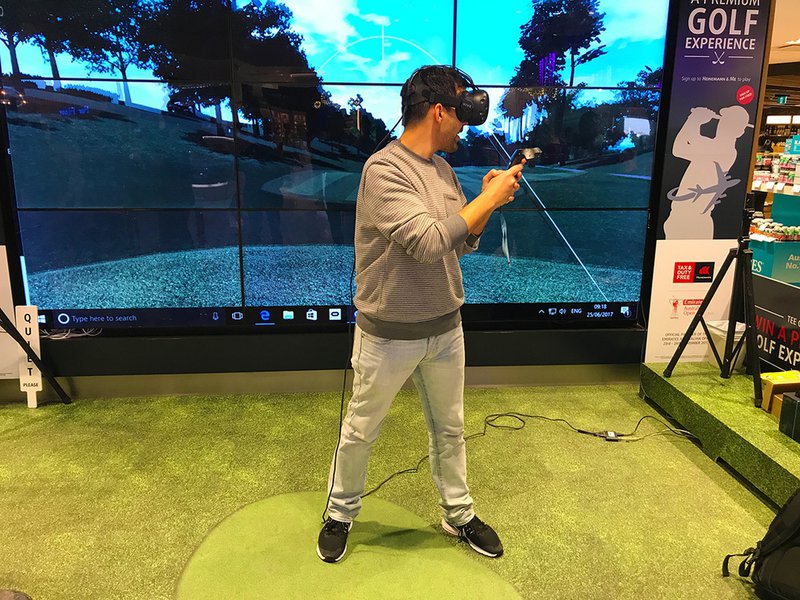 With hours to go, hungry for breakfast and needing to recharge devices, we headed back up into the Qantas Business Lounge.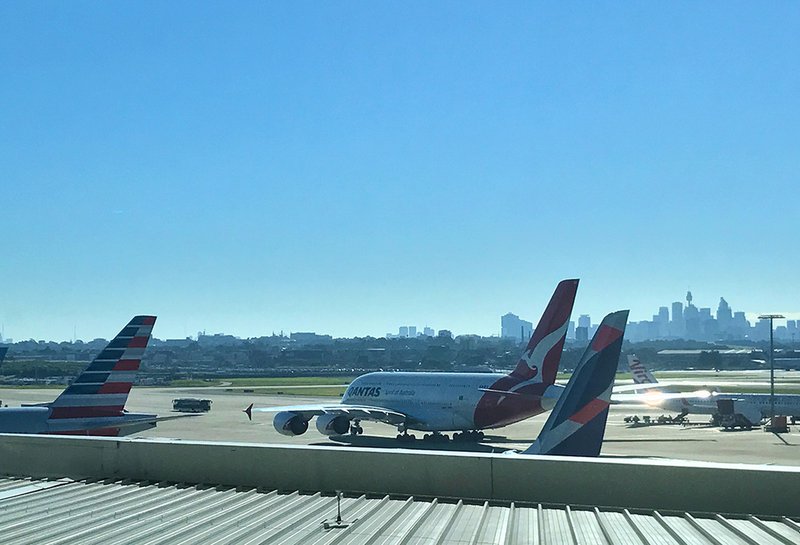 My seat for the next 4,000 miles
The Business Class cabin on this Qantas A330 was arranged in a 1-2-1 configuration, giving all seats immediate access to the aisle. I was delighted to try out the all-new Thomson Aero Seating designed Business Suites.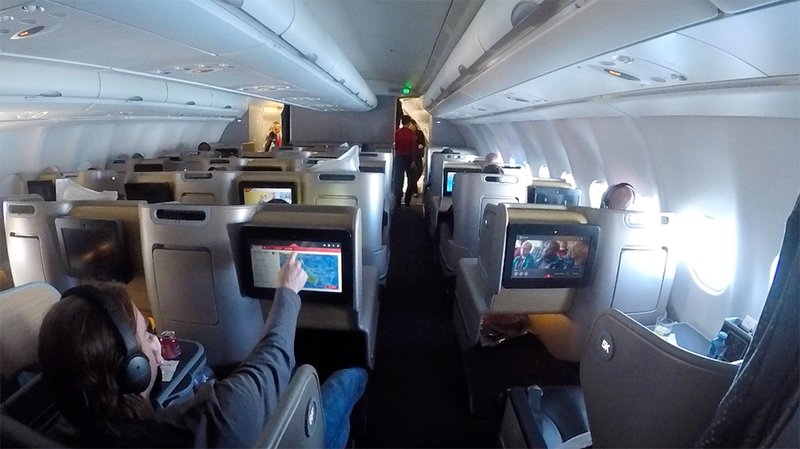 Each suite has a very tasteful combo of wood and leather. They have thoughtfully designed the seat so it has a spacious feeling with lots of easy-to-access storage, power, seat and screen controls. Oh, and the seats have a massage function!
Rows seven and eight of Business Class are separated from the main Business Class cabin by a bulkhead divider. The rest of the seating on this plane is Economy.
As usual in a layout like this, the middle seats are best for couples travelling together. However, thanks to the design of the Business Suites, you have a great deal of privacy in the middle seats if you sitting next to a stranger.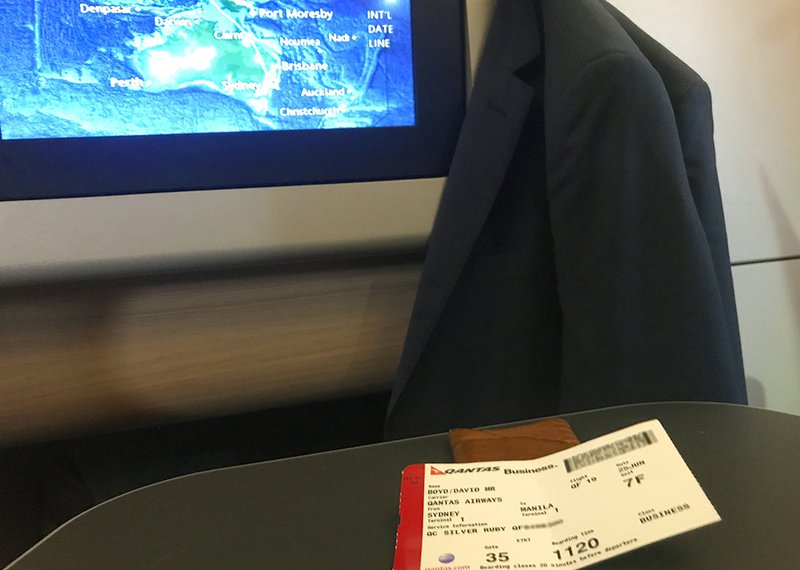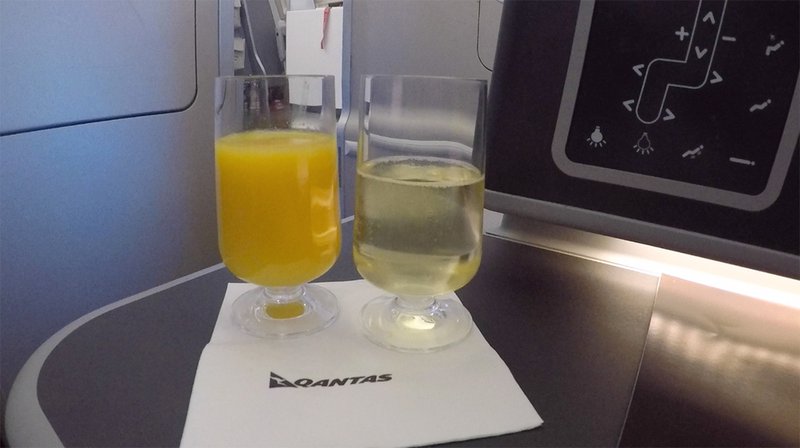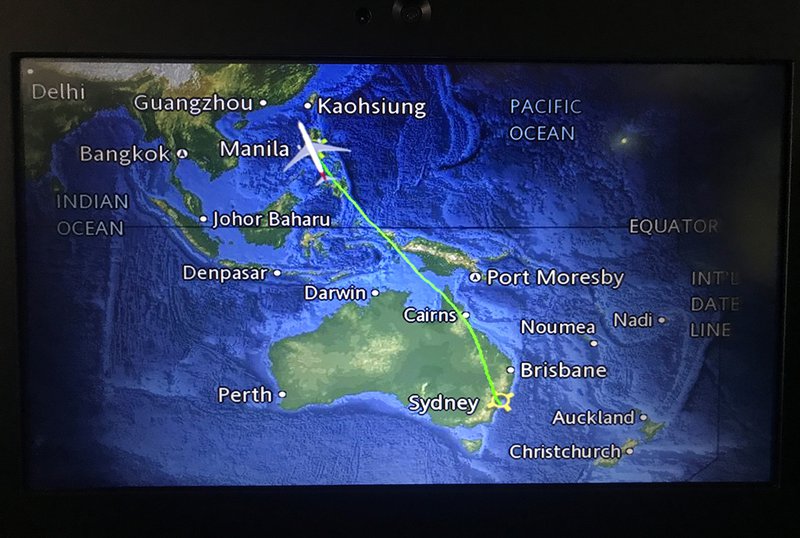 After we reached cruising altitude, I decided to visit Jack up in 3K. This was his first time flying Business Class, so I gave him the pick of the bunch: a window seat in the main cabin. Much better light for taking pictures too.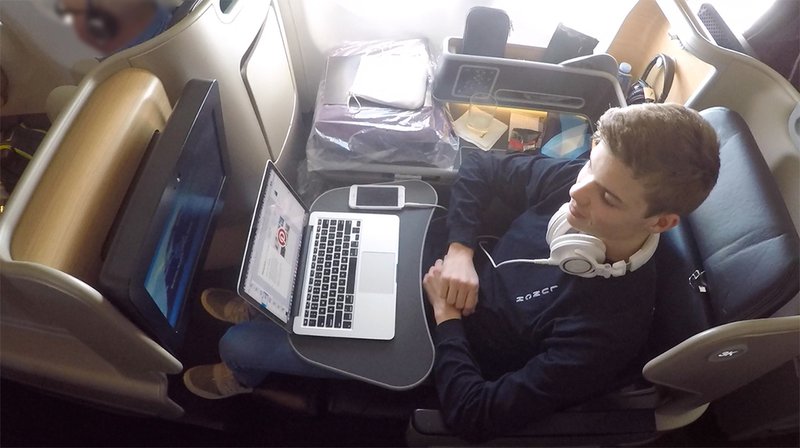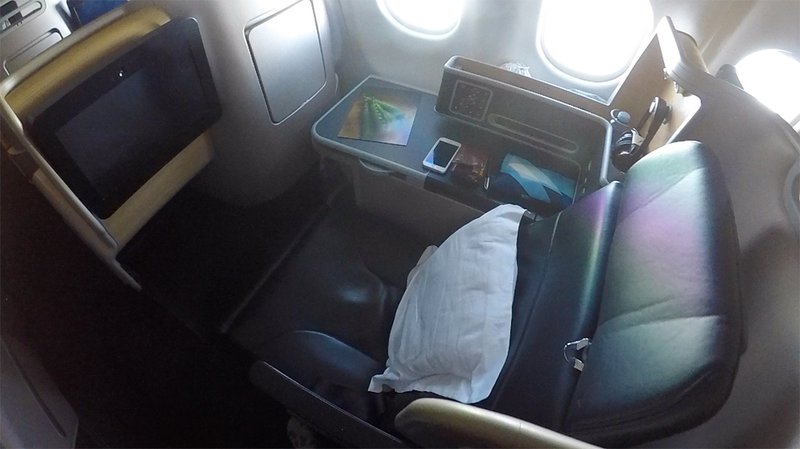 What about Leo?
Leo was the only person in our group to miss out on the upgrade request because of a technicality. His was the only ticket bought in the non-upgradeable "Sale". He did get to try out the Business Suites for a while though. Needless to say, he loved it!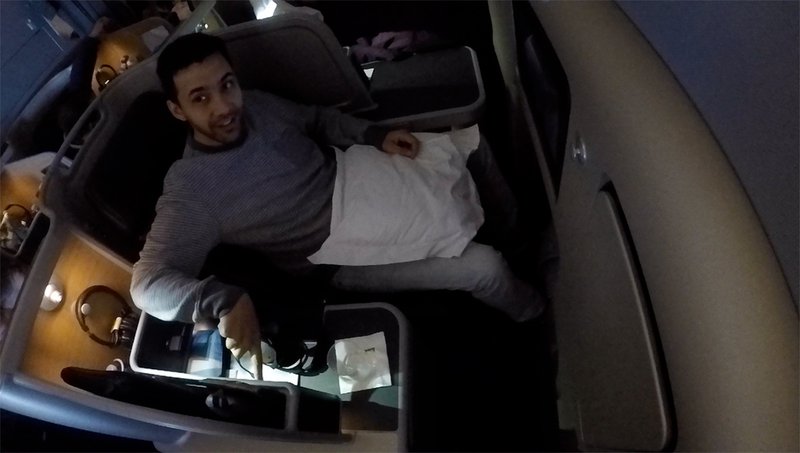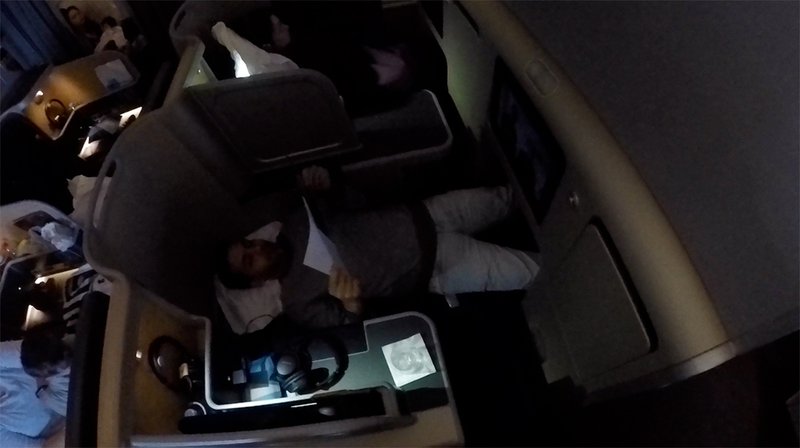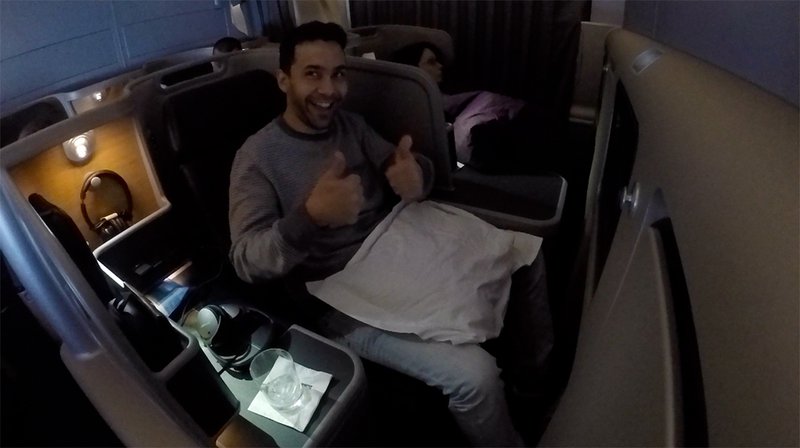 Guilt-free and assured in the knowledge that there was nothing else I could have done to upgrade my friend, I settled in for a travel-induced afternoon nap. Since it's not the overnight flight, the seats weren't turned down into beds and there were no pyjamas either. Even so, it was still very comfortable.
Food and drinks
Well fed and watered passengers are happy passengers. Thankfully, the food and drinks on Qantas international Business Class flights are genuinely very good and consistently so.
Lunch was served shortly after ascent and dinner was served later into the flight, both at set times. It is possible to pre-order meals if you have specific dietary requirements. And, if, somehow, you're still hungry at any time during the flight, then simply ask (politely) for a snack off the menu.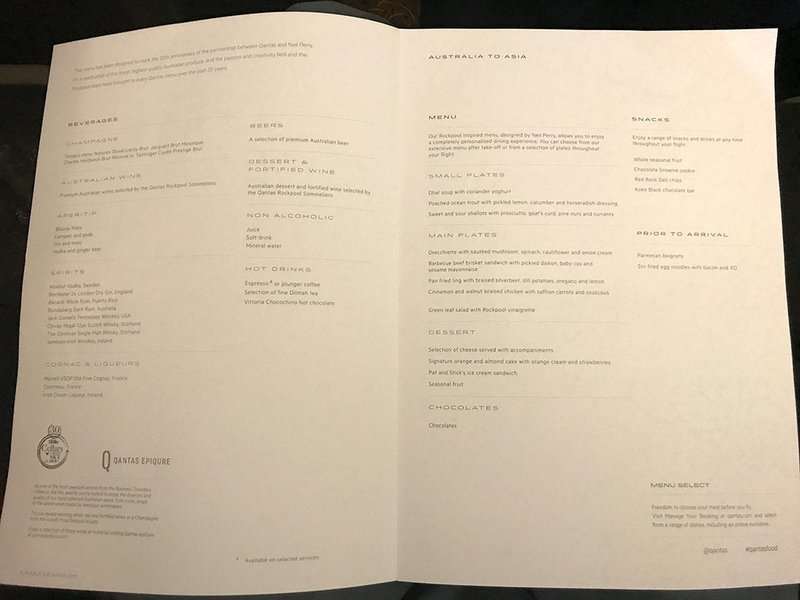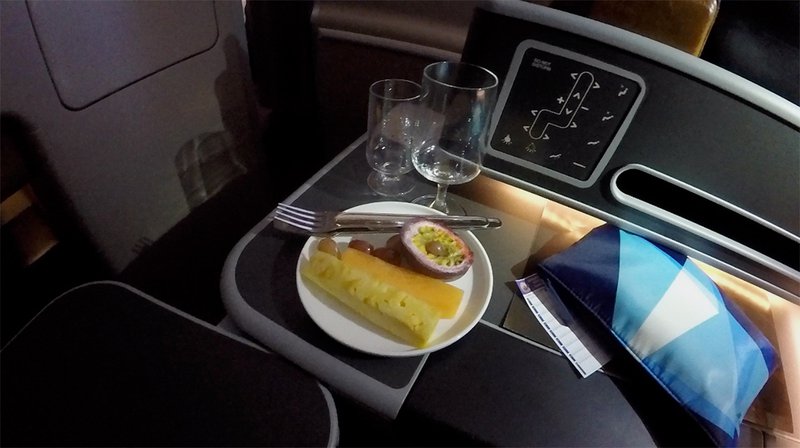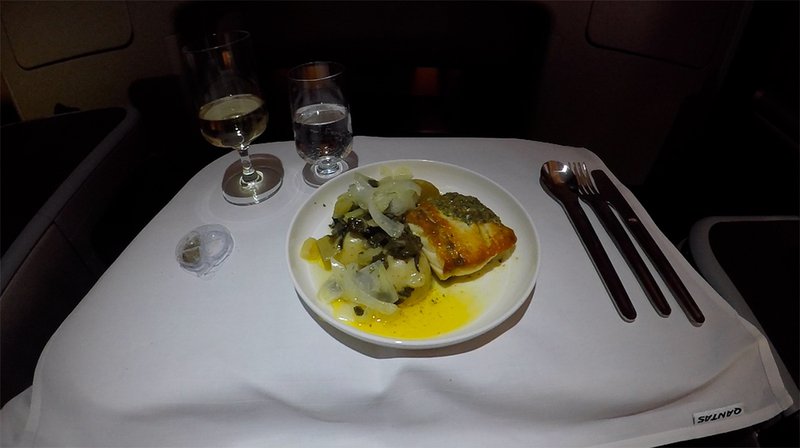 Views of the wing
Part of the pleasure in flying is to just see the world from above. Closer to our arrival in Manila with the window shades back up the scenic views come into vision.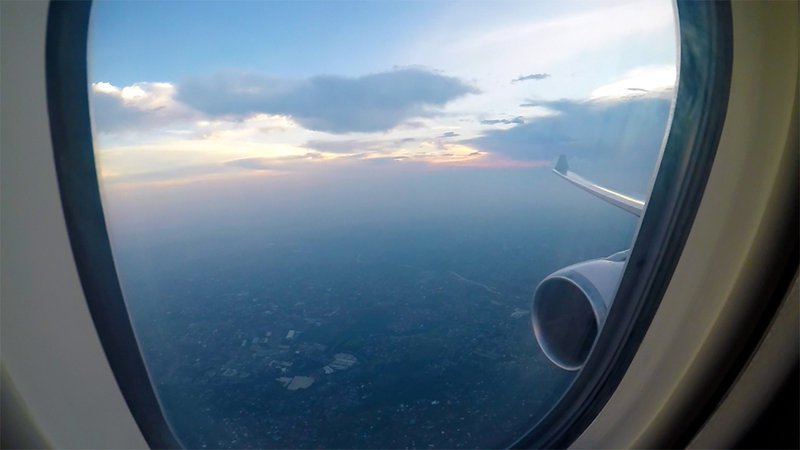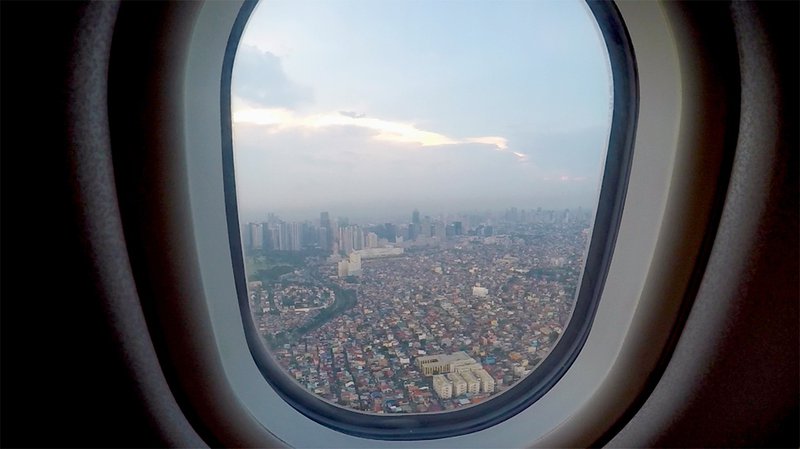 The verdict
Overall, the Business Suites experience is a big step up from Economy Class. The privacy and comfort of the new Thomson Aero Business Suites made this a very enjoyable daytime flight from Australia to the Philippines.
The food, especially dinner, was delicious. The in-flight entertainment system was fast and responsive with all the latest movies, TV shows and documentaries. There was more than enough to fill the time. I didn't try the WiFi, so can't comment on connectivity and speeds. As for the service, it was okay. I had no complaints, but at the same time, don't expect service like you would get from Singapore Airlines.
Booking Qantas Economy tickets and then putting in a request for an upgrade was a risky move. It would not have been unusual for Business Class to be fully booked, leaving us all in Economy (with Leo). The fact that we got four people upgraded was, to say the least, surprising. It can be done. However, it was not very cost-effective.
For a short business trip to Manila from Australia with a few days on the ground, a flatbed seat on a direct Qantas flight is the way to do it.