I do more than my fair share of flying, so I'm in the fortunate position to compare long-haul Business Class flights from major carriers. Discover why I would go out of my way to fly Singapore Airlines again on this SQ232 Sydney to Singapore flight.
The details
Airline: Singapore Airlines
Route: Sydney — Singapore
When: 2nd February 2019
Time: Depart SYD @ 12:15, arrive SIN @ 17:35
Duration: 8 hours 20 minutes
Cost: 62,000 KrisFlyer Miles
Flight: SQ232
Aircraft: A380-800
Class: Business class
Seat: 91A
Meal provided: Lunch and snack
Amenity kit provided: No
Pyjamas provided: No
In-flight wifi: Yes
Baggage: 1 carryon
Booking the flight
As usual, I was leaving it late. Very late.
I had just spent a few days up at our head office in Port Macquarie. It was Friday and I was supposed to be leaving on Saturday, but didn't have a flight home booked.
Knowing it can take some time for transfers to complete, I had already moved enough points from American Express Membership Rewards over to KrisFlyer (one of the ways to get KrisFlyer miles in Australia).
I've always found it more likely for seats to be waitlisted rather than bookable on Singapore Airlines if you leave it too late, but for whatever reason, there were plenty to choose from this time around. I was a bit annoyed, however, when the First Class saver seat I had been eyeing up was taken! I'll learn my lesson... some time.
Connecting
There are plenty of flights from Port Macquarie to Sydney on weekdays, but not so on weekends. Of course, I was travelling on Saturday, so had no choice but to take the first flight down since the next flight was going to be too late.
Arriving into Sydney on a wet and overcast morning, I made my way from the domestic terminal over to international. A lot of people ridicule Sydney for this minor inconvenience, but it's commonplace at many large airports and doesn't really bother me. Anyway, it means AV geeks like me get up close to the aircraft!
After a brief transfer, I arrived at immigration—along with the rest of the morning rush—and joined the fast track lane. Unlike my calamitous experience with the "fast track" immigration lane at Melbourne Airport earlier in the week, it took a maximum of 10 minutes to clear immigration and security.
I quite like the refreshed look and feel in the international terminal, but I only had three hours of sleep the night before and so I made my way straight to the lounge to relax.
The lounge
The Singapore Airlines Business Class lounge at Sydney Airport is not the world's best lounge, but it is also far from the worst. I was there very early and got one of the better "cubby" seats with a table.
They were still serving a buffet breakfast, so I helped myself to a light meal. I didn't want to eat much because my jet lag is always worse when I eat and drink too much on long haul flights.
I didn't take any images either, so let's skip to the flight!
The seat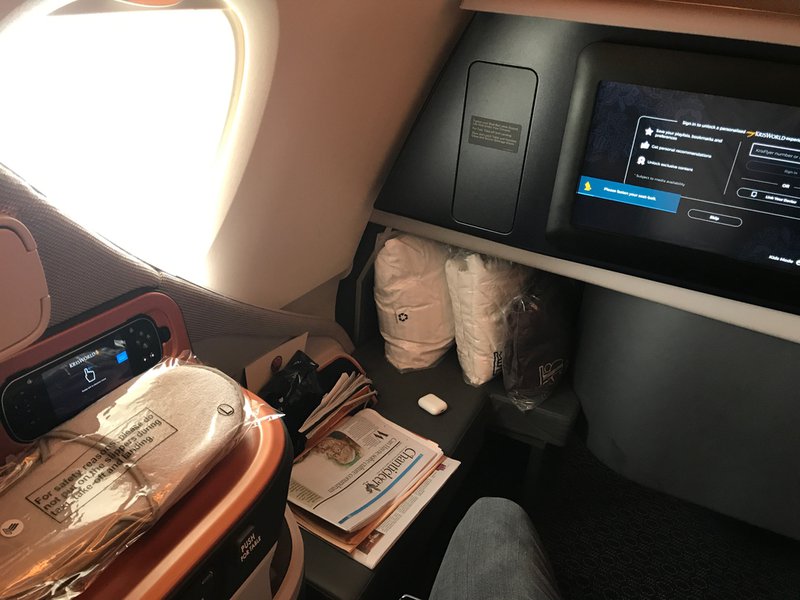 The new Singapore Airlines Business Class seat is very spacious. It's comparable with some First Class products.
It may not seem like it from my photography, but SQ's updated colour palette is both tasteful and modern. Rather than the old beige / brown colour scheme, the cabin has a luxurious and contemporary aesthetic with subtle purple and bronze hues throughout.
What really struck me was just how spacious this seat is. It's easily more spacious that competing Business Class products from Qantas, Emirates, Etihad, Cathay Pacific, etc.
I've flown First Class with Singapore Airlines, Emirates, British Airways, and Cathay Pacific. This Business Class seat felt as spacious as any of them. That's how roomy it feels.
SQ have achieved a real sense of privacy with this seat. 91A, as others have commented online, feels even more spacious and private than others in the cabin, thanks to it being a bulkhead seat in the smaller cabin to the rear of the upper deck.
Storage was excellent. I could easily stow my bag under the seat, which means your things are always within reach. With that presumably being the case for everyone else, I suspect this helped contribute to the cabin's peaceful ambience because you don't need to retrieve things from the overhead bins.
Takeoff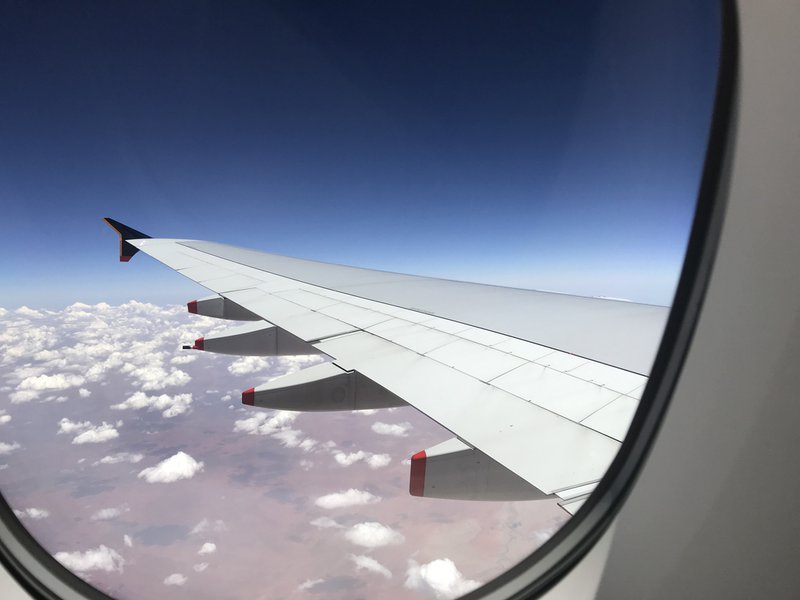 It was a busy morning and we were fifth in the queue for takeoff out of Sydney, so we experienced a slight delay. It was quite overcast with a light drizzle, which sadly obscured our view of the city on ascent. However, our ascent was as smooth as ever on the A380 and we got to cruising altitude quickly.
The flight attendant had taken my drink order as we were still taxiing out for takeoff, and it was delivered promptly after the captain turned off the seatbelt lights. I had just come off the back of a fairly busy week, so took the sensible option and chose Moroccan mint tea since that would settle the system for the long journey ahead.
Service begins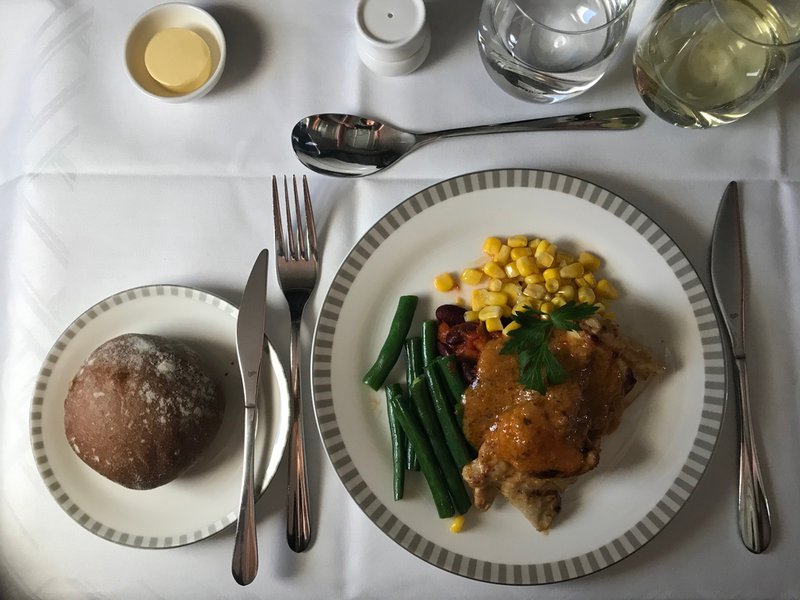 Shortly after take off, I was asked what I wanted for lunch. I hadn't even had a chance to consult the menu, located conveniently to the side of the seat, and struggled to choose from what was a varied and appetising selection. In the end, I chose the peri peri chicken.
Service began about an hour and a half into the flight with marinated king prawns for starters with salad. It was fresh and very tasty.
The peri peri chicken was really nice too and came with sweet corn, green beans, and kidney beans in a tomato sauce. It looked and tasted great. I used the brown bread to clean up the plate!
I had mango ice cream for dessert, which I probably shouldn't have, but the three mini cakes sounded a bit too heavy. They looked great though!
Seat controls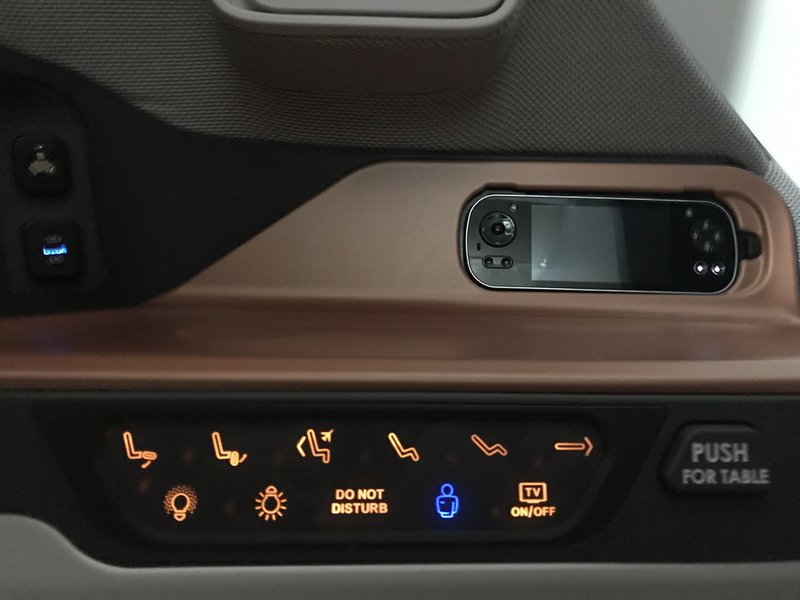 Seat controls are self-explanatory and very easy to access on a touch panel situated to the side of the seat. You can use them for all the usual functions: change position of leg support, recline to flat bed for sleep, turn the screen on and off, call for assistance, etc. Having said that, they may be a little too accessible. I nudged it while eating and called the hostess accidentally. I would put good money on that happening regularly. 
Nap time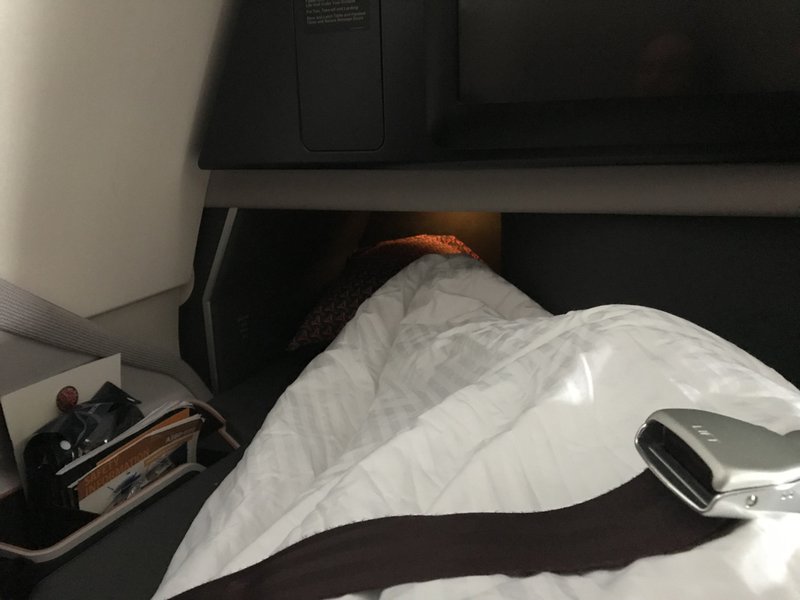 One of the biggest differences between this new version and the old one was the removal of the folding mechanism. You can ask one of the attendants to make up the bed for you, but I decided to make it up myself given it involves pushing a button and rolling out a duvet.
A bed sheet, duvet, and a pillow, which is in addition to the one for when sitting upright, are provided. The linen is decent quality. Whilst the thread count is not as high as you would get with Emirates or British Airways First, the duvet and sleeping pillow are very good quality and much better than what competing business products typically offer (a polyester blanket that makes sleeping uncomfortably hot).
Speaking of which, the cabin did get quite warm during the flight, but it was nothing unbearable and certainly not the sauna-like conditions for which the Middle Eastern carriers are known for.
91A, being a bulkhead seat with nobody in front, has a broader space at the end of the bed. This may not matter to everyone, but I think the additional space made sleeping easier.
But there is one downside.
Where other products do beat Singapore Airlines is with the mattress. I found the seat to be comfortable to sit on, but it was quite firm. Unless you like a firm mattress, which I don't, you may find it a little hard to lie on after a few hours. A mattress would really help here.
In-flight entertainment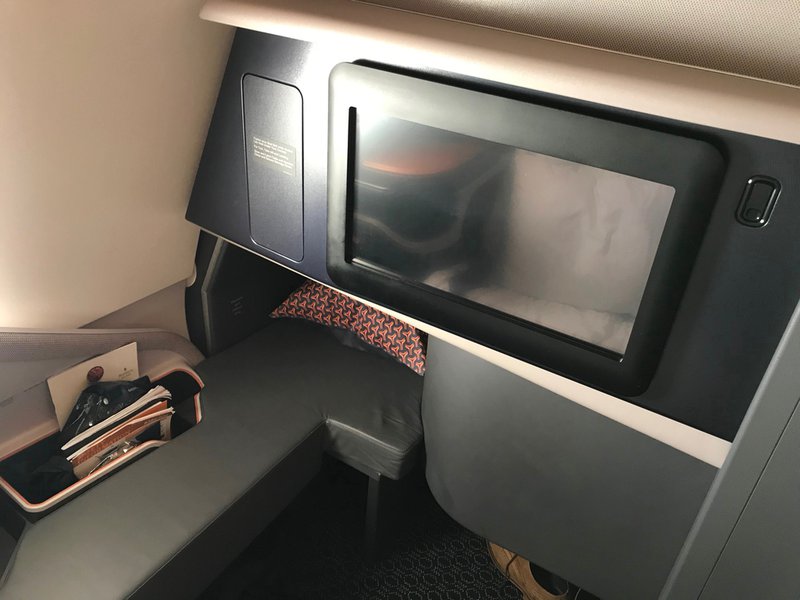 The screen was a little on the small side and the variety of entertainment was OK, but there wasn't as much depth in comparison to what you could expect from the likes of Emirates.
My brother and his family were flying up to Singapore a few months after I took this flight, so I had a quick look at their selection for kids. There was plenty to choose from here too.
In the end, I didn't even turn the screen on. It had been an early start after a long week of travel, meetings, and late nights. I reclined the bed and went to sleep, so the IFE wasn't very relevant to me.
Is in-flight entertainment an important factor? For me, it really isn't and certainly is not something I'd put high on my list of priorities when choosing who to fly with, especially when you can download your own entertainment before departure.
WiFi was also available, but again, I wanted to relax, spend a few hours disconnected, and get some rest, so I decided against connecting.
No personal kit, but no worries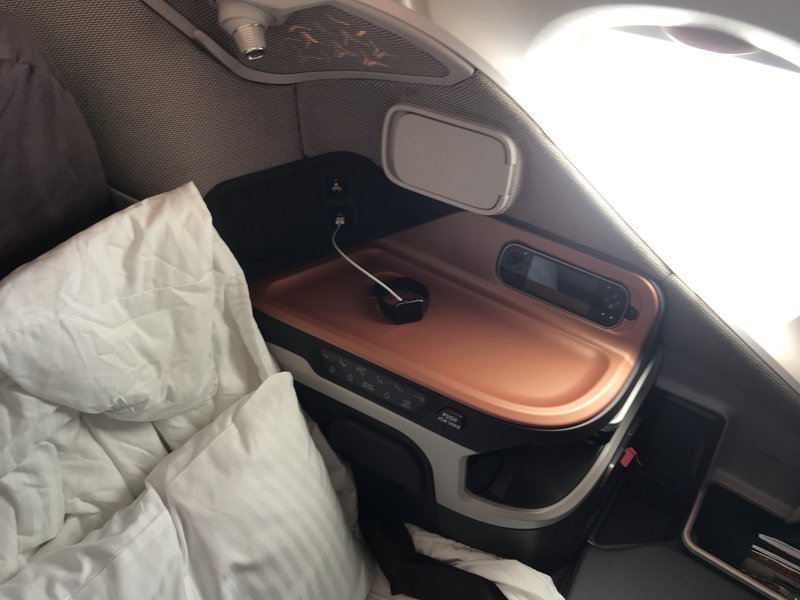 Neither an amenity kit nor pyjamas were provided. At first glance, this does not compare favourably with competing airlines since even lowly British Airways Club World provides a decent swag bag.
However, in defence of Singapore Airlines, I can see their reasoning. Ample amenities were provided in the bathrooms: mouthwash, toothbrush and toothpaste, moisturiser, etc.
Speaking of which, the bathrooms were clean and maintained regularly throughout the flight. I noticed their flight attendants checking them on at least two occasions on this eight hour-long flight.
Pre-landing snack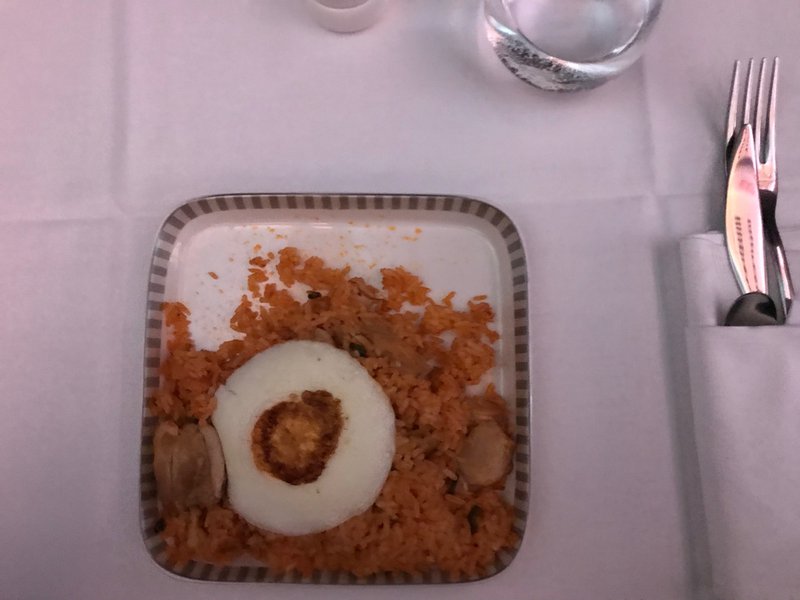 Cabin crew took orders for pre-landing snacks about an hour and a half before we were scheduled to land. I was quite hungry at this stage and wanted something filling, so I chose the kimchi and fried rice. It might not look very appetising—it really doesn't—but it was very tasty, if a little spicy. Needless to say, that's nothing a glass of white wine can't fix!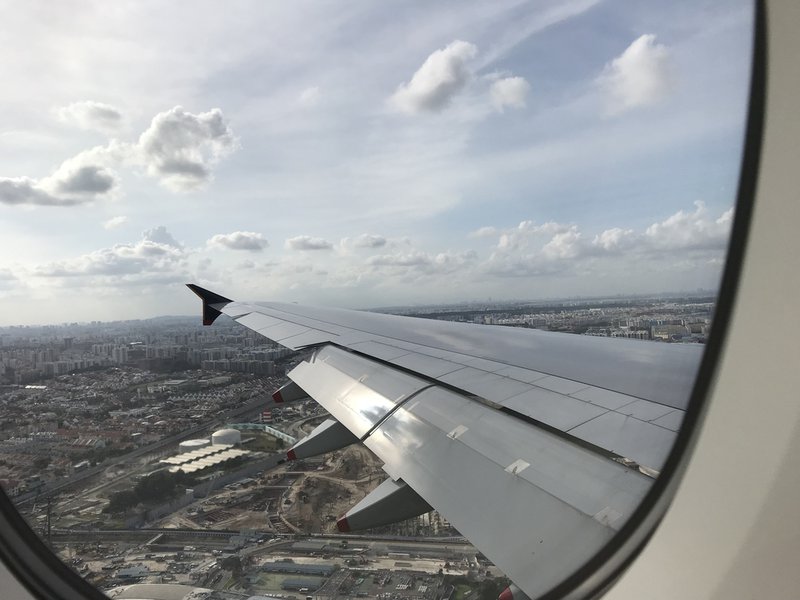 We started our descent soon after. Air traffic control put us into a holding pattern due to congestion, and after a short time circling, with fantastic views of the island and Johor in the distance, we landed at Singapore Changi Airport.
How to get KrisFlyer Miles
For our Australian readers, the options for earning KrisFlyer Miles are actually quite limited.
You can earn points by flying with Singapore Airlines or with one of their Star Alliance codeshare partners. It's also possible to earn miles by shopping on the KrisFlyer online shopping spree portal (remember to keep an eye out for special promotions when earn rates are boosted).
However, there are currently no Singapore Airlines branded credit cards that earn KrisFlyer Miles directly and there have been none ever since Westpac withdrew their cards from the market.
But that does not mean you can't earn KrisFlyer Miles using a credit card. Several reward programs exist where points can be earned and then transferred to your airline of choice. Your options include:
Since you can transfer points from Velocity Frequent Flyer to KrisFlyer, then any credit card that earns Velocity Frequent Flyer points technically also earns Singapore KrisFlyer Miles.
Overall impression
It had been a few months since I last flew with Singapore Airlines. I mostly fly long-haul with Emirates and Cathay Pacific and was looking forward to trying out this new Business Class product for the first time. I was not disappointed. The seat was very comfortable, the food was tasty, the facilities were clean, and the service was excellent. What more can you ask for?
I would not hesitate to fly with Singapore Airlines again. In fact, I would go out of my way to do so.