60,000 QFF points to fly in Qantas Business Class from Sydney to Hong Kong
Qantas Business Class review of the Sydney Business Lounge and in-flight experience
Compare gluten-free vs standard inflight meals in Qantas Business Class
The team at Finty is remotely distributed with dedicated data management, systems development and customer service based in the Philippines. At least once every few months we aim to meet up with everyone, which calls for lots of flights.
So seven weeks out from our planned trip from Sydney to Manila, Caren Ng (our Marketing Executive) and I started searching for award seats we could book classic reward seats with our Qantas points.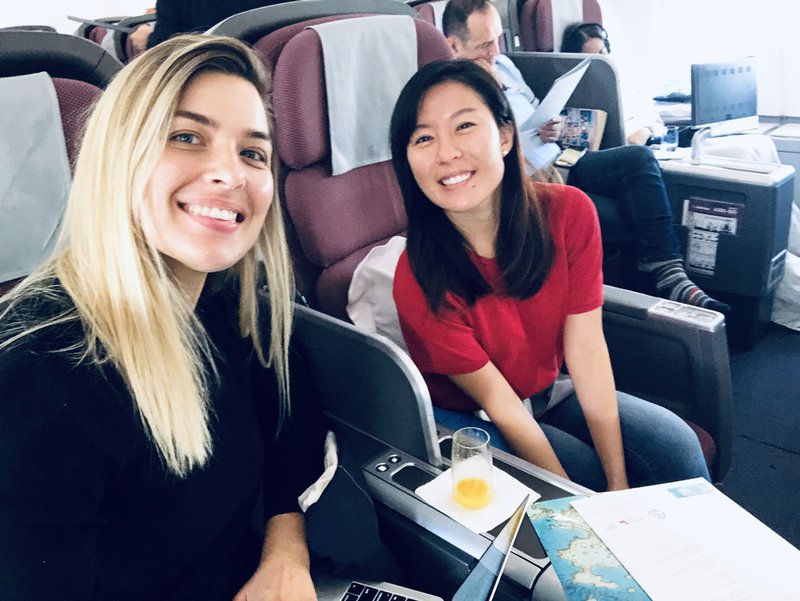 Flight details
Airline: Qantas
Flight number: QF127
Route: Sydney to Hong Kong
Duration: 9 hours
Cabin: Business Class
Cabin configuration: 2-2-2
When: March 2019
Cost: 60,000 QFF points + $93 taxes and charges
Aircraft: A380
Seat number: 17E & 17F
Overnight flight: No
Meal included: Yes
Amenity kit provided: Yes
Headphones provided: Yes
Pyjamas provided: No – it was a daytime flight
Baggage: Up to 40kg cabin baggage included
Other: USB charging station between seats
Booking the flight
After only one week of searching online, we found seats we could pay for with points by going via Hong Kong – two Business Class seats on the same flights, meaning that we could travel together the whole way.
Yes, this was still six weeks out from our travel dates, and the timing of the flight would see us rising before dawn and arriving quite late at night, after the relatively short two-hour connecting flight from Hong Kong to Manila. But we knew from previous experience that when you find two Business Class award seats that meet your requirements, you need to snap them up quickly before they disappear.
The online booking process at Qantas was straightforward and error-free.
The SYD-HKG segment required 60,000 points and the HKG-MNL segment 26,000 points. So the total cost per person was 86,000 points plus $245 in cash for taxes and charges.
Even a direct Qantas Business Class flight from Sydney to Manila, six weeks out from departure, would normally cost $2,613 for a Business Sale seat (or $4,293 for a Business Flex), so we were getting at least 2.7 cents in value per QFF point, and possibly as much as 4.7 cents. That's way better than the 1.5 to 1.9 cents value per point you might typically get for a Qantas short-haul Economy Class flight.
The Qantas Business Class lounge experience at Sydney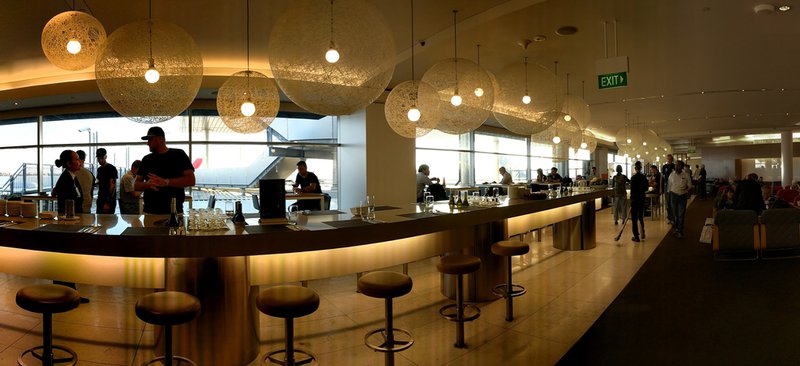 After a 4.30 am start (to get to the airport the recommended three hours before our 9 am flight) we hit the Qantas Business Class Lounge at Sydney International Airport at 6 am. It was very quiet, and in our tired state we felt pleased to be accessing an area that offered relaxation and seemed pretty special at first.
But as we passed further into the lounge, that impression began to wear off: it's all fairly standard – certainly not luxurious – and even a bit run down in parts.
Some parts of the floor, for example, looked as if they could do with a vacuum – not what you expect in a Business Class lounge. Compared with its rather grand Qantas counterpart in Singapore, it's merely functional, a good place to escape the hustle and bustle of the main airport (and avoid duty-free shopping temptations) while scoring a free meal.
Honestly, at that time of day, the airport was pretty quiet so it wasn't such an enormous contrast.
Lounge food and beverage options
There was a fairly average self-service 'airport food' selection (no à la carte service), not as extensive or fresh-looking as we've sometimes had in Sydney's Qantas Business Class domestic lounge.
All the usual suspects were there if you were thirsty – coffee, tea, juice, water, and even beer and wine at 6am. Neither beer nor wine was going to tempt us at that hour, but it was interesting to see that there were no fancy wines – just standard offerings.
Lounge bathroom amenities
There were shower facilities available, with an attendant to hand out clean towels, but the ladies' toilets had only six stalls. Again, that was no problem in the early morning, but you can expect queues to form later in the day. Not a good look.
Leaving the Qantas Business Lounge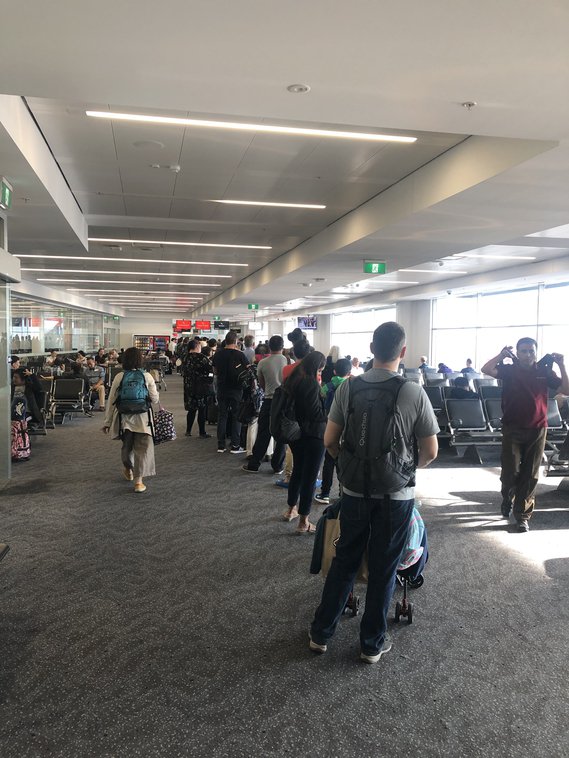 We were almost glad to leave the lounge at 8.40 am, by which time it was so overrun that it was quite difficult to get through to the exit. That 'special' feeling had definitely evaporated, but we have to admit that the main concourse on the way to our departure gate was much worse. So while we wouldn't choose to pay for the lounge experience as Qantas Club members, we would still use the lounge if the option was available.
Boarding the flight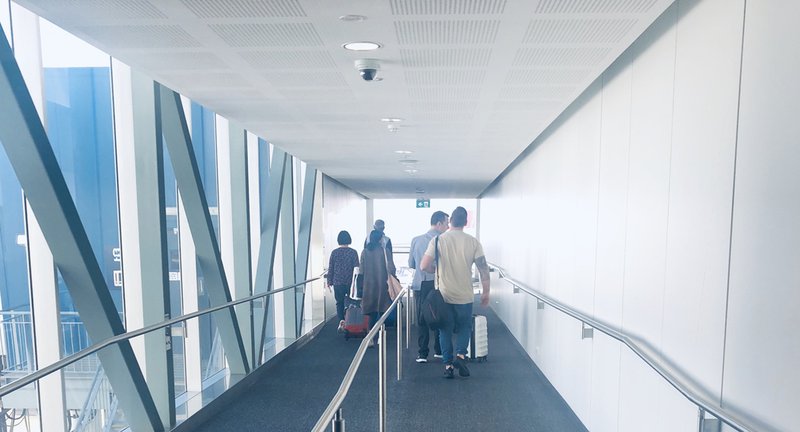 The gate was easy to find, with clear signage.
But finding our way to the correct upstairs entrance to board the plane was more difficult. You need to pay attention to the boarding attendant's instructions or you'll end up at the wrong entrance.
Cabin and seats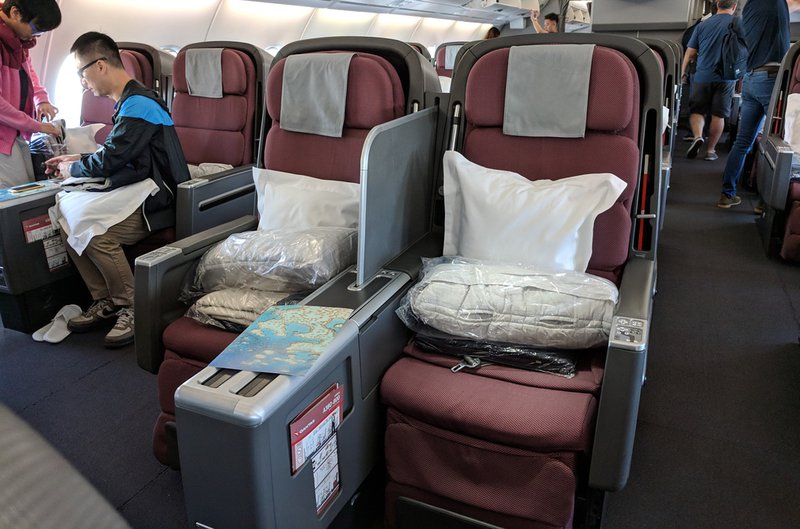 The seating layout on this flight was the older style 2 x 2 in three alternating rows. Business seats are covered in net fabric, with a doona and pillow provided. From outside, they look like a carbon space pod.
Our two seats were in a middle row, and as we struggled to find convenient spaces to stow the gear we might need during the flight (laptops and personal items we didn't want to put in an overhead locker) we looked with envy at people in the rows nearer the windows, where they have a whole storage compartment at their disposal.
At five foot zero, Caren found she was a tad vertically challenged when it came to opening the overhead locker. At 5ft 8in, I had no issues here, so decided to help a mate out and open the overhead locker for her when needed during the flight. You're welcome, Caren!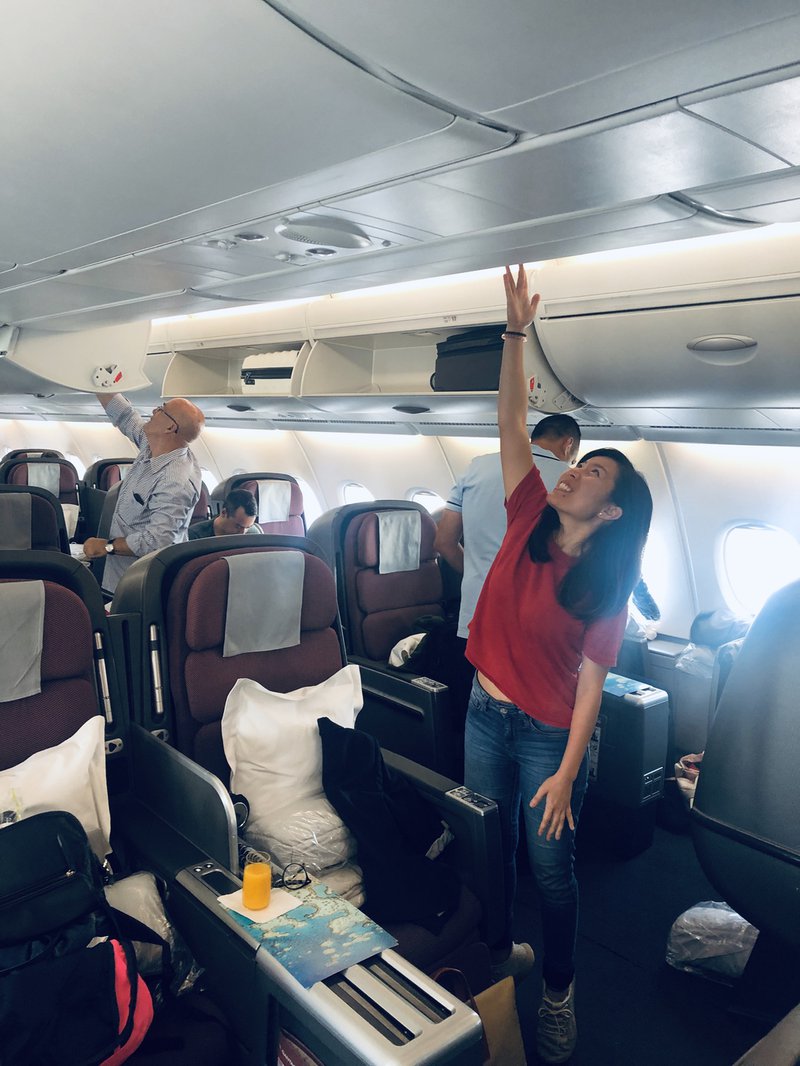 Seat controls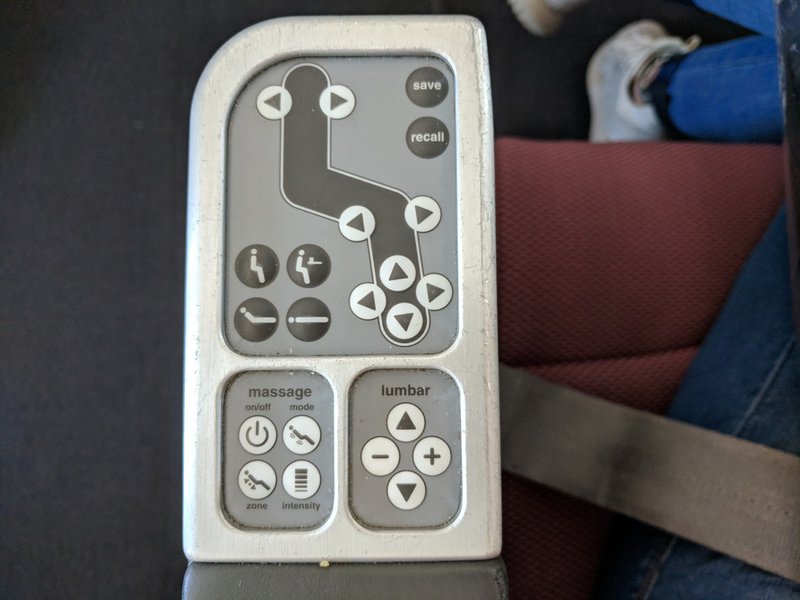 Headphones were provided, and there were USB charging points between the seats. The seats had an inbuilt massage function.
Getting the TV screens up and out of the recess where they are stowed was a rather difficult, clunky process. They'd obviously seen plenty of use. Time for replacement?
Food service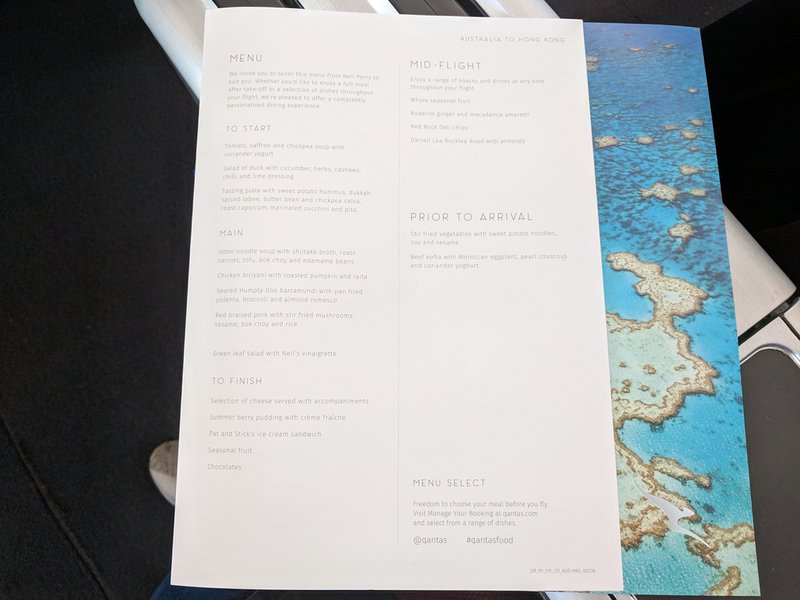 I'm gluten intolerant and Caren is like most of you lucky people out there who can eat anything, so we decided to do a side-by-side comparison of what a gluten-free and standard meal look like in Qantas Business Class.
Caroline's gluten-free meal
Entree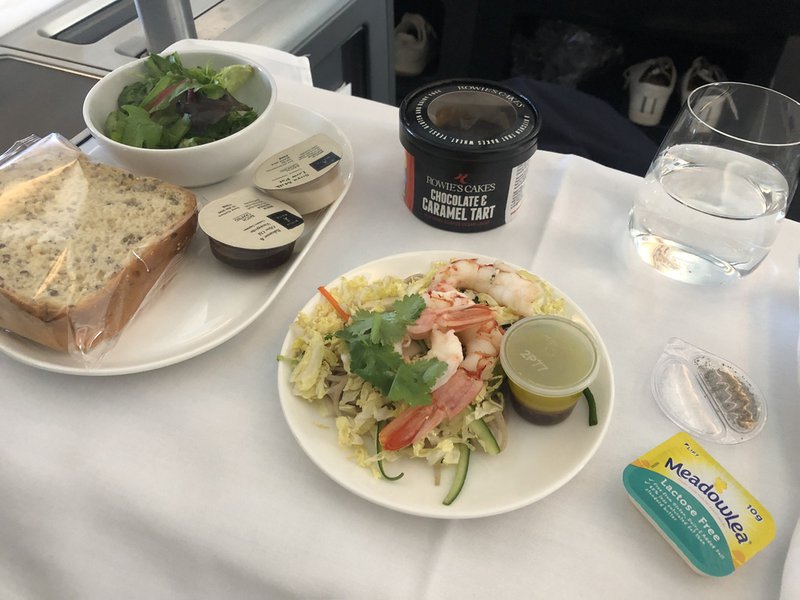 Sides
Two pieces of gluten-free bread – one multigrain, one white – and a side salad. While the multigrain bread was nice and soft and had a good texture, the white bread was really hard and essentially inedible. It would have benefitted from toasting (like a lot of GF bread to be honest). The side salad was fine, but could have done with the addition of some leafy greens.
Main meal
The lamb was cooked well and the beans were not overcooked. I'd eat it again.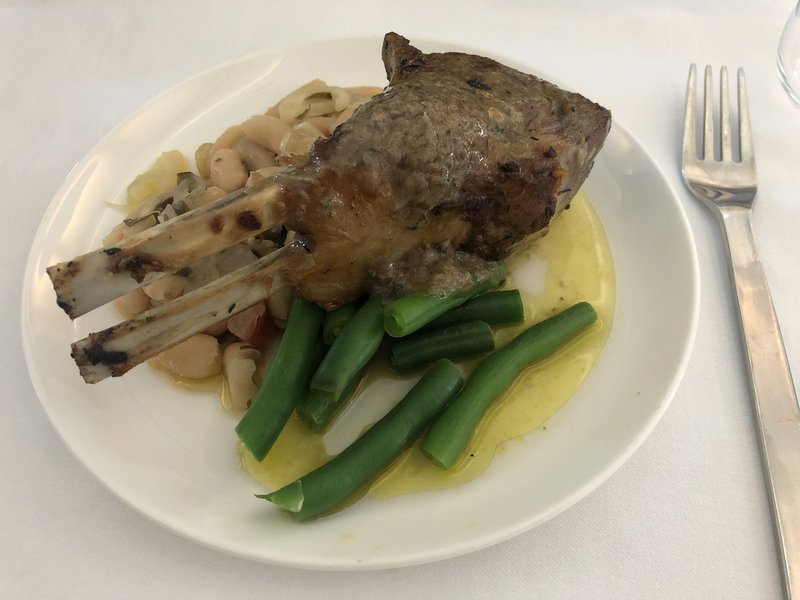 Dessert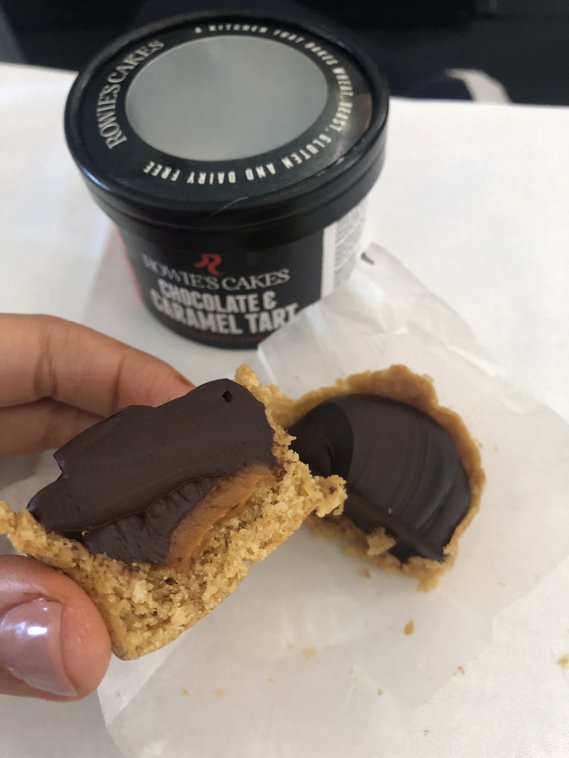 The dessert was not only gluten-free, but vegan as well. For me, this was the best part of the meal. From past experience I know that gluten intolerant passengers in Economy Class usually get a piece of fruit – or nothing – so it was a real treat to get this.
Caren's standard meal
Entree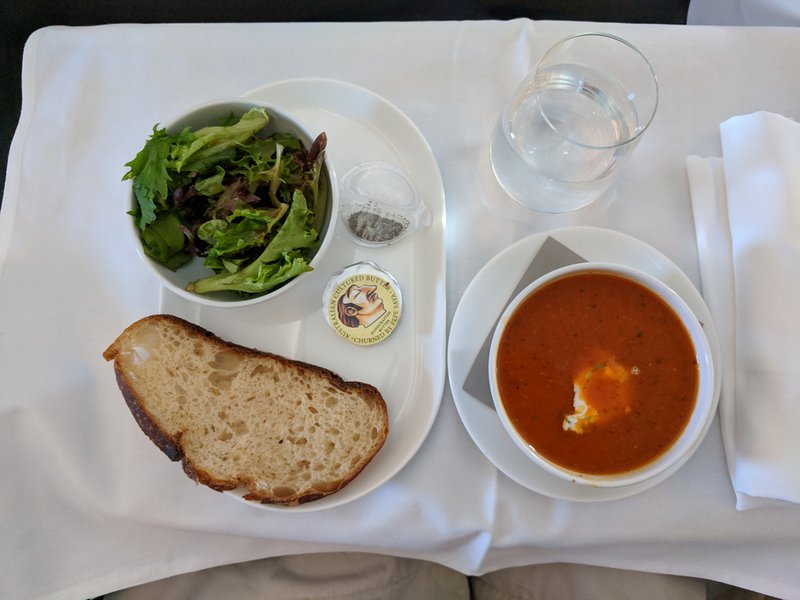 Sides
Bread and mixed greens with vinaigrette, which paired perfectly with the soup. The sourdough was quite fluffy despite the chewy crust.
Main meal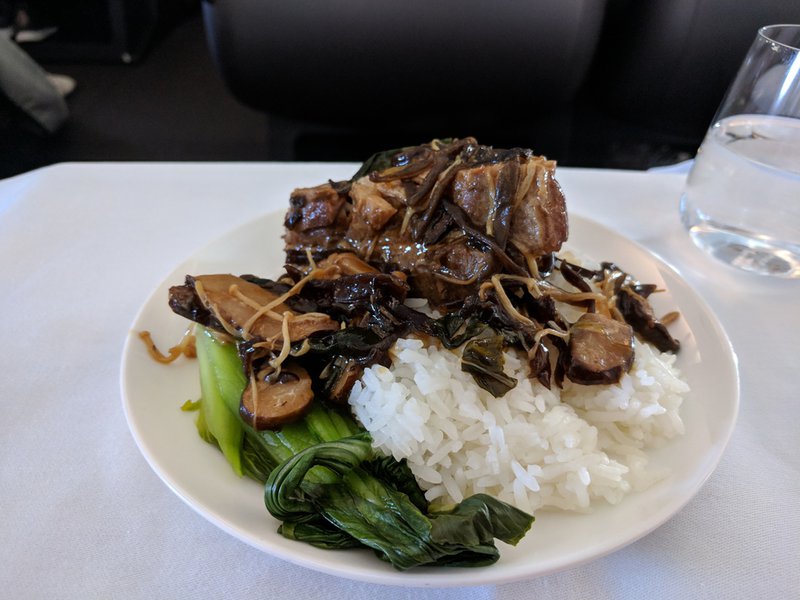 It may not look appetising to some, but it was delicious. The pork just fell apart.
Dessert
Overall impressions
I particularly appreciated the fully-flat bed and doona as I struggle to sleep on planes (regardless of which class I'm in), so a comfortable bed helps me get comfortable enough to get a bit of rest. Caren, on the other hand, could probably drop off to sleep anywhere, including on the floor if she had to! I was quite jealous about how easy it was for her to sleep.
Next time we'll request seats in a window row to score that extra storage space.
On the whole, Qantas Business is a really good staple. It's generally reliable and has everything you need, including a pleasant and efficient crew. It's not glamorous or ultra-luxurious like some other Business Class cabins are, but it's certainly a good all-round experience. We both agreed we would be very happy to fly Qantas Business Class to Hong Kong again.