Recent renovations have made this one of the world's best Business Class lounges.
Find out how it compares with Cathay Pacific's other lounges at Honk Kong International Airport.
Arriving at an international airport after a nine-hour flight – even during the daytime, and in Business Class – can leave you feeling pretty seedy, especially when there's the prospect of another flight before arriving at your final destination. Let's just say I was looking forward to relaxing in a Business Class lounge, and my expectations were high.
I always knew Hong Kong International Airport was going to be huge (it has its own island) and busy (it's the world's fourth busiest passenger terminal and busiest cargo terminal), so it wasn't too much of a surprise to discover that Cathay Pacific operated six airport lounges there. The two First Class Lounges were off-limits for me, but to still have a choice of four was amazing.
Lounge details
Lounge name: The Wing
Class: Business
Operated by: Cathay Pacific
Where: Hong Kong International Airport, Terminal 1
When: March 2019
Pre-flight or layover? Three-hour layover after a Qantas Business Class flight from Sydney and before Cathay Pacific Business Class flight to Manila (booked with frequent flyer credit card points)
Bar: Yes, with complimentary drinks
Food service: Yes, with complimentary local and international cuisine
Lounge area: Yes
Workspace: Yes
Free high-speed internet: Yes
Showers: Yes
Four lounges to choose from
My lounge choices were:
The Wing, Business Class – Terminal 1, near gates 1-4
The Bridge, Business Class – Terminal 1, near gate 6
The Deck, Business Class – Terminal 1, near gate 35
The Pier, Business Class – Terminal 1, near gate 65
My original intention was to go to The Pier – I had heard it was pretty fancy – but once I arrived I realised that I was on the wrong side of the airport to make it convenient to get to. So convenience won out and I decided to go to the lounge located closest to my connecting flight gate, which happened to be The Wing.
Who can use The Wing?
The Wing is open daily, from 5.30am until 00.30am, for: 
Cathay Pacific and Cathay Dragon First and Business Class customers
Silver, Gold, and Diamond members of The Marco Polo Club
First and Business Class passengers of oneworld alliance airlines
Qantas Frequent Flyer Gold (oneworld Sapphire) and Qantas Frequent Flyer Platinum (oneworld Emerald) members, regardless of which class they are flying in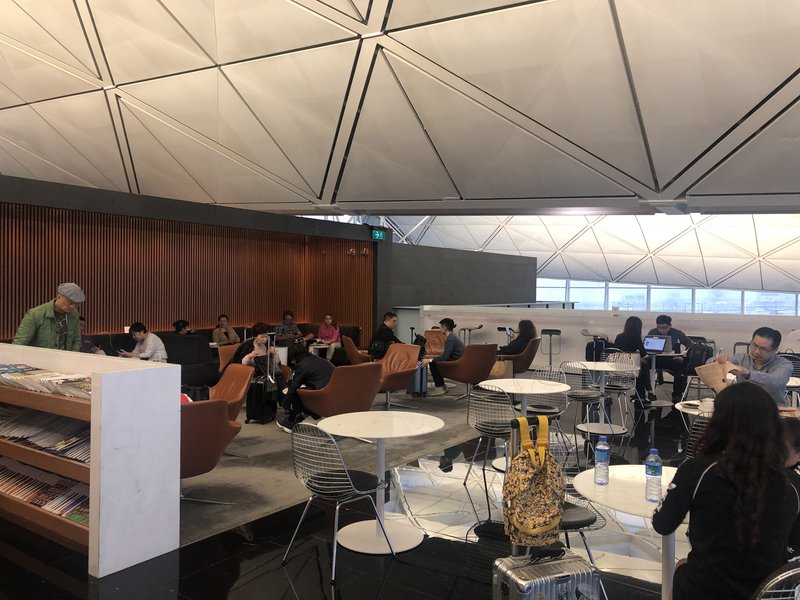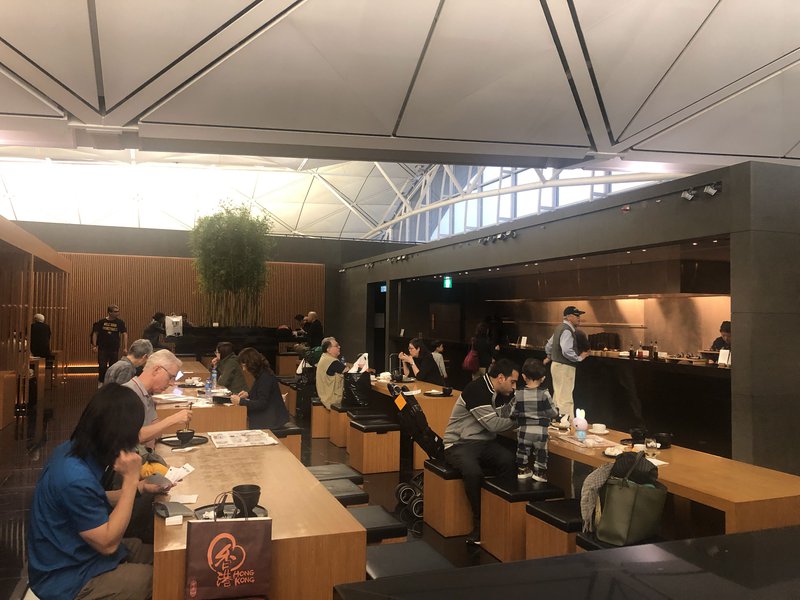 The Wing has been Cathay Pacific's Hong Kong flagship lounge since 1998, and it recently underwent a complete renovation. There are two levels, providing a combination of spaciousness and privacy by being divided into several different areas. I decided... why not... I'll sample them all.
Shower amenities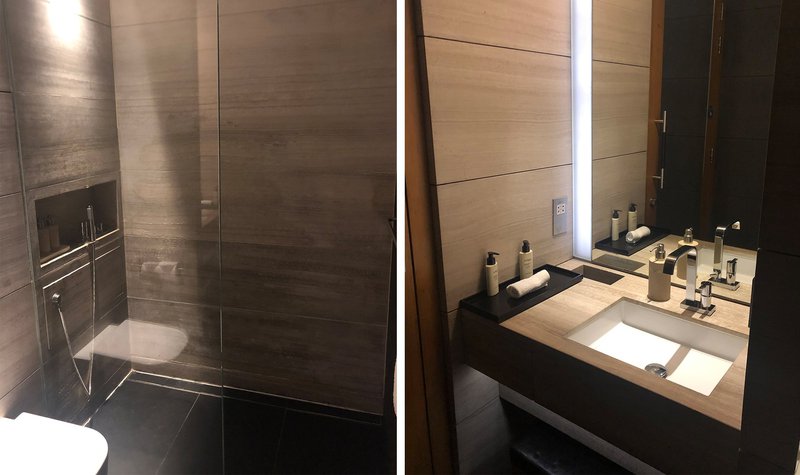 This was my first stop, in an effort to get over that 'yuck' feeling after many hours of travelling. I wasn't disappointed. There are 23 classy shower rooms (straight from the pages of a cutting-edge architecture magazine) on the first floor, equipped with premium bath products and towels. The shower attendants will also provide hair care and shaving products if you need them.
Buffet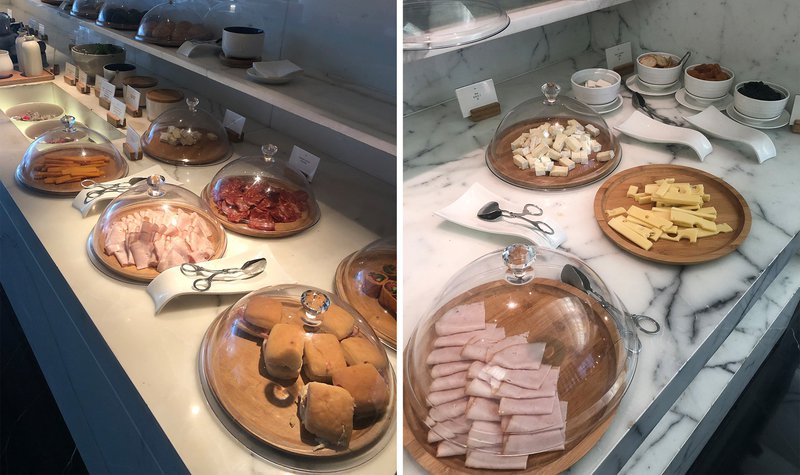 Also located on the first floor (but repeated in a second location on the upper level) you'll find a self-service buffet serving both Asian and Western cuisine. There was a good selection of both food styles, and the offerings looked fresh (unlike some lounges where the food looks as if it has been sitting there for hours).
IT and business room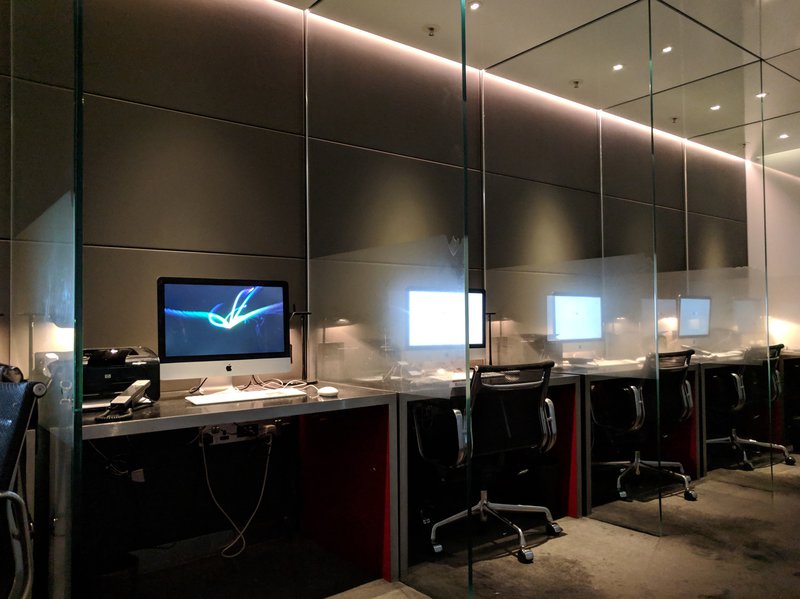 Still on the lower level, there are six workstations with computers, printers, phones, and high-speed internet access. You can choose to be super-productive in comfort and privacy.
The Gallery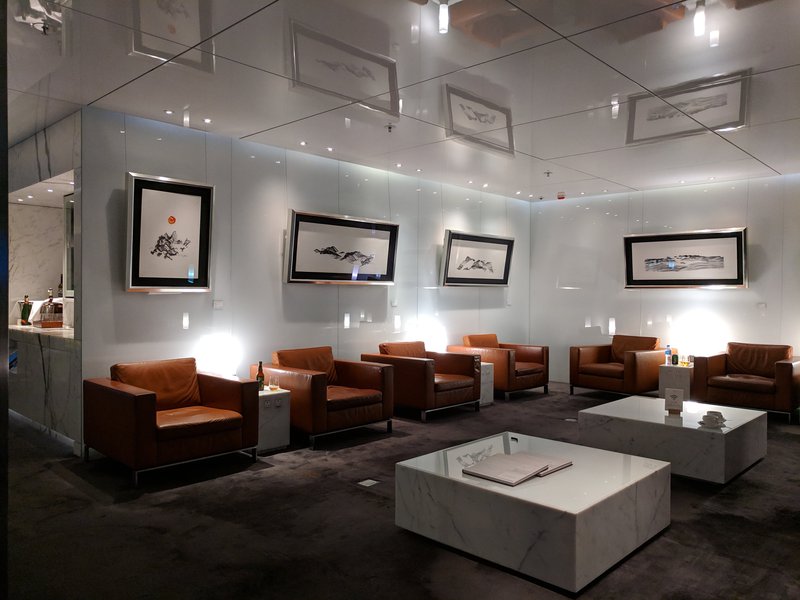 Adjacent to the workstations there's an area with sofas and a small drinks bar, connecting to a quiet lounge room. This space offers curated artworks from local artists, changed each month. There's also an outlet fitted into each sofa so you can charge your phone while relaxing in this room. Just remember to bring a universal adaptor, because the power outlets are the standard UK variety.
The Long Bar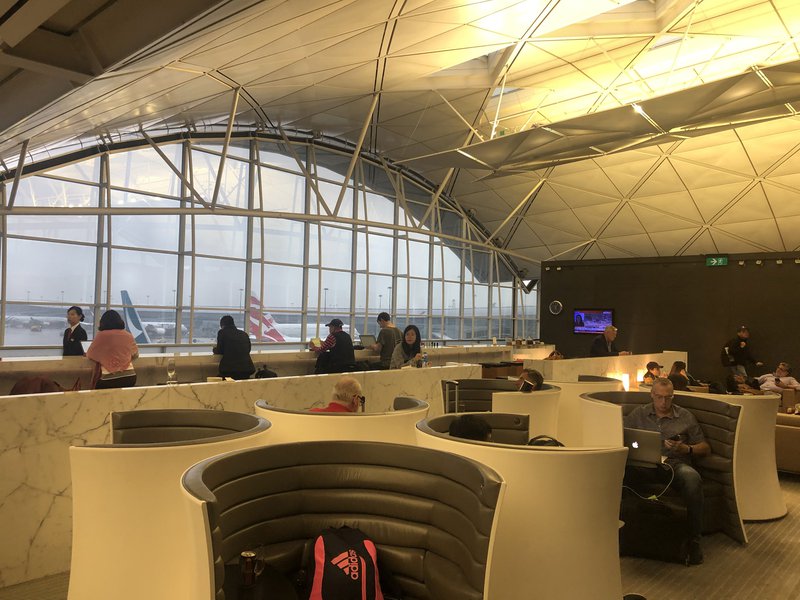 It was time to head upstairs to experience this iconic part of The Wing, fortunately preserved following the renovations. It's aptly named, since it's 23 metres long.
This is the spot to sit on a bar stool and watch the aviation world go by, as planes take off from the tarmac. It's very glamorous, with lots of white marble. I could have ordered a cocktail from one of the onsite mixologists, but I decided on a glass of champagne to accompany my view. There were lots of tempting canapés and pastries here too, but I was saving my appetite for the Noodle Bar.
The Noodle Bar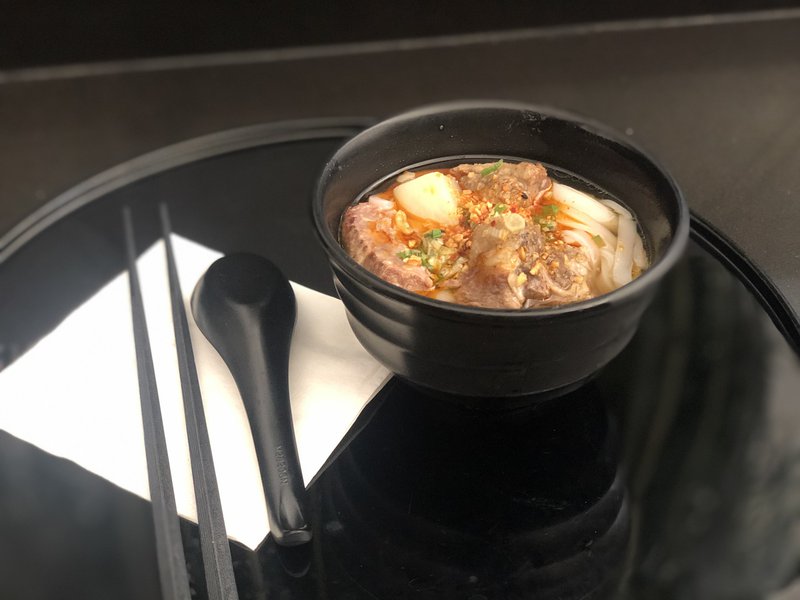 Another icon which survived the renovations, the Noodle Bar (also on the second floor) gets my vote as the lounge's standout experience. Freshly-made Asian dishes (dan dan noodles, char siu buns, dumplings, and regional specials) are pumped out from the full working kitchen. I'm gluten intolerant, so sometimes I find buffets, and food in general while travelling, a bit tricky. I was so happy to see I could enjoy the noodles, as there was a rice noodle option with brisket. Yum. I would honestly go back just for those noodles.
The Coffee Loft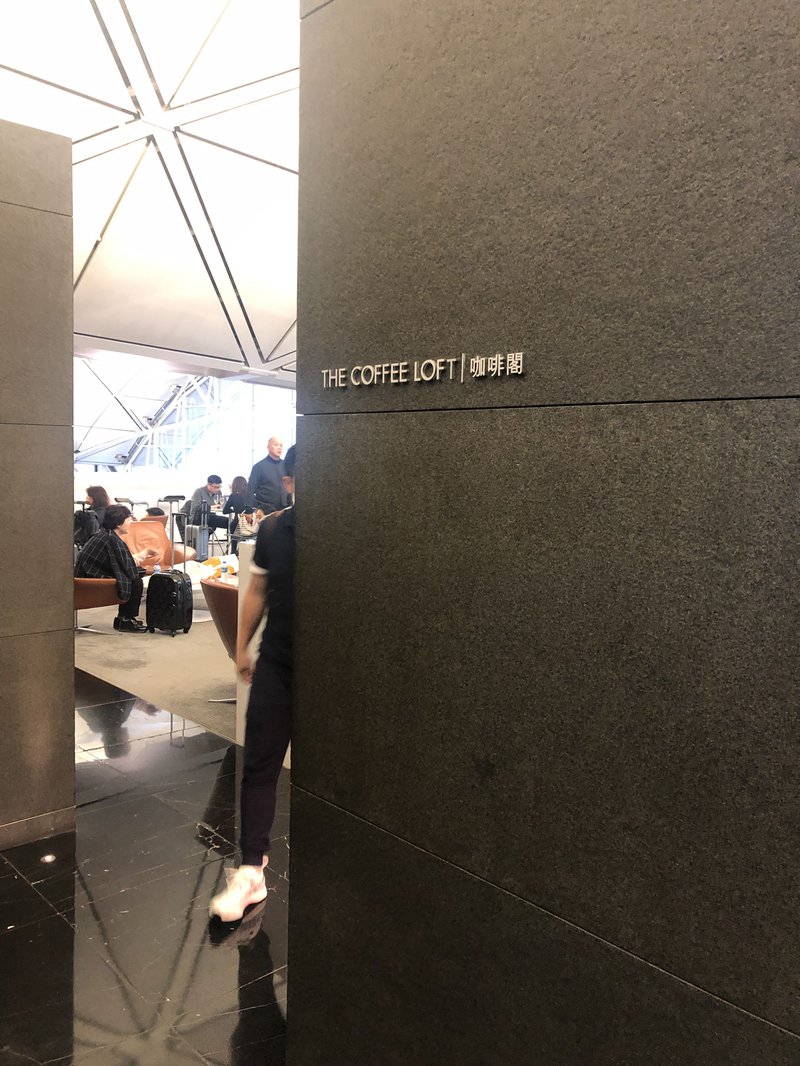 Still on the upper floor is the final food and beverage option, the new Coffee Loft, serving barista-made coffees and freshly-baked pastries, as well as sandwiches and pies. Perhaps it was just because it was late in the day, but this seemed quieter than the other food spots – so a really nice little hideaway if you just want a peaceful snack and a much better coffee experience than you get from a machine.
Solus pods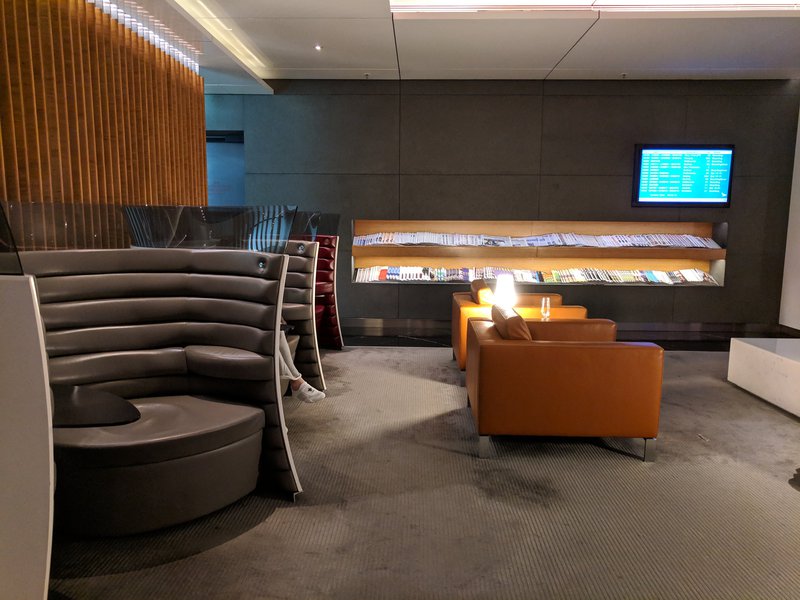 I have to mention these rather special seats, which I later discovered were called 'Solus' chairs – with the solo traveller in mind. They offer a comfortable private space, with a seat and small table to accommodate one person, complete with a power outlet. Brilliant design.
Overall verdict
This is a spacious and superbly glamorous lounge, with great shower amenities and plenty of attractive food and beverage options, both self-serve and à la carte. I had no problems spending a few comfortable hours there, and I'd definitely recommend it as worth a visit.
I was so relaxed in the end that I didn't hear my flight announced – or don't they bother with announcements? That gives me a great excuse to go back again and check out Cathay's other three Hong Kong Business lounges.
Next? You might also be interested in our review of the Sakura Lounge at Haneda.