Superb airport lounge experience, close to Gate 112, fast WiFi, but no showers or loungers to snooze on.
Carefully prepared tasty food, lots of drinks, even a robotic beer dispenser.
Your last taste of Japan before you fly out.
As part of my RTW trip in March 2019, I booked flew from Santiago to Sydney, then on to Manila for a few days of work with the team, then up to Tokyo for some exploration. After gorging on noodles and Kobe beef, it was time to move on to my next destination: London with JAL. This was the first time I had access to a lounge when flying Premium Economy, and let me tell you… it was great.
The lounge is the same for Business and Premium Economy, but there's also another Sakura Lounge for economy class (yes, if you're flying Economy with JAL, you have access to the lounge, and even though I didn't get in, I can imagine everything was probably spotless and great, because well… it's Japan!).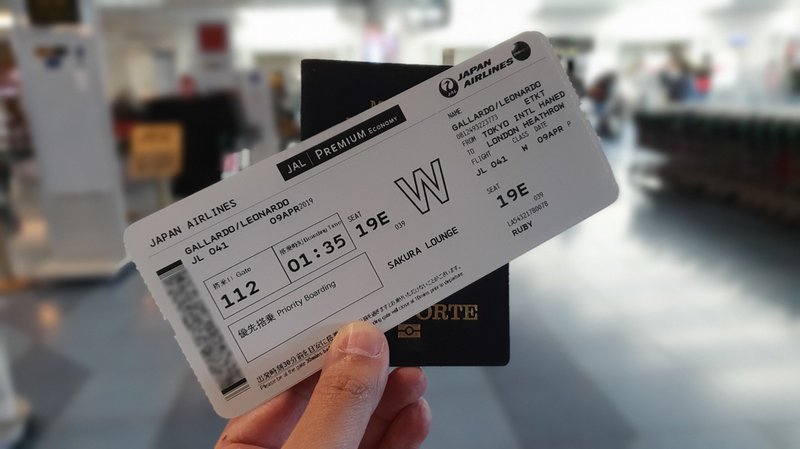 Lounge details
Lounge name: Sakura Lounge
Class: Economy, Premium Economy and Business
Operated by: JAL
Where: Tokyo Haneda, International terminal, 4th floor
When: April 2019
Pre-flight or layover?: Preflight on my way to London
Bar: Yes – complimentary drinks
Food service: Yes – complimentary local and international cuisine
Lounge area: Yes
Workspace: Yes
Free high-speed internet: Yes, very fast wifi
Showers: No
Booking
We used Membership Rewards points earned with an American Express charge card and transferred to Qantas Frequent Flyer to book this flight as a segment on a round the world ticket. This cost fewer points than it would have done booking multiple separate tickets.
Tip: You can compare credit cards with Qantas points on Finty.
Lounge location
This lounge is located in the International terminal. Once you go through security and immigration, head to the left, and there in front of the gate 112 you will find the stairs/elevator/escalators that will take you to the 4th floor, where the Sakura Lounge is located.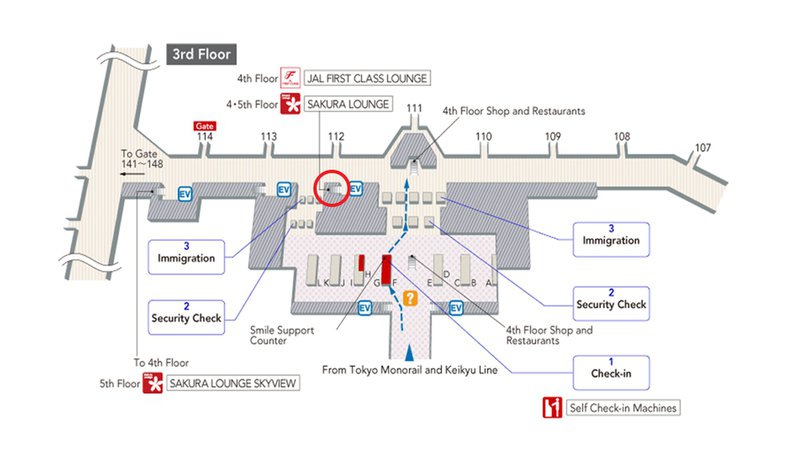 Once you're past the welcome desk, if you go straight, you'll get to the Premium Economy Lounge, and if you go upstairs, that's where the Economy Lounge is located.
At this point, nothing will stop you from going from one lounge to the other. I found a couple of people in the same lounge as I was, that were flying Economy when I boarded.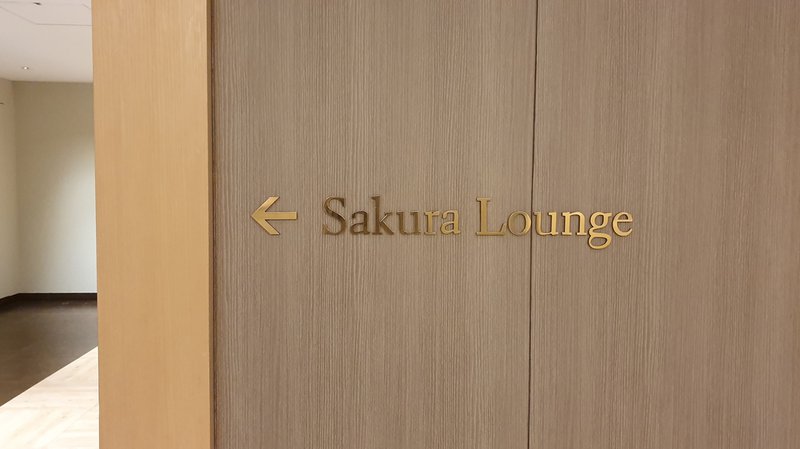 First impressions
As soon as you walk in the lounge, you can tell you haven't left Japan yet, because all the decoration is Japanese. Wooden structures visually separating spaces. Lots of wood, sober design, very warm lights.
If you were lucky, like I was, to travel and experience the traditional parts of Japan, you'll instantly see the resemblance.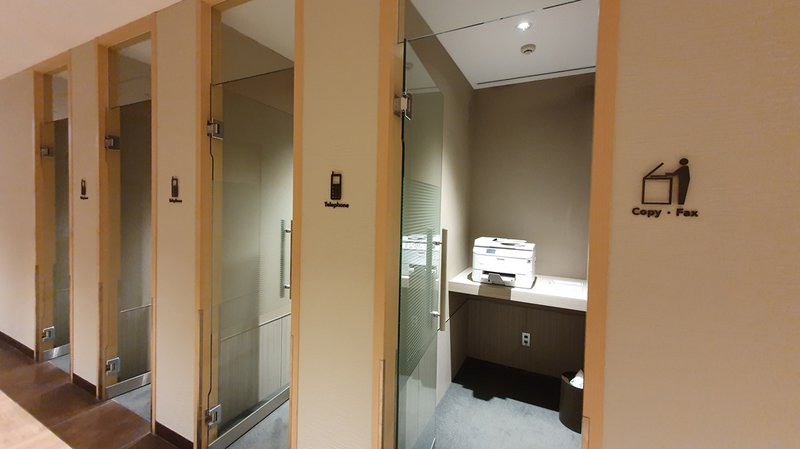 Before you get to the fun part of the lounge (where all the food is), you'll find the bathroom (no showers or fancy toiletries), lockers for your bags, a fax machine booth (read on to understand why this exists), phone/mobile booths (where you would take a call without disturbing anyone else, peak Japanese), and relaxing area with TV screens.
So... the fax machine booth. According to the Japanese government's Cabinet Office, almost 100 percent of business offices and 45 percent of private homes had a fax machine as of 2011 (source: The New York Times).
You'll find a lot of these lovely old-new interactions throughout Japan. They invented the bullet train, but they still use human traffic lights. High tech companies still using software from 10 years. One of the fastest internet connections, but cloud storage is not a thing just yet.
The lounge buffet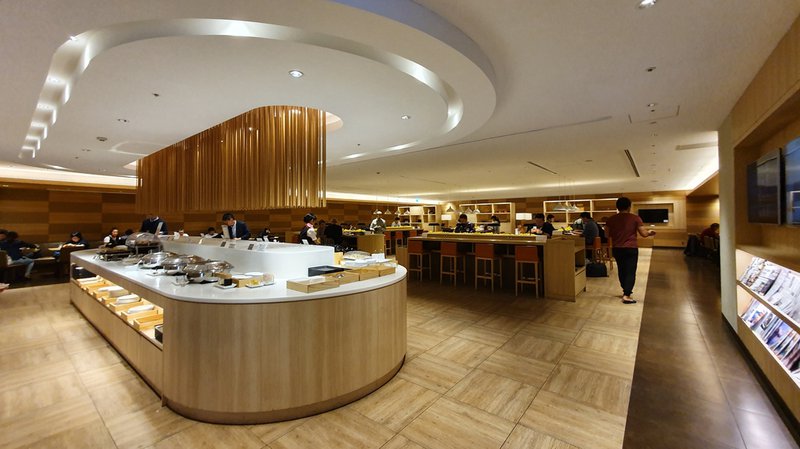 The first thing you see when you enter the main area, is the food and beverages court. This is definitely my favourite part.
In this part of the lounge you can also find the seating area, with both tables and couches.
Not the biggest dining/seating area I have seen, so I can only assume that this would be packed on a busy day (specially if this is a shared lounge between Premium Economy and Business class tickets), but luckily for me, my flight was at 1.50AM so there was not a lot of people around.
The food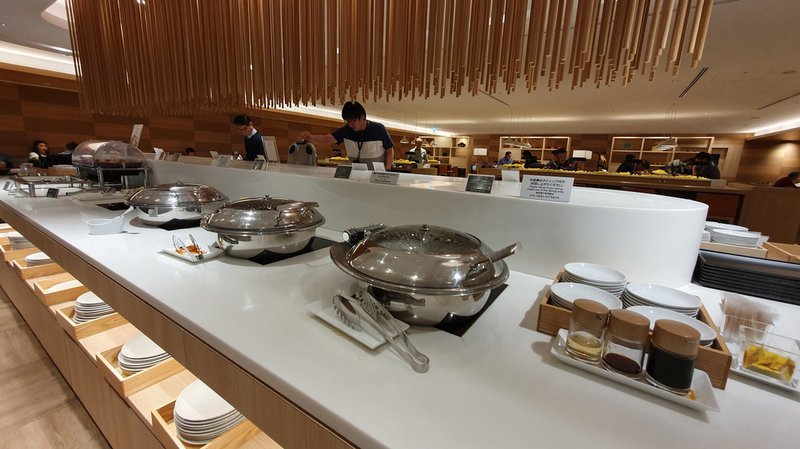 You'll find a mix of Japanese and western food in here. To name a few:
pork dumplings
herb chicken
shrimp cream macaroni
conger eel sushi balls
traditional miso soup
a make-you-own-salad bar
and snacks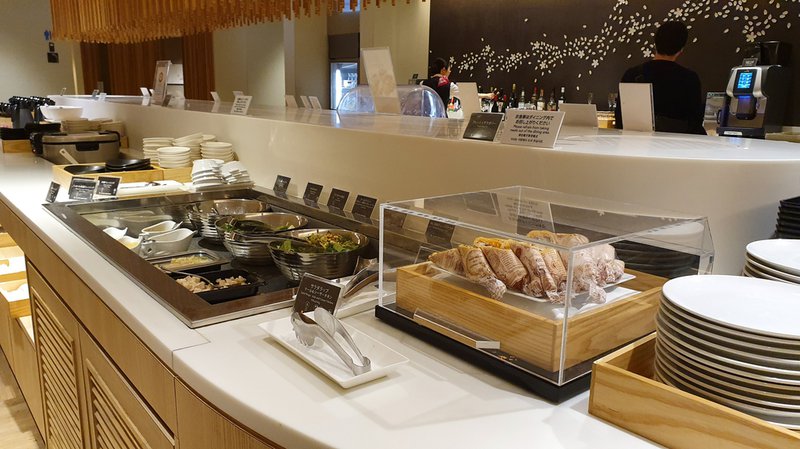 The beverages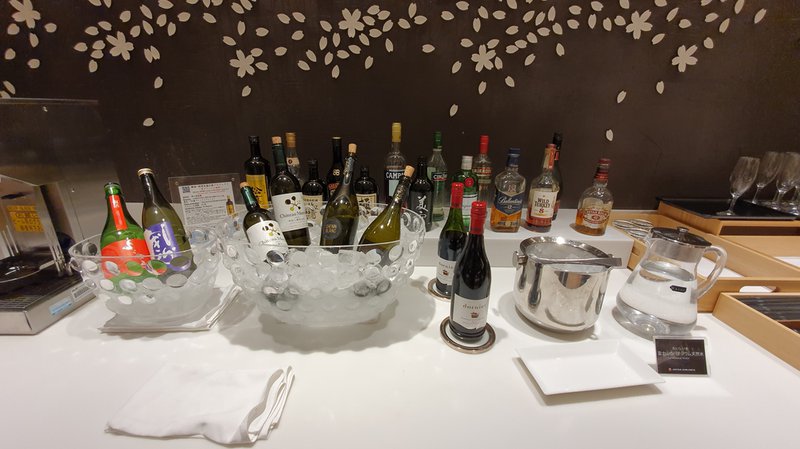 In this section, you can find:
Fresh fruit juices, like guava, pineapple, orange and apple
A whole section for coffee and tea lovers (I would recommend the Jasmine tea, which was incredible)
Lounge-standard bottles like Baileys, Smirnoff, Chivas and Tanqueray
Japanese spirits, some of them are prize-winners, sake or the best of all in my opinion, umeshu (plum liqueur)
International and local wines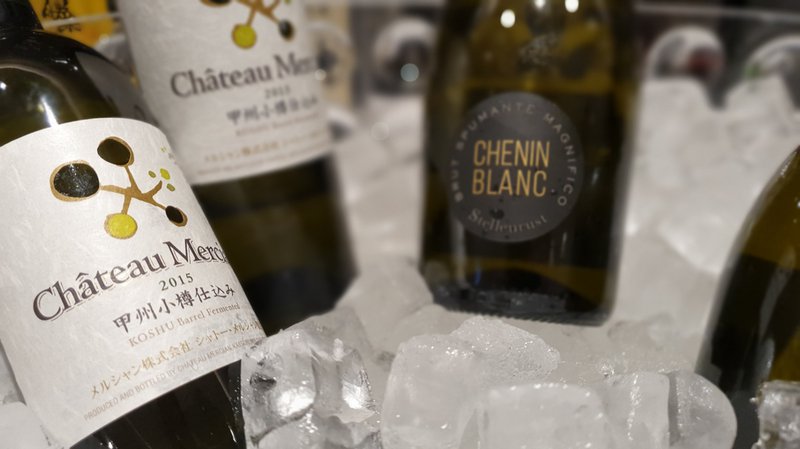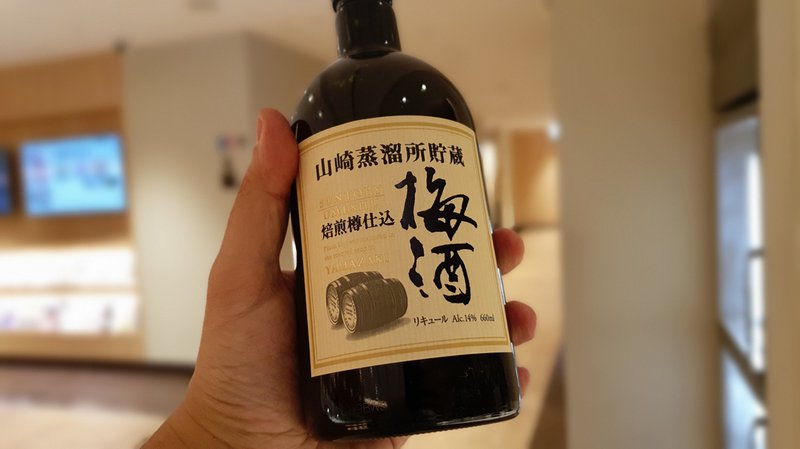 Let me tell you what umeshu is. A great liqueur. But according to Wikipedia, there's another definition:
Umeshu is a Japanese liqueur made by steeping ume fruits (while still unripe and green) in alcohol and sugar. It has a sweet, sour taste, and an alcohol content of 10–15%.
If you've read our review for our flight from Manila (Philippines) to Tokyo (Japan) and scroll down to the image of the JAL Sky Suites flat bed, you'll be able to see my cabin with a nice glass of umeshu on the rocks. That's where it all began.
I liked it enough to bring a bottle of umeshu Choya (one of the big brands) back to Argentina, but consider the fact that I went to Northern Ireland and England before heading home, so it was quite a journey for that bottle.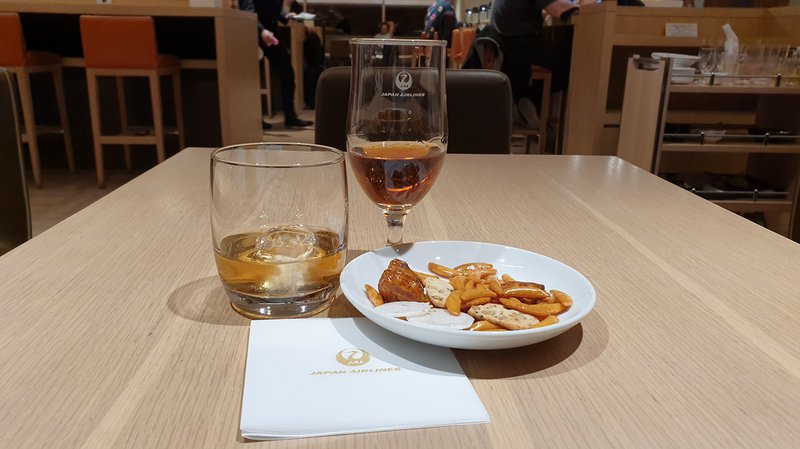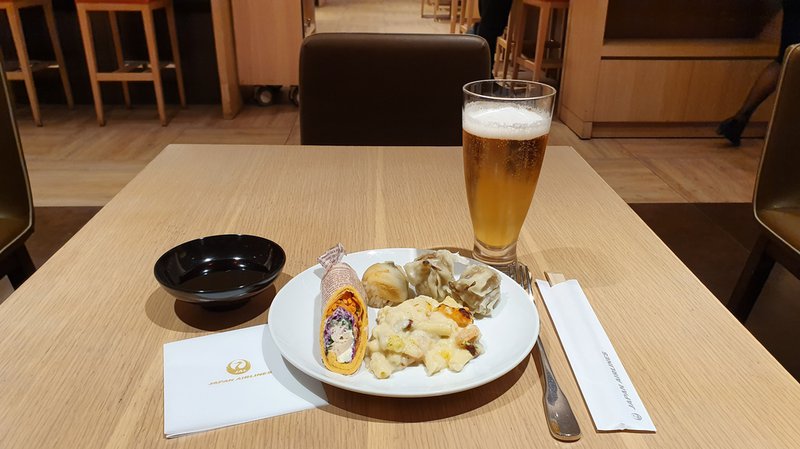 I would 100% recommend everything I had, and also what I didn't have.
The food was great. The conger eel sushi balls dipped in soy sauce were delicious. And so was the rest of the food, seriously.
Sometimes, in airport lounges (even in fancy ones) when open those metallic warmers, you get the feeling of food made in huge batches, loveless, soulless food.
This was not the case. Everything was carefully prepared and tasted amazing.
What else was there?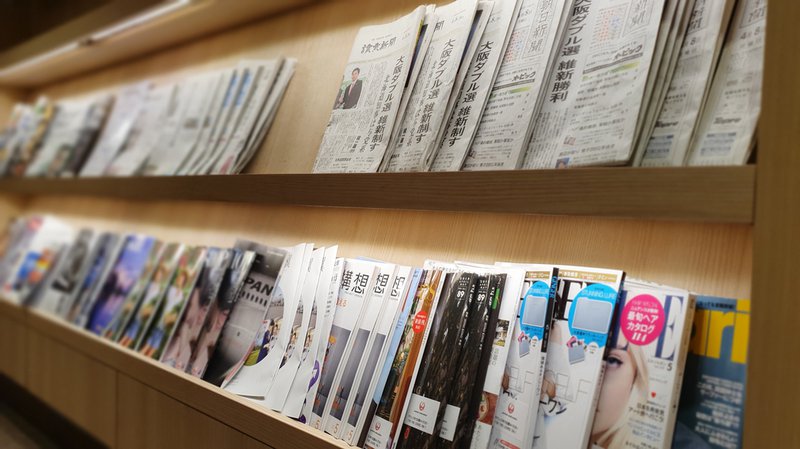 I don't usually read newspapers or magazines when I travel, ever. BUT if you like reading, there was a big collection of them, from all around the world.
I prefer reading the news online, and for that, I had my laptop and some really decent internet with a whopping 100Mbps for downloads, and 200Mbps for uploads.

I used the time wisely and worked...
The fact that the above image has some blurred, almost transparent Netflix background doesn't mean that I watched almost 6 episodes of How I met your mother.
And then there was an announcement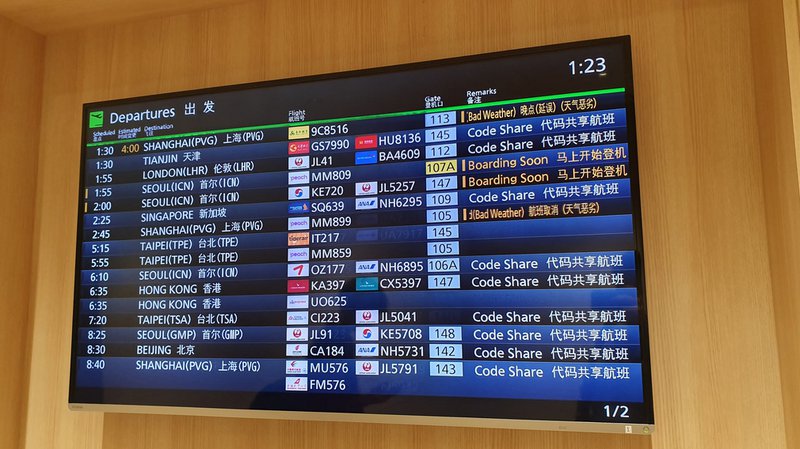 Around 1:30AM, there was an announcement on the speakers. Started in Japanese language, so I couldn't understand a single word, but by the looks of the Japanese business men that were sitting right next to me, I knew something was wrong.
Then they announced it in English.
The flight is still delayed. Next announcement in 30 minutes.
It was not until almost 5AM when they finally announced that the boarding process was about to begin.
Next destination? London Heathrow on a Premium Economy seat with JAL.