Crossing the Pacific from Santiago to Sydney begs for a Business Class seat. The 14-hour flight crosses the dateline which can, wreak havoc on your body clock.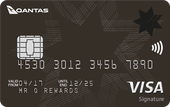 On NAB's website
NAB Qantas Rewards Signature Card
Highlights
Earn up to 130,000 Qantas Points when you spend $3,000 in the first 60 days from account approval date and keep your card open for over 12 months. Terms and conditions apply.
Earn 1 Qantas Point per $1 spent on everyday purchases up to $5,000 per statement period then 0.05 pts per $1 spent thereafter (capped at $20,000).
Complimentary Qantas Frequent Flyer membership fee valued at $99.50.
Seven complimentary insurances when you make an eligible purchase.
If you can make it work, Business Class is the way to go. You can get yourself seated in the pointy end of the plane for under 100,000 Qantas Frequent Flyer points.
One of our developers, Leonardo Gallardo, recently flew on QF28 from Santiago to Sydney and filled us in on how Qantas Business Class stacks up.
Flight details
Airline: Qantas
Route: Santiago, Chile to Sydney, Australia
When: 16 November 2017 and 7 June 2018
Cost: 96,000 Qantas frequent flyer points + $495.82 in taxes and carrier charges 
Flight: QF28
Aircraft: Boeing 747
Class: Business Class
Seat number: 15K
Overnight flight: Yes. Departs 1.35pm and arrives 5.40pm (the next day)
Meal included: Yes
Amenity kit provided:  Lip balm, moisturiser, hand cream, ear plugs, socks, toothbrush, toothpaste and eye mask
Pyjamas provided: Yes
In-flight wifi: No
Duration: 14 hours 5 minutes
Baggage: Up to 10 pieces of baggage to a total of 40kg
Meal provided: Yes (lunch and dinner)
Booking with points
Book early. That's my advice if you want to use Qantas Frequent Flyer points. Classic Rewards seats can be hard to get, especially if you are trying to line up with a connecting flight like I was.
I've been lucky enough to have done this flight twice recently. The first time I booked 40 days in advance with no problem. The second time I had a much tighter lead time. To get a reward seat I had to fly three days prior to what I had originally planned. This wasn't ideal, but you do what you have to do.
Booking the reward seat online is a bit buggy with errors showing before it was confirmed, but 96,000 points is excellent value for this flight, so it was worth persevering to make it happen.
Lounge lover
Thanks to Qantas' oneworld membership, I made a beeline for the LATAM Lounge. Once through security, I headed to the fourth floor (located only one floor up from the main Duty-Free). Or if you're using LATAM's Business and First Class exclusive security check, the lounge is right after this.
Being a relatively new lounge, opened in 2015, it is a well thought out space. Designed by one of the best architects from Chile, Mathias Klotz, every space looks great. There is a separate business centre, relaxation rooms, kids play area and plenty of seats and couches. The wifi was excellent when I used it, plus there is a TV area as well as local and international magazines and newspapers. There were also really clean showers and bathrooms for those who needed those amenities during a layover.
I was there for breakfast and for me the options felt a bit light. Think yoghurt, cereal, toast, croissants and other pastries. Sadly, no hot options and nothing made to order, like the heavenly crispy bacon I was really craving. It would have been nice to have some scrambled eggs, beans and sausages as an option.
During the day, you will find a good selection of fruit, cheeses, meats, salads, nuts, chips and breads. If you arrive here for lunch (and I'm guessing dinner time too) you'll find cold food like small plates of rice and vegetables, brioche snacks, sandwiches and dips.
There is a selection of fresh juices, tea and coffee, three different types of beers and sodas like Coca-Cola, Sprite, Fanta, and tonic water. The bar also has quality wines and spirits. Or if you are feeling adventurous, give the Chilean Pisco Mistral a try.
You can go loco and make your own drink like a Bloody Mary, or an Aperol Spritz, or go for the easy option and have a shot of Bailey's while watching the planes take off.
I settled for cheese with a superb glass of red wine. My hot tip - if you find yourself in the LATAM lounge you must try the 2014 Chilean Carménère on offer. You will not be disappointed.
Boarding
Using the dedicated lane for Business Class, boarding was smooth and fast. The cabin crew greeted me with a smile and all seemed super friendly (and generous with the chocolate bars—yum!).
There are two Business Class sections on the Boeing 747. The upper floor is exclusively business. My seat, 15K, was on the lower level with a 2-3-2 configuration in this section.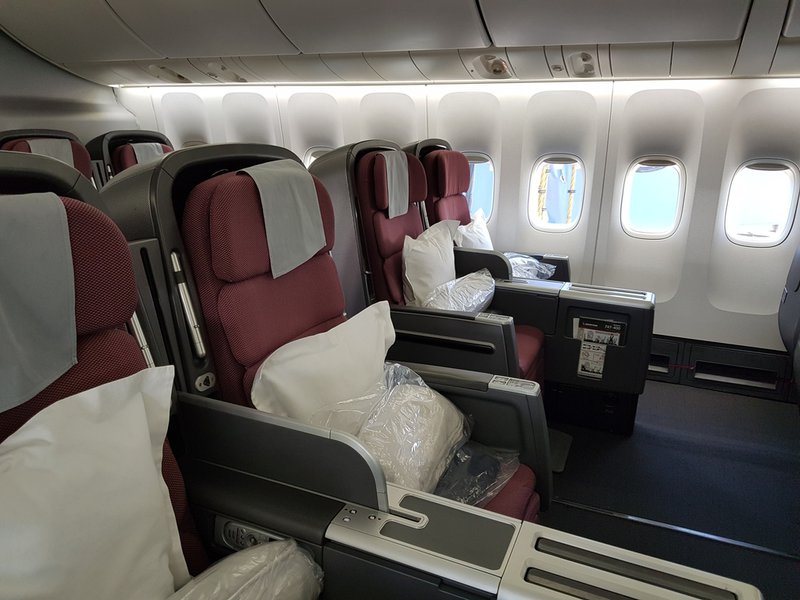 In-flight entertainment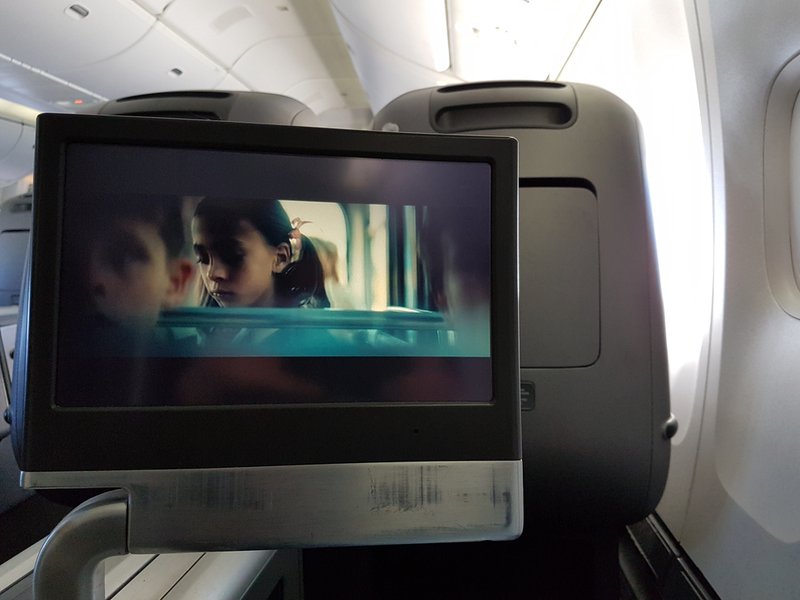 Qantas In-flight Entertainment has a good selection of movies, including some new ones. In terms of the TV show selection, nothing wowed me there and I didn't think the selection was that great. Random old episodes of How I Met Your Mother was not the quality of entertainment I was keen to spend a few hours on.
With resistive screens (remember the old touchscreen mobiles?) you have to give it a good old push (not touch) to select something. It's not quite the smooth touch of a smartphone we are used to these days.
Whether I was just unlucky or it is common, I don't know, but sometimes the audio was out of sync too. Although it's easily fixed by resetting the system, the flight attendant needed to do it, so it was slightly annoying at times when I was really getting into the movie.
Food and drink
Welcome drinks while being seated lets you know that you have arrived. This is Business Class, my friends.
There were the usual offerings of sparkling wine, water and orange juice but you could also order what you liked. I opted for a refreshing tonic water and lemon. There is plenty of time ahead to sample the tipples on offer.
Both lunch and dinner were provided. Having flown the route twice in the last 6 months, I can vouch that the food is consistently good. The meals were excellent, with generous portions and full of flavour.
Lunch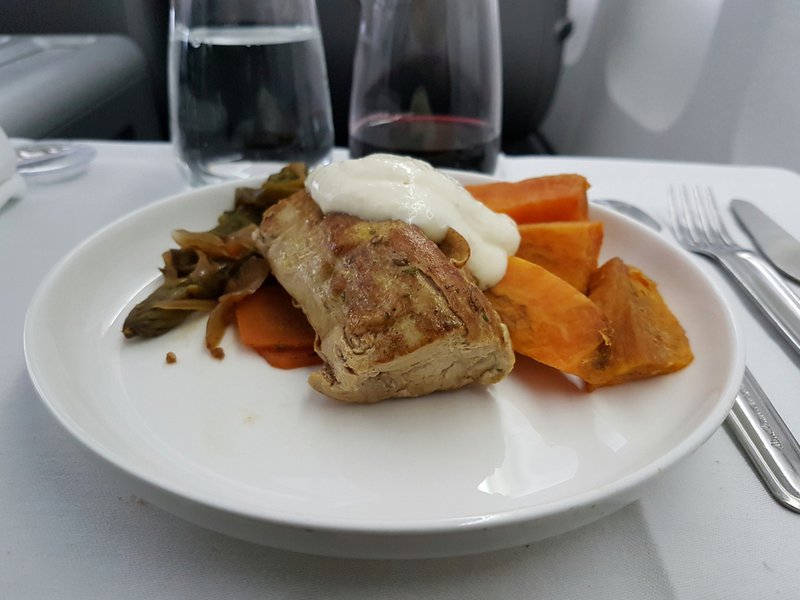 The lunch menu included pulled pork sandwiches, lamb, roast chicken, veggie lasagna with mushrooms, seared mero with rice and vegetables, roast pork or beef fillet.
On my first flight (November 2017) my starter was poached salmon with pickled celery, olives, cherry tomatoes and rocket. My main was grilled zucchini with quinoa, pine nuts, mint and feta.
The second time around (June 2018) I had the roast carrot soup with thyme and dill crème fraiche. I followed it up with a roast pork fillet with balsamic grilled vegetables, sweet potato and pebre salsa.
Traveller's Tip: If you aren't a big garlic fan, and you're not sure what pebre salsa is, give it a miss. It is loaded with garlic and it's a long flight. You'll be garlic-y for a good 13 hours.
Dinner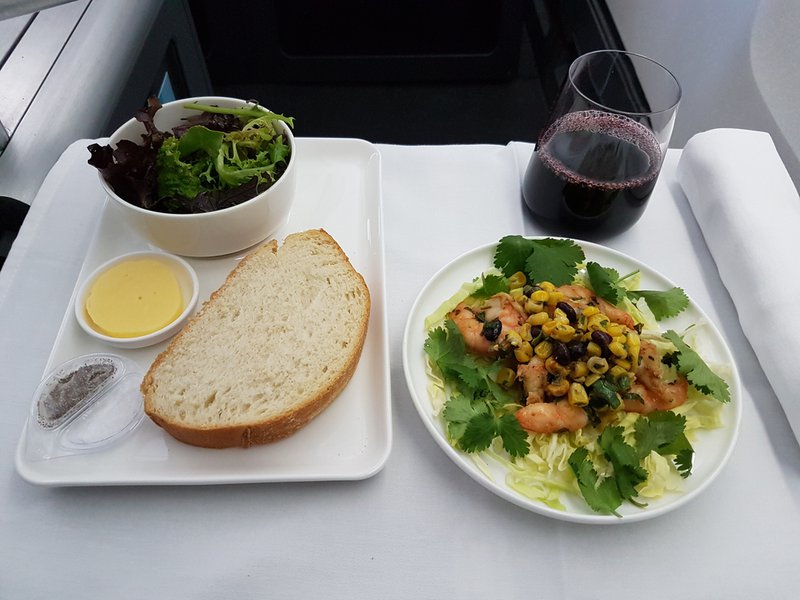 Choices, choices, choices. Oh, that's right, I'm in Business Class!
Roast chicken, salmon, beef fillet, lamb, beef pie, gnocchi and linguini with prawns. On my first flight, I went with the linguini and prawns with delicious sides.
The second flight I had the spice-crusted salmon with quinoa, broccoli, sweet potato, herb and pickled onion dressing.
No starters for dinner but I didn't need one. The meal was delicious. The only downside was that I had no room left for dessert.
Dessert
A full stomach didn't stop me checking out the dessert menu. Chocolates, ice cream, fruit, cheeses with accompaniments, and puddings are available throughout the flight. While I didn't sample them myself, from what I saw from other passengers their plates ended up empty so they must have been pretty tasty options.
Drinks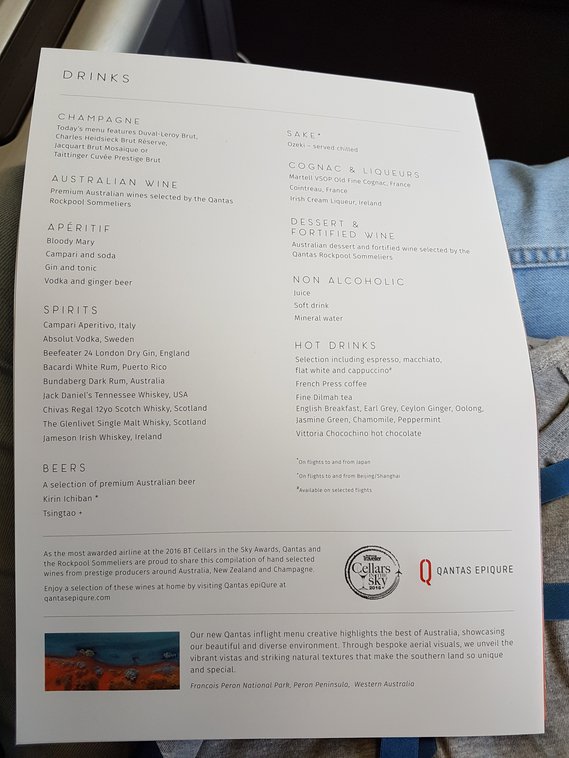 There were lots of drinks to choose from. Champagne, Australian wines, aperitifs, spirits, beers, cognac and liqueurs, non-alcoholic and hot drinks. My poison is a shot of Baileys and coffee. Separately, please.
There's a list of snacks you can get any time throughout the flight, like empanadas, quesadillas, macaroons (don't fall for this, they're not real macaroons, just cookies), and chocolate bars. I've never seen anyone having a mid-flight quesadilla, but Toblerone chocolate bars? Awww yeah, I'll take them!
Time for some shut eye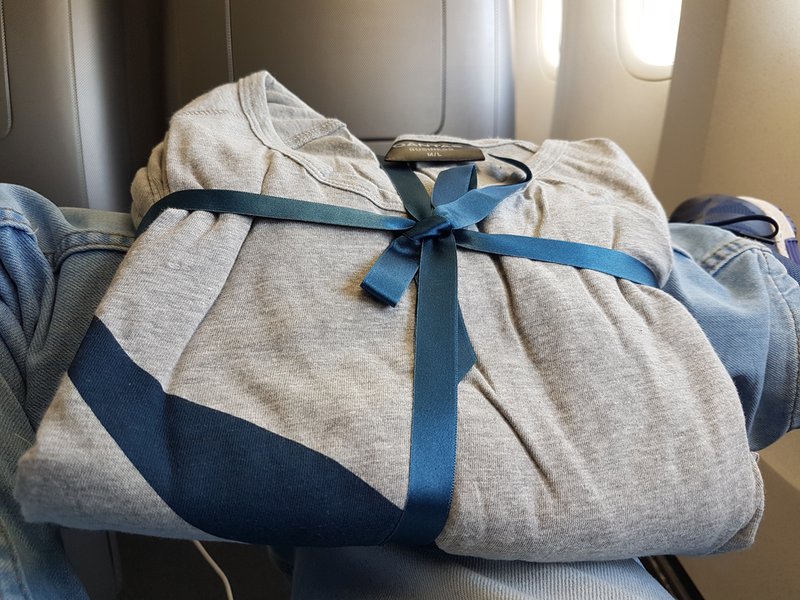 While the food in Business Class is a winner, it's the comfortable sleeping option that's the main attraction. The beds are flat and quite comfortable. I reminded myself again how thankful I was to be in Business Class. For a night flight, the seats are great. You can recline to a fully horizontal position and get some rest, although they are not a 10, but a solid 8.
Admittedly the beds and especially the controls are starting to look and feel a little tired... a bit like me I suppose. Give the massage chair option a miss. I didn't find it comfortable or relaxing.
An amenity kit was provided and included lip balm, hand cream, moisturiser, earplugs, socks, toothbrush and toothpaste, and an eye mask. It also included pants and a long sleeve shirt pyjamas.
In the Land of Oz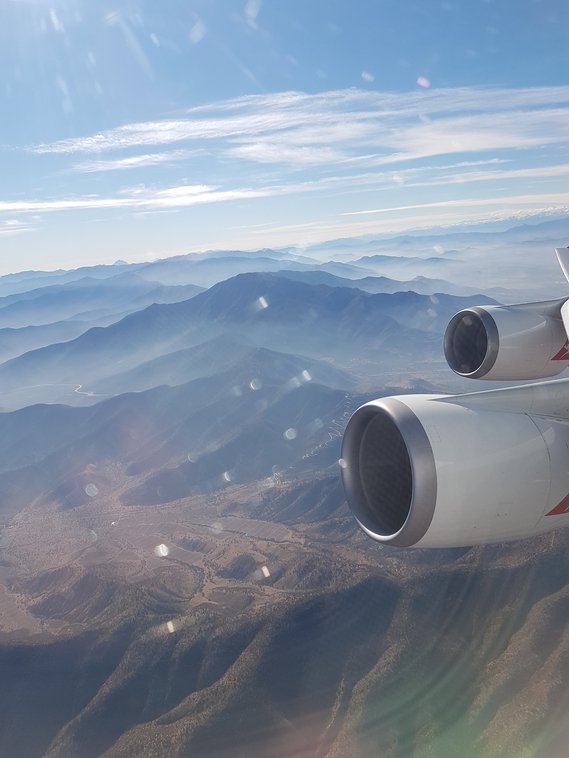 In Sydney, I put the Express Queue Voucher that comes with Business Class to good use. I skipped the Quarantine and Customs baggage Inspection point queue, which was great because the line was big. I was glad to not have that wait ahead of me!
The immigration process into Australia was smooth and fast. Coming from South America on a valid Australian Business Visa meant no skipping the process like many locals landing back home. However, I was through and in the Land of Oz in around 5 minutes.
What did I score it?
Overall QF28 gets an impressive score.
There are some things that could be better, like the quality of the mattress and seats, in-flight entertainment screens, headphones quality, and the general look of the cabin is old compared to other airlines. However, the great service, food and price of the flight make up for it.
Highlights: LATAM's Lounge in Santiago and the food quality on the flight. I felt like I was splurging and treating myself to an expensive restaurant.
Low point: None. It's Business Class baby! Well, the booking process could be simplified. Qantas has a reputation for frequent errors and login requests before booking a flight. It might be time for Qantas to do something about it.
Final flight tips
Book in advance. Way in advance. Classic Rewards seats are popular. I needed to adjust my dates to book a business class reward flight.
If you can't find a Classic Rewards Business Class seat, book an economy seat and upgrade with points. The flight is usually not fully booked, so you have a good chance of getting an upgrade with points.
Go hunting for the 2014 Chilean Carménère at the LATAM Lounge in Santiago. It is that good.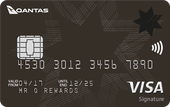 On NAB's website
NAB Qantas Rewards Signature Card
Highlights
Earn up to 130,000 Qantas Points when you spend $3,000 in the first 60 days from account approval date and keep your card open for over 12 months. Terms and conditions apply.
Earn 1 Qantas Point per $1 spent on everyday purchases up to $5,000 per statement period then 0.05 pts per $1 spent thereafter (capped at $20,000).
Complimentary Qantas Frequent Flyer membership fee valued at $99.50.
Seven complimentary insurances when you make an eligible purchase.