Flight five out of nine on a Round the World (RTW) Classic Rewards ticket
Flying Economy when you can't find seats on Business Class
Making the most out of your points when you're travelling around the world
With a large number of customer service, data management and development personnel working remotely from the Philippines, we try to host a meetup every few months. In March 2019 I flew from Sydney to Manila with Qantas as part of a Round The World Classic Rewards ticket. On this leg, I was bound for Economy as I had no luck in sourcing a Business Class seat.
Luckily, David, being the nice boss that he is, decided to cancel an already booked Business Class seat from Brisbane to Manila to join me in Economy for the eight-hour journey.
Fight details
Airline: Qantas
Flight: QF19
Route: Sydney (SYD) – Manila (MNL)
Duration: 8 hours 5 minutes
When: March 2019
Cost: Part of a RTW Qantas Classic Rewards ticket
Aircraft: A330-200
Class: Economy
Seat number: 49K and 50K
Overnight flight: No, departed at 12:25PM and landed at 5:30PM
Meal included: Yes, lunch and snack before arriving in Manila
Amenity kit provided: No
Pyjamas provided: No
In-flight Wi-Fi: No
Baggage: A carry on up to 7kg, and two checked bags up to 23kg each
Before the flight
As I was travelling on this trip with David, who is a Gold status Qantas Frequent Flyer, he was allowed to take me into the Qantas Business Lounge with him even though we were both flying in Economy. 
To get to the lounge, you need to go through security and immigration (the fun stuff) and then take the escalator next to gate nine (right next to JB Hi-Fi and the Apple store). Go up one floor and you can't miss it.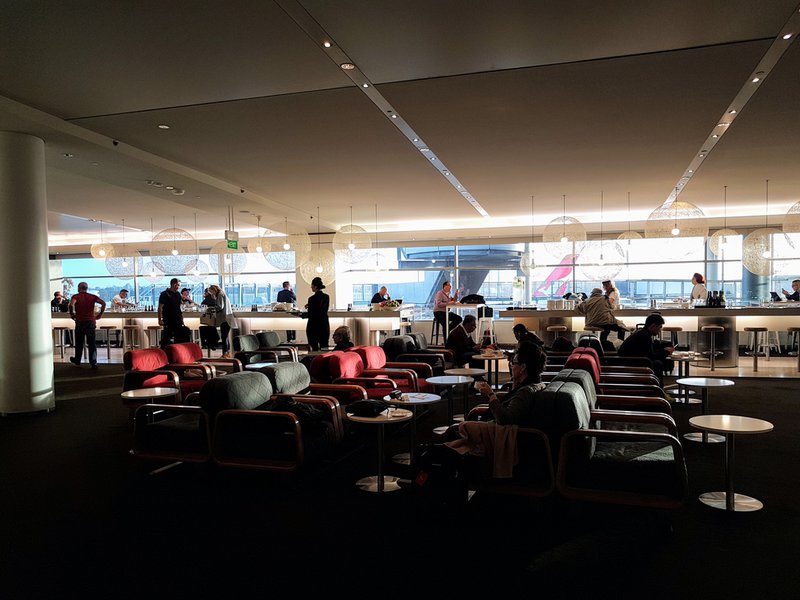 If you're not flying Business or First Class, don't worry. Sydney airport has plenty of food and coffee options for those not lucky enough to be flying with someone with Gold status.
Even the duty-free shop is a great option to spend some time before your flight.
Starting the journey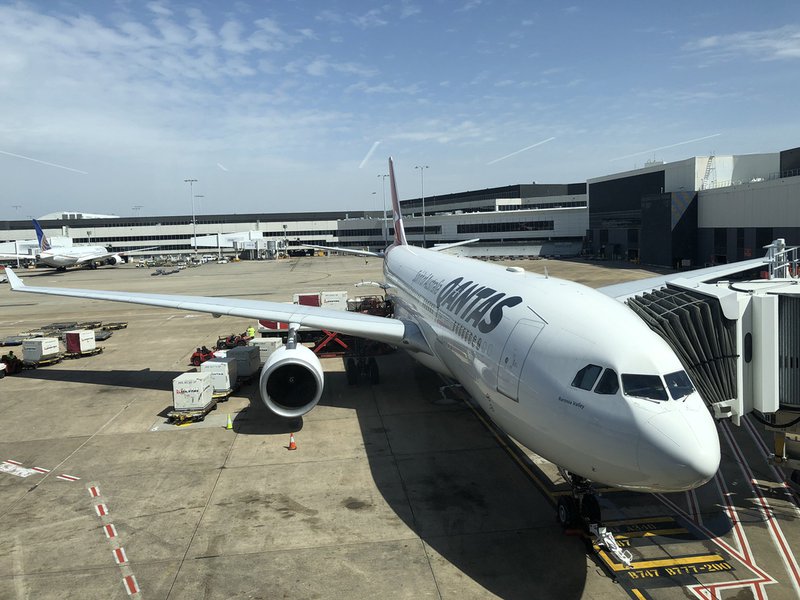 The boarding process on this flight was smooth. However, there was a long queue for Economy as the flight was fully booked. 
We still managed to get on the plane really fast as our seats were at the back of the plane. (I will remember to book seats up the back in future after this experience.)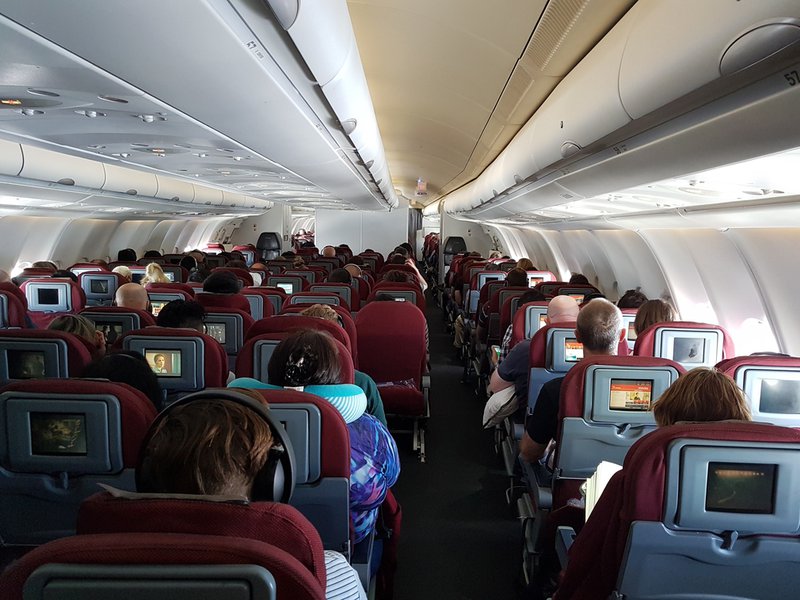 The A330-200 cabin is divided between 28 flatbed seats in Business Class and 243 standard seats in Economy, with a 2-4-2 layout.
My impression? The seat was OK, although it felt more like one you would find on a low-cost airline, as it had a very old look and feel. You could say it was... vintage?
In flight entertainment? Well...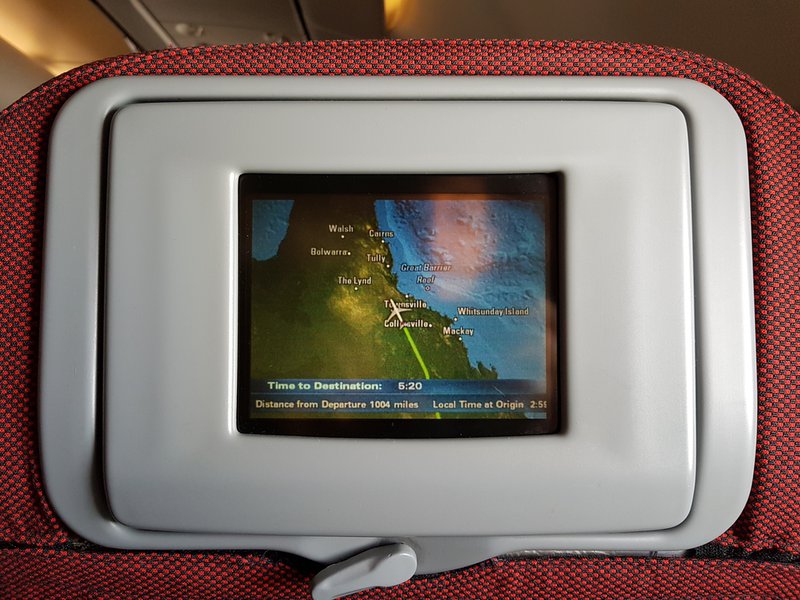 I always enjoy catching up with recently-released movies on my flights, but this flight was different. The plane in use this day was very old. I was not alone in thinking that watching a movie on a seven inch (a generous estimate) scratched-and-glossy screen was not going to be any better than watching a downloaded movie on my phone, which was actually wider than the screen in the seat!
However, I pulled a jiu jitsu move on the negative and turned it into a positive by using the time to catch up with David, take some cool 360º pictures, talk about work and life, and eventually get some rest for our meetup in Manila.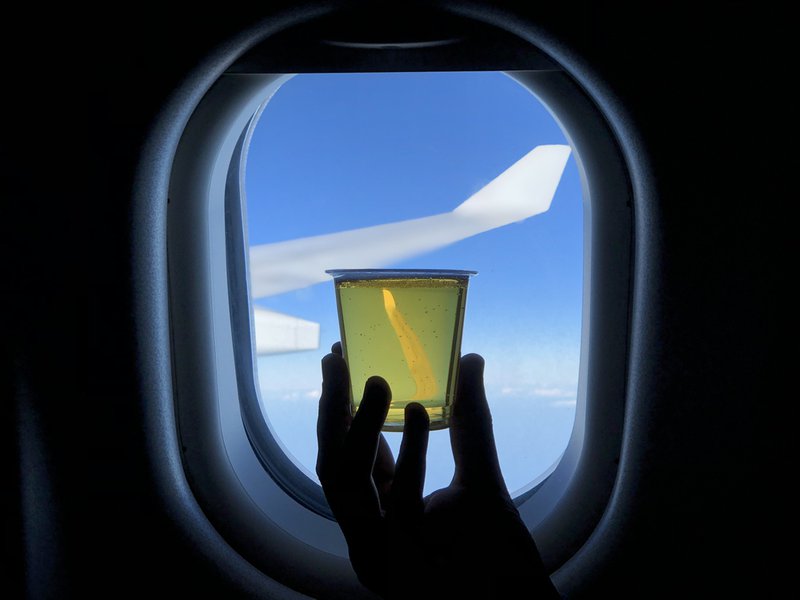 And then, there was food
It was lunchtime not long after the flight began, and even though we had a late breakfast in the lounge we still ordered food, because... you never say no to food (or at least I don't). There were three options on the menu:
Vegetable lasagne with spinach cream sauce and parmesan
Chicken cashew satay with prawn nasi goreng
Braised beef brisket with spicy roast carrots and couscous
On the side, there was some cheese and biscuits and the old (but gold) Qantas garlic and herb focaccia.
The selection of drinks was quite restricted, but the Australian Merlot that I ordered was very nice and smooth. I would definitely drink it again.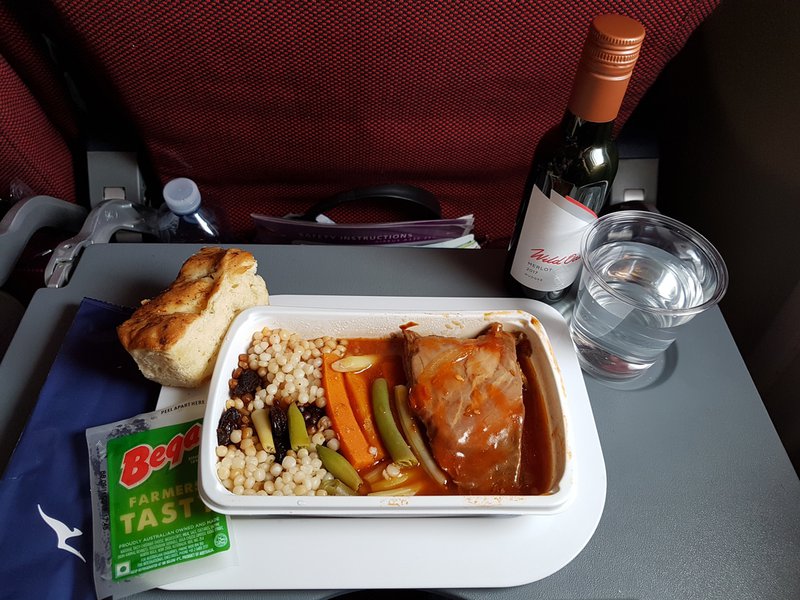 The cabin crew on this flight were fantastic, which is something I have come to expect from all Qantas flights. Even in Economy they treat you very well and will get you a second piece of garlic bread or dessert if you ask nicely. Seriously, go for it!
Yes, I also ordered the snacks before landing
I was still feeling hungry after all the food, and the cabin crew definitely had my back. I had the choice of pizza or a box of dumplings. I went with the dumplings, as I had never had dumplings on a plane, so I thought, why not? I am glad to report I was not disappointed, especially because the box came with a BBQ pork bun which was really good.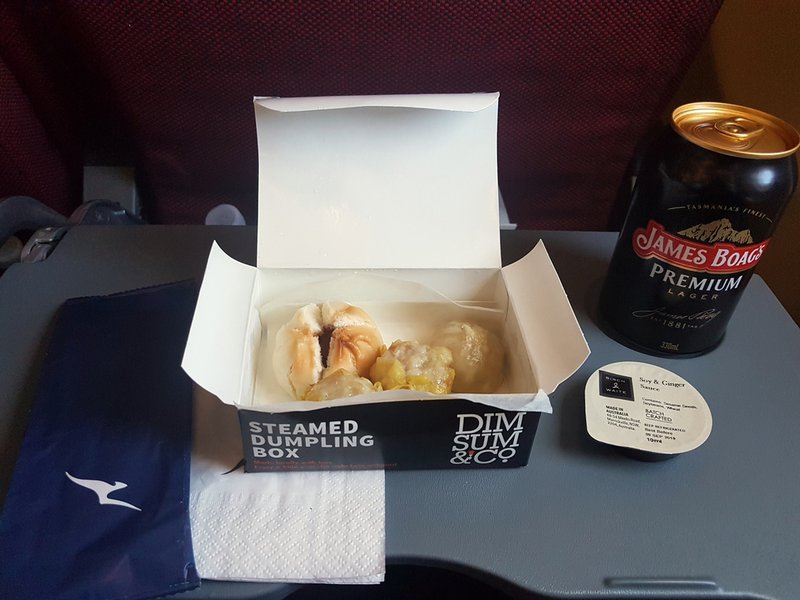 Landing in Manila
After what felt like a long eight hours, we made it to the Philippines.
Sadly there was no "express voucher" for Economy ticket-holders (and no express lane either), and immigration in Manila can take a long time to clear, especially with a fully-booked flight.
By this point I was really missing the perks of Business Class.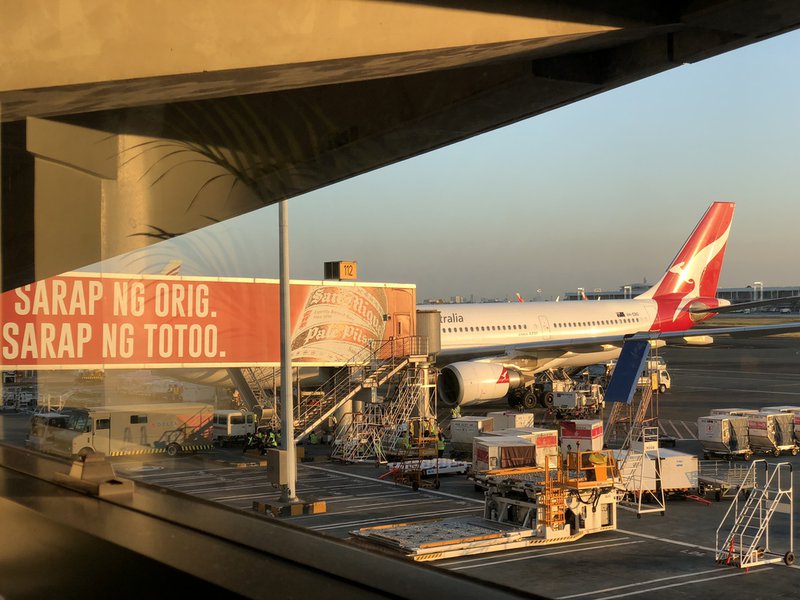 What would I do differently next time?
Next time, I would definitely book flights as they show up, and be ready to pay 5,000 points to change them, even if I don't have the entire itinerary figured out. I might even check out other Business Class flight options and stopover in Hong Kong like my colleagues did.
Would I fly with Qantas on the same route next time? Yes. Qantas is probably one of the best choices for this route, even if this plane was ancient, so I would definitely fly with them again on this route.
One thing I can recommend when booking with Qantas is this: be patient. Things change all the time, with booking errors and flights disappearing and reappearing after a week. Just go out, do some meditation, and come back. And book as soon as you see a flight you like, even if you don't have the return ticket, because you can add that one later.
Traveller's tip: Qantas are renowned for throwing all types of errors your way when you're trying to book flights. If these are bothersome for you, check out our guide on how to get around Qantas booking errors.
And if you're booking a "Round The World" ticket, meditation may not be enough, so be sure to try some yoga, pilates, drink some tea and hire Linda (our business support manager) to call Qantas for you.
Overall experience
Overall, the flight was fine. The A330-200 was really old—probably one of the oldest in the Qantas fleet—with wear and tear showing. However, I got to travel with my friend / boss, ate nice food, had some decent Aussie wines, and made it safely to our destination without delays.