Get the lowdown on Business Class with Hong Kong's flag carrier.
Avid cheese lover? Check out what's (arguably) the largest cheeseboard in the skies.
Explore the iconic 1-2-1 Herringbone layout.
Whether it's your first or fiftieth time flying business, there's something undeniably exciting about flying business class.
Especially when you kickstart the trip with a 5-hour drive to the airport. At 1am. Ouch. The thought of reclining into a seat with spades of space (and a G&T in hand) was what got me through that drive.
Check-in
Boring? Exciting? Either way, it has to be done. The process was smooth and the queue was non-existent. I checked my bags from Sydney to Belfast. Apparently my booking showed I had insufficient time to make my Belfast flight from London. Thankfully, the stewardess did a little digging and sorted it out for me. I love Qantas, but sometimes I wonder if it would be a Qantas trip without a blip or two.
Seat 21D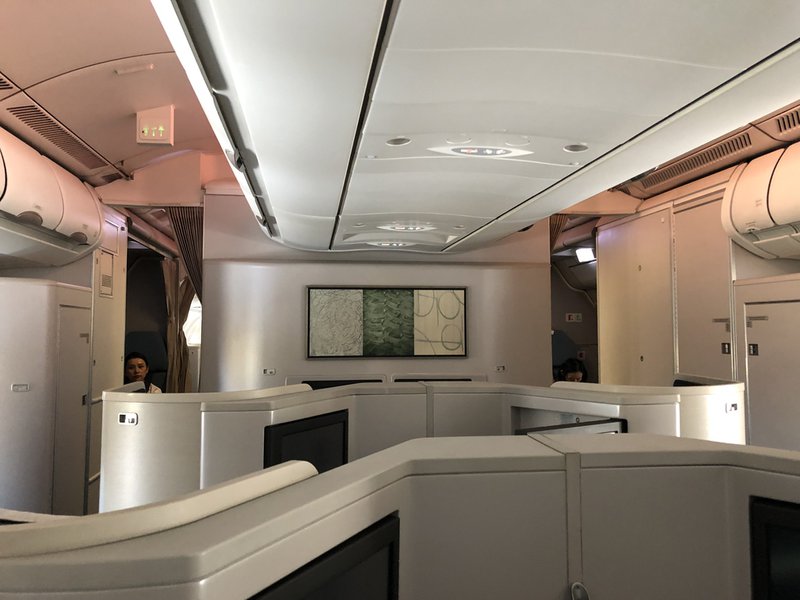 Like anyone else would, I extensively researched what business class would look like. Truth be told, Cathay Pacific's marketing images don't do the real thing much justice.
The seats are positioned in a 1-2-1 reverse herringbone layout. It's actually deceivingly difficult to show you how spacious each seat is. I was worried (as elitist as it sounds) that I'd be in for an average trip. Thankfully, I was pleasantly surprised. This particular aircraft is over 10+ years old, so be prepared for a little wear and tear. It really isn't as luxurious as other big league business players like Singapore, Qatar, Emirates etc. But the seat certainly does the job.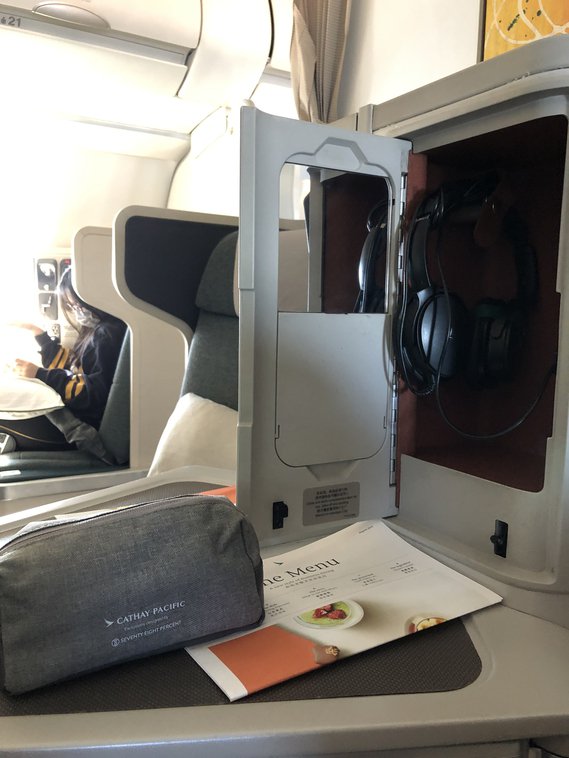 Notice the compartment holding my headphones. It comes with a mirror (a lovely touch, I haven't seen this before!) and is a great hiding hole for a makeup bag, snacks, charging leads, etc. There's also a convenient storage compartment beside the seat. I used it to store my water and laptop so when my seat reclined I could still reach in and grab what I needed.
The entertainment
What's a girl to do on a nine hour flight? Answer: drink gin, snooze, and, of course, indulge in a movie marathon. The entertainment options were great and included several movies not yet available in Australia. It's worth mentioning the screen was quite large, extending from the side of the pod at the touch of a button.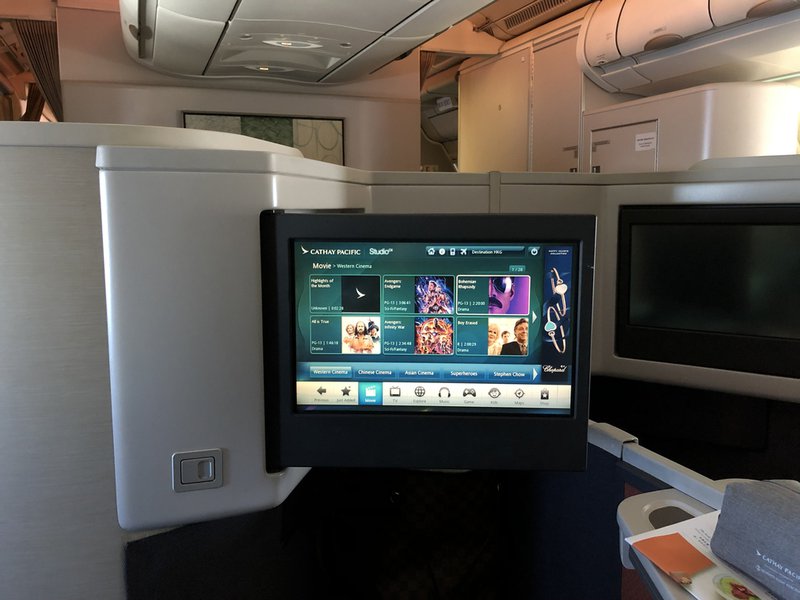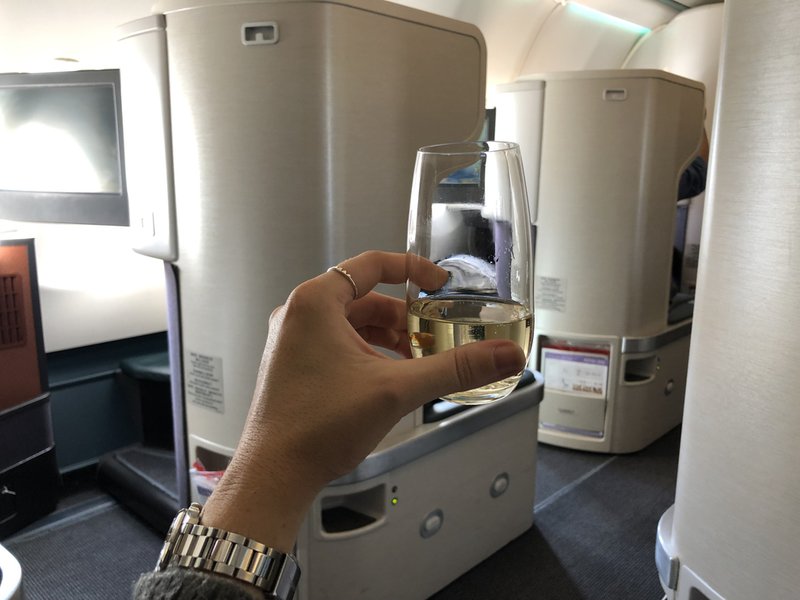 The food
I'm not ashamed to say this, but I like plane food. In fact, checking the menu is one of the first things I do when I settle into my seat.
Earlier in the year I flew China Eastern and the drinks menu was average at best. When I opened Cathay's menu, which is a work of art in my opinion, I was in for a treat. While I wasn't sipping Dom Perignon at 40,000ft, they did have a lovely Bordeaux onboard as well as a tasty Riesling. Other options included an Australian shiraz and chardonnay. As a gin purist, the Bombay ticked a few boxes for me as I was convinced on my last business flight that the gin was weak and lacked any flavour.
Lunch was served shortly after the aircraft climbed to whatever height is deemed necessary.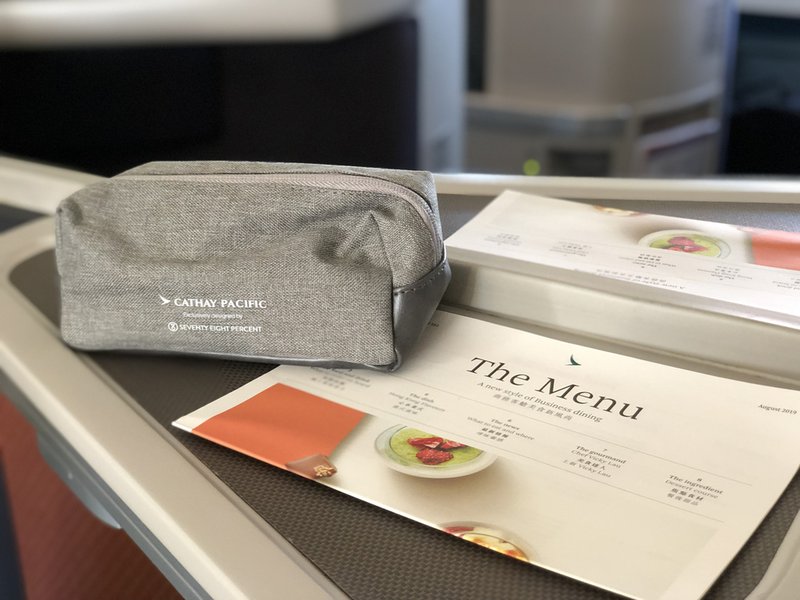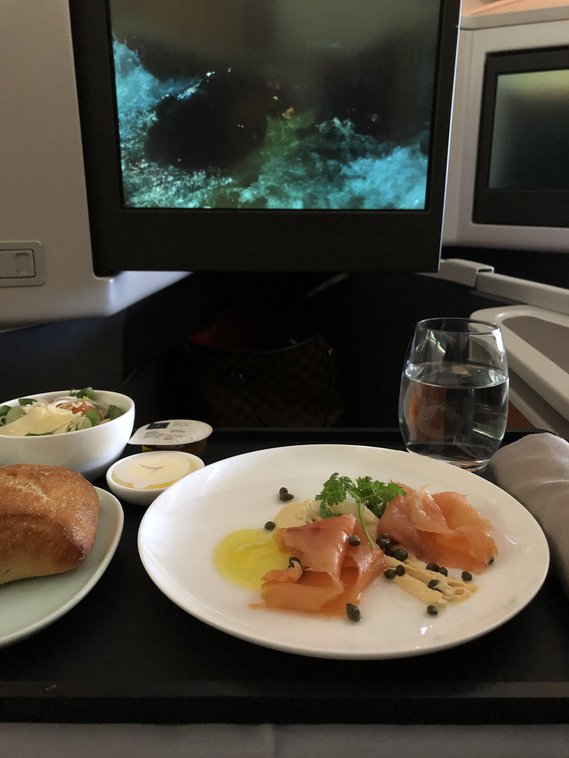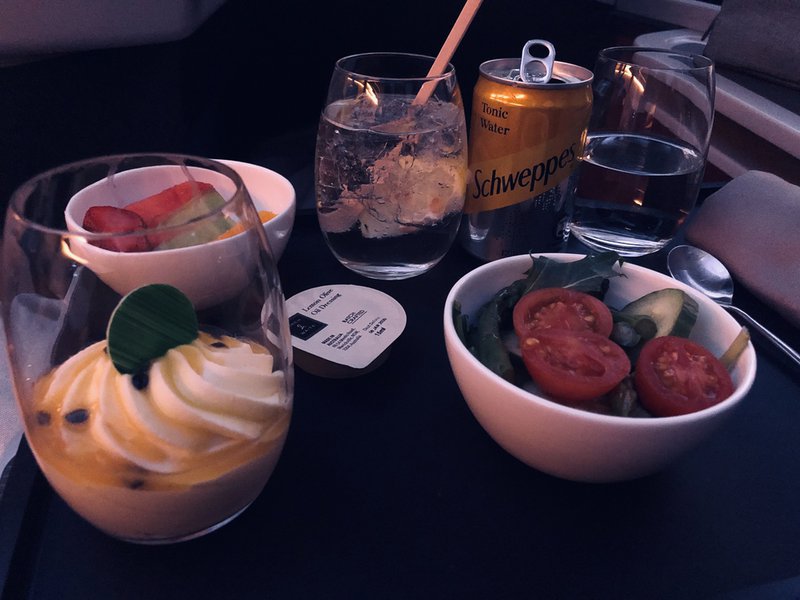 And the piece d'resistance? Dessert! Which, of course, was cheese. And a surprisingly large serving of cheese. Washed down with two glasses of velvety smooth Bordeux.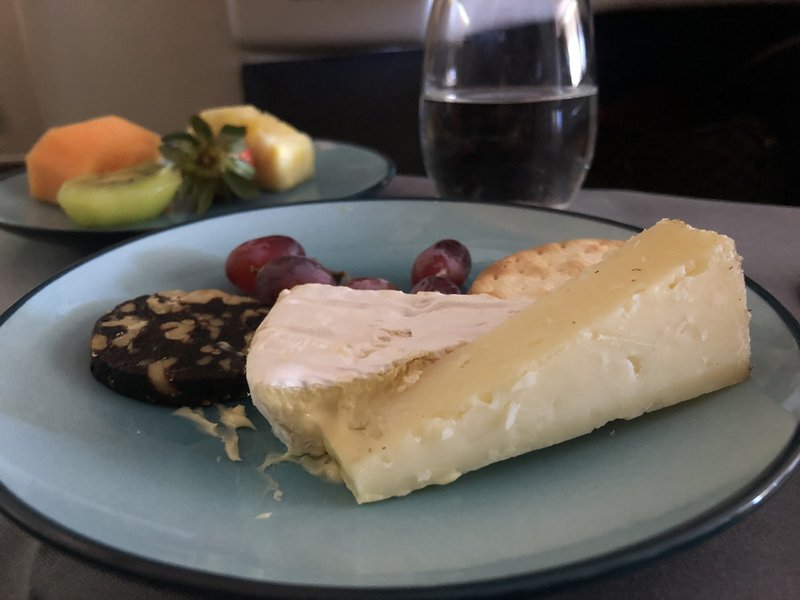 After all this I probably looked like the cat that got the cream. Or the barely awake girl who had just inhaled a cheeseboard at 40,000ft.
Things I loved...
There was so much space and very few in the rear Business Class cabin. The forward cabin was full, but the rear cabin—where I was—had 11 seats and only 5 of us in them. I can't tell you how nice it was to have empty seats on both sides. The food and drinks were great. I thoroughly enjoyed everything I wolfed down and had no "I should've bought airplane snacks" remorse.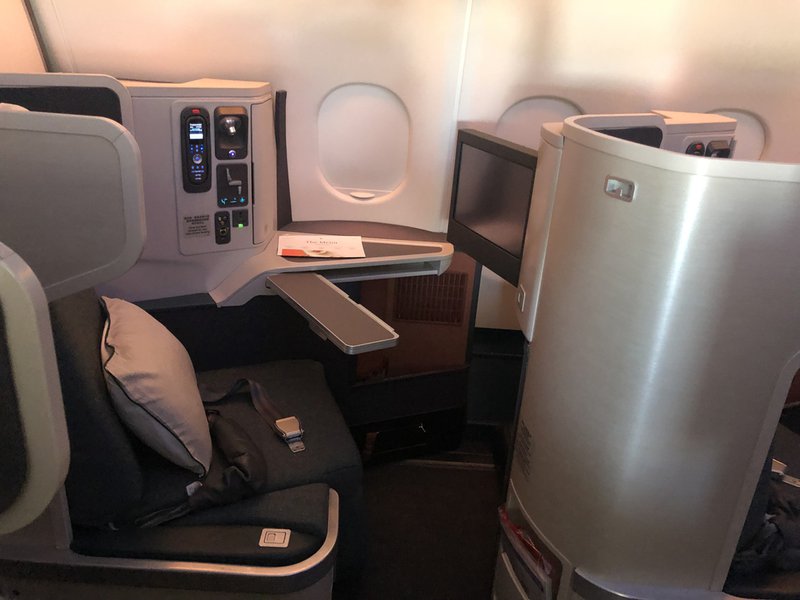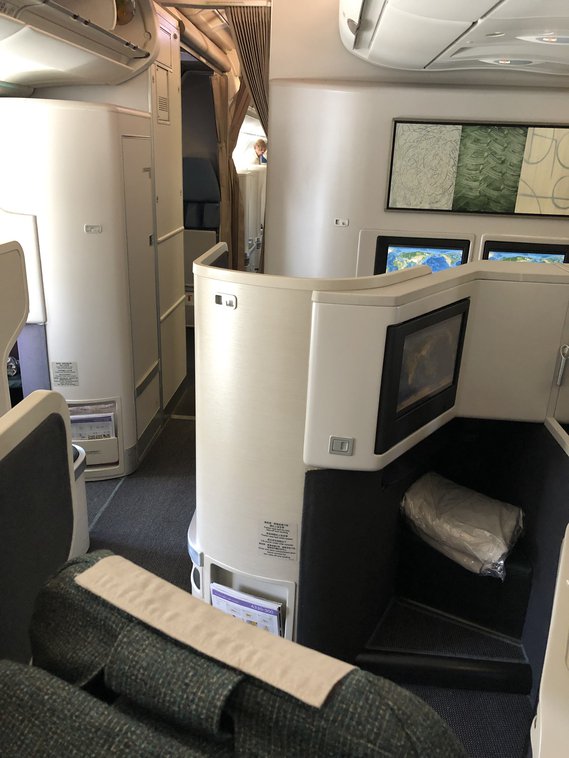 Things I didn't love...
I'm that person lugging the huge handbag. I use the same bag for each flight and on this one it could fit into the pod storage area, but as soon as I tried to recline my seat it jammed. I shoved it in the small gap to the left of my seat and the aisle area. If you're a mum carrying a bag full of essentials, this would be a little annoying as you're not meant to store anything in that space.
As I mentioned, the toilets were lack lustre and missed a few amenities. It wasn't a deal breaker for me, but do remember to bring your own amenities. This was no Singapore Airlines bathroom.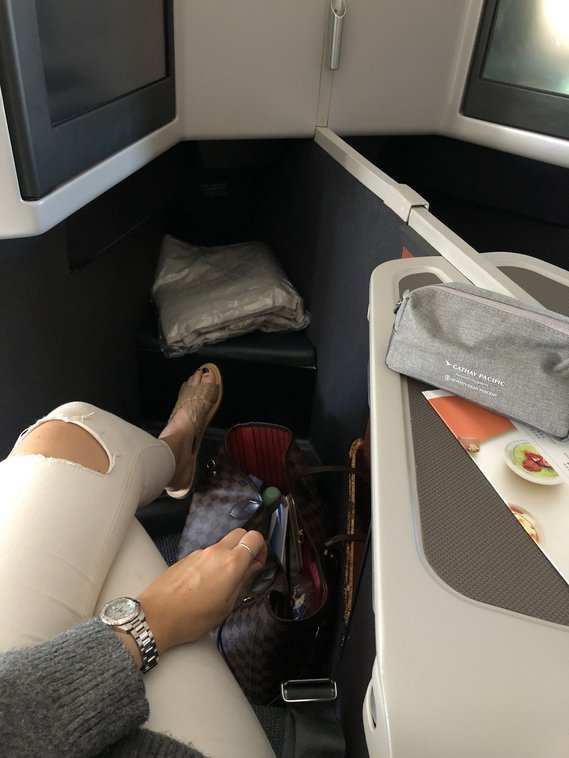 Overall experience
After a 5-hour drive on very little sleep, I loved this flight. Yes, the decor shows signs of wear and tear – as do the toilets. And if I'm honest, the service was very good, but not incredible. I personally think other airlines like Qatar Airways and Singapore Airlines do a wonderful job of this. By that I mean preparing each passenger's seat for sleep by turning it into a bed, warmly remembering each of our names, etc. Oh and Qatar's in-flight bar. That was a real treat!
Truth be told, my CIX652 flight was an upmarket yet functional experience – one I certainly would fly again! Plus, Hong Kong is a fantastic airport to transit through. Cathay Pacific's lounges at HKG are incredible—possibly the best in the world—with excellent food, drinks, shower facilities, and fast internet.

FYI, this ticket routinely sells for $3,038. It isn't cheap (well...unless you play the points game). I parted ways with only 65,000 Qantas Points + $202 taxes for this Sydney to London flight and booked it two days before I departed, making my ticket a great deal with plenty of rewards seat availability.
Until next time Cathay.