So you're thinking of booking a Business Class seat to Europe with a stop in the Middle East or flying the same aircraft on QR906 or QR908 back to Australia? I put the 2017 Skytrax Airline of the Year, Qatar Airways, to the test to find out if you should you spend your credit card rewards points on this flight.
I was travelling with my sister to Europe on a last minute trip. Our flights were booked only two days before flying. To buy a Business Class ticket on this popular route from Sydney to Dublin with the connecting stop in Doha would have cost AUD $5,000 - $6,000, but we booked using Qantas points.
Flying Qatar Airways from Sydney to Doha is very popular and the Business Class cabin was full to the brim on the night we flew. We had a large group of around 20 fellow Aussies headed to Doha and then onwards to Amsterdam to begin their Scenic river cruise. What a way to start a luxury trip like that.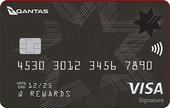 Highlights
Earn up to 120,000 bonus Qantas Points. Receive 90,000 bonus points when you spend $3,000 in the first 60 days from account approval date and 30,000 bonus points when you keep your card open for over 12 months. Terms and conditions apply.
Enjoy 0% on balance transfers for 12 months with 3% Balance Transfer Fee.
Reduced first-year annual fee of $295 p.a. instead of $395 p.a. (saving you $100).
---
Pros
Complimentary Qantas Frequent Flyer membership fee valued at $99.50.
Six complimentary insurances when you make an eligible purchase.
Earn 1 Qantas Point per $1 spent on everyday purchases up to $5,000 per statement period then 0.05 pts per $1 spent thereafter (capped at $20,000).
Cons
Annual fee of $395 p.a. is quite high.
How to book Qatar Airways using Qantas points
Unsurprisingly, not many Australians are members of the Qatar Airways Privilege Club. And other than actually flying with Qatar Airways, there is no direct way to earn QMiles using a credit card issued here in Australia.
So how do you do book a flight on Qatar Airways using points?
Thanks to their oneworld alliance membership, you can book on Qantas.com. This particular flight cost us 104,000 Qantas Points plus AUD $495 in taxes per person. Therefore, I was getting about five or six cents per point spent. Points had been earned using a Qantas credit card.
Qatar Airways actually costs less for points bookings for the Sydney to Dublin route in Business Class compared to other airlines, especially Qantas and Etihad. 
Qatar Airways: 104,000 Qantas Points plus taxes.
Emirates: 105,000 Qantas Points plus taxes.
Singapore Airlines: 105,000 KrisFlyer Miles plus taxes.
Cathay Pacific: 110,000 Asia Miles plus taxes.
Qantas: 146,000 Qantas Points plus taxes.
Etihad Airways: 162,697 Etihad Guest Miles plus taxes.
Flight details
Airline: Qatar Airways
Flight number: QR909
Route: Sydney (Sydney) - Doha (Doha)
Duration: 13 hours 45 mins
Cabin: Business Class
When: Oct 2017
Cost: 104,000 Qantas Points plus $495 AUD in taxes
Aircraft: A380
Seat number: 18E
Overnight flight: Yes
Meal included: Yes
Amenity kit provided: Yes
Pyjamas provided: Yes
In-flight Wi-Fi: Yes
Baggage: Carry on and 40kg checked luggage
The cabin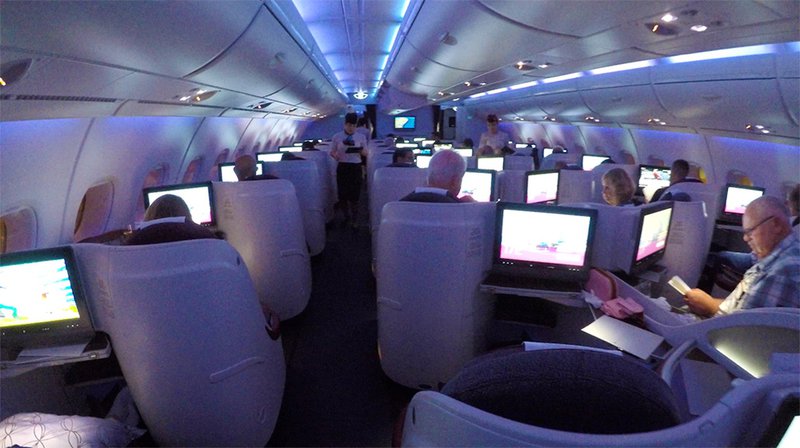 The Qatar Airways A380 Business Class cabin on the upper deck of the A380 feels fresh and has some ornate touches. The continual use of mood lighting and fresh seat designs produces a futuristic feel. And the 1-2-1 layout in the reverse herringbone gives everyone direct aisle access.
There was one thing I did not like: the low height of the seats. When seated upright, you can see across the entire cabin to everyone else. This design is much less private than on Qantas, Emirates, Etihad, American Airlines, Cathay, Virgin Australia, and Japan Airlines.
The seat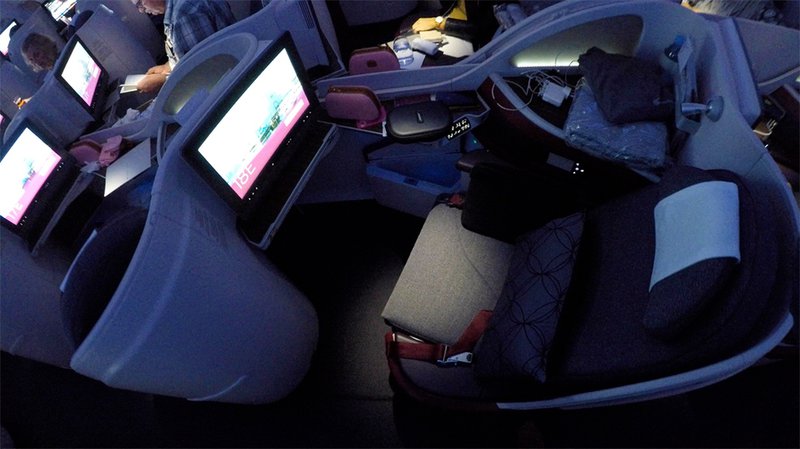 Sleep and rest—that's what it's all about on a long 14-hour flight like this. And that's why people are willing to fork out the points (or cash) to fly with one of the best airlines in the world.
You can expect a big comfortable modern seat, huge in-flight entertainment screen right in front of you, personal reading lights, charging ports, and plenty of storage around your seat. The actual seat design on the A380 and smaller Dreamliner planes are very similar.
Seats are wide, spacious and comfortable, with ample room to store your carry-on bags and shopping with the overhead bins. There is plenty of room in the footwell for bigger passengers.
Every passenger in Business Class also receives a well-stocked pink leather amenity kit by Italian luxury brand BRICS.
If you're travelling with someone, then it's worth reserving the two middle seats so you can be closer. There's a divider between the seats if you aren't travelling as a couple and want some privacy.
The food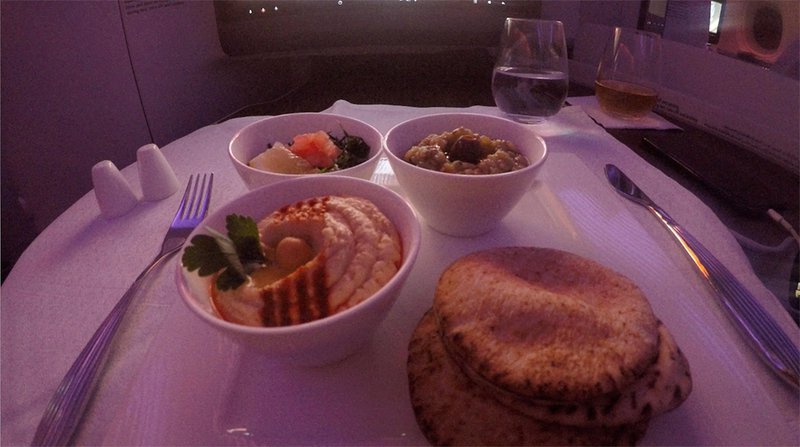 Every snack, meal, and drink on my flight was of a high quality. The whole menu is à la carte, meaning that you can order anytime. The quality of the cuisine, customer service and overall experience was really good.
Since Qatar Business Class is so good, you could argue that there's no need for anyone to fly First Class.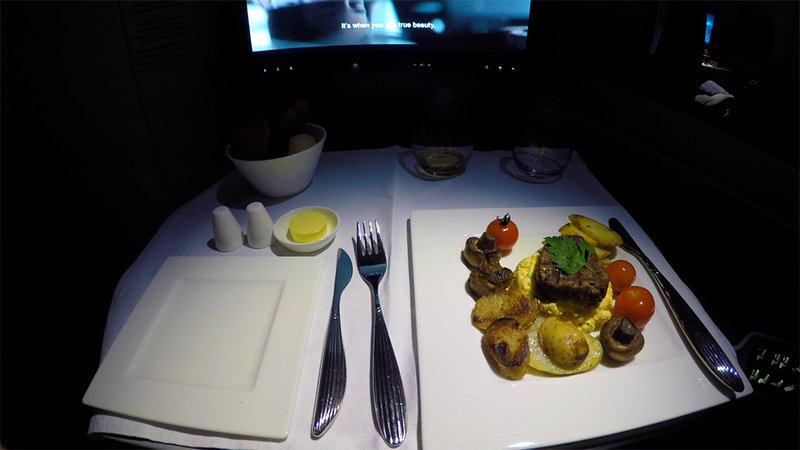 The bar
There is a bar at the rear of the Business Class cabin, but it was not stocked as well as the bar on the Emirates A380.
Unlike the marketing you'll see on airline websites or movies, the bar on a plane isn't a place for well-groomed international elites to mingle or do business deals. If you were travelling with a group, it could be fun.
In reality, the bar is where weary flyers go for a mid-flight stretch and perhaps a pleasant chat with the staff. It was 2am and we were somewhere over the Indian Ocean when I first visited the bar.
It's worth noting that bars are not ubiquitous on the A380. For example, Singapore Airlines don't have one on their A380, focusing instead on providing excellent customer service so passengers can order drinks and snacks to their seat at any time.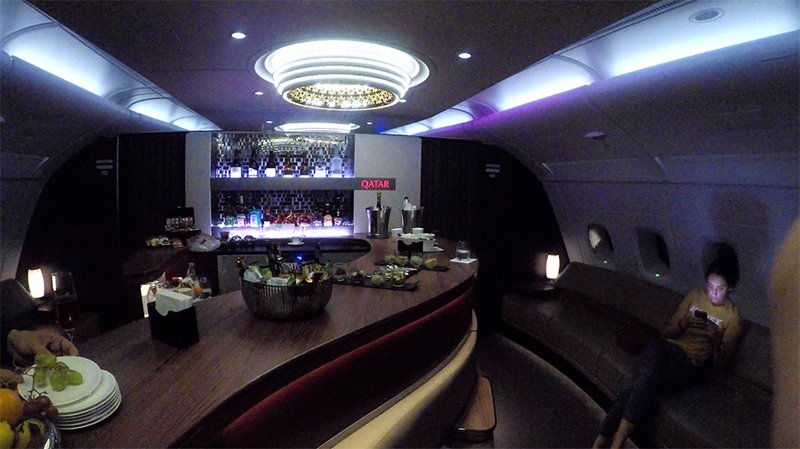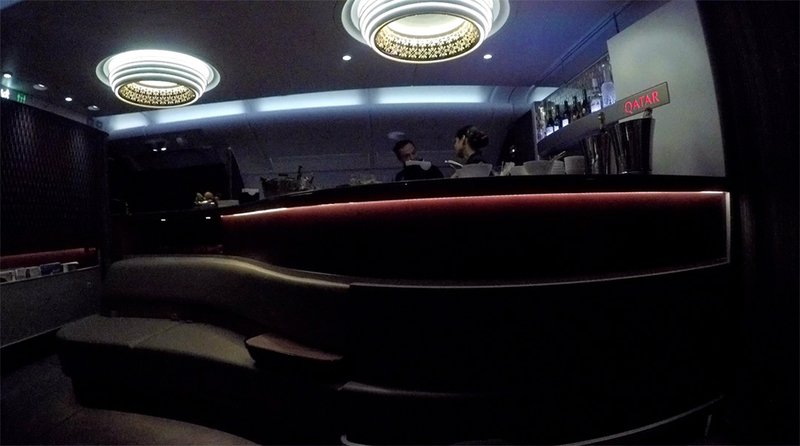 The flat bed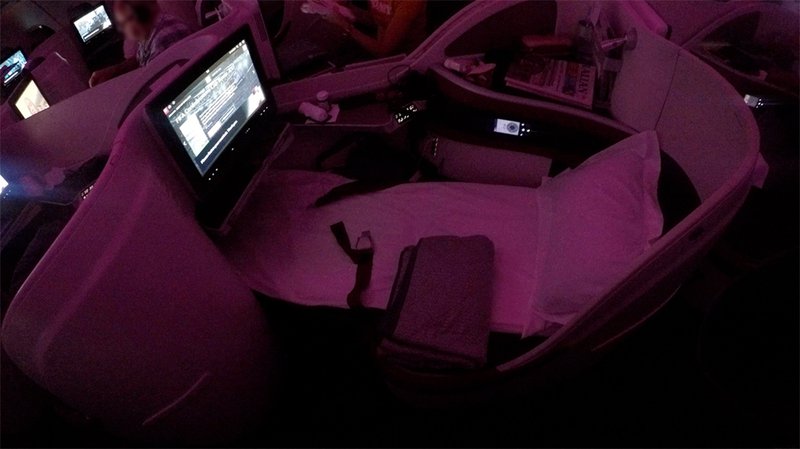 Every seat has a seat topper, thick quilted blanket, and pillow. If you're wearing a suit jacket, the cabin crew will take it away and hang it up. Pyjamas are provided too, which isn't offered on the likes of Cathay Pacific.
You can ask a flight attendant to make up your bed at any time. I got about six to eight hours of sleep.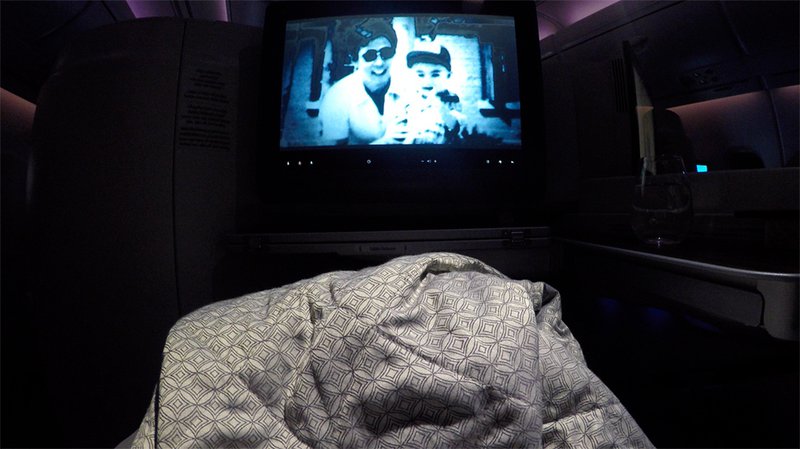 Connecting in Doha
In my opinion, Hamad International Airport is leagues ahead of Etihad's Abu Dhabi airport. It feels like a large Westfield mall... in the desert. Doha is a classier and newer airport with tall ceilings and spacious concourses. I also prefer it to Dubai International Airport (DXB).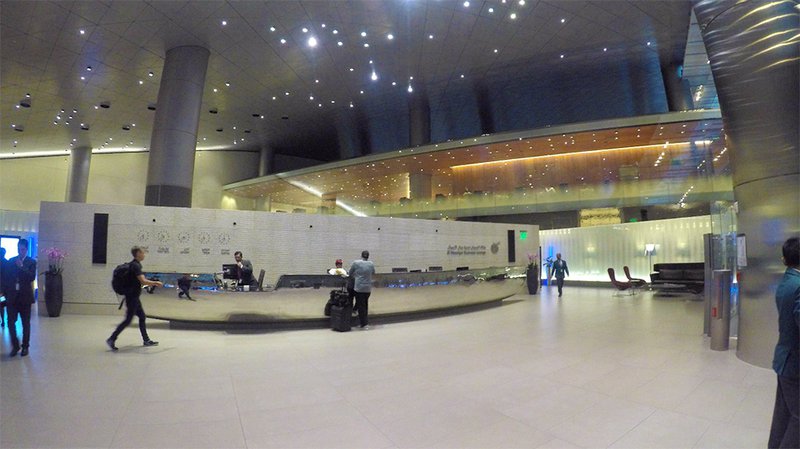 We went straight to Al Mourjan Business Lounge, a vast, spacious and stylish airport lounge with an excellent reputation. You'll find comfortable seating in the main areas, food and dining options in buffets and restaurants, an excellent business centre, as well as quiet areas to snooze in. There are showers too, but you might face waiting times during peak hours.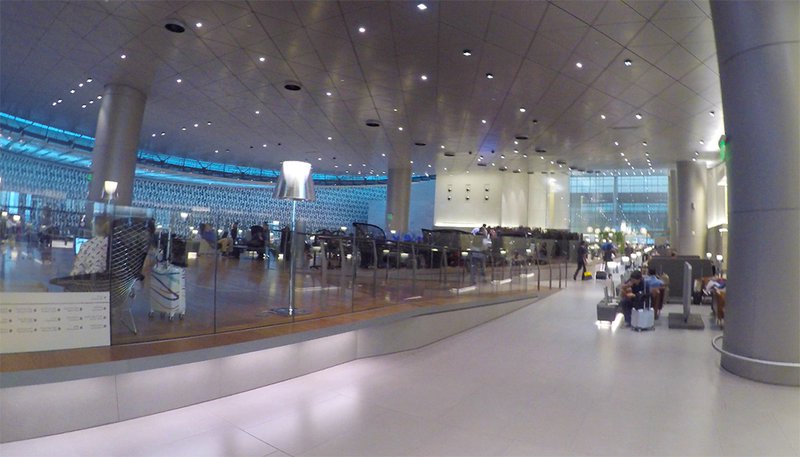 If you have about six hours or more between flights—and are up for a mini adventure—you can do a quick city tour of Doha. We arrived in Doha just before dawn and only had two and a half hours in Doha, so a city tour was not possible.
Overall impression
Business Class with Qatar Airways on a flight as long as this was great. They do a really good job. I got to my destination safe and sound, well fed and rested, with no delays. I know it can be hit or miss, but our cabin crew were warm, friendly and attentive. It felt like nothing was a hassle for them, and it wasn't over the top either. I did try the wifi and it was slow, but I didn't need to use it anyway so it didn't bother me.
Overall, I highly recommend Qatar Airways Business Class in the A380. Especially when it's a points booking.