Free open trading accounts with guidance for traders of all levels, from beginners to advanced.
Competitive, flat, per transaction brokerage fees far lower than most top bank-owned investment platforms and on par with other online competitor share trading platforms.
Convenient trading from your desktop or mobile app with iPhone or Android phone, with 24/7 support via live chat, phone or email.
ThinkMarkets online share trading platform offers Australian share traders – from beginners to the most advanced – a variety of features and guidance in equity markets and Exchange Traded Funds (ETFs). You can trade in Australian assets via ASX and Chi-X exchanges.
This is what the platform offers and how it compares with other share trading brokers available in Australia.

What is ThinkMarkets?
ThinkMarkets is a multi-asset online brokerage platform established in 2010 with headquarters in London, Melbourne, Dubai and Tokyo with hubs in the Middle East, North Africa and the Asia-Pacific.
It has traditionally been a Forex and CFD (Contracts for Differences) broker on commodities, cryptocurrencies, equities, futures and indices. Its recognised trading solutions include MetaTrader 4 and next generation MetaTrader 5. ThinkMarkets' ThinkTrader has won the Best Mobile Platform award in forex trading from Forex Magnates. ThinkMarkets uses the latest technology to achieve a competitive market positioning with pricing, execution speed, superior services.
In August 2020, ThinkMarkets launched its 'Cash Equities' share trading platform in Australia.
ThinkMarkets became the official global trading partner of Liverpool FC in 2021.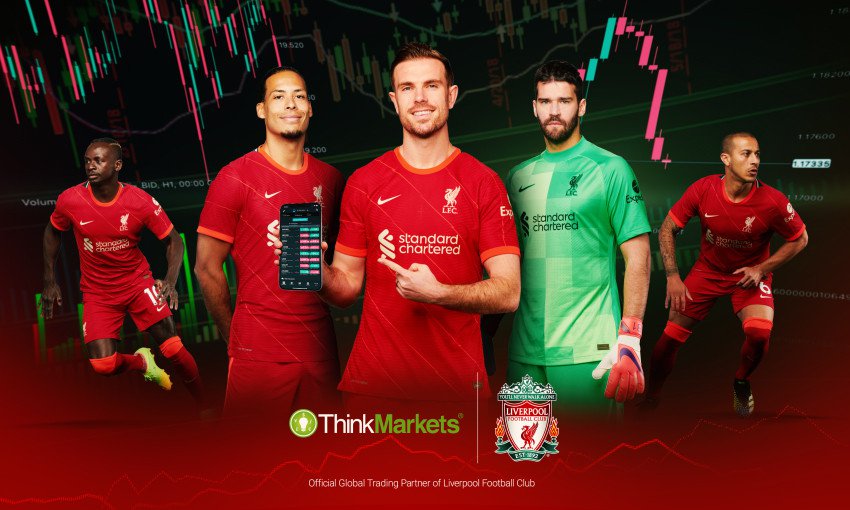 Who is ThinkMarkets aimed at?
ThinkMarkets supports self-directed investors including trading novices, intermediate traders and trading experts. If you are looking for a cost-effective brokerage fee, and wish to place your own orders online, ThinkMarkets could be a suitable choice for you.
Depending on your skill level, browse the ThinkMarkets knowledge base for resources. It covers a range of topics on market psychology and technical analysis, including indicators and chart patterns.
Tradable markets
With ThinkMarkets you can access the following markets.
ASX, the Australian Securities Exchange, enables you to trade in 3,100 shares listed in the ASX.
Chi-X Australia is a securities and derivatives exchange and an alternative trading venue to the ASX. It has its own trading system and enables you to trade in a subset of ASX-listed securities. Chi-X gives you access to passively-managed ETFs and rule-based, actively-managed or single asset Quoted Managed Funds (QMFs).
Tradable assets
Shares. Using the Cash Equities platform you can trade in ASX listed shares as well as Chi-X shares
CFDs on Shares. A CFD is a financial contract that pays the trader the differences in the settlement price between the open and closing trades. They allow you to trade the direction of securities over the very short term. CFDs are especially popular in foreign exchange (FX) and commodities.
Share ETFs. ETFs are investment funds traded on stock exchanges that may hold assets like stocks, commodities, or bonds. You can trade in share ETFs at ThinkMarkets.
Other tradable assets on ThinkMarkets platforms include

Forex
Indices CFDs
Precious metals
Commodities
Cryptocurrency
Contract specifications
Australian Dollar CFDs
Features
CHESS-sponsored, thus making your share transactions safer by giving you the legal ownership of your investments. (See FAQ for more details.)
A choice of platforms. You can trade in shares on both MetaTrader5 and ThinkTrader platforms.
MetaTrader 5 (MT5) platform. MT5 is the upgraded version of MetaTrader 4 (MT4), which has established itself as a leading forex and CFD trading platform. Like MT4, MT5 is secure and packed with many features that enable traders to customise their trading experience to gain a technological edge.
The additional features in MT5 include 21 timeframes (nine in MT4) that allow for more in-depth market analyses, six pending order types (four in MT4), as well as hedging and netting options, a multi-thread strategy tester, partial order filling capability and a built-in economic calendar.
ThinkTrader is an intelligent platform that powers your trading activities and is available on mobile, tablet and desktop versions. ThinkTrader enables multiple order closing with one-click and a powerful technical analysis toolkit. ThinkTrader gives you access to real-time market developments with FX Wire Pro, an established international news agency. You can make in-app deposits and withdrawals and customise your trading history reports by daily, weekly and monthly formats.
Free demo accounts are available for both MT5 and ThinkTrader. MT4 also offers a free demo account, if you want to trade in other asset classes besides shares.
Available as mobile app, tablet and desktop for a smoother trading experience. You can also access the MT5 platform via your web browser without downloading any software.
Single multi-device login enables a smooth trading experience, no matter where you are or when on the move..
Free virtual funds for test-drive CFD trading on MT5.
Fees
Flat fee brokerage of $8 per trade on transactions up to $200,000.
Over $200,000 a brokerage of 0.05% per trade.
No account opening or subscription fees.
No fees for transfers of existing holdings.
Pros and cons
Pros
Flat brokerage fee of $8 per transaction up to $200,000 on ASX and Chi-X markets.
Offers a free demo account so you can train and develop your trading strategy.
Their trading platform is available on mobile app, tablet and desktop, meaning you can trade from anywhere.
CHESS-sponsored shares.
Low fee structure with no fees on account opening, subscriptions or transfer of existing holdings.
No minimum monthly trades needed to keep the account open.
Suitable for all levels, from beginners to traders with experience.
Knowledge base with guidance for beginners and anyone looking to learn.
Test drive MetaTrader 5 and deal in ETF CFDs with virtual funds.
Cons
AU customers can only trade the two Australian exchanges at this time (ASX and Chi-X).
Live prices available only with monthly subscription.
Off market transfer fee, rebooking fees and failed trade settlement fees apply.
Alternatives
There is no shortage of alternatives to ThinkMarkets, with both domestic and international brokers.
Comparisons
Quickly compare ThinkMarkets to similar platforms.
FAQs
Is ThinkMarkets safe?
ThinkMarkets has an Australian Financial Services Licence that enables it to conduct a financial services business in Australia. It is registered with the Australian Securities & Investments Commission (ASIC) under the trading name of TF Global Markets (Aust) Limited. As a London-based firm, ThinkMarkets is also authorised and regulated by the Financial Conduct Authority (FCA), a financial regulatory body in the United Kingdom.
What types of accounts can I open with ThinkMarkets?
To use ThinkMarkets Cash Equities platform, you can open any of the following account types:
Individual accounts for personal trading.
Joint accounts with two main users, both of whom can deposit, trade and withdraw.
Corporate accounts for enterprise trading.
Trust or SMSF accounts for super funds, individual trusts and family trusts.
Is there a minimum deposit required for share trading with ThinkMarkets?
There are no minimum balance requirements.
Is ThinkMarkets CHESS sponsored?
Yes. ThinkMarkets is a CHESS sponsored broker. FinClear is the Sponsoring Broker for ThinkMarkets in its capacity as the nominated Market and Settlement participant.
CHESS (Clearing House Electronic Subregister System) sponsorship makes your share transactions safer because it gives you the legal ownership of your investments. When an organisation is CHESS sponsored your investments through it are tracked by the ASX under your personal name with reference to your Holder Identification Number (HIN). In contrast, when an organisation is not CHESS sponsored, and it runs into trouble, you may have a difficult time getting ownership of your shares and other investment assets.
Verdict
The ThinkMarkets share trading platform is suitable for investors looking to keep brokerage and other costs to a minimum.
Whether you are a beginner, intermediate or advanced trader, you'll find the ThinkTrader and MetaTrader 5 platforms intuitive and easy to use. There's mobile app-based trading when you want to trade on the go and a web version to use without software downloads. Trading is also available on desktop and tablet for a smooth trading experience with a single login.