Feel like you're too late to the Bitcoin party? With all of the hype, it's easy to feel like you've missed out.
Bitcoin has made a meteoric rise since its launch in 2009 and went on major bull runs in 2017, 2019, 2020, and 2021.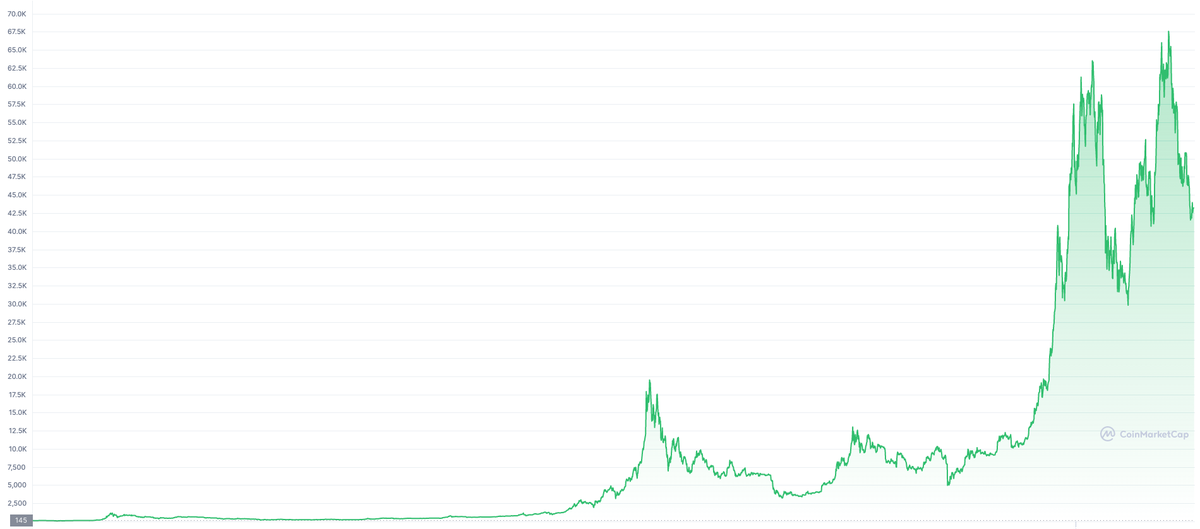 Bitcoin so far
Bitcoin price history
1 x Bitcoin in 2010 was worth US0.09
1 x Bitcoin in 2011 was worth US0.30
1 x Bitcoin in 2012 was worth US$5.27
1 x Bitcoin in 2013 was worth US$13.30
1 x Bitcoin in 2014 was worth US$770.44
1 x Bitcoin in 2015 was worth US$313.92
1 x Bitcoin in 2016 was worth US$434.46
1 x Bitcoin in 2017 was worth US$997.69
1 x Bitcoin in 2018 was worth US$13,412
1 x Bitcoin in 2019 was worth US$3,869
1 x Bitcoin in 2020 was worth US$7,188
1 x Bitcoin in 2021 was worth US$29,391
1 x Bitcoin in 2022 was worth US$47,743
Bitcoin spot prices as at the start of each year

Crypto Exchanges
Where to buy Bitcoin in Australia?
Why is Bitcoin a thing?
Bitcoin is a form of digital currency launched in 2009 by an individual using the name of Satoshi Nakamoto.
Unlike physical fiat currencies like the Australian dollar, Euro, or British Pound, Bitcoin is not controlled by any government, or central bank.
No single entity governs the currency. Bitcoin uses peer-to-peer technology called blockchain and is now considered a store of value, much like gold. Find out more here.
So are you too late?
Yes and no. Let me explain.
Yes, it's too late
You have missed Bitcoin's incredible 50 million percent price rise from Bitcoin's launch in 2009 until 2022.
Most people have missed this. Even people involved at the start of Bitcoin didn't fully understand the value of what they had created.
Infamously, in 2010 an early Bitcoin miner Laszlo Hanyecz paid 10,000 Bitcoins for two large pizzas as a way of testing the technology, not knowing that Bitcoin would be worth so much in the future.
No, you're not too late
There's still time to join and make returns from Bitcoin.
Bitcoin has only been around since 2008 and is experiencing increasing adoption worldwide by regular investors, seasoned investors, Wall Street fund managers, and big corporations.
Even some governments have decided to buy, hold, and trade Bitcoin - El Salvador is the most famous example - making Bitcoin legal tender in 2021.
Just look at this chart showing the S-curve of adoption by US households.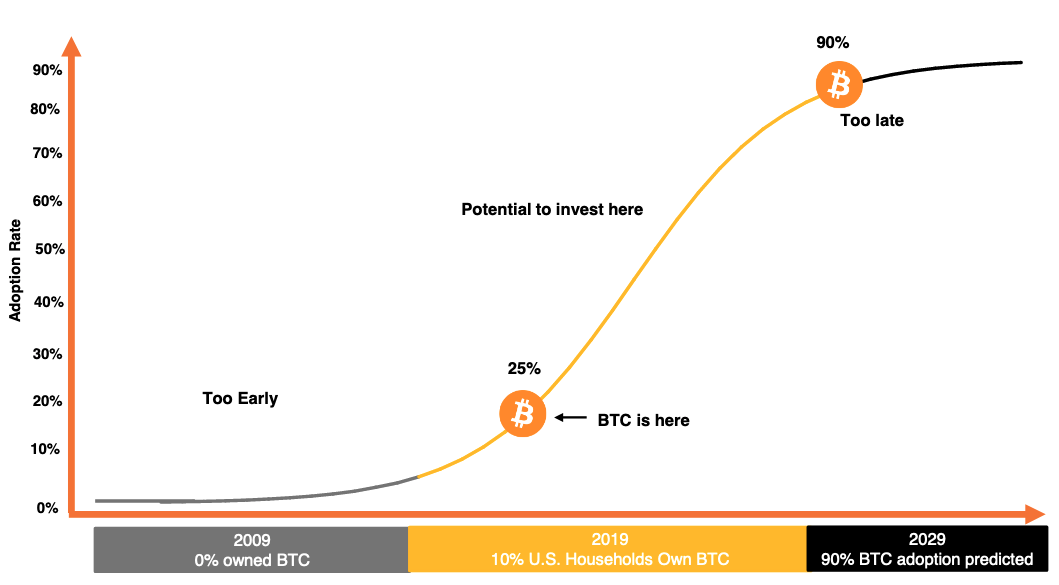 Alternative ways to make money from Bitcoin
Buying Bitcoin and holding is not the only strategy to make gains. Here are some other ideas.
Bitcoin behaves like stocks and shares. It is volatile and can move rapidly which means there are many opportunities to "buy the dip" when Bitcoin is "on sale".
Day trade Bitcoin watching for buy or sell signals (staying glued to your screen).
Staking your Bitcoin can earn approximately 5-7% return per year in addition to holding it.
Use a crypto trading bot to trade Bitcoin automatically around the clock.
Earn up to 8% back from crypto cards to harness the power of everyday spending.
Other coins with potentially higher gains than Bitcoin?
Bitcoin paved the way for thousands of other coins and tokens to be developed.
You may want to get educated on Altcoins, starting with the coins with larger market caps, higher liquidity, and greater credibility, such as Ethereum (ETH), Ripple (XRP), Solana (SOL), and Cardano (ADA).
Each of these coins has been developed to serve different purposes to Bitcoin and are much earlier in their journey. Each has its own pros and cons.
Disclaimer: The views expressed in this article are those of the writer's alone and do not constitute financial advice. Advertisers cannot influence editorial content. However, Finty and/or the writer may have a position in the cryptocurrencies mentioned. Finty is committed to providing factual, honest, and accurate information that is compliant with governing laws and regulations. Do your own due diligence and seek professional advice before deciding to invest in one of the products mentioned. For more information, see Finty's editorial guidelines and terms and conditions.