Find out how crypto trading bots work with pros and cons for each.
Discover which crypto bot has the best set-and-forget strategy.
Critical questions to ask before deciding which crypto trading bot to use.
A raft of new crypto startups have sprung up in cities around the world. Their mission? Automated crypto trading bots that take the emotion out of trading a highly volatile asset like crypto and generate a profit.
Crypto trading bots are sophisticated, automated, data-driven, and may yield better results than manual trading. When a bot sees a potential market opportunity, it opens or liquidates positions on your behalf.
Just about anyone can use a trading bot — not just an experts.
Crypto bots are designed to work with specific markets and employ specific trading strategies such as a 'Buy Low, Sell High' grid on the spot trading price of crypto coins or even on the futures markets.
It's not all plain sailing though. Results vary based on the rules you define and the market conditions of whatever you are trading.
Ready to learn how to trade crypto with a bot? Take a look at our list of the best crypto bots.
Who crypto trading bots are suitable for
Crypto trading bots serve a wide range of users. From beginners just getting into trading to professionals seeking to optimize their operations, there's a bot platform.
Beginner traders
Paper-handed traders. If the closest to diamond hands you've come to is on r/Crypto, then you can cut your teeth with crypto trading on a bot platform since many offer a paper trading feature that allows users to practice without risking real money.
Learn the ropes. Crypto trading bots lower the bar to entry for beginners who are often find the world of crypto trading complex and intimidating. Many platforms have pre-set strategies and easy-to-understand interfaces to get you started.
Generate passive income. The dream of most people is to make money while sleeping. A bots that's been configured for market conditions and managed can earn some extra money on the side. However, fees can negate profit on small accounts.
Intermediate traders
Efficiency and raw speed. The crypto market is fast-moving. Traders use bots to execute strategies faster than they ever could manually and at any time of day or night, allowing them to take advantage of short-term market movements.
Test strategies. Traders can also use bots to test new trading strategies, implemented with paper funds to mitigate risk until proven.
De-risk. Bots can automatically execute stop-loss or take-profit orders.
Advanced traders
Trade with advanced algorithms. An experienced trader can set up sophisticated trading bots to implement and backtest complex trading algorithms.
Customized with code. The most advanced bot platforms can be customized extensively, typically with Python scripts.
Key features of the best crypto trading bots
Choosing the best crypto trading bot is heavily influenced by your specific investment goals, experience, and desired features. Here's what we consider when evaluating crypto trading bot services.
Automation. Obviously! Look for a bot that can execute trades based on predefined or customizable strategies. Ideally it has a range of pre-set strategies that align with your trading approach right out of the box.
Backtesting function. How do you know that a bot could be profitable? Backtest against historical trading data. Use this to refine your strategy before activating the bot in real-time trading with real money.
Technical indicators. Familiarize yourself with the indicators used by traders — and automated bots — such as moving averages, Bollinger bands, or MACD, which can be used to detect trading signals.
Risk management. The last thing you want is for a bot to make a series of poor trades it can't get out of. Thankfully most bots have stop-loss settings and automatic position sizing to help you mitigate risks without manual intervention.
Exchange compatibility. Although some bots integrate with more exchanges than others, they all generally integrate with the same names (Binance, Coinbase, and Kraken, to name but a few).
Robust security. It goes without saying that any crypto trading bot should be locked down like Fort Knox. We look for features like two-factor authentication and data encryption to safeguard your account and data.
User experience. An intuitive, user-friendly interface is essential, especially if you're not a seasoned trader. Suffice to say that some platforms are better than others. Standouts include Bitsgap and Zignaly.
Pricing structure. Crypto exchange fees are complicated enough, so whatever the bot charges should be transparent and easy to understand.
Pros and cons
Pros
Trade 24/7. Crypto markets never close. Unlike we humans, bots don't need to sleep and can trade continuously.
Speed. Efficiency. In fast-moving markets like crypto, speed is of the essence. A bot can execute trades faster than you ever could.
Bots have no emotions. Bots operate based on predefined algorithms. Unlike humans, they don't YOLO into trades.
Consistency. Bots don't get distracted or tired, so they'll trade without deviation from a strategy.
Diverse strategies. Implement and test multiple strategies with relative ease.
Backtesting. Test strategies against historical data. Take insights, iterate, then deploy the bot with more confidence.
Risk management. Configure automated stop-loss, take-profit, and other risk management features (so you don't wake up in a nightmare).
Bots have no custody. Crypto trading bots integrate with the exchange, so they don't actually take custody.
Cons
Cost. The best crypto trading bots come at a price, typically requiring a subscription. This is in addition to exchange fees (where trades take place).
Limited exchange support. Most crypto trading bots integrate with a relatively small number of crypto exchanges, so you may need to KYC at a new exchange before you can get started.
Technical complexities. Some bots are more beginner-friendly than others. Make sure to choose one that matches your experience level and expectations.
Markets are still unpredictable. Bots can analyze past data, but they can't predict unforeseen market events or drastic changes, which can impact their effectiveness.
Over-reliance. Otherwise known as laziness, traders can rely on bots and neglect to monitor and adjust trading strategies as market conditions change.

7 questions when choosing a crypto trading bot
Does the crypto bot connect with my trading platform?
What coins can the bot trade?
Do I hold more than the minimum threshold (usually $1k)?
How quickly will the bot pay for itself after the monthly cost or percentage of success fee?
Can I turn my bot on or off easily, or switch trading strategies?
Will my crypto holdings be exposed to increased risk?
Is there good customer service if I ever need it?
Our pick of the best crypto trading bots
eToro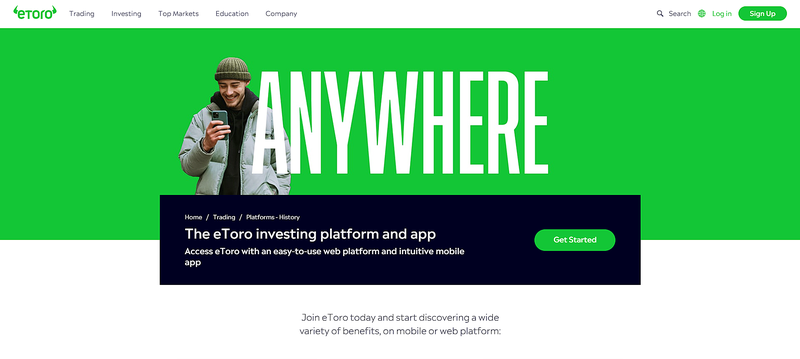 eToro is a cutting-edge copy trading bot, enabling users to mimic the trading activity of experienced cryptocurrency traders. Used by millions of users, eToro is one of the biggest social investment platforms in the world.
It's pitched to newcomers with an easy-to-use platform where you can follow traders and analyze their trading history before following. With support for 80+ cryptocurrencies, eToro offers a robust trading environment, albeit for a relatively limited range of coins.
Transparency is a standout feature. When you follow a trader, you can monitor their profits and other performance metrics directly on your feed.
While the platform does not charge account fees, it does levy a 1% fee on transactions. Unlike some more complicated exchanges, eToro's fees are presented in a transparent manner.
Pros
Easy account setup, even for beginners.
Leverage the power of social trading.
Commission-free stocks and ETF trading also available.
Cons
Relatively small range of coins to trade.
Withdrawal fees are comparatively high.
On website
eToro USA LLC and eToro USA Securities Inc.; Investing involves risk, including loss of principal; Not a recommendation.
Coinrule

Coinrule was founded in 2018 by Gabriele Mella, Oleg Giberstein and Zdeněk Höfler. It was developed to enable cryptocurrency investors to create as well as test automated trading strategies on their assets to benefit from market opportunities.
The bot allows you access to over 150 template strategies and can trigger actions when the market changes. There is no code required, and the bot manages volatility to maximize profits.
There is a free package known as the Starter package, where you can set up to 2 live rules, two demo rules, seven template strategies, and have one connected exchange. Keep in mind that it is limited to a $3k monthly trading volume. There are three paid packages: the Hobbyist package that starts at $29.99 per month, the Trader package that starts at $59.99 per month, and the Pro package that starts at $499.99 per month.
People on Trustpilot say they are really happy with Coinrule and have shared their experiences after three months of using the bot. You get support for most major crypto coins. Coinrule works with brokerages including Binance, BitMEX, Bitstamp, Bittrex, Coinbase Pro, Kraken, and Poloniex.
Pros
Impressive customer service.
Advanced level of security.
Several pricing plans with constant promotions.
More than 150 templates to pick from.
Cons
One of the newer platforms out there.
No native mobile application as of yet.
Cryptohopper

Cryptohopper was created in Amsterdam in 2017 by brothers Ruud and Pim Feltkamp. The bot offers automatic trading, crypto signals, risk-minimizing features, trading bot templates, technical analysis, and backtesting.
Cryptohopper offers a range of plans, starting with the Pioneer Plan, which gives you a 7-day free trial where you can open 80 positions, have a maximum of 15 selected coins and two triggers and have one simulated trading bot.
Next is the Explorer package, which costs $19 per month, the Adventurer or 'trader pl' that's $49 per month, and the Hero or Pro Trader pack, at $99 per month.
You can find many reviews online for Cryptohopper due to the fact that it has a community of over 500,000 users.
It supports most cryptocurrencies on exchanges, including BTC, XRP, ZEC, XMR, LTC, and DASH, to name but a few.
Supported platforms include Binance, Binance US, Coinbase Pro, Bittrex, Poloniex, Kraken, Bitfinex, Huobi, OKX, KuCoin, Bitvavo.
Pros
You don't get charged commissions on top of the monthly payments.
You get access to high-level research software.
There are advanced security features that are included in the mobile app.
Cons
You'll need a monthly plan to get the most functionality out of it.
Technical support can be limited.
Crypto trading bots have been designed to overcome any physical or computational limitations that we as humans have. Bots monitor prices continually, never tire, have no emotions, and move quickly. In a 24 hour period it could make dozens of trades — many more than most active day trading humans. Many crypto bots will implement signals, technical indicators, and trading bot strategies. However, keep in mind that each crypto bot has its own fee structure or costs and a specific list of compatible coins and brokerages.
3Commas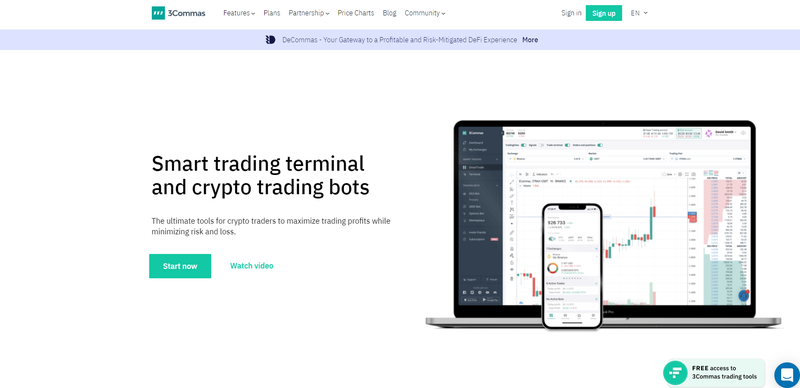 3Commas is a cryptocurrency trading platform, founded in Tallinn, Estonia, in 2017. It's not just an exchange or trading platform it has trading bots with ready-to-use strategies, and bot presets.
There is a free version of the bot that is free forever, so it's not technically a trial. That said, you can have one active SmartTrade and one DCA Bot, one Grid Bot, and One Options bot with that plan. The three paid plans are: Starter package - $29 a month, Advanced package - $49 a month, PRO package - $99 a month.
3Commas is ranked 4.2 out of 5 stars on Trustpilot, and many of the user reviews are positive.
You get support for most major cryptocurrency tokens across all of the brokerages on offer.  Supported brokerages include Coinbase Pro, Binance, BitMEX, Bitstamp, FTX, Bittrex, Kraken, and others.
Pros
A free package that has no time limit.
User-friendly dashboard.
Responsive customer service.
Cons
It can be a bit of a learning curve for newcomers.
Pionex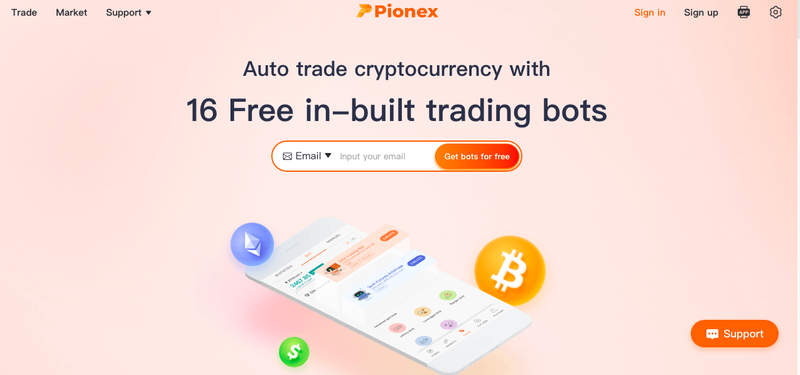 Pionex was founded in 2019 and is located in Singapore. It offers multiple trading bots, including the grid trading bot, infinity grids bot, leveraged grid bot, margin grid bot, and others.
There is no trial, and there is no monthly fee. Instead, it charges 0.05% in trading fees.
Pionex scores a 3.3 out of 5-star rating on Trustpilot. The main drawbacks real users have experienced are with the support team and withdrawal issues.
Bitcoin (BTC), Ethereum (ETH), Litecoin (LTC), Dogecoin (DOGE), Uniswap (UNI), Tether (DT), and over 250 other tokens are available on Pionex.
Pionex gets its liquidity from Binance and Huobi.
Pros
16 free built-in trading bots.
Low fees across all transactions.
Well-designed mobile experience.
No monthly fee.
Cons
No support for custom trading strategies.
Mizar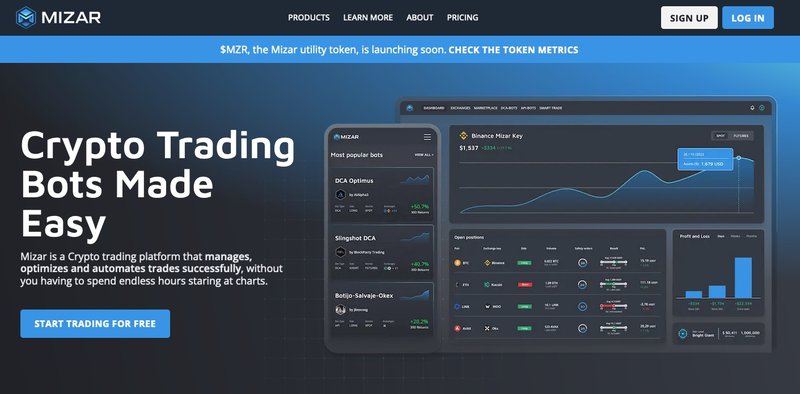 Mizar is a crypto trading bot that connects to a variety of exchanges and offers features such as copy trading and a demo account.
Their bot is designed to be easy to use for both beginners and experienced traders, and it automates and optimizes trades for maximum profit potential. The platform has a unified trading interface and advanced functionalities such as multiple entry points and stop loss orders, plus paper trading for risk-free practice.
The company was founded by four traders in London in 2022 and has since secured a $3m seed round of funding led by several major investors. Mizar is also working on its own governance and staking token, $MZR.
Pros
Beginner-friendly platform.
Subscription-free.
Signup and trading bonuses.
Copy trading marketplace.
Non-custodial bots.
Cons
Mizar is a fairly recent market entrant.
Bitsgap

Bitsgap is an automated trading platform to track and monitor Bitcoin as well as over 1,800 other cryptocurrencies. Founded in 2017 Bitsgap is headquartered in Tallinn, Estonia.
There is a demo practice mode, as well as a 7-day free trial. Bitsgap offers three plans. The basic plan is $29 per month, the Advanced plan is $69 per month and the Pro plan is $149 per month.
Bitsgap has a customer rating of 3.6 stars out of 5 on Trustpilot, with some customers noting that there are drawbacks in terms of customer support as well as the default ranges.
It has support for over 25 cryptocurrency brokerages, including Binance, OKEX, KuCoin, Kraken, FTX, Coinbase Pro, and others.
Pros
Simple to use with a lot of functionality.
Available on over 25 brokerages.
7-day free trial.
Cons
Few trading bots you can pick from.
No native mobile application.
Exchange Valet

Exchange Valet was founded in 2018 in Denver and is an automated cryptocurrency trading platform. You can set stop loss and take profit orders at the same time and automatically track your portfolio.
You get a 14-day trial run; there is no free package. There are three packages you can pick from: The 1-month package costs $29; the three-month package costs $75 and the 1-year package costs $250. They all have discounts, depending on how long you initially subscribed for.
The customers of this platform seem to be satisfied with its offering, and it is quite unique in its pricing model as the features aren't split into multiple tiers, just one.
Which coins are compatible? Bitcoin (BTC), Ethereum (ETH), Litecoin (LTC), and others. The only brokerages that are currently supported are Binance and Bittrex.
Pros
You can set simultaneous orders.
It's simple to use.
There are email notifications that you can enable.
14-day free trial.
Cons
A limited number of brokerages are supported.
No mobile application is available.
HaasOnline

HassOnline was founded in 2014 by Stephan De Haas and is based in Rotterdam, The Netherlands. The bot offers automated purchases and sales and has advanced trading options on its supported exchanges. There is a publicly hosted HTS instance for you to test configuring HaasBot trade bots and other aspects of the software.
There are 3-month, 6-month, and 12-month plans with three tiers. For the 3-month plan, the beginner tier starts at 0.004 BTC; the simple plan starts at 0.006 BTC, and the Advanced plan starts at 0.009 BTC. You get discounts for choosing longer plans.
On Trustpilot, HaasOnline has a rating of 4 stars, with users praising its customer support and application.
It offers support for the largest cryptocurrencies out there on just about any of the supported brokerages. Supported brokerages include Coinbase Pro, Binance, Bitfinex, BitMEX, Bitstamp, Bittrex, Deribit, Gemini, HitBTC, Huobi, Kraken Futures, KuCoin, OKCoin, and OKEX.
Pros
High level of performance.
Many trading strategies.
Focus on privacy and security.
Excellent application.
Great customer support.
Cons
Not beginner-friendly.
Premium pricing plans.
Stoic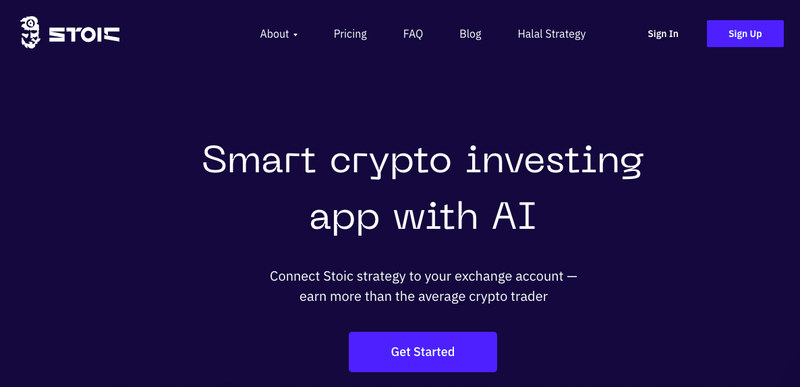 Stoic was made by the Cindicator team, which was founded in 2015 and built predictive analytics through merging collective intelligence and machine learning models.
The Stoic portfolio rebalances once a day and aims to perform better than the crypto market on average.
You can select top traded coins, buy more of what will likely go up, and sell coins that might go down. You can install the free app and get a demo portfolio to start trading. However, there is no free plan.
Stoic charges an upfront annual fee of 5% of assets on your account, and if you start with the minimum account balance of $1,000, you'll need to pay $50.
The reviews are generally on the side of 4.4 out of 5 stars, with people claiming that the bot does indeed work and is a bot that cuts your losses and maximizes your gains.
There is support for a wide range of some of the most popular cryptocurrency tokens on Binance.
Stoic's crypto trading bot currently works on Binance Global and Binance. Additional crypto exchanges are coming soon.
Pros
No lockups.
Fully automated.
Has an Android and iOS application.
Cons
A minimum deposit of $1,000 is required.
Only supports Binance Global and Binance.
TradeSanta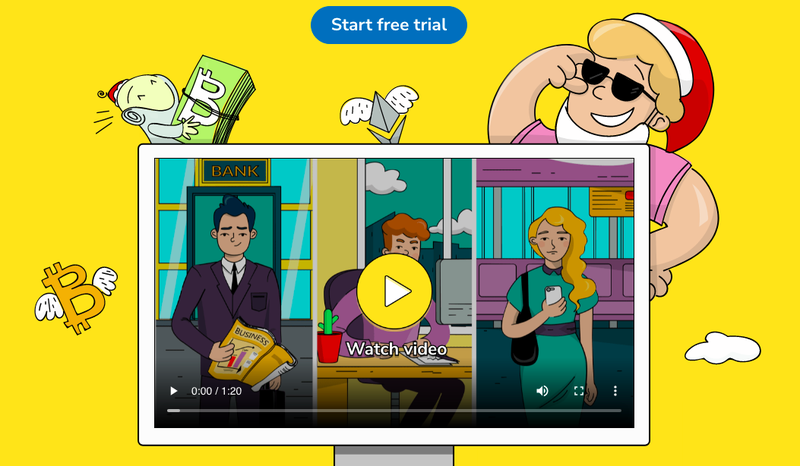 TradeSanta was founded in 2018 as a cloud cryptocurrency trading software that lets you take advantage of crypto market fluctuations.
You can get access to an unlimited number of bots with the maximum plan, an unlimited number of pairs, TradingView signals, and ctom signals, as well as Binance Futures.
You get a 3-day free trial of the maximum package. There are three plans in total - the basic plan that starts at $14 a month, the Advanced plan that starts at $20 a month, and the maximum plan that starts at $30 a month. Note that these are annual subscription prices and may differ on a month-per-month basis.
Tradesanta has a rating of 3.8 stars out of 5 on Trustpilot, with users praising its ease of use and maximum package level of utility.
The supported coins are BTC, ETH, XRP, DOT, and many others including Altcoins.
Supported exchanges include HitBTC, Binance, Upbit, OKEx, and Huobi.
Pros
Simple to use with an intuitive design.
Free trial available.
Supports most major cryptocurrency exchanges.
Cons
Lacks support for high-liquidity exchanges such as Kraken and Gemini.
Not suitable for arbitrage opportunities.
Lack of support for decentralized exchanges.
Trality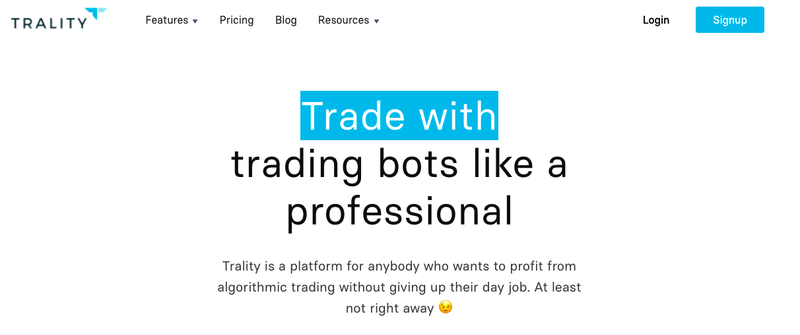 Trality was founded in 2019 by Moritz Putzhammer and Christopher Helf and is headquartered in Vienna.
There are creator tools that allow you to access a flexible rule builder to build logic and get access to a powerful Python API where you can code algorithms and a fast backtester to optimize your bots. Traility is aimed at more advanced users (such as web developers). Beginners may find many of its features intimidating.
You can take advantage of a free plan known as the Pawn plan, which limits you to a maximum trading volume of €5,000 ($5809).
There are three other plans. The Knight plan at €9.99 ($11.65 approx), the Rook plan at €39.99 ($46.63 approx), and the Queen plan at €59.99 ($69.95 approx).
On Trustpilot, Triality has 4.3 stars out of 5, with 74% excellent ratings praising the free plan.
Trality supports some of the most popular cryptocurrency tokens found on the supported exchanges.
Supported brokerages include Binance, Bitpanda, Coinbase Pro, and Kraken.
Pros
Advanced bot creation tools.
Code Editor to write your own custom bots in Python.
Rule Builder.
Comprehensive backtesting tools.
Trial your bots with virtual money on live markets.
Great documentation and ticketed support.
Cons
A limited number of brokerages are supported.
No mobile application is available.
Zignaly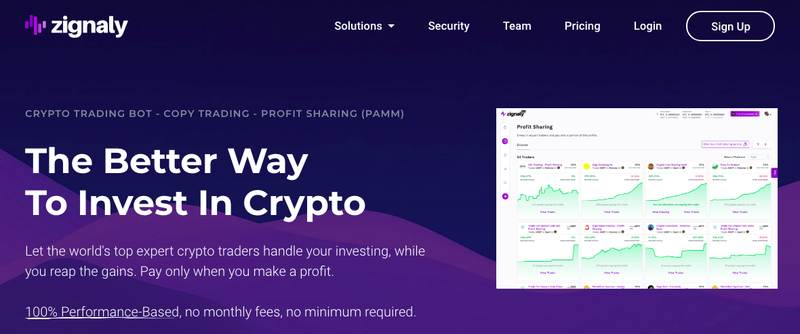 Zignaly, a social crypto investment platform, was founded in 2018 and is headquartered in Singapore. Their automated trading bots allow you to use signals to trade automatically.
Zignaly has no free trial, and there does not need to be one because Zignaly is free to use. The only fee you need to pay is the one from your enabled exchange.
On Trustpilot, Zignaly scored an average rating of 3.8 out of 5 stars, with users praising the team and their overall experience. All coins are allowed, and there is no limit.
Zignaly is currently integrated with Binance, KuCoin, VCC Exchange, and BitMex.
Pros
Zignaly is free to use.
It's easy to use for people that are new to the world of trading bots.
There are a lot of signal providers.
You get unlimited coin pairs and trading positions.
Cons
Only available on a limited number of brokerages.
Quadency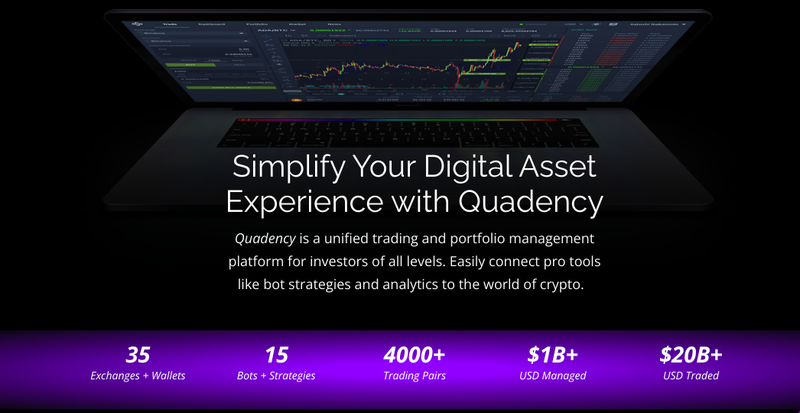 Quadency was founded in 2018 and is headquartered in the Greater New York Area. You get 20 live bots to trade 24/7, 2000 backtests per day, unlimited connected exchanges, and 24/7 live support.
Quadency is free, for now. At the time of writing, the only fees were standard transaction fees charged by your exchange, but they plan to start charging a fee.
The platform has received a lot of praise because it's free, is US-based, and helps you track and manage your entire portfolio.
There is support for major cryptocurrency tokens, including BTC, ETH, BNB, DT, ADA, SOL, XRP, DOT, DC, DOGE, UNI, LUNA, and others.
Quadency can be connected with most of the major exchanges, including Binance, Kraken, Bittrex, KuCoin, OKEX, Binance., Coinbase Pro, Gemini, HitBTC, POLINEX, Bitfinex, and others.
Pros
Free (for now).
All-in-one crypto trading platform.
Fully automated trading bots.
Visual portfolio manager.
Cons
Pricing will likely change in the future.
WunderTrading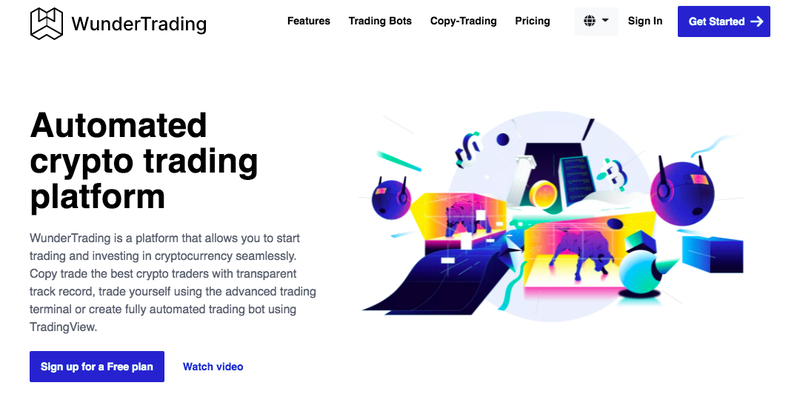 WunderTrading was founded in 2018 and is located in Estonia. It offers multiple trading bots to put your spot trading and futures on autopilot. An impressive 21,000 users are WunderTrading customers.
Users can start off easy with a free account to try it out with 5 open positions, 2 active bots into 1 API per exchange. Then there are the paid plans, Basic $9.95 USD per month, Pro $24.95 per month, Pro $44.95 per month, with increasing features up to the point of having unlimited open positions, unlimited active bots, unlimited API per exchange.
WunderTrading promises to​​ automate any TradingView scripts into their crypto trading bot.
Connect with 14 major exchanges including Binance, FTX, BitMex, and Kraken to automate your trades of Bitcoin (BTC), Ethereum (ETH), and 1,000's of other coins.
Customers on Trustpilot rate WunderTrading very highly at 4.1 out of 5-star rating. The main drawback that a handful of real users have experienced arise from API connections between WunderTrading and an exchange dropping out at inopportune times.
Pros
Start with a free account.
Create your own trading bots.
Copy trade the best traders and bots.
Cons
Some customers have reported intermittent API connection failures at times.
Gainium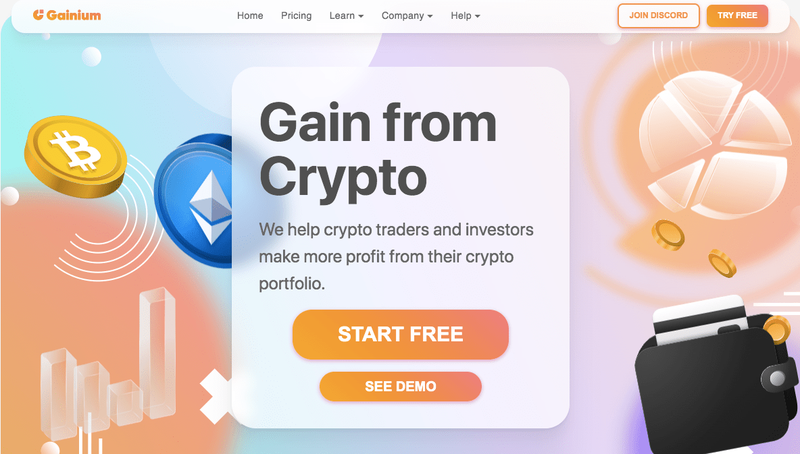 Gainium is a comprehensive platform designed to equip crypto traders and investors with the necessary tools to trade profitably. Its founder, Ares Sanchez, is a Singapore-based software developer and trader.
Whether you are an experienced trader or a beginner, Gainium caters to your needs. You can create and test your trading strategies or utilize the existing trading bots on the platform. Gainium also offers advanced features for technical traders, such as webhooks and APIs for external integration.
Gainium's pre-built trading bots are designed to generate profits in any market condition. In addition, beginner-friendly features like copy and paper trading make it more accessible for beginners.
Pros
Comprehensive platform.
Advanced features.
High-level security and encryption.
Beginner-friendly.
Cons
Limited exchanges.
No mobile app.
Kucoin's trading bot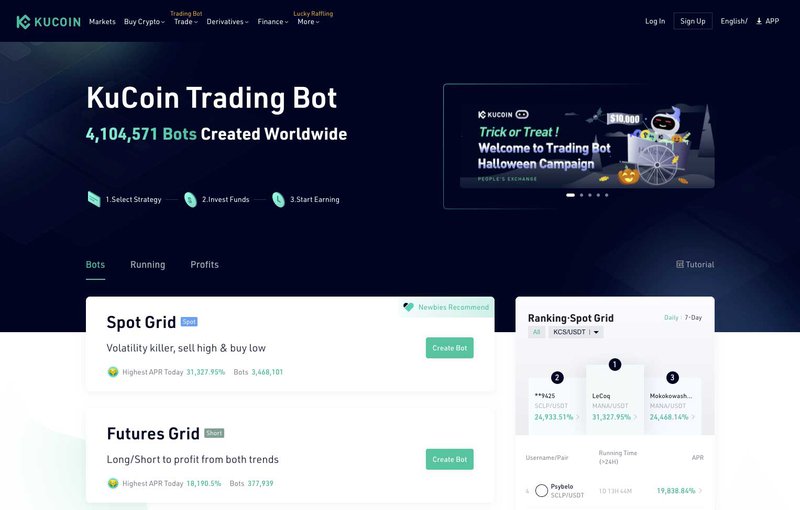 Kucoin is an international cryptocurrency exchange that launched in 2017 and has its headquarters in Singapore.
Kucoin's in-house trading bot is free to use, and there are extra costs beyond the fees which are already charged by the KuCoin exchange for funding, trading and withdrawal.
The KuCoin Bot provides different trading strategies such as:
Classic Grid
DCA
Futures Grid
Margin Grid
Infinite Grid
Dynamic Rebalancing
Additionally, you can run multiple bots at the same time.
Customer reviews are solid; however, the bot has a limitation in the form that it is tied to KuCoin Only.
All coins on KuCoin are compatible. However, the only cryptocurrency exchange or brokerage it works on is KuCoin.
Pros
Backtest strategies.
Enables 24/7 trading against a large range of pairs.
No-installation required, hosted in the cloud.
Excellent customer support.
Intuitive design to set up bots.
Cons
Only available on Kucoin and doesn't connect with any other exchange.
FAQ
How do crypto trading bots work?
Trading bots execute trades based on sophisticated algorithms, trained on historical market data. A trade can be as simple as buying or selling when the price of a coin reaches a certain level, or as complex as machine learning predictions. Bots integrate with exchanges via APIs, where orders to buy or are executed.
Are crypto trading bots legal?
Yes, using a trading bot to trade cryptocurrencies is legal. In fact, many of the world's largest funds and investment banks use similar technologies for high frequency trading.
Is crypto trading with a bot safe?
Various factors influence the safety of a trading bot. Since funds remain on the exchange, the chance of loss due to a breach is negated. Bot platforms typically employ 2FA to secure the user's account.
Are crypto trading bots profitable?
There is no guarantee of profit, but a well-designed trading bot can automate trading strategies that have historically been profitable. However, past performance is not indicative of future results. It is possible that a poorly configured bot could lose money if stops have not been configured to take profit.
What trading strategies can bots be used to implement?
It's possible to implement a variety of trading strategies with a trading bot. Widely-supported strategies include market making, arbitrage, trend following, and mean reversion, among others.
Are there any free crypto trading bots?
Yes, there are free crypto trading bots available. However, in comparison to paid alternatives, free crypto bots tend to be limited in terms of their features and may lack support.
Can a trading bot work with any exchange?
No. Most bots support a limited number of exchanges, namely the large centralized exchanges such as Binance, Coinbase, Kraken, KuCoin, etc.
Do I need to be a programmer to trade crypto with a bot?
No. Although you may have seen some YouTubers experiment with their own bots, the typical crypto bot service does not require coding skills. That being said, experienced traders who can code can customise some of the more advanced bots (like HassOnline and Trality).