On website
Highlights
An automated trading platform built to support beginners and experienced traders to make the most of their trades with bots. Automated trades can be executed 24/7.
Offers users existing rules with the option to create new ones aligned with their trading goals. They can then back-test their rules and strategies before applying them in trades.
Bots are used on several top exchanges, including Coinbase Pro, Binance, and others.
Paper trading allows users to test strategies using virtual funds and verify their reliability before using real digital assets. This reduces risk in trades in the future, thus cutting users' losses.
---
Pros
Beginner-friendly design and configuration with no coding required.
Competitive pricing with free starter plan.
Integrated backtesting to check profitability against historical market.
Operated by an established company with transparent management.
Cons
Doesn't work with smaller exchanges (although that's not unusual for trading bots).

On website
Highlights
Provides a demo account. This critical feature allows users to test the platform and see how it works before committing any real funds. Strategies are back-tested to ensure they are reliable before users can deploy them for trades.
It has three types of bots: Grid, DCA, and Futures. These are used for trading gridlines, accumulating assets using dollar-cost averaging, and trading futures on exchanges.
They ensure users earn as much profit from their trades as possible on 15 top crypto exchanges.
Trade using tested rules and profit by simply connecting to your exchange (s) of choice.
---
Pros
High-end trading interface with a beginner-friendly design.
Practice your trading strategies with a demo account.
Integrates with a lot of exchanges.
Free trial available with no commitment.
Operated by an established company.
Cons
Cheaper alternatives available on the lower end.

On website
Highlights
Beginner-friendly automated trading platform provides a learning opportunity and a chance to earn from trading as a new trader.
This is made possible through the mirror trading feature, which lets new traders learn by copying the trades of the pro traders on the platform. New traders significantly reduce their risks through this process and can earn more.
Although there are predefined rules for trading, users who wish to create their own can also back-test such rules to ensure they are reliable before deploying them on exchanges for actual trades.
Offers users a free account for trades with limited features.
---
Pros
Beginner-friendly with a range of pre-configured bots.
Choose from a wide range of bot templates, strategies, and signals on the marketplace.
Free plan available. Monthly plans are competitive against the market, especially on the high end.
Integrates with more exchanges than most competing crypto trading bots.
Cons
The free plan is very limited in its functionality.
Signals are a paid extra.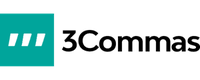 On website
Highlights
Bots help users not only maximize trades but also accumulate assets for long-term holding. This is facilitated by the HODL bot, one of the platform's four bots.
Grid bots trade assets in grids to catch any small market movements, while the DCA bot uses dollar cost averaging to buy assets at different prices at intervals and ultimately maximize profit.
It has a demo account for trying out the platform and copy trading for younger traders to learn from the experienced and make money in the process without exposure to too much risk.
Works with top exchanges, including Binance, Coinbase Pro, and Kraken.
---
Pros
Try out the platform with a demo account.
3Commas works with a lot of top exchanges.
A limited free plan is available, ideal for trading smaller amounts.
Cons
You'll miss out on the best of 3Commas without subscribing to a Pro plan.
No paper trading with the free plan.

On website
Highlights
Allows users to carry their trades with them and monitor them on mobile devices. Provides a one-stop automated trading solution for both newbie and seasoned traders to trade profitably.
Use existing bots or create from scratch, back-test, and deploy. You can take advantage of spot, futures trading, and bull and bear markets with specialized bots on TradeSanta.
Provides templated bots for easy use and demo accounts for testing the platform for new users getting into crypto trading. Anyone can profit by using the bots.
Powerful automated trading platform that connects to top crypto exchanges such as Coinbase Pro, Binance, and others.
---
Pros
Demo mode lets you try out bot trading without depositing funds.
Monthly plans are priced competitively, especially if pre-paying for a year.
Quickly start trading with pre-configured bots. Go short or long.
Trade both spot and futures markets so you can also capitalize on trading with leverage.
Cons
The free trial is very short.
Doesn't integrate with as many exchanges as other trading bots.

HaasOnline
Highlights
Suitable for traders who prefer advanced Bitcoin and crypto trading platforms using automated bots. Inexperienced traders can also use it, as the bots are automated.
Users can create, test and deploy powerful trade bots on any number of exchanges they want. Backtest feature enables testing to verify the reliability of strategies before deployment.
Paper trading is available for new users to trade with virtual funds before using their funds to trade to reduce risks.
Provides insurance for users to cover risks they may incur. It also rewards them with Bitcoin for referring new users to the platform.
---
Pros
Use HaasScript to create bots with customized technical indicators, automated trade strategies, safeties, insurances, and commands.
Trade futures markets to take advantage of leverage.
Integrates with 20+ crypto exchanges.
Cons
No free trial available.
Not a beginner-friendly platform. HaasOnline targets advanced traders.

Trality
Highlights
Users can trade crypto using automated bots without giving up their current jobs, as there is no need to monitor trades every time. Anyone in any field can trade using the bots on Trality and profit from them.
Create customized trading bots or use the existing robots with existing rules.
Paper trading is also available for testing strategies before deployment.
Trade on top exchanges, including Coinbase Pro, Binance, Kraken, and so many others.
---
Pros
Suitable for beginners and experts in crypto trading.
The interface is both interactive and easy to use.
Supports well-known exchanges such as Binance US, Bitpanda, Coinbase Pro, FTX, and Kraken.
Cons
The plans offered by Trality are a little on the expensive side.
Mobile apps are not yet available.