Trading bots are gaining more attention in crypto, mainly because they enable almost anyone to — in theory — make passive money trading. Notably, you don't need any special coding knowledge to use a trading bot like 3Commas, which makes it an attractive option for both experienced and new traders.
Interested in using 3Commas to optimize returns? Find out more about its features and what makes it good or bad for trading crypto with our review.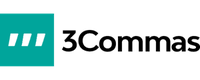 On website
3Commas
Highlights
Trade on 18 exchanges and automatically get profit using 3Commas' trading bots, without wasting time on tracking quotes.
Sell and buy coins in a single window.
Trade 24 hours a day with technical indicators.
---
Pros
Try out the platform with a demo account.
3Commas works with a lot of top exchanges.
A limited free plan is available, ideal for trading smaller amounts.
Cons
You'll miss out on the best of 3Commas without subscribing to a Pro plan.
No paper trading with the free plan.
What is 3Commas?
3Commas is an online crypto bot platform where traders can leverage bots to automatically trade cryptocurrencies based on signals and pre-defined rules.
Like any trading bot, trades can execute at any time of the day, 7 days a week. This is — by far — one of the biggest advantages of trading with a bot.
Trades can be configured with the price at which you want the bot to buy or sell the asset, so you can take profit automatically.
As well as trading with a bot, it is also worth noting that 3Commas enables new traders to copy the trades of more experienced traders. This is called copy trading or social trading, and it is one of 3Commas' differentiating features.
There is the option to trade manually for those who do not want to depend solely on bots.
Who owns and operates 3Commas?
3Commas was founded in 2017 by Yuriy Sorokin, Mike Goryunov, and Egor Razumovsky who wanted an easier way to trade crypto.
In 2020, 3Commas successfully raised $3 million in Series A funding led by Alameda Research, whose CEO is Sam Bankman-Fried of FTX fame.
The company headquarters are located in Tallinn, Estonia, which is a bit of a hotbed for fintech and crypto startups. They are actively seeking to hire staff, which is a positive sign of growth.
Is it safe?
3Commas connects to partner exchanges through a secure API. This means trades are executed on the exchange. 3Commas do not have permission to withdraw funds from the exchange.
According to a Builtwith report, 3Commas is deployed with Cloudflare and Amazon Web Services. It has a Web Application Firewall, DDoS Attack Protection, and SSL/TLS encryption between visitors and origin servers.
How does it work?
3Commas helps crypto traders to automate trades and make a profit.
Start by configuring a connection with your exchange, initiated from the 3Commas website. Once connected, the platform can then access your account on the exchange (so that trades can be placed automatically on your behalf).
Next, you decide which of the available bots to use. A number of different bots are available and you can set up one or more to run concurrently, each with a different set of instructions. For example, you could have a bot to buy crypto with a view to holding it for the long term and another executing a dollar cost averaging strategy.
You can configure the price at which you want the bot to buy or sell the asset to automatically take a profit.
Who is it aimed at?
Anyone — regardless of their previous experience as a trader — can use the platform's bots and copy trading function. 3Commas is available to users worldwide.
New traders can earn money copying experienced traders while learning from the trades they copy. More experienced traders can use it to place manual trades. Configuring a bot is easy and accessible for any skill level.
Fees and charges
Fees are charged based on the plan chosen. There are four available plans, namely the Free, Starter, Advanced, and Pro plans. The free plan is free, of course, while you'll pay $14.50, $24.50, and $49.50 monthly for the starter, advanced, and pro plans respectively.
In terms of pricing, these plans are quite competitive with other trading bots. You'll be limited to one instance of a DCA, Grid, or Options bot on the Free, Starter, and Advanced plan. Unlimited bots can be created on the Pro plan.
Supported exchanges
3Commas works with Binance, Bitfinex, Bitmex, Bitstamp, Bittrex, Bybit, Coinbase, Deribit, FTX, FTX US, Huobi, Kraken, Kucoin, and OKX.
Available bots
Grid
This buys and sells assets on a set gridline and is most suitable for sideways markets.
DCA
This bot automatically buys assets when it is a good time to enter the market. Trades are made at intervals.
Options
The bot is used for more sophisticated options trading. With the proper strategy, this can be very profitable, but also requires some level of experience.
HODL
Automates buying of assets such as BTC or ETH to hold for the long term. The bot is configured to buy at the best prices and makes it easier to stack assets.
Notable features
Copy trading
Copy trading was made popular by eToro. It is one of the differentiating features of 3Commas.
Using copy trading, a user can choose to follow an experienced trader and copy their trades. There are many experienced crypto traders available to follow on 3Commas, each with a profile so you can make a more informed decision about who to follow.
Demo mode
3Commas also offers a demo account so users can test the service using virtual money before actually trading with their own funds. This is a great feature if you are weighing up 3Commas against one of their competitors.
Pros and cons
Pros
Copytrading for beginners. The feature allows users to follow an experienced trader. Consider it the halfway house between a bot and manual trading.
A demo account allows users to try out the platform. This means you can try out the platform before committing real money.
Use for free indefinitely. The free plan allows anyone to use the platform with many features available.
Beginner-friendly interface. Anyone can use it without any coding knowledge.
Cons
Plans are somewhat limiting. You are basically limited to one of each bot unless you take out the top Pro plan.
Paper trading is not available on the Free plan.
Alternatives
Coinrule: Beginner-friendly trading bot. Use established rules or make your own.
Mizar. Connects with a range of exchanges. Also offers copy trading and demo account.
Cryptohopper: Collection of bots suitable for beginners. Has curated rules with the option of creating your own.
TradeSanta: Provides templates for trading, just like Coinrule and Cryptohopper.
Is it worth it?
Yes, 3Commas is worth trying. It is a legitimate company with solid financial backers. With the beginner-friendly interface, copy trading, and demo account, it is ideal for anyone, especially new traders.