$125 bottle of champagne? I'll take that.
Many say the layout 'lacks privacy'. True, or just fussy?
Take a peek inside my favourite amenity kit ever.
If ever there were a trip that tested my cortisol levels, it was this one. Initial stress levels aside, this flight was blissful. I had only flown in first class once before, but this trip was certainly a huge step up from business class. Let's take a peek inside British Airways First Class on their Dreamliner from London to Beijing...
Check-in
Disclaimer: I started my trip in Dublin and attempted to check my bags through to my final destination, Sydney. Now, this is where things got interesting. I was told my bags couldn't be sent to Sydney without me collecting them in Beijing. Normally this isn't an issue, but it was today. The British Airways check-in staff member said: "There's an error code that won't let me give you your boarding pass for the Beijing to Sydney flight".
This didn't worry me. But then she said: "Do you have a visa for China?". Erm, visa? Apparently, without a boarding pass, you cannot get a transit visa in China, which you need to claim your luggage whilst checking in for your next flight. Long story short, I had to ask for a manager who then had to frantically call Qantas and British Airway's HQ to come up with a solution to this problem.
Be warned – if you book Qantas Rewards Seats with a stopover in China, you will need to collect your baggage and check-in again. Always ensure your layover is 2+ hours long as this is the second time it has happened to me. Trust me, you'll need the time!
Sometimes multi-stopover flights via China don't go as smoothly as planned. Be warned!

Sadly, I didn't have much time to enjoy this fantastic lounge. I've never been in a dedicated First Class lounge, and it did not disappoint. Think marble table-tops, crystal chandeliers and a baby grand piano. It feels less like a lounge and more like a 5-star hotel lobby.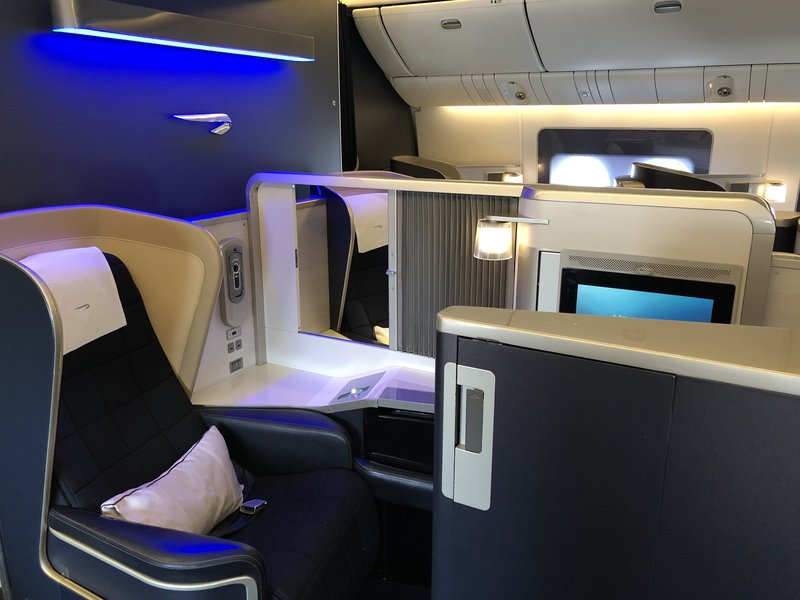 9h 45mins of quintessential British luxury, at 35,000ft.
The seat
I waltzed onto the plane ready for my second First Class experience – it did not disappoint. The staff knew me by name and there was an undeniable touch of British luxury to my welcome. I don't know about you, but the Brits really nail luxury service. Anyway, what's next? Champagne, of course. British Airways certainly don't skimp on the good stuff! I was offered a glass (after glass) of Laurent Perrier Grand Siecle – a $125 bottle of French bubbly. Très bien!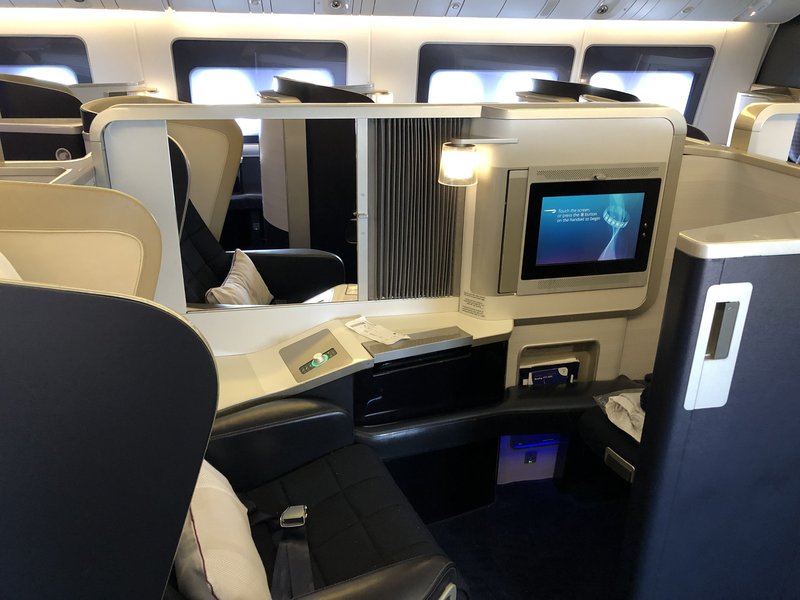 As you can see, the cabin is spacious with a 1-2-1 layout. Unlike Business Class in airlines like Singapore Airlines, there's a private partition between the two middle aisle seats. It's a great touch, but it's nowhere near as private (or luxurious) as Qatar's Qsuite experience. I don't mind not having a suite to myself, but if you're a seasoned first-class flyer this mightn't sit well with you.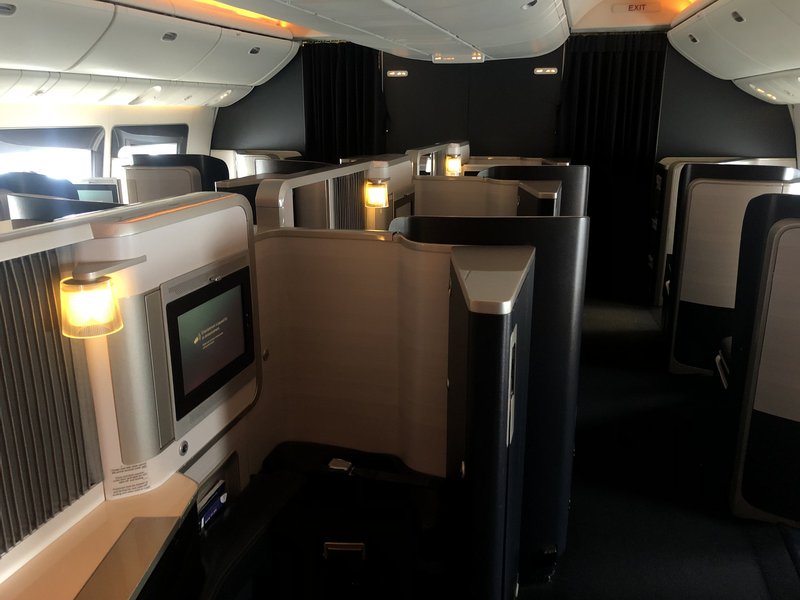 Words can't describe how much I loved being passed glass after glass of champagne. It's as if the steward preempted my thirst for the next glass before I even finished the one I was sipping. Also, the generous serving of roasted nuts went down a treat!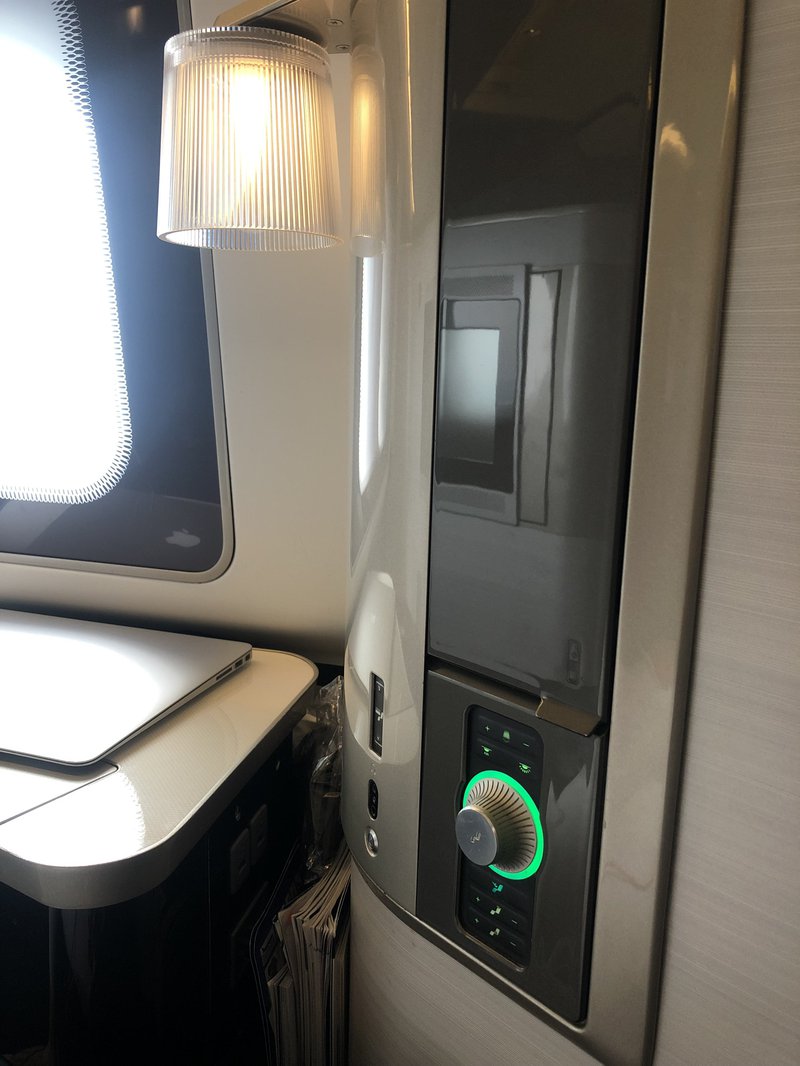 Without sounding like an OAP, I found the cool dial button a little confusing. On most airlines, seats in First or Business Classes are controlled using buttons. Onboard First Class in British Airways, you'll get this funky thing. It works fine, but sometimes got a little confusing. Especially after a few glasses of champagne.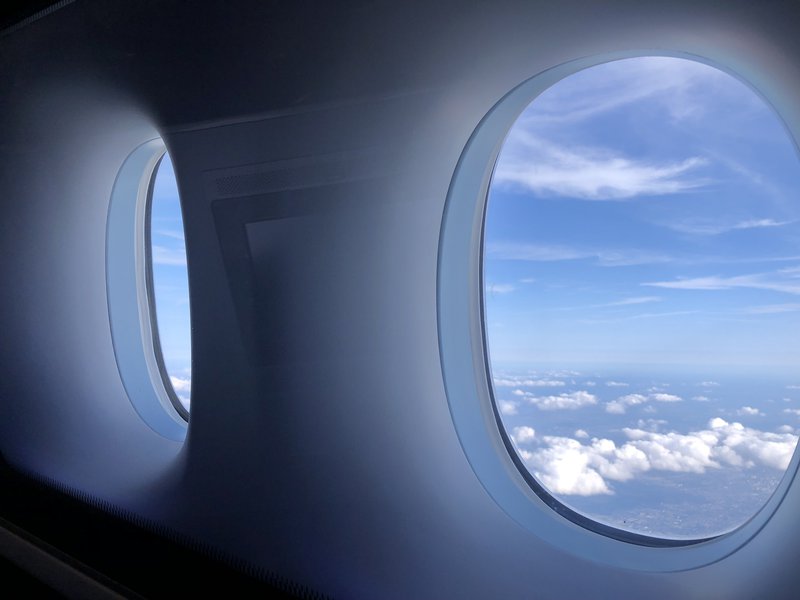 In-flight entertainment?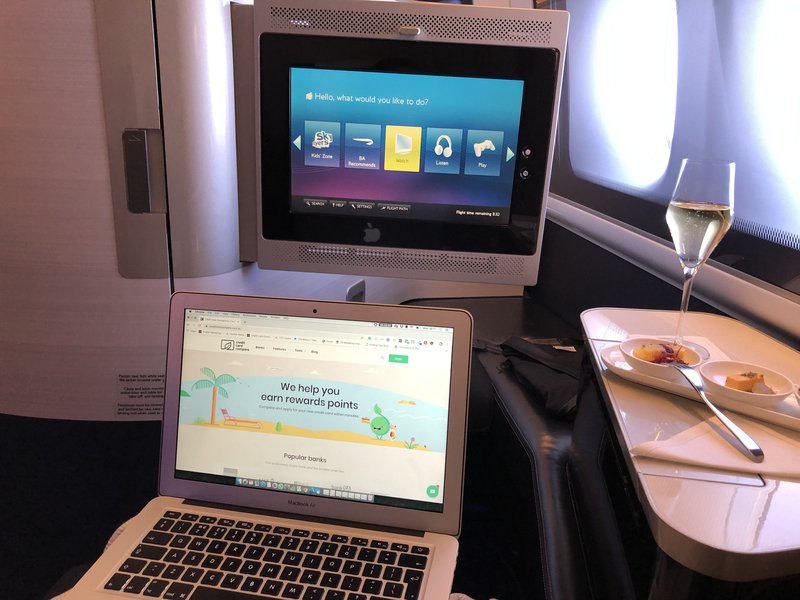 Given I work remotely, being able to access high-speed wifi for the whole of my long-haul flight was incredible. There's no better way to crank out some work than at 35,000ft with no distractions! Between my workload and 5-hour nap, I watched no TV. I mean, not one minute of a movie. Yep – for real. That in and of itself is a testament to how awesome the flight was! However, I still had a large HD screen loaded full of the latest movies. Next time...
P.s. Yes, like my laptop screen says, we help you earn points – so you can book flights like this!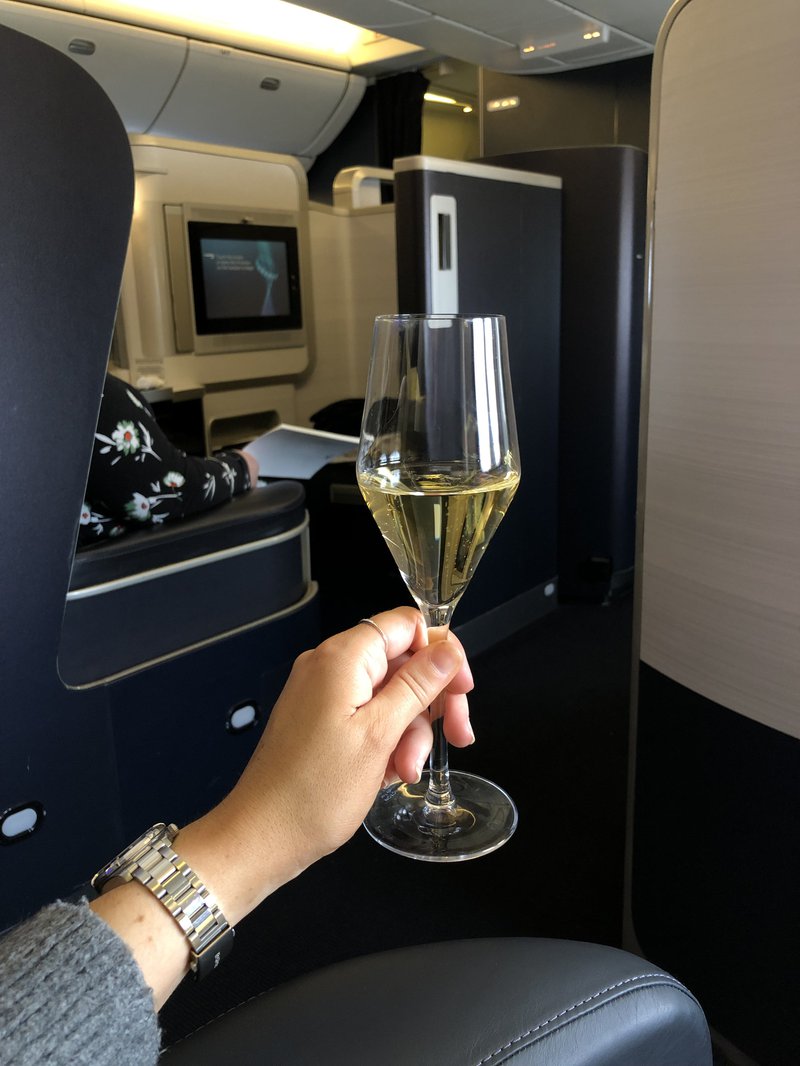 Food
As I expected, the typography and layout of the menu was as beautiful as the food. I'm a vegetarian, so I don't expect the bells and whistles of a restaurant standard meal. But honestly, this was my favourite culinary experience in the sky. And that says a lot! Plus, the drinks menu was fantastic.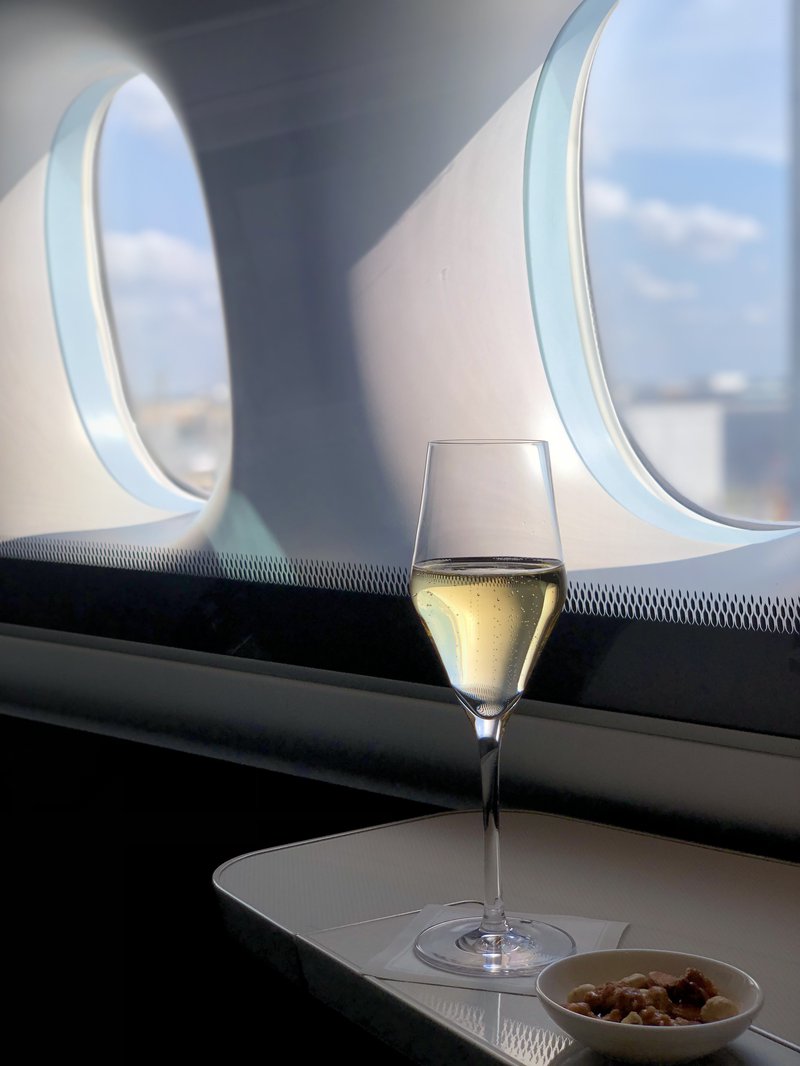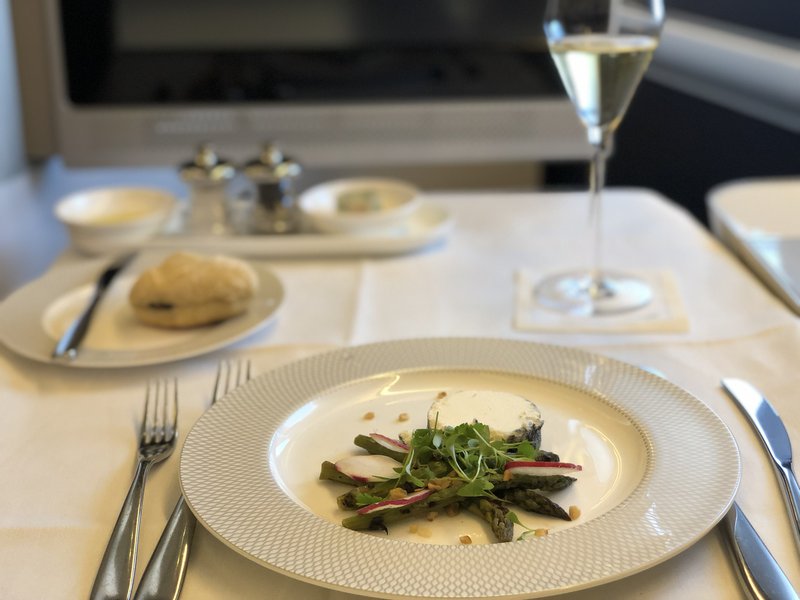 What a beautiful starter. If you read my last review, you'll know I'm a huge advocate for cheese (who isn't?). This starter was melt-in-your-mouth-delicious. It vanished in minutes! It was followed by an incredible Vegetable Ravioli with a Creamy Mushroom Sauce. I wolfed it down, so alas, there's no picture.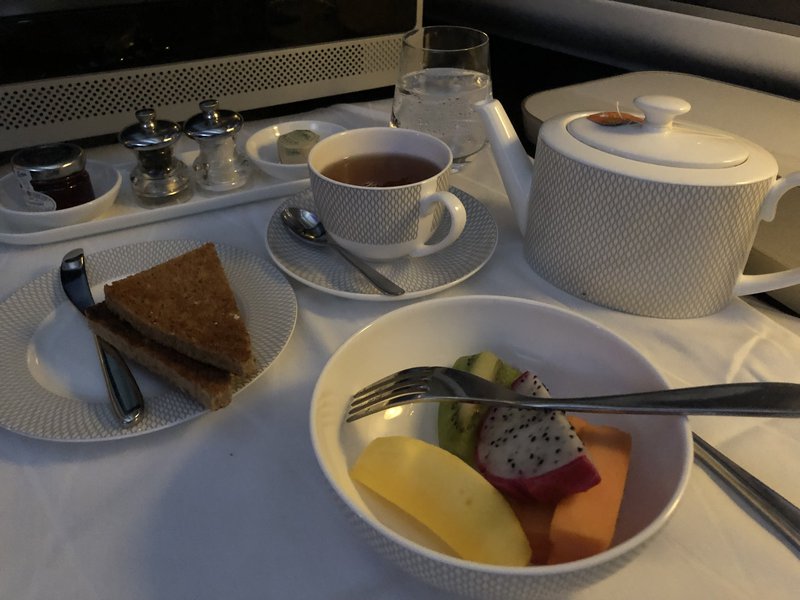 Amenity kit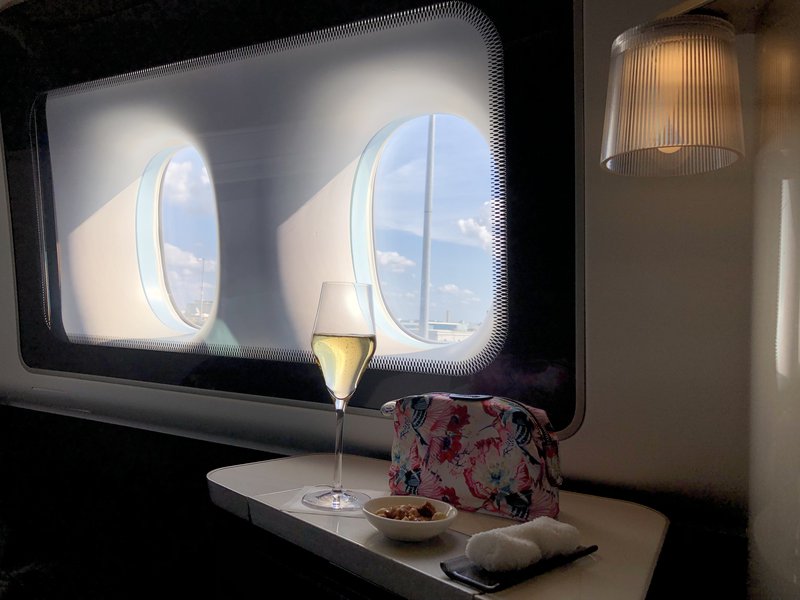 I'm a huge advocate for a great amenity kit. You never know when you'll need (another) eye mask or earplugs! But British Airways knocked it out of the park with this kit. Inside the beautiful Temperley London for British Airways bag lies lots of Elemis products. They feel lovely on the skin and their full-size counterparts cost an arm and a leg.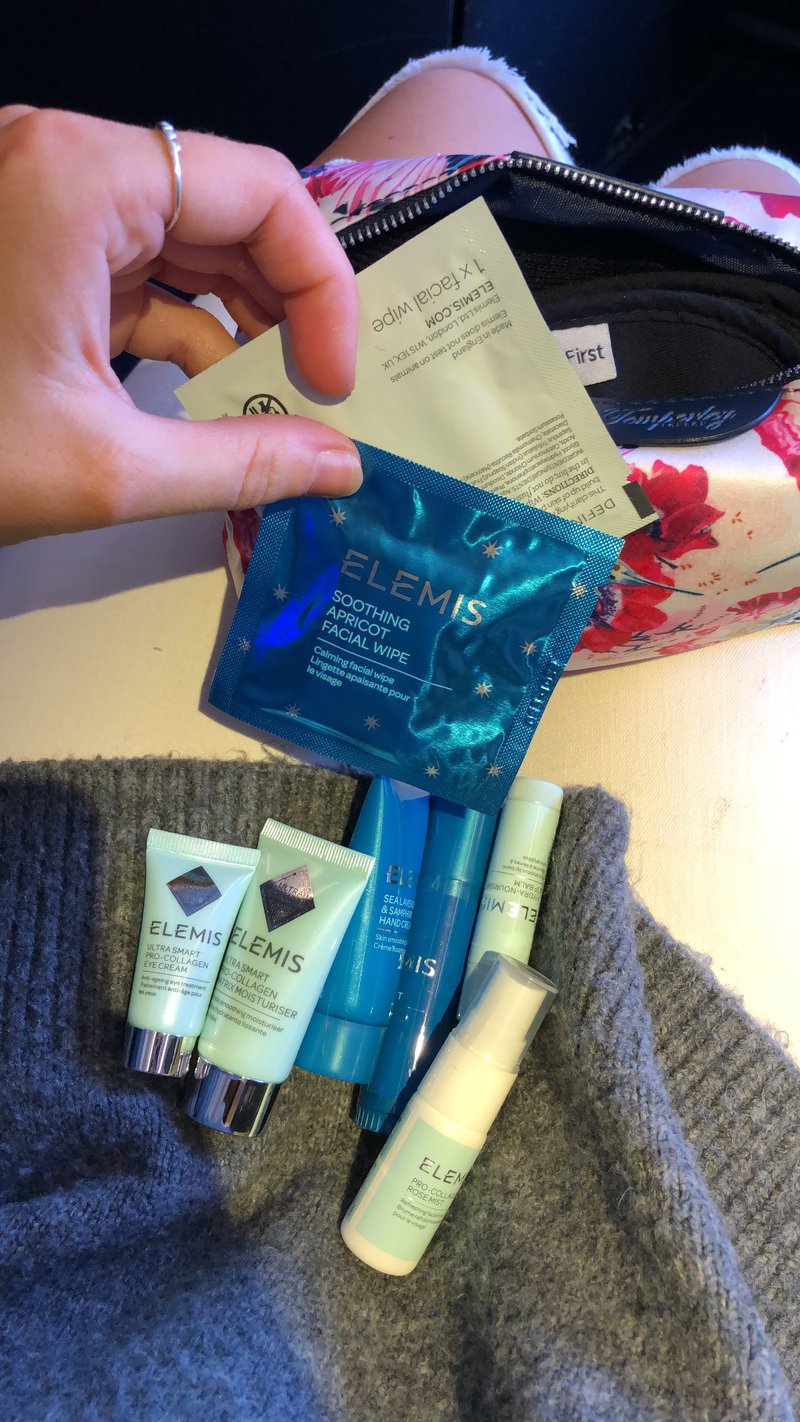 I should mention, each passenger receives a pair of Temperley London silk-trimmed pyjamas. I won't lie, I forgot to take a picture as I quickly pulled them on and now enjoy wearing them around my house.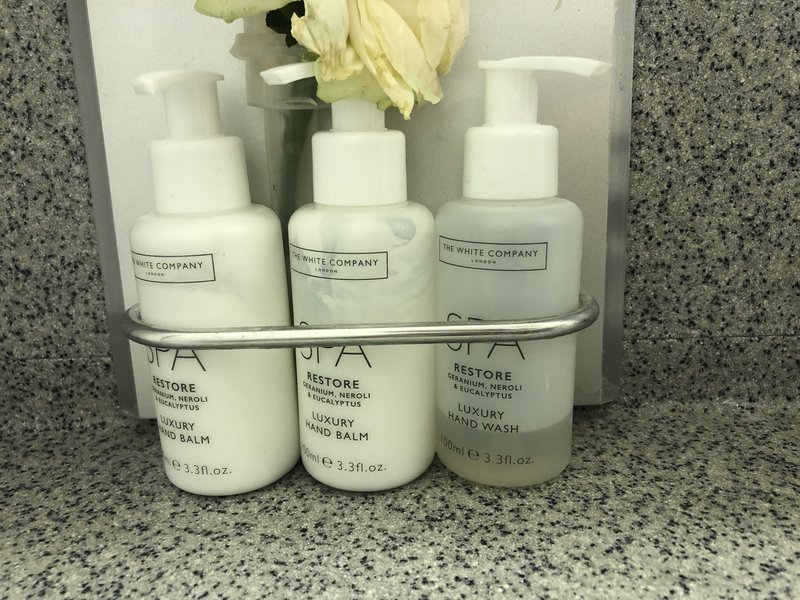 Things I loved
The service. Gosh, it was fantastic. I've flown with some wonderful airlines, but at the end of this flight, I genuinely wanted to stay on board. Back in the day I used to collect Avios and was a loyal British Airways customer, and this fantastic flight reminded me of why I did (and still) do love them so much.
Other than that, I loved the food and drinks served. The wifi was a fantastic touch that really helped me get ahead of my workload and would be wonderful for anyone travelling for business purposes or kids growing bored of the free entertainment. But for me, the main selling point was the feeling of luxury. I'd happily squirrel my points away and save them for another British Airways first class flight!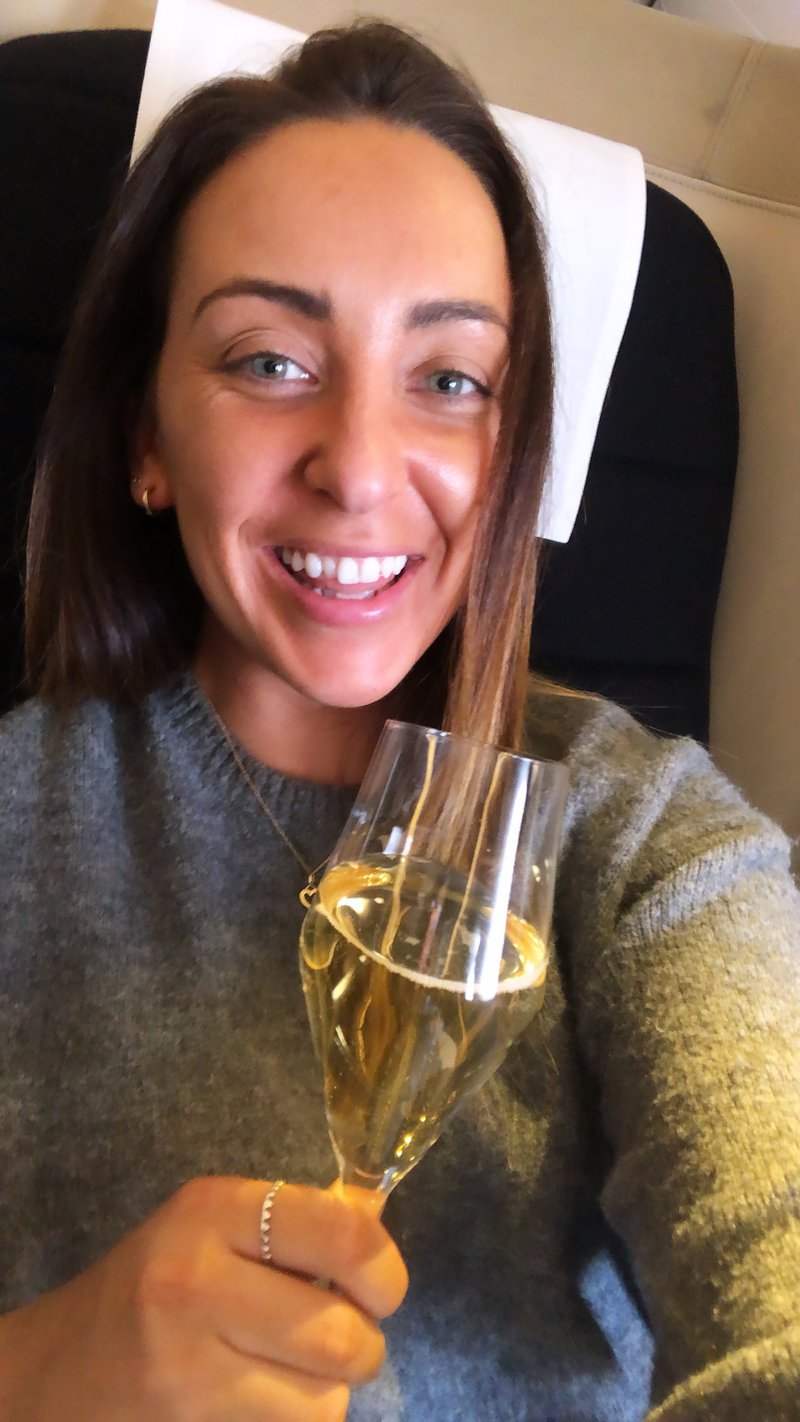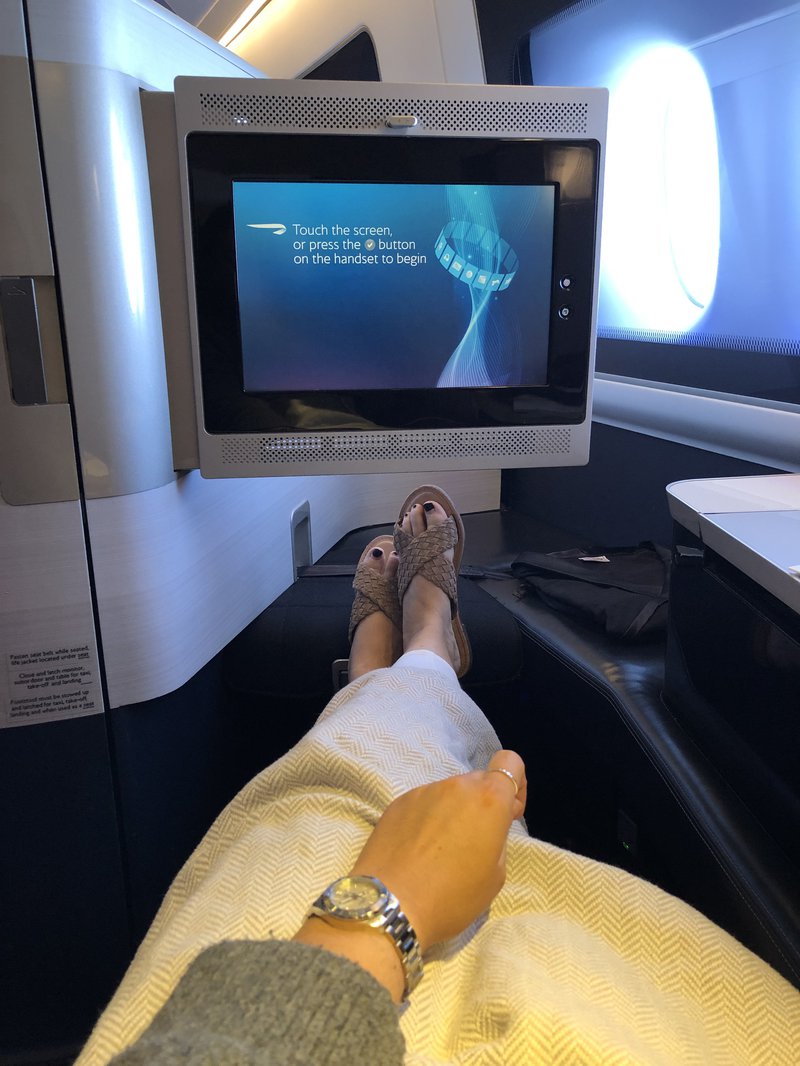 Things I didn't love
It isn't a dealbreaker for me, but I can see how this first-class cabin isn't as luxurious as Emirates or Singapore Airlines first class. I've not flown first on any of those 'big league' airlines, so I had nothing to compare my experience to. If you held a gun to my head and asked me to find another flaw (dramatic yes), it would be the toilets. While they were clean, they lacked space or the simple luxurious touches other airlines do so well.
But, like I said, neither of the above were (or are) dealbreakers for me.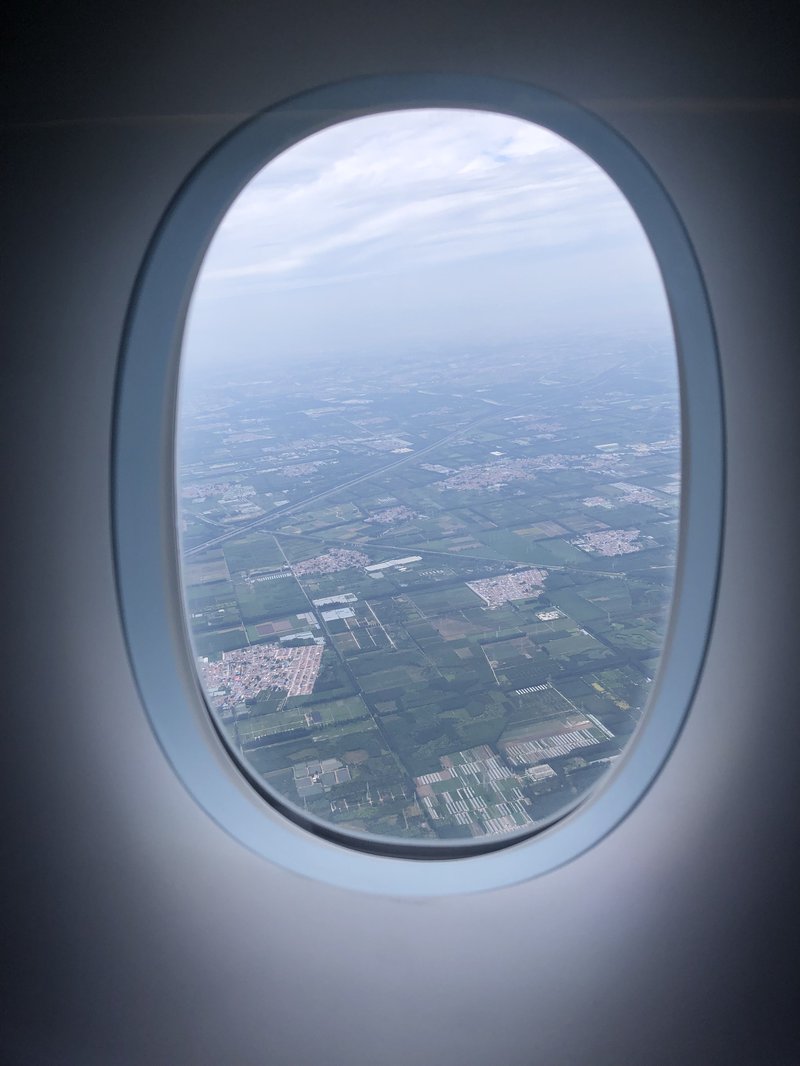 Overall experience
The check-in experience was stressful. I mean, I was nearly in tears. If you ever complete a Qantas Rewards Seats booking with multi-city stopovers in China and are told there's an issue, hold your ground and ask to speak to a senior member of staff. The likelihood of your situation being solved quickly is high, but if you don't ask you'll be left in a tricky situation, i.e. they may try to change your flights.
My golden rule of thumb: if Qantas let me book it (in one ticket), they should let me fly it.
Other than that, I had an amazing trip and can't praise British Airways First Class enough. Whether you have points to spend on a business trip, a long-haul holiday, or honeymoon, this would be a good points redemption.
Until next time BA.