Choose one of three portfolios and let experts devise your investment strategy.
No minimum investment, and no fees if your total portfolio balance is less than $100.
Low $2.50 monthly fee for total portfolio balances over $100.
Spaceship Voyager could be what you are looking for if you'd like to dabble in the stock market but don't know much about investment strategy and would prefer to leave it to the experts.
Getting involved in the stock market has become more and more popular in the last few years – but it can be expensive and risky.
This is why investment apps such as Spaceship Voyager exist. The app is specifically designed for newbies, to help them build up their investment portfolios and access the best advice for getting started.
But is it any good, and will you be an expert by the end of it? In this app review we examine the details and consider the pros and cons, so that you can decide if it's the right choice for you.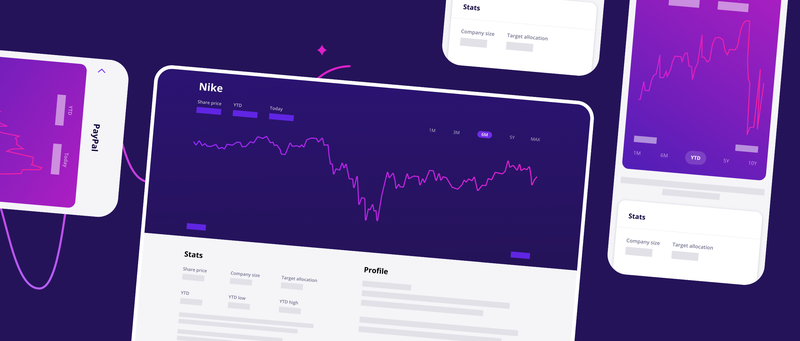 What is Spaceship Voyager?
Spaceship Voyager is an app specifically designed for non-expert individuals to create and grow an investment portfolio while receiving valuable advice.
An investment platform can be intimidating for anyone, but this one is quite straightforward, and the technology will act as your personal financial advisor.
Fortunately, you don't need to invest much to get started. You can deposit as little as $1 and choose between three managed funds to invest in stocks in Australia and around the world.
How Spaceship Voyager works
Spaceship Voyager takes all the complicated parts of creating an investment fund and simplifies them.
Download the app. It's free to download. Or set up your account online.
Sign up. This part isn't too difficult, you just need to pop your data into the form and away you go.
Choose a portfolio. You can choose between three separate portfolios, depending on how much risk you want to take and how much money you hope to make from the investments.
Pair up with your bank account/savings account. When you are ready to start, you just need to pair the app up with your bank account so that your investments can be funded. This makes transferring money quick and easy.
Available investment portfolios
Spaceship Voyager investment offers you the option of picking from three different types of portfolio to suit your needs. Which one is right for you will depend on whether you are looking for major global players who have been around for a long time, or want to invest in high-tech companies, or prefer ethical investments.
In fact, you don't have to choose one portfolio to the exclusion of the other two. You can invest in one, two, or all three portfolios.
Spaceship Origin Portfolio
The Spaceship Origin Portfolio is an index fund investing in listed Australian and global shares in amounts according to their market capitalisation. You will be investing in the top 100 Australian and top 100 international companies. Apple, Berkshire Hathaway, Alphabet and Amazon are among the companies that this portfolio invests in.
This portfolio will offer you the opportunity to invest in both the biggest companies in the world, and those local to Australia. Your fees will not be sky high and you can invest in comfort, knowing that the companies you invest in are on a much more stable path.
Spaceship Universe Portfolio
The Universe Portfolio offers a chance to invest in companies hand-picked by the Spaceship Voyager team. They all meet the app's 'Where the world is going' criteria, and include global public companies and large public companies in Australia.
Companies under this umbrella include Spotify, Microsoft and Tesla. The portfolio's past returns have been high, but as always there is no guarantee about future returns.
Spaceship Earth Portfolio
If you are looking to invest in companies that are kind to the planet as well as the sharemarket, then this may be the portfolio for you.
The Spaceship Earth Portfolio, the newest kid on the block, allows you to invest in 50 of the leading companies that are not linked to high levels of pollution, animal cruelty, nuclear power, weapons, gambling, tobacco or alcohol.
This means that you can invest while knowing that you are having a positive impact on the planet and ethically sourcing returns. In a world where we are all being more conscious about how ethical our actions are, this will suit a lot of new investors.
How much does it cost?
You won't need much money at all to start creating your Spaceship Voyager portfolio. In fact, you can deposit as little as $1 from the start, and add to it whenever you wish. You can also choose to set up regular weekly, fortnightly or monthly cash top-ups to your investment fund, which makes it a 'set and forget' investment if that's the way you want to play. But if you want to keep track of how your fund is performing you can check out your portfolio and the company profiles provided, with just a tap in the app.
For portfolios with a balance of less than $100, there are no fees payable at all – nothing for depositing funds, withdrawing funds, brokerage or exit fees. Zero, zip, zilch.
But in most cases your portfolio balance will be more than $100. When your balance reaches this stage, you'll be charged a flat monthly fee of $2.50 per account. This means that if you're investing in more than one of the three available portfolios (Origin, Universe, Earth) you will pay only one monthly fee, and no other fees for brokerage, depositing and withdrawing.
This flat fee replaces Spaceship Voyager's previous fees charged as a percentage of portfolio balances, and while the new fee structure is not so good for investors with low balances, it's beneficial for anyone with a healthy and growing portfolio.
For example, if you have $5,000 invested, the fee of $2.50 per month/$30 per year amounts to 0.6% of your balance. But if you have a balance of $10,000, the percentage declines to 0.3%.
These fees are a lot lower than many other investment apps in the industry.
Who is Spaceship Voyager designed for?
Investing with Spaceship Voyager is mostly aimed towards anyone new to the sharemarket. If you are an investor with little experience with using a trading account and no knowledge of investment strategy, then this may be the right app for you.
The app will advise you throughout the entire process, giving you the best chance to build a successful portfolio. It will talk you through currency risk, interest rate risk, liquidity risk and more.
Spaceship is just one of many apps you can use to streamline your finances and get started with investing. Check out our review of the top personal finance apps for Aussies here.
Pros and cons
Pros
Choice of portfolios so that you can select risk, performance history and company type invested in, to suit your preference.
Low fee structure. Zero for balances below $100, and $30 p.a. (charged at $2.50 per month) for accounts with a total balance of $100 or more.
No personal expertise required, since the companies you invest in are chosen by experts for each portfolio type.
Handy app that you can use on your phone and access anywhere.
Auto top-up option so that you can invest small amounts on a regular basis.
Regular content updates by the investment team.
No entry or exit fees, and you can begin with as little as $1.
Cons
Investment choice is restricted to three funds, rather than individual companies.
There is no guarantee of continuing high returns, so past performance is not necessarily an indicator of future growth.
Foreign currency risk. Portfolios include investment in overseas shares, and since Spaceship does not hedge against currency exposure (one of the reasons why its fees are so low), your portfolio value could be impacted by currency fluctuations (both negatively and positively).
Foreign country risks, since your portfolio includes investment in foreign countries which may become financially or politically unsettled.
Alternatives to Spaceship Voyager
There are many investment apps competing for your business, and Spaceship Voyager may or may not be the best one for you. Consider these alternatives before you make your final decision:
Stake. Allows you to invest in US stocks you select yourself. Trades do not incur brokerage fees, but other fees apply.
Superhero. Trade in over 2,500 ASX-listed products for a flat $5 fee, starting with an investment as low as $100.
SelfWealth. Invest in companies on the ASX, NASDAQ and NYSE, for a flat fee of $9.50 per trade.
Pearler. Online trading platform for long-term investors. It includes automated investment top-ups and assists with investment goal-setting. Transaction fees start at $9.50.
Stockspot. Similar to Spaceship in that you choose a portfolio to invest in (in this case according to your selected risk level) and investment is automated. Invests in ETFs (Exchange Traded Funds) only, with monthly fees starting at $5.50.
CMC Markets. Trade commission-free in US, UK and Canadian stocks. Low $11 or 0.1% fee for Australian trades, declining the more trades you make in a month. High fees for trades in other countries.
Comparisons
See how Spaceship Voyager compares against other micro investment apps.
Disclaimer: We put our customer's needs first. The views expressed in this article are those of the writer's alone and do not constitute financial advice. Advertisers cannot influence editorial content. However, Finty and/or the writer may have a financial interest in the companies mentioned. Finty is committed to providing factual, honest, and accurate information that is compliant with governing laws and regulations. Do your own due diligence and seek professional advice before deciding to invest in one of the products mentioned. For more information, see Finty's editorial guidelines and terms and conditions.