Buy and sell over 2,500 ASX-listed equities for a flat $5 fee, and buy ETFs for $0
Trade US shares and ETFs for $0 brokerage fees.
Start investing with as little as $100 – great for beginners.
New feature: Invest your superannuation your way, in your choice of Aussie shares and ETFs without needing to setup a SMSF.
Superhero is a share trading platform with a couple of very attractive features plus little extra twist. Customers can trade stocks and shares on the ASX and Wall Street plus you can opt to control your Superannuation directly without needing to set up an expensive SMSF.

On website
Superhero
Tradable Assets
ETFs, Shares
Tradable Indices
ASX, NASDAQ, NYSE
Signup Bonus
Sign up & fund your account with A$100 or more and receive US$10 of Tesla stocks on Superhero. T&Cs apply.
Highlights
Open an account with just $100 and start investing today with a $5 flat-free brokerage ($0 on US shares) on share trades.
Buy and sell US shares & ETFs with $0 brokerage plus trade unsettled funds.
Fund your account in minutes with PayID and enjoy realtime FX transfers for fast US share trading.
Superhero is one of the newest fintech brokers to be introduced to the Australian investment market in late 2020 charging zero brokerage to buy exchange-traded funds (ETFs) and a minimal $100 for all ASX stocks, the Superhero app is one of the cheapest brokerage platforms available today with some premium features available to all users.
Find out how Superhero stacks up against the competition, if it's safe, and how you can quickly become a user.
What is Superhero?
Superhero provides all the tools you need to make share investments and put your money to work for you – now including your superannuation funds. You can start by investing as little as $100, and there's a dashboard that allows you to access your portfolio at the touch of a button. Their policy? Your money, your move.
Other handy tools include a share trading wallet to keep tabs on your cash flow and a handy reports feature, which promises to help traders track their performance like a pro. All of this is possible via the share trading app.
In a nutshell, it's accessible, easy to understand, affordable and secure, which makes it an ideal option for those looking for a no-nonsense share brokerage product.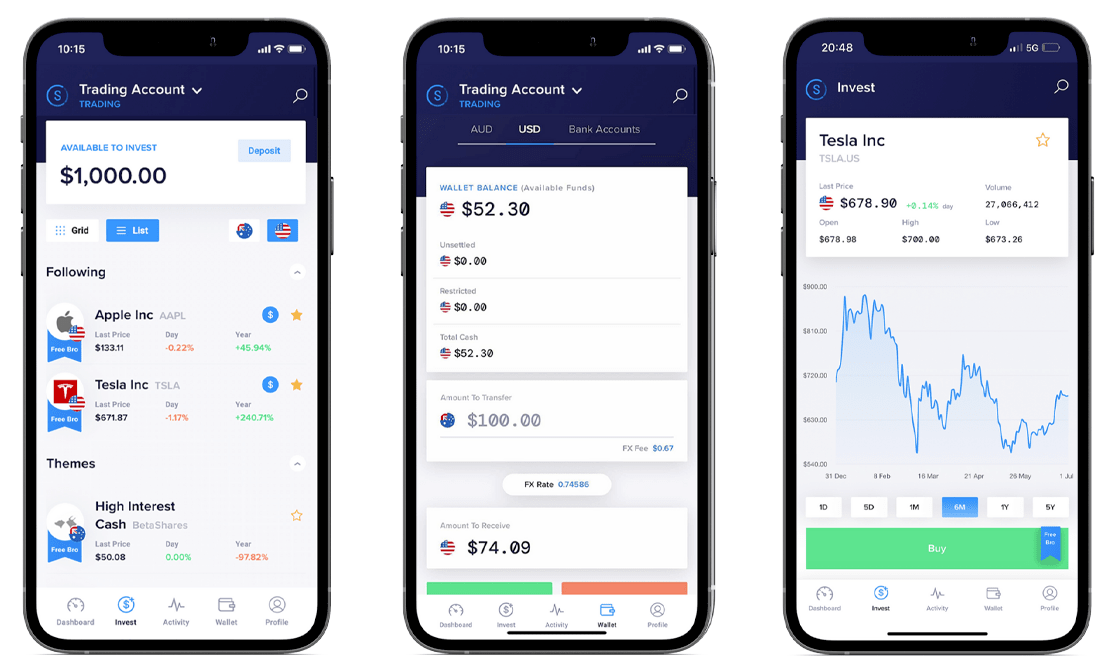 Who is Superhero designed for?
Superhero is becoming popular with a new generation of young traders, keen to take advantage of super-cheap online brokerage costs and invest in the sharemarket at a time when bank interest offers such a small return.
Superhero's goal is "to make investing accessible and understandable for everyone" – no matter if you're a first-time investor or a seasoned trader.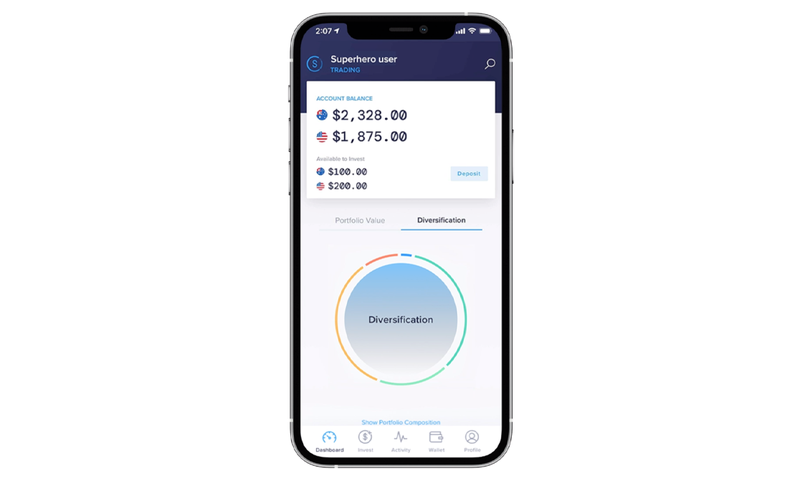 How does Superhero work?
One of the major features offered by Superhero is the power to trade over 2,500 ASX-listed products in amounts less than the standard broker's limit of $500 per trade. The only other broker on the market to offer a similar feature is Commsec Pocket, and its low-value trading account is limited to seven ETFs.
Superhero, on the other hand, invites investors to trade on any ASX-listed stock and trade US stocks listed on the NASDAQ and NYSE.
Users can easily keep tabs on their cash flow and shares using the Superhero Wallet, whilst the two-factor authentication and high-level encryption make this an extremely secure brokerage platform.
Free broking account, loaded with premium features
Unlike many of its competitors, Superhero does not offer a basic free account and a fee-paying premium account. Instead, it makes its premium features available to all users.
These are the many features you'll be able to access:
$5 flat brokerage fee for low cost trading of ASX equities.
Free brokerage to buy ETFs in Australia.
$0 brokerage fees on US share trading making it easy to buy, hold or sell Tesla, Apple and Amazon etc.
Follow the market by keeping tabs on your stocks.
Real-time access to market data, including live pricing and news.
Advanced ordering, including both market orders and set price limit orders, including stop loss orders.
Comprehensive reporting of your portfolio performance, tax obligations, dividends, franking credits.
Zero account-keeping fees, so you only pay for trades.
What is Superhero Superannuation?
Superhero offer two types of super accounts which let you control your own super funds without having to set up your own SMSF – which is expensive and complicated with a lot of regulatory compliance.
Superhero Autopilot - Invest up to 30% of your super thematically – in broad buckets across US Tech Giants, Health, Sustainability and Climate Change – with automatic contribution allocation. Superhero will handle insurance, reporting and admin. Life & TPD insurance included. Costs $1 per week + 0.49% per year of the amount invested.
Superhero Control - Invest up to 75% of your super into ASX300 shares and ETFs that you pick with the remaining 25% of your super invested in their diversified portfolio. No SMSF required. They handle insurance, reporting and admin. Life & TPD insurance included. Costs $2 per week + 0.49% per year of the amount invested.
How much does Superhero cost?
Superhero offers a flat fee of $5 per trade on the Australian Securities Exchange (ASX), with $0 brokerage to buy ETFs. This fee stays the same, whether you make 1 or 100 trades monthly. It's also the same whether the amount of your trade is $100 or $10,000. Compare this with traditional online brokers who charge around $20 per trade for lower-value orders, rising to as much as $50 or more for large trades.
Other costs include a $1 fee to BPAY into your account, but PayID transfers are free.
For trades of US equities ASX-listed on the NASDAQ and NYSE the brokerage fee is $0 – free.
What can you trade with a Superhero account?
With a broad selection of options to select from, users can afford to invest in what they're interested in. Trade choices include:
Over 2,500 ASX listed shares in Australia
ASX-listed ETFs
Companies listed on the NASDAQ and NYSE.
Listed property shares in Australia
Listed investment companies (LICs)
ETFs (invest in ETFs to get broad exposure to market sectors, industries, and a range of investment themes)
How do I sign up?
Getting an account with Superhero is quick and easy. First, you'll need to visit their website. Once you've completed the registration process by providing ID and contact details, your Superhero bank account can be funded instantly using a PayID bank transfer.
Users can then select the ETFs or shares they want to invest in. Signing up takes less than five minutes. Conventional trading apps onboarding processes can take far longer to complete.
Still undecided about Superhero? See how they stack up against other share trading platforms in Australia with our share trading comparison page.
Pros and cons
Pros
Low-fee ASX trading. Flat $5 fee no matter the size of the trade or how many trades you make, with $0 brokerage to buy ETFs.
$0 fee US trading. Zero brokerage fee to buy and sell U.S. listed shares and ETFs.
Buy US fractional shares. Useful if you want to buy expensive stocks such as AMZN which trades for north of $3,000.
Live market data.
Low minimum investment. As little US$10 for US stocks and A$100 for Aussie shares
Simple registration process. It takes only a few minutes to supply details like your phone number, email, name, date of birth and residential address, create a password and confirm your identity.
Trade with unsettled funds after you sell which is essential when you start making more trades every day or week. If you sell out of a position you don't need to wait for funds to clear before reusing those funds.
Easy-to-use platform. Sleek and hassle-free, suitable for beginner investors, and still accessible for pros to use.
No fees to deposit funds to your account if you use PayID. In fact, there are no express funding fees.
70bps FX transfer fee is among the cheapest.
Realtime FX transfers for US share trading mean no lag time in funding to start trading.
Secure. Superhero uses two-factor authentication and the same level of encryption that banks use. Funds in your Superhero wallet are held in a NAB cash management account.
Take back control of your Super funds without needing to set up a complex SMSF.
Multiple sign-up options. Aside from a personal capacity, you can now signup as a company, trust, and SMSF.
Cons
Charting is basic. Market data is live but with a simple line chart.
No Buy or Sell ratings, price targets, or stock analysis to guide your trading decisions beyond the basic charting.
No in-depth company financial data. Again you'll need to get that level of data outside the platform.
Can't buy fractional shares of ASX-listed companies. You must buy at least 1 share in any ASX-listed security or ETF in Australia.
$5 fee to sell your ASX-listed ETFs.
$1 fee for using BPAY to transfer funds into your Superhero Wallet.
Your investments are held in a joint custodian account ('omnibus' account) so you don't have your own HIN (Holder Identification Number) with CHESS (Clearing House Electronic Subregister System).
Alternatives to Superhero
You won't be surprised to hear that Superhero is not the only new kid on this particular block, so before you make your decision you may want to check out the competition, including:
Comparisons
Side-by-side comparisons to directly compare Superhero with other trading platforms.
Disclaimer: We put our customer's needs first. The views expressed in this article are those of the writer alone and do not constitute financial advice. Advertisers cannot influence editorial content. However, Finty Australia and/or the writer may have a financial interest in the companies mentioned, direct shares or an ETF. Finty Australia is committed to providing factual, honest, and accurate information that is compliant with governing laws and regulations. However, do your own due diligence and seek professional advice before deciding to invest in one of the products mentioned. For more information, see Finty Australia'seditorial guidelines andterms and conditions.