Join Stake to get a free share worth up to $150 USD.
Trade US stocks, shares and ETFs listed on the NASDAQ and Dow exchanges with no commission.
Trade ASX-listed stocks at a very low flat fee per trade.
Buy fractional shares, so you can build your position in stocks like Apple and Amazon over time.
Accessing the US sharemarket from outside the US can be fairly challenging, and so investments could be difficult to make. Fortunately, with trading apps such as Stake populating the app stores, trading and selling shares within US markets has never been easier.
But since you can also trade ASX-listed shares via Stake, you only need one platform to access both markets and pay the lowest available brokerage fees for both US stocks and CHESS-sponsored Australian trades.
With so many trading apps currently available, it can be problematic to know which one best suits your needs. Some charge zero trading or brokerage fees, while others charge for both trading and bank transfers, making it tough to make a decision. But one app that is currently extremely popular is the Stake investment app.
So, how does Stake hold up against its competitors and what can it offer you that other apps cannot?

Stake
Highlights
Get $10 when you fund Stake AUS or a FREE US stock when you fund Stake Wall Street. Do both, get both rewards.
Make trades in seconds on over 8,000 ASX and US stocks and ETFs.
Clear, simple, and better pricing with no hidden fees.
The company behind Stake
Stake is operated by Stakeshop Pty Ltd (ABN 99 610 105 505 / ACN 610 105 505), a representative of financial services company Sanlam Private Wealth Pty Ltd. and Airwallex Pty Ltd.
Since 2017, when it first launched in Australia, Stake has become one of the largest stock trading applications providing non-US users access to United States sharemarkets. It has opened up its services to other countries, including New Zealand, the UK, and Brazil.
Stake aims to bring innovative technology to the world of brokerage applications and seem to be doing fairly well in its journey to achieve this.
Is Stake legit?
In Australia, Stake is regulated by the Australian Securities and Investment Commission (ASIC). Its US brokerage partner, Drive Wealth, is regulated by FINRA (Financial Industry Regulatory Authority) and is a member of the SIPC (Securities Investor Protection Corporation).
I have been trading with their app for years without any issues (and there are thousands like me).
Getting started
The Stake app is a share trading platform that gives Australians, and other users outside the US, access to US sharemarkets without the need for a United States trading account.
With over 3,500 different stocks and Exchange Traded Funds (ETFs) available to trade, Stake account users are given everything they need to make investments in shares they have selected.
At the same time, you can also trade Australian shares and ETFs while paying truly low brokerage fees, regardless of the size of your order.
Users of the Stake app are given a choice of two different membership tiers. One is a free plan, and the other is a premium tier known as Stake Black. Your choice of membership is usually determined by your experience within the world of equity trading.
Double check what sign up bonuses are on offer before using a referral code. At one point Stake were offering USD $70 of Airbnb stock while various bloggers and publications were simultaneously promoting their standard sign up bonus — a share in GoPro, Dropbox, or Nike — two of which were valued significantly lower than Airbnb at the time of writing.
How Stake works
Stake works in the same way as the majority of other trading applications. It provides users with access to a large number of different stocks and shares, giving you the ability to invest in companies of your choice.
If you are familiar with stock trading, then you will instantly be at home with the Stake trading application. But if you're a newcomer to this form of investment, the app has a detailed Support section to answer your questions and get you started.
The Stake app can be used either through a mobile device, or on any device that can access the internet. All users must be over the age of 18, which is par for the course when it comes to stock trading.
Unlike other trading applications, however, non-American users are given access to American stocks, without the need for a United States trading account. So whether you are based in Australia or another country where Stake operates, you have access to a wide range of shares and ETFs.
The first step is to open up an account, which only takes a few minutes thanks to a straightforward registration process. However, since the application is restricted to users over the age of 18, you will need ID to prove your age. Make sure you have your ID at hand to speed up the sign-up process.
Funding your account
So how do you pay for the stocks that you buy on Stake?
You will need to fund your account via the Wallet icon, selecting 'Deposit' and using either a bank transfer (direct Bank transfer or BPAY) to fund your AUD trading account, or Online Banking POLi. This can take a matter of minutes to process if your bank is with the New Payments Platform (NPP) or 1-2 business days otherwise.
Extra processing time will be required if you need to convert AUD to USD for a USD trade, but you can speed things up for a fee. You can opt to fund your account using the Express method on Bank Transfers and POLi to have your funds cleared during the next US trading day. It costs an extra 0.5% of your funding amount.
There's no FX fee on trades. Stake charge a 70bps of the transfer value only when you deposit money into your account and when you withdraw $2 or more.
The user interface is extremely easy to use and not intimidating for new traders.
Once all of this is taken care of, you are free to invest and trade in any stock you want.
Currently, you cannot use your credit card to fund your account.
Designed mainly for Australians, but...
Stake has also launched in the UK, New Zealand and Brazil, giving access to a US trading platform to residents of those countries too. However, Stake itself is based and regulated in Australia and is thus predominantly designed for Australian users.
There are close to 2,500 company shares and ETFs available to trade on the ASX, but US stock markets dominate the global equities scene, with NYSE and NASDAQ occupying first and second rankings in market value, having a combined value well in excess of the total of the next eight. Stake offers access to over 6,000 US shares and ETF's. Anyone interested in the US stock market, but struggling to access it from another country, will find the Stake app suited to them.
How much does it cost?
The big bonus of the Stake app is that you can trade within the US market, commission-free. Unlike a lot of its competitors, Stake doesn't charge fees when you make a US trade using their app. This is ideal for small-time investors and anyone looking for fee-free stock access. Stake also has no account-keeping or custody fees.
Although trading Australian stocks and ETFs is not commission-free, Stake charges the lowest fee in Australia for CHESS-sponsored ASX trades, at just $3 – a low flat fee no matter how large or small your order is.
Although the main app itself is free to use, you can opt into a USD $9 per month Stake Black plan to access the premier tier benefits, which include instant access to sales proceeds and stock analysis from experts. Pay a year's subscription and get a discounted rate of USD $90 (USD $7.50 per month).
There is a slight catch for USD trading accounts, however. Since Stake you will need to fund your account in US dollars, you will need to transfer any US dollars you have into your Stake account, or convert Aussie dollars into US dollars. Stake currently has a 0.7% fee to convert other currencies into US dollars, with a minimum conversion fee of USD $2. Stake's competitors also charge currency conversion fees, often higher than Stake's. Besides subscriptions for Stake Black, currency exchange is how they primarily generate revenue.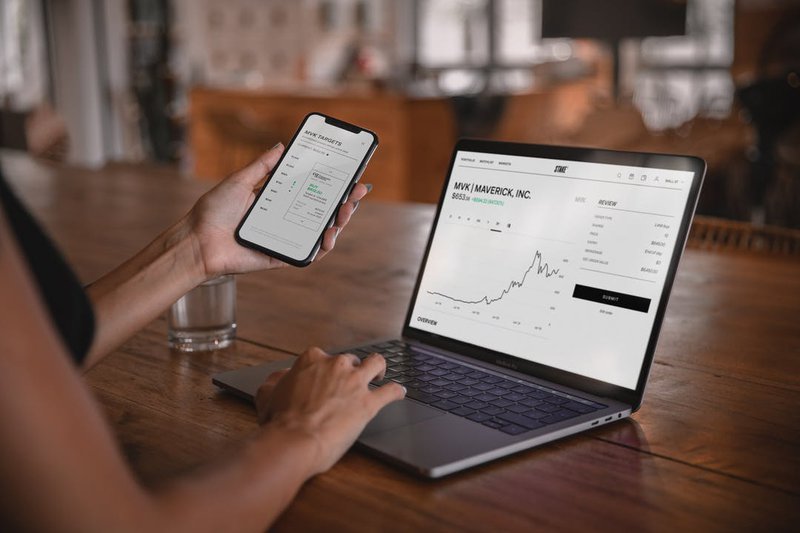 Pros and cons
Pros
Gives Aussies access to US shares markets without the need for a US trading account. This is ideal for residents outside of the US who want to trade in US shares.
The easy-to-use interface + charts is suited to investors of different experience levels. So, whether you are familiar with share trading or not, you will quickly get used to using this app.
Zero commission for US trades. This means you don't have to consider additional charges when making trades through Stake.
Lowest available flat-fee brokerage for Australian trades. Your investment is CHESS-sponsored, meaning that they are allocated to your Holder Identification Number (HIN) and you own them directly.
Streamlined US tax compliance. Stake sign-up includes automatic submission of the US tax form required to avoid paying a higher rate of US tax on trading profits. A fee of USD $5 is payable for this service.
Trade in fractional shares. You don't need to buy a whole share of expensive stocks like Amazon or Google. Stake lets you buy a fraction of a share.
Free Nike, Dropbox or GoPro stock just for signing up. Stake offers new users free stock just for signing up.
Accessible via both website and mobile app. This gives you the ability to trade on the go or from the comfort of your own home.
Cons
Currency conversion fee. You will be charged a 0.7% fee when converting AUD into USD for depositing into your Stake trading account.
Slow settlement of funds. If you don't have the Stake Black account then you need to wait about 2 days for your funds to settle when you sell out of a position. Frustrating if you want to trade more quickly.
Simple charts and limited data. The UI is actually very nice but lack sophistication of other platforms. Data only goes back 3 years.
Many small caps unavailable to trade. There are many exciting, fast-growing small cap stocks on the NASDAQ or NYSE which are not available to buy and sell on Stake. You'll have to request stocks be added but even then there's no guarantee that they will be added.
Provides access to Australian and US sharemarkets only. If you are looking for an application that provides access to other global shares you will need to look elsewhere.
No margin lending. Probably not a bad idea given that Stake is not aimed at experienced investors.
Customer Service may be limited. Both Trustpilot and ProductReview.com.au have comments about poor customer service at Stake.
Stake referral code

Stake
Highlights
Get $10 when you fund Stake AUS or a FREE US stock when you fund Stake Wall Street. Do both, get both rewards.
Make trades in seconds on over 8,000 ASX and US stocks and ETFs.
Clear, simple, and better pricing with no hidden fees.
Alternatives to Stake
Although Stake is extremely useful, there are some other stock trading platforms you may want to consider as an alternative to Stake.
eToro. One such alternative is the world famous eToro, which calls itself a social trading platform. Established in 2007, eToro gives access to a variety of global markets to countries such as the US and the UK. As it is a social trading app, it allows users to discuss their investments and work together to invest in shares they believe will pay off. eToro also offers zero commission fees, which is a bonus.
SelfWealth. The closest alternative in terms of their offering is, an award winning Australian broker which now offers access to US markets (as well as shares listed on the ASX). However, unlike Stake, SelfWealth charges $9.50 per trade. Their fee is flat though, regardless of the size of the trade. While Stake does not charge a commission, they do charge a currency conversion fee when depositing USD into your account.
Superhero. More recently, Superhero has emerged as a commission-free means of investing in US stocks, plus a slightly higher fee than Stake for Australian share trades, with a lot of premium features for no extra costs.
Raiz. And lastly, for investors who want a much more hands-off approach to investing, there is Raiz. This app automatically rounds up spare change and invests your money in various stocks, shares, bonds and ETF's on your behalf, meaning you will be invested in the US companies you could buy shares in with Stake. However, unlike Stake, there is no way to buy and sell specific shares.
Comparisons
See how Stake compares to other online brokers.
Disclaimer: We put our customer's needs first. The views expressed in this article are those of the writer alone and do not constitute financial advice. Advertisers cannot influence editorial content. However, Finty Australia and/or the writer may have a financial interest in the companies mentioned, direct shares or an ETF. Finty Australia is committed to providing factual, honest, and accurate information that is compliant with governing laws and regulations. However, do your own due diligence and seek professional advice before deciding to invest in one of the products mentioned. For more information, see Finty Australia's editorial guidelines and terms and conditions.