Raiz invests the spare change from your card purchases.
Option to top up your investment account with scheduled amounts or one-off lump sums.
Take the hands-off approach and let Raiz do all the picking of stocks, ETF's and bonds.
Bank savings accounts are a chronically slow way to grow an investment right now, thanks to the historically low base interest rate set by the RBA.
But there is a solution for everyday investors looking to maximise their returns, without having any detailed knowledge about financial markets. It's the micro-investing service, Raiz.
When the Raiz app – previously known as Acorns – debuted in Australia, I joined the waitlist right away and began using it as soon as I could. This review is based on my own experience as a heavy user of Raiz over the course of four years.
Who is Raiz designed for?
No funds? No investment knowledge? No problem.
Raiz is aimed fair and square at beginner and aspiring investors who probably don't have a lump sum to invest, but are happy to play the share market with their spare change. It's most popular with millennials and people who have not previously invested actively in the stock market.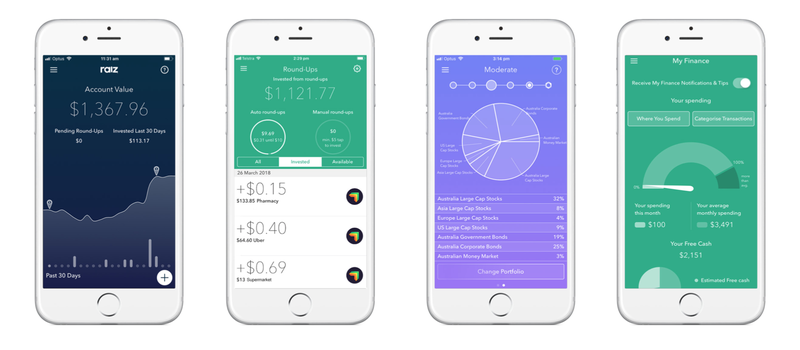 How Raiz works
If you have ever signed up for any kind of service using an app, then setting up Raiz will feel instantly familiar.
Just follow these steps:
Download the app. Raiz is available for iOS and Android.
Create your account. At this stage, all that's needed is your email address and a password.
Set up your funding account. This is the bank account you're going to use for any deposits to, and withdrawals from, your Raiz account. The round-up amounts are calculated based on your card spending (see step 4 below) but are withdrawn from your bank account, not the card account. (Raiz say they use bank-level security and encryption, and no information is stored on your phone.)
Set up your round-up spending sources. This could be a single credit card (including Amex cards) or debit card, or as many cards as you want to link.
Select your investment mix. Choose one of seven available investment portfolios, depending on how much risk you want to take. The portfolios are Conservative (least risky), Moderately Conservative, Moderate, Moderately Aggressive, Aggressive (most risky), Emerald (socially responsible) and Sapphire (5% of funds invested in Bitcoin). You can change your portfolio whenever you like, without incurring a fee.
Looking for more great apps like Raiz to manage your finances? Check out our roundup here.
Round-ups are the killer feature
Raiz remains the only round-up app in Australia that isn't simply siphoning your spare change into a bank account (such as a savings account, mortgage offset account or credit card account).
So how effective is Raiz at turning your spare change into investment?
Very effective.
Raiz rounds ups as little as $0.01 on a $0.99 purchase, up to as much as $1.00 from a flat $10 purchase. So, if you make four transactions per day, rounding up an average of 50 cents each time, that will work out to $730 per year! And the best bit – you won't even notice it.
You can choose to invest additional amounts
You can also set up recurring amounts to be deposited from your bank account into your Raiz investment account. Plus, if you feel like tipping in an extra $10 or $20, you can make direct investments at any time, up to any amount.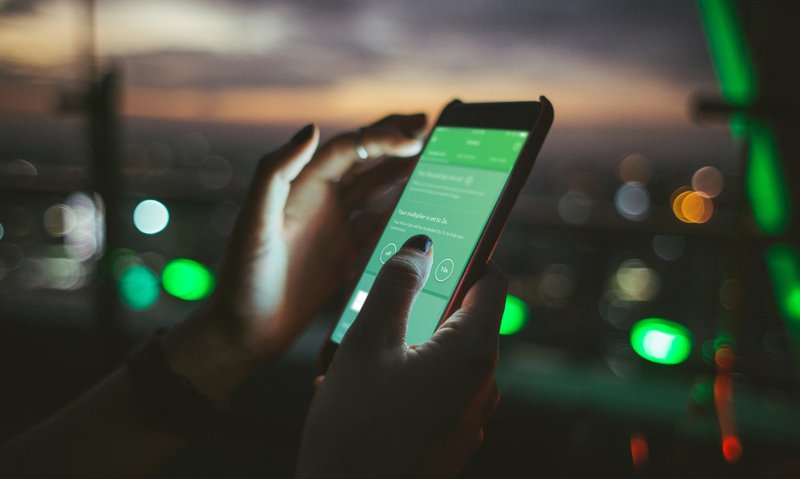 More about the investment strategy
The central purpose of Raiz is to automatically collect your spare change as you spend using your debit card or credit card, then invest it into a diversified portfolio of Exchange Traded Funds, or ETFs.
An ETF is a combination of shares or government bonds, bundled together to create a single financial product which can be bought or sold in units on a stock exchange. Your money will be pooled with that of other Raiz investors to purchase units in various ETFs, selected in a proportion allocated by Raiz depending on the risk base of the investment portfolio you have chosen. Each investor then owns a share of units in the ETFs, larger or smaller depending on their amount invested.
The available ETFs are:
Australian Large Cap Stocks
Asian Large Cap Stocks
European Large Cap Stocks
US Large Cap Stocks
Australian government bonds
Australian corporate bonds
Australian money market
Australian Large Cap Responsible Investing Stocks (Emerald portfolio only)
Global Large Cap Sustainability Leaders Stocks (Emerald portfolio only)
As well as ETFs, the Sapphire portfolio invests 5% of your funds in Bitcoin.
Much like your super fund, you don't get to control which companies your money is invested into, which is part of the appeal. You want your investments to go up without having to learn all the ins and outs of the stock market. Let Raiz pick the winners.
About the company
Raiz started off in the USA in 2012 as Acorns, launching in Australia in 2016. In 2018 the Australian arm of the business separated from the US parent company and changed its name to Raiz.
Its leadership team is headed up by George Lucas, the CEO. During the last four years they've kept customers happy and won a bunch of fintech awards.
Raiz holds an Australian Financial Services Licence, is overseen by ASIC and is listed on the Australian Stock Exchange. The company is well on its way to having $1B of funds under management, with over 1.25 million signups, 584,000 investment accounts and over 317,000 active customers. In all likelihood, that's probably 317,000 more people who would otherwise not be proactively saving or investing money. The average balance in Australia is $2,109.
Performance
No doubt some Raiz app users, being new to investing, don't understand how the stock market works and could have unrealistic expectations.
Shares can go down as well as up. ETFs are one of the safer methods of investing, given they buy a large 'basket' of shares, meaning risk is diversified. Over the longer term, investing in shares provides a solid return. but there can be short-term setbacks.
Remember the maxim: "It's not about timing the market it's about time in the market".
Security
Raiz is a tech start-up with aggressive expansion plans, so it's possible that it could go bankrupt or be wound up. However, given deposits are quickly transferred to ETFs (overseen by an independent custodian), it's unlikely Raiz customers will end up out of pocket if anything happens to Raiz.
It's also possible cybercriminals could hack into Raiz and help themselves to its customers' money. While no organisation's cybersecurity is impregnable, Raiz is alert to this threat and has implemented a "robust information security program".
What does it cost?
What Raiz has done has helped to make investing easy and accessible to more Aussies, with a simple fee structure.
There's a flat fee of $3.50 per month for portfolios under $15,000 (but a $0 fee for a $0 account balance).
For accounts with a balance of $15,000+ it costs 0.275% per year (charged monthly, computed daily). So, a balance of around $15,000 would incur an annual fee of approximately $42.
Cost to open an account: $0
Minimum investment: $0
Drawdown fee: $0
Pros and cons
Pros
UI and UX for management are excellent. Notifications don't interrupt you much, and can be controlled. The desktop web app version is really good too.
Easily pull money back out. No boring form to fill in. Helpful for people with little in savings or for unexpected emergencies.
Great customer support. Anytime I needed to call customer support I've been helped out without a hitch.
Round-ups is a killer feature, no question. Set it up with your credit card or debit card, including cards issued by American Express.
Raiz Rewards (shopping cashback automatically invested at Raiz) is a good extra feature. (I have seldom used it myself, mostly because I've been using our very own Kickback.com.au cashback service.)
Bucket strategy investment to spread your risk.
Cons
High fee for low account balances. The $3.50 per month fee will dent your total if you only have a balance of, say, $250. But if you're a Raiz customer with an average sized investment of $2,100 then you're okay.
There's always a risk. Raiz is not a savings account or term deposit. That means you could lose lots of money when the market tanks. If you can't stomach seeing your money go down from time to time, then you'll have to stay out of the market.
You can't invest in direct stock choices. You'll need a different platform for that.
Little visibility into which companies your money is being invested in. It could be going into companies you don't like. You'd have to do a quick google of each ETF to see what's inside it.
Individual investors only. Raiz is not officially open for use by businesses. They need to look elsewhere.
Alternatives to Raiz
As previously mentioned, there's no shortage of round-up apps that divert spare change into a savings account, mortgage offset account or credit card account. But if you're looking for a micro-investing product that's similar to Raiz, you could consider Spaceship Voyager.
Spaceship Voyager has a choice of three portfolios: Spaceship Universe ('world-changing' tech companies), Spaceship Origin (world's largest companies) and Spaceship Earth (socially responsible). As with Raiz, there is no minimum investment, and the cost structure is lower, but it doesn't do round-ups.
If you want to actively manage your own portfolio of shares and funds, then Stake is worth considering for brokerage-free trade in US markets with Superhero offering much the same for Australian shares and funds.
Comparisons
Side-by-side comparisons of Raiz against other micro investment apps.
What's coming next at Raiz?
Raiz has only been around for four years, so you can expect continued development of their core product to service AUD investors. It's likely that in the future they will find a way to give customers greater control over the asset allocation, rather than using only ETFs in a pre-determined proportion.
You can already roll over your super accounts into Raiz Invest Super, with the same choice of investment portfolios as Raiz Invest.
The company has diversified into other financial products with Raiz Health, Raiz Energy and Raiz Insure.
Raiz are already operating in Indonesia and Malaysia as well as in Australia, so it's likely that they'll open up in new markets across SE Asia before too long.