Access to up to $2,000 of your wages in advance.
No hidden fees or interest charges – only a 5% fixed transaction charge and up to four weeks to repay. A cheaper alternative than other methods of borrowing small amounts.
Beforepay analyses your regular spending and creates a tailored budget for you.
Employer pay advances are nothing new, but what Beforepay — and its competitors — are doing is. Beforepay is a fintech company that allows users to access up to $2,000 of their salary before payday. Beforepay's app can also analyse your spending habits using data from your linked bank account to generate a personalised budget.
If you aren't sure about using this service, read on for a complete overview of what it offers, how it works, and whether it could benefit you.

On website
Beforepay
Highlights
Borrow money when you need it, rather than waiting for payday to arrive.
Get up to $2,000 of your wages instantly.
No interest or hidden fees. Just a 5% fixed transaction fee and flexible repayments with installments across up to 4 pay cycles
What is Beforepay?
Beforepay is one of the leading Pay on Demand services in Australia. It gives members quick access to their salary in a transparent and flexible manner.
Its aim is simple: use technology to open up access to earnings, allowing Australians more control over their finances.
Beforepay, which launched in late 2019, charges a 5% fee, but there is no interest or hidden fees to use its Pay on Demand service.
Unlike other buy now, pay later services like Afterpay and Zip, which let you borrow money for specific purchases, Beforepay gives you a lump sum cash advance that goes straight into your bank account.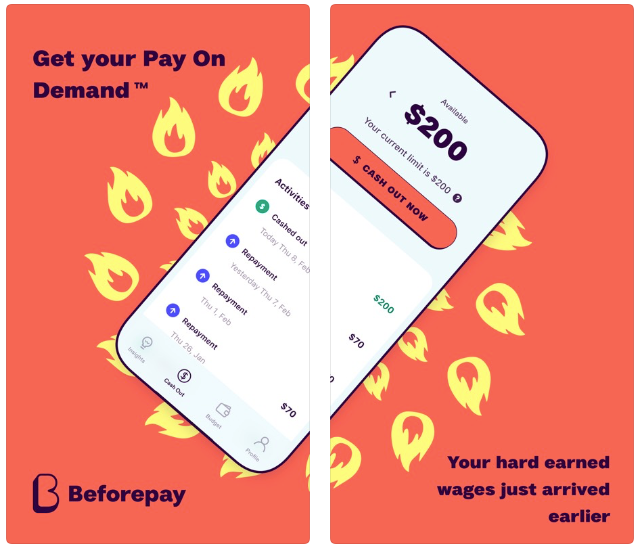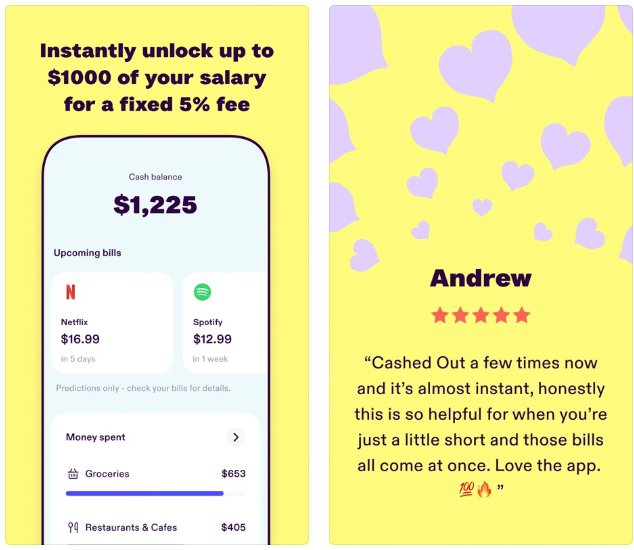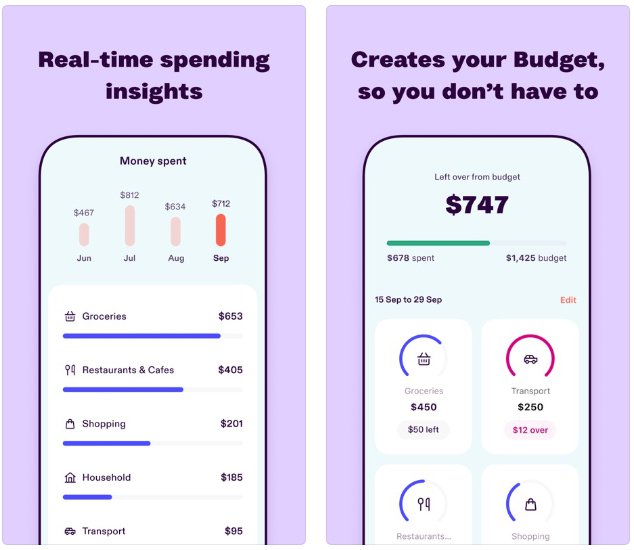 How does it work?
Beforepay has a simple and intuitive design. This is how to set it up for the first time.
Install the Beforepay app. You can can get at the Apple App Store or on the Google Play Store.
Create a new account, configure your profile and supply your bank account details.
Beforepay will establish a secure connection with your bank account.
Its AI will analyse your banking transactions to work out when your pay typically arrives and how much of an advance you can afford.
You can withdraw cash right away, up to a personal limit based on your pay cycle and spending pattern.
Beforepay creates a custom budget for you to keep track of your expenditure.
You pay a 5% fixed fee with no hidden fees or interest charges.
Who can use it?
Self-employed people and company owners, as well as people who rely on Centrelink for the bulk of their income, are not eligible for Beforepay.
Beforepay is only available to those who are employed. You must earn at least $300 per week after tax, and be at least 18 years old and an Australian resident. Your salary must be deposited into a bank transaction account (not a savings account) on a regular basis by your employer.
How much does it cost?
Beforepay's app, as well as its budgeting and spending analytics, are entirely free to download and use.
A fixed fee of 5% is levied on pay advances. So, if you withdrew $100, the charge would be $5, and for $250 you'd pay $12.50. Funds are deposited immediately into your bank account, with no interest charges or fees beyond the 5% charge.
Beforepay vs payday loans
The Beforepay offering is not the same as a payday loan.
Beforepay is a much cheaper option than a typical short-term payday loan.
Payday loans typically let you borrow up to $2,000 with a repayment term ranging from 16 days to a year. According to the government's Moneysmart website, payday loans contain "a lot in fees" and you usually end up paying back a considerable amount more than you borrowed.
Beforepay charge a single fixed 5% fee, but keep in mind that it is still a loan and you must repay the loan plus pay the charge.
If you're having persistent money trouble, there may be cheaper alternatives than either a payday loan or Beforepay.
Pros and cons
While using a pay-in-advance service like Beforepay might be beneficial in some situations, there are some disadvantages to be aware of.
Pros
Instant cash before payday. You can borrow money when you need it, rather than waiting for payday to arrive.
No hidden fees, just a one-time 5% fee per advance.
No late fees. There are no late penalties, but you won't be able to use the service again until you pay any outstanding balances.
It's cheaper than a typical payday loan, which can charge a loan establishment fee of up to 20%, plus interest of up to 4% per month.
Cons
You can borrow a limited amount, based on your income and affordability.
You have to pay a 5% fee to get an advance, which you would not have to pay if you can wait until your next payday.
You must repay your existing loan before you can use the service again.
Using this service may be only a temporary solution if you have an ongoing financial control issue that needs to be addressed.
Alternatives
There are a number of alternatives to Beforepay on the market.
MyPayNow. MyPayNow is a Pay on Demand service that allows you to get up to 25% of your salary (limit of $1,250 per advance) ahead of payday without having to go through your employer.
CommBank AdvancePay. CommBank is the first of the Big Four banks to provide a Pay on Demand service open to CommBank account holders. Access up to $5,000 for a sliding scale fee starting at $5 for a $300 advance.
Earnd. Access up to 50% of your income. Earnd must be set up with your employer before you can use the service.
InstaPay. Again, you must sign up through your employer to access advances capped at $250.
Fupay. Access micro loans of $20-$500.
FAQs
Does Afterpay own Beforepay?
No. Despite the similar brand names, they are entirely separate entities, operating very different businesses .
Does Beforepay run a credit check?
No, but they will analyse your income and expenses to confirm your eligibility.
Does Beforepay work with Centrelink?
No, Beforepay doesn't have any involvement with Centrelink. However, to use Beforepay, any money you receive from Centrelink cannot make up more than 50% of your income.
Verdict
Beforepay is typically much less expensive than a payday loan. Its fees are similar to other pay on demand services. But try to avoid habitual use of Beforepay or any other Pay on Demand service. Set yourself a budget and stick to it. But when 'life happens', there's a new service that can unlock a modest amount of your pay capped at a 5% fee.