To qualify for this premium card you will need a good credit score and have a regular income.
Applicants need to earn at least $35,000 per year to be eligible for this card.
Travel perks include invitations to Qantas lounges, complimentary travel insurance and discounted domestic airfares.
The Qantas Premier Platinum Card has a high ongoing points earning rate and bonus points potential.
If this sounds like a card that will suit your lifestyle, you may be wondering what kind of credit score you need to have your card application approved, and what other eligibility conditions may apply. Read on, because we've answered these questions for you.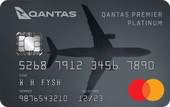 Balance transfer
12 months at 0% p.a.
Purchase rate
19.99% p.a. ongoing
Annual fee
$349.00 for 1st year
Highlights
Earn up to 80,000 bonus Qantas Points. Receive 60,000 bonus Qantas Points when you spend $3,000 or more on eligible purchases within 3 months from card approval. Plus an additional 20,000 bonus points if you have not earned Qantas Points with a credit card in the last 12 months. Terms and Conditions apply.
Enjoy 0% on Balance Transfer for 12 months with no Balance Transfer fee. Reverts to Cash Advance rate, thereafter. No interest-free days apply on retail purchases while you have a balance transfer.
Save with the reduced annual fee of $349 p.a. for the first year. An ongoing annual fee of $399 p.a. applies in the 2nd year.
Who is the Qantas Premier Platinum Card for?
The Qantas Premier Platinum Card is for those who want to reach their reward goals sooner and want the flexibility and the acceptance a Mastercard provides wherever they travel in the world. The card is offered to Australian permanent residents earning over $35,000 per year.
What credit score is needed for the Qantas Premier Platinum Card ?
While Qantas does not specify a score, most credit cards expect you to have a 'good' credit score. Here's what a 'good' score is, according to the three main Australian credit scoring bodies:
How hard is it to get the Qantas Premier Platinum Card ?
To be eligible for the Qantas Premier Platinum Card you need to:
Be 18 years or older;
Earn at least $35,000 per year;
Be an Australian permanent resident;
Have an Australian residential address and mobile phone number;
Be a Qantas Frequent Flyer member;
Not be an existing Qantas Premier primary cardholder.
Key features and perks
Qantas Premier Platinum Card key features and perks include:
A large number of bonus Qantas Points for meeting a reasonable spending target within a few months of being approved for the card.
A very satisfactory ongoing points earning rate, boosted if you spend overseas or with Qantas.
Interest-free period on purchases of up to 55 days, not the shorter 44 days some cards offer.
Interest-free period on your first Qantas purchase.
2 single-entry Qantas lounge invitations per year.
Discounted Qantas and QantasLink flights for you and up to eight companions, every year.
Complimentary overseas and domestic travel insurance.
0% balance transfer for an introductory period may be offered.
Fees
High annual fee, discounted in the first year.
High interest rate on purchases balances carried beyond the interest-free period, and on cash advances.
Foreign currency conversion fee.
Small annual fee for each supplementary cardholder on the account.
Pros and cons
Pros
You can earn a large number of bonus points by meeting a spending target.
Very satisfactory points earning rate, boosted if you spend overseas or with Qantas.
No absolute cap on points able to be earned each month.
Discounted first year annual fee.
Significant savings on companion flights.
Two single-entry lounge invitations per year.
Interest-free period on your first Qantas purchase.
Complimentary travel insurance.
Cons
Higher annual fee after the first year.
Points earning rate declines when the monthly threshold is reached (but it's a high threshold).
For permanent Australian residents only.
You must meet a specified income level of $35,000 per year.
How do I apply?
You can apply online for a Qantas Premier Platinum credit card. It should take about 10 minutes to complete the application if you have all your documentation ready. The information you'll need includes:
Your driver's licence or passport;
Your income and employment details;
Details of household expenses including rent, other bills and living expenses;
Your financial commitments including your home loan, other loans and credit cards;
Your Qantas Frequent Flyer membership number;
Qantas may request additional documents, such as recent payslips and bank statements.
Alternatives
If you're chasing the highest Qantas Points earning rate and bonus points you should consider the Qantas Premier Titanium Card, but be prepared to pay an enormous annual fee. But there are lots of other Qantas Points cards competing for your business at an annual fee similar to that of the Qantas Premier Platinum Card, with comparable benefits.
FAQs
How do credit scores 'work'?
Credit scores are a numerical representation of the information in your credit file, compiled by credit reporting bodies, who maintain credit files on every individual. They collect information from financial institutions about the various lending products you use, such as personal loans, home loans, credit cards and bank overdrafts, and update that information to your credit file.
Previously, lenders only reported information about new credit enquiries for loans and credit cards, and payment defaults. But new rules, under the Comprehensive Credit Reporting (CCR) initiative of the Australian government, require them to include more information including:
Types of loan and credit accounts you have;
Dates of account opening and closing;
Current credit limit on each account;
Details of your repayment history;
Timely payments you make;
Payments which are late by 14 days or more;
Instances when you exceed the credit card limit by over 44 days.
When you make a credit application, potential lenders will check your credit file before deciding whether to approve your application. When they check your credit file (known as a 'hard enquiry'), it can have an adverse impact on your credit score.
What is a 'good' credit score in Australia?
Here's how the credit reporting bodies define good, very good and excellent credit scores for Australians:
| Bureau | Good | Very good | Excellent |
| --- | --- | --- | --- |
| Equifax | 622-725 | 726-832 | 833-1200 |
| Experian | 625-699 | 700-799 | 800-1000 |
| illion | 500-699 | 700-799 | 800-1000 |
What factors affect my credit score in Australia?
Credit reporting bodies calculate your credit score by allocating values to a number of factors. Although the weights they give may differ, in general, all credit reporting bodies consider the following:
How long you have had a credit file;
The types and amounts of credit you have applied for previously;
Negative credit listings in your record;
Any court writs or default judgments relating to you;
Repayment history on your credit accounts including any previous overdue or defaulted debts and bankruptcies;
A record of accounts that you have opened and closed.
In addition to the above the following information is also in your credit report:
Your age;
Home address;
Length of employment with your current employer;
Length of residence at your current address.
Credit reporting bodies assign each of these factors a numeric rating. Your current credit accounts and any credit limits you have now (or had in the past), and the names of your credit providers, will also be considered in arriving at your credit score.
What credit reporting bodies does Qantas use?
Qantas Money does not disclose which credit reporting agencies it uses. But, like most lenders, it is likely to be using a mix of them for checking credit card applications and also reporting customers' financial behaviour.
My application for a card was declined. Will this affect my credit score and report?
The card issuer to which you applied is very likely to have asked for a copy of your credit report from a credit-reporting agency. This is known as a 'hard enquiry', which will be recorded in your credit file and could have a downward impact of 1-5 points on your score for up to a year.
So, it's best not to make too many card applications within a short time frame, since multiple small quantities of adverse points can soon add up to a rather large impact in total. But you can check your credit score yourself for free. This is known as a 'soft enquiry', and will not appear in your credit file or affect your score in any way.
How do I improve my credit score?
We recommend that you read our guide about how to improve your credit score, which contains all the information you need to get your score back on track.
The bottom line
As its name confirms, the Qantas Premier Platinum Card is a premium card for people who have a regular income and a good credit score.
Its high-interest rates indicate that it is not designed for cardholders who intend to carry an interest-bearing balance from month to month. But if you can meet the eligibility criteria and take advantage of the Qantas Points and other travel benefits, this card could suit you.
However, before making any decision about applying for a credit card, you should carry out due diligence by comparing credit cards, and their costs and benefits.