OpenTrader offers services for both beginner and experienced investors and traders.
You can invest or trade with the lowest base brokerage fee for CHESS-sponsored trades, and competitive pricing for higher-value CHESS-sponsored trades.
The platform gives you access to a variety of financial products on the ASX, Chi-X, and NSX stock exchanges.
OpenTrader is a low-cost online share trading platform. Aside from its competitive pricing, the platform also features a selection of trading tools, including historical data, charts and company news, plus a demo account and continuous education and customer support.
Interested in using OpenTrader to invest or trade? Find out everything you need to know with our in-depth review.

About OpenTrader
OpenTrader is the retail division of OpenMarkets, an independent trading and wealth management fintech company. The trading platform is a joint venture of two companies, OpenMarkets and FloorTrader.
OpenMarkets is the stock brokerage and clearing software provider for some prominent names in the personal finance and investing market, like SelfWealth, Pearler, Superhero, and Raiz.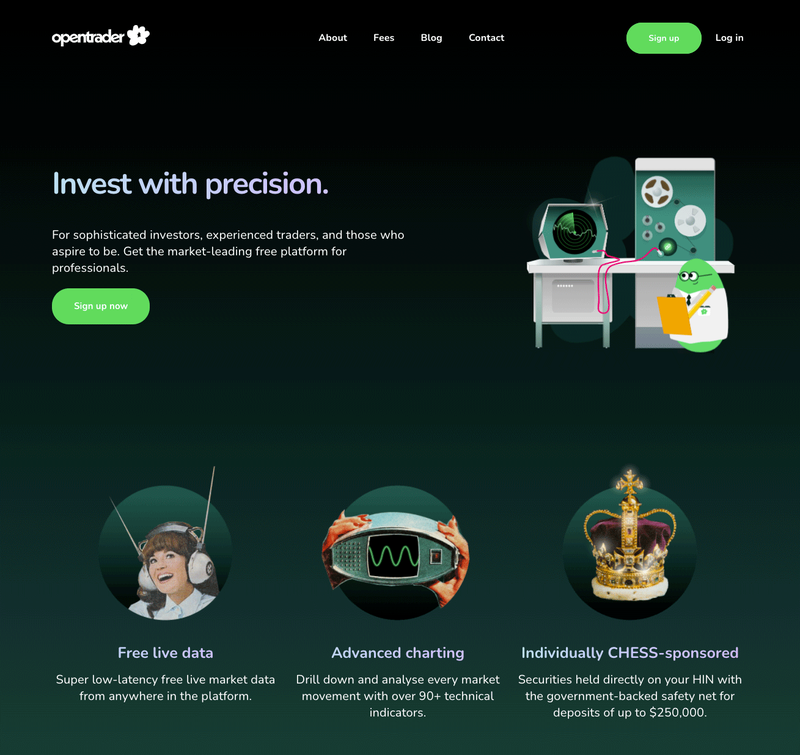 Who is OpenTrader for?
Australian and international investors are eligible to open an account with OpenTrader. It caters to both beginner investors and active traders. Two different account options are available:
The Investor option is free, includes basic charting and price alerts, and is intended for casual traders who are still learning the craft.
The Pro Tool Kit for sophisticated investors and regular traders includes live price data and news streaming and upgraded charting, and costs $99 per month.
New account holders receive free access to the Pro Tool Kit for two months. They then revert to the basic account unless they opt in to the Pro account and pay the monthly fee.
Fees
There is no monthly fee for the basic account. The Pro Tool Kit costs $99 per month, but is free to all new customers for the first two months.
Brokerage fees
$5 for trades under $5,000
$10 for trades between $5,001 and $10,000
$15 for trades between $10,001 and $15,000
0.10% of the trade value for trades of more than $15,000
Tradable assets
Although it does not currently offer access to international markets, OpenTrader account holders can trade a variety of Australian securities and derivatives:
Shares listed on the ASX, Chi-X, and NSX exchanges
Exchange Traded Funds (ETFs), a type of security that tracks a market index, sector or commodity, rather than being an individual company share
Warrants, which confer the right (but not the obligation) to buy or sell a specific security at a specific price within a specified time frame
Exchange Traded Bonds, debt securities with a fixed interest rate
Exchange Traded Options, contracts to buy or sell a particular quantity of a financial product at a set price, on or before a set date
Pros and cons
Pros
CHESS-sponsored platform, your shares are directly registered to you.
Backed by large wholesale broker tech companies.
Low-cost brokerage starting at $5 per trade under $5,000.
Two platform choices to suit your level of experience.
Demo account, so that you can invest virtually before committing real money.
Charting tools and custom dashboards.
A broad range of customer support options and educational resources.
Cons
Transaction-only service, with no trade recommendations or investment advice.
No access to international markets, Australian investments only.
Basic web interface, no app you can download from an app store, just their 'progressive web app' – a shortcut to their website.
Access to live data requires subscription and monthly payment after the first two free-access months.
Opening an OpenTrader account
The OpenTrader demo account can be activated by simply entering your name, email address and setting a password on the sign-up page.
To open a fully-functioning OpenTrader account you will need to provide:
Your name, DOB, email, address and other contact information
ID document such as driver's licence, or passport plus a utility bill with your name on it
You will also need to open a linked bank account with either ANZ or Macquarie, to settle your trades. OpenTrader will organise the account opening for you.
The account opening process will vary depending on whether you live in Australia or overseas, and the type of account you're opening – individual, joint, company, trust or super fund.
Alternatives
Online share trading has always been a competitive market, but it has become increasingly crowded with new entrants in recent years. These are some of the best OpenTrader alternatives.
Superhero. Low flat fee for ASX listed equities, trade Australian ETFs and US shares and ETFs without paying a fee. Low minimum starting trade. Invest your super without setting up an SMSF.
Pearler. Flat brokerage fee, free on selected ETFs held for more than 12 months. Focus on long-term investing in Australian shares and ETFs. Features include Autoinvest, Autodeposit, goal tracking, template portfolios and the ability to emulate the portfolios of successful Pearler investors.
CMC Markets. Trade Australian and global shares plus a wide range of other investment products, including cryptocurrency. Low trading fees (and no fee at all for US, Canadian, Japanese and UK stocks). Four trading platforms to choose from, depending on your level of trading experience and activity.
eToro. Buy and sell US stocks with zero commission. Follow and copy successful traders using eToro CopyTrader. Add CFDs and cryptocurrencies to your portfolio if you have a good appetite for risk.
SelfWealth. Trade in Australian and US shares and other listed investments for a low flat fee. No other fees payable for a basic account. Access a Premium account, including shaping your portfolio to mirror the holdings of successful investors, free for 90 days.
Stake. Trade shares and ETFs listed on the NASDAQ and Dow exchanges with no commission. Low cost ASX trading also. Buy fractional shares, so you can build your position in stocks like Apple and Amazon over time. Get a free share worth up to $150 USD.
Comparisons
See how OpenTrader compares with competing investment platforms.
FAQs
Does OpenTrader have a mobile app?
There is no app you can download from the App Store or Google Play. OpenTrader is a web-based platform with a 'progressive web app' (a link to the website) compatible with iOS and Android. You can use it on any handheld device or tablet.
Is there a minimum order amount?
Yes. Your buy order for a new security in your portfolio must be for an amount of at least $500, but there is no minimum buy order if you already hold securities of the same company in your portfolio – you can add smaller incremental amounts.
Is OpenTrader CHESS sponsored?
OpenTrader is CHESS sponsored through its parent company, OpenMarkets, an ASX Trading and Settlement Participant.
How do I withdraw from OpenTrader?
You can withdraw from your ANZ Cashactive Trust account using the online form provided by OpenTrader. Withdrawals to Australian bank accounts are free.
Processing withdrawal requests usually takes 1-2 business days and 2-3 business days for your money to arrive. International withdrawals take longer.
Can I buy crypto on OpenTrader?
You cannot buy cryptocurrencies on OpenTrader but you can buy crypto-themed ETFs on the ASX. You can buy crypto with one of the many crypto exchanges and trading platforms available in Australia.
Can I trade forex on OpenTrader?
No, you cannot trade forex on OpenTrader. You'll need to find a forex trading platform to trade currency pairs.
What order types are available?
Both limit and stop-limit orders are available.
Is OpenTrader safe?
Here are some facts in relation to OpenTrader's safety and legitimacy:
OpenTrader is a joint venture between two massive wholesale stockbroker tech companies, OpenMarkets and FloorTrader.
OpenTrader is a fully CHESS-sponsored investing platform.
Securities are held directly on your HIN, which means you are protected by the government safety net for deposits of up to $250,000.
Verdict
OpenTrader is a fully CHESS-sponsored investing platform backed by both OpenMarkets and Floor Trader. You can trade using your HIN (Holder Identification Number) with CHESS-sponsored shares, and be assured of directly owning your shares.
You might choose OpenTrader because it offers access to the type of investment product you are interested in very low brokerage fees. There are also educational tools, basic market information, a demo account and two months of access to the premium account, all available without paying a monthly fee. And when you have some experience under your belt, the premium account is there as a permanent option, which you may decide is worth paying for.