There are two types of Aussie travellers who make the grand voyage over to Europe, those clutching their red Flight Centre envelope checking into a full-service airline and those trying to find the cheapest possible low-cost flight to stretch their dollars this summer.
Yes, we are totally generalising here and we are sorry for it but we are also not ashamed to admit that we fall into the latter half of the equation. So when we found out Scoot Airlines, the low-cost airline out of Asia was opening up a brand new (cheap) direct flight from Singapore to Berlin we were over the moon.
Being able to fly from Australia all the way to Europe at discount prices, with only one stopover in Singapore is the dream we are living in 2018, and you can bet I was tweeting that from the air. So when we heard the announcement we jumped online and actually managed to organise tickets on the very first flight to Berlin, which if you have never been on an inaugural flight before, is an adventure we are going to take you on together.
We are sure many of you are thinking, 'can a budget long-haul flight work?' 'I've flown to Bali for cheap with no movies, no meals and no ginger beer included but that was only 3 hours'. This, of course, goes without saying that 'low-cost carriers aren't exactly known for their comfort'–so we were curious to take up the challenge just for you.
Flight details
Aircraft: Scoot's new Boeing 787 Dreamliner
Class: Perth to Singapore = ScootinSilence, Singapore to Berlin= Economy
Cabin configuration: 3-3-3
Meal: Not included, pre-purchased the FlyBagEat bundle for AUD$169 (for 2 flights for 1 person and this also included 20kg of checked-in baggage)
Amenity kit provided: No
In-flight wifi: Yes, for an additional fee
Duration: 5 hours and 10 minutes (PER-SIN) + 12 hours (SIN-BER) total travel time of 17 hours and 10 minutes with a 22-hour layover in Singapore. Grand total travelling time of just under 40 hours.
Baggage: Not included, pre-purchased the FlyBagEat bundle for AUD$169. If you pre-purchase your bags you get 10kg carry-on and 20kg check-in.
Booking
You may need to do a little bit of shuffling around to get this deal as Scoot are still assessing the demand of this route. Quick tip on saving for travel, spend some time on Google rather than heading into the travel agencies, this is what we did for our flight and organised it all online and saved money.
What we have found from researching and playing with the dates is that the Singapore to Berlin portion of the flight is mostly running on Monday, Wednesday, and Friday with some months having a weekend flight thrown in.
So you need to align your inbound flight to Singapore to arrive prior to the Berlin flight which operates on those above dates.
There are a couple of options here–firstly, if you have the time you can always go into Singapore a few days earlier, spend the weekend there and then jump on the plane to Berlin. Or you can do what we did and book our tickets with a 22-hour layover included which gave us enough time to have a good nights sleep at the Sofitel City Centre Singapore and head to Universal Studios to go on some roller coasters before our flight to Europe.
Jumping between Skyscanner and the official Scoot website really doesn't warrant much price difference, so book direct if you are confident as it was $20.85 cheaper.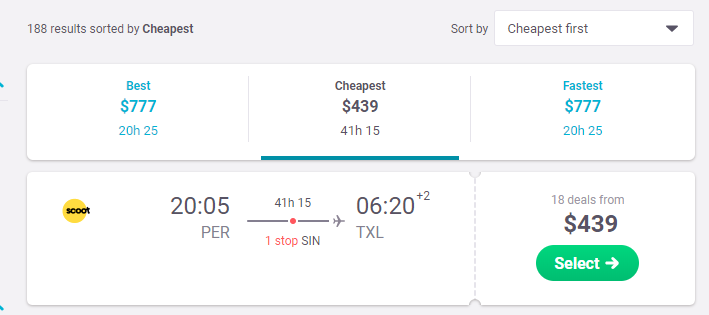 Booking a flight on Scoot's website is very easy to use, but don't worry we are here to work you through it all.
Once you have found your flight and date, you then need to decide on whether to go for the Economy or ScootBiz option. Now we haven't flown their version of Business Class before so we can't say if we can recommend it.
Upon selecting your route you are provided with four colourful options:
the flight only (no additional charge);
the FlyBag option for an additional $102 which will give you 20kg of checked-in luggage for both flights;
he FlyBagEat option which is what we went for and gave us 20kg of checked-in luggage as well as our meals, a drink and a snack;
the final magenta box is just re-reminding you of the ScootBiz upgrade which for the flight was an additional $1,144.30. This gives you premium seating, 30kg of checked in luggage, 15kg for cabin baggage, a wider choice of meals and alcoholic beverages, priority check-in and priority boarding as well as streaming in-flight entertainment (where available) and in-seat power.
Also, this part of the site can come off confusing and you may be thinking that only ScootBiz gets cabin baggage, don't worry every package includes a carry-on allowance of 10kg with a maximum of 2 pieces including a laptop/handbag.
If you like the feature of in-seat power, wifi or alcohol, this can be pre-booked now or paid for during the flight. So don't worry you can still sip some wine back in Economy.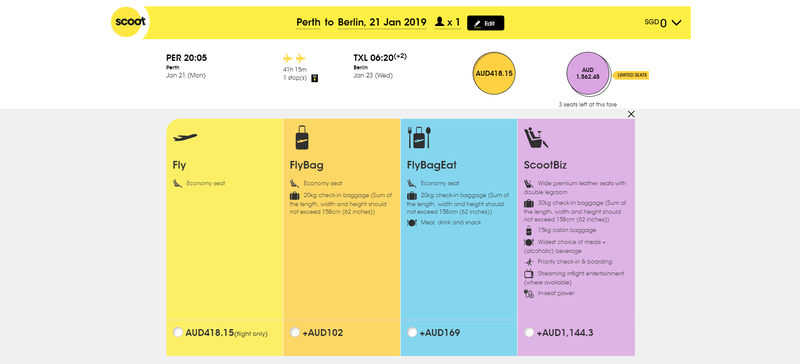 The next portion of the booking will work you through your personal details and passport number. Just double check it all and you should be fine to go. However, if you are worried get a family member or friend to double check it for you, as this is the most important part of any booking (besides making sure you book the right departure airport, which has happened to us before but I digress that's for another day).
Now the final portion of the booking process is generally where low-cost airlines like Scoot make up some money from their really cheap deals. I mean you can't go to the dollar cinema without a $16 Malteser and popcorn combo right? Or is that just me?
This is where you as the buyer should do some maths, add up all the extras that you feel will make you comfortable for the long haul and then compare that price with booking a full-service airline. The majority of the time booking low-cost even with all the add-ons and extra's purchased will still save you money. However in the case that it doesn't even out and you find a cheaper deal on Skyscanner for a full-cost airline like Emirates or Qatar, then we suggest you book a full-service airline.
Tip: Since they are a subsidiary of Singapore Airlines, you can redeem KrisFlyer points for flights on Scoot. There are various ways to earn KrisFlyer points in Australia, with transfers from a credit card being one of the easiest option. There are various rewards credit cards that allow you to transfer points to KrisFlyer, including those issued by Westpac and American Express.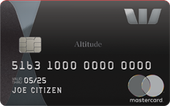 On Westpac's website
Westpac Altitude Black Credit Card (Altitude)
Highlights
Receive 140,000 Altitude bonus points when you spend $6,000 on eligible purchases within 120 days of card approval. Exclusions apply
Transfer your balance at 0% p.a. for 24 months (1 % balance transfer fee applies). Reverts to cash advance rate of 21.49% p.a.
$99 p.a. annual fee for the first year ($250 p.a. annual fee thereafter).
---
Pros
140,000 bonus Altitude Points when you spend $6,000 in 120 days.
0% p.a. for 24 months on balance transfers.
Additional savings with the $99 first-year annual fee ($250 p.a. thereafter).
Cons
The high annual fee of $250 p.a. after the initial year.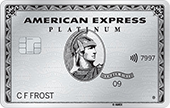 On American Express' website
Highlights
Receive up to 200,000 Bonus Membership Rewards Points That's 150,000 Bonus Membership Rewards Points when you apply online, are approved and spend $5,000 on your new Card within the first 3 months. Plus, an additional 50,000 Bonus Membership Rewards Points in Year 2 upon fee renewal. T&Cs apply. New Amex Card Members only.
Receive a $450 Platinum Travel Credit each year, which can be redeemed for flights, hotels or car hire.
Earn 2.25 Membership Rewards points per $1 spent on all purchases, except for spend with government bodies in Australia, where you will earn 1 point per dollar spent. Points earning is uncapped.
---
Pros
Receive up to 200,000 Bonus Membership Rewards Points when you meet the criteria.
Receive a $450 Platinum Travel Credit each year.
Get airport lounge access.
Cons
The annual fee of $1,450.
Pre-booking food will save you a few dollars
If you would like to pre-purchase a meal or if you have chosen a package with a meal you can select what type of meal you would like in this section. As we picked up the bag and food package we get a selection of standard meals included but they will also offer some more premium meals for about a $5 upgrade. Also as a bonus, you get your food before everyone else, just like during school when your friend got their lunch from the canteen delivered early and you looked down at your squished Nutella sandwich in your backpack.
If you decided to not book a bag and meal combo, to let you know, on the flight to Singapore there was an option for Nasi Lemak or Braised Chicken with rice for $17 and on the long haul flight you can pick up a long haul meal which includes 2 meals, drinks and snacks for $50.
Honestly, 12 hours on a low-cost Scoot trip to Europe where most of the flight is during the night was doable
More luggage
If you over-pack like us, you can add more baggage right up to 40kg for your bag, which starts at $29 for 5 more kilos to the included 20kg and up to $126 to get the maximum amount of space. Also, you can add an additional cabin bag for a whopping $102 which I don't suggest anyone does, you can take a small backpack and a handbag sized bag with you, try to make it work.
If you skipped a package on the previous screen that included checked in bags, Scoot will just reconfirm that you can add bags and it starts at $101 for 20kg.
Choose your seats
This is all optional but if you would like to not play Russian roulette and get the middle seat on a 3x3x3 plane then prices start at $9 to pick your seat and can go up to $49 to pick a stretch seat in the ScootinSilence section. This is a quiet zone right near the front of the plane and no kids under 12 can be seated here, plus you get an adjustable headrest. These fees are per individual flights.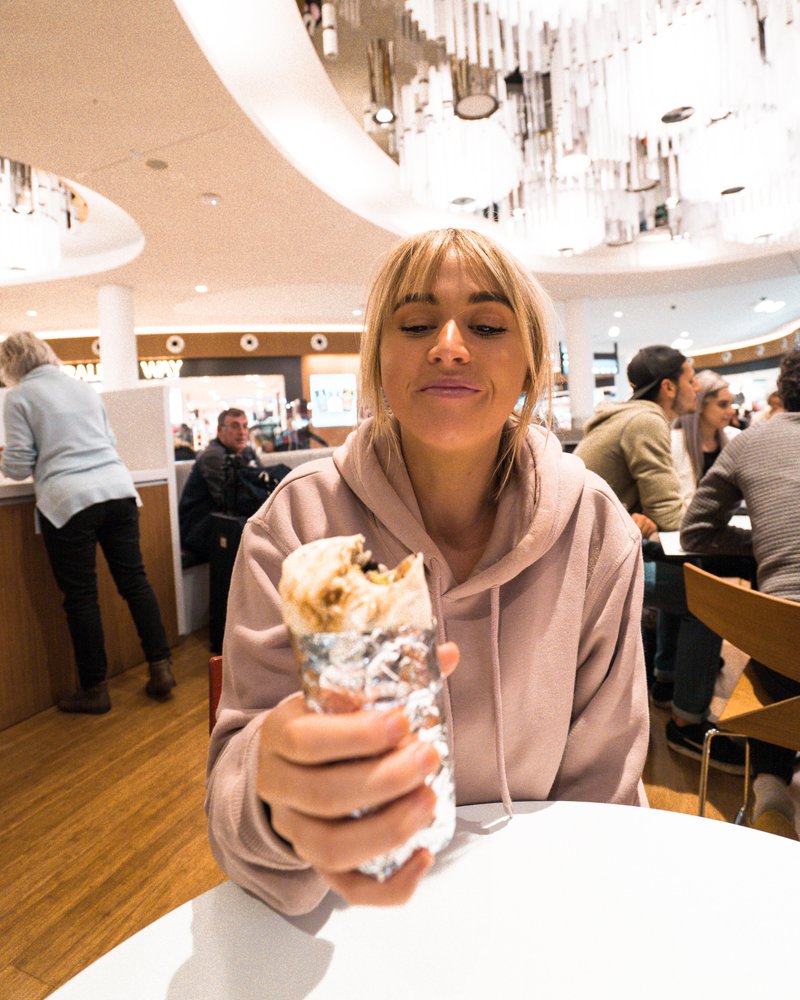 The Fun Packs
Finally, before you confirm all your details, Scoot has some offers to 'create your flight of fancy'. Here you can get a Snooze kit for $18 that gives you a blanket, eye mask and neck pillow. In-flight wifi starts at $7, BoardMeFirst gives you that taste of Business Class for $6 by letting you board the plane first and finally the Scoot-in-Style package which gives you priority boarding and access to an airport lounge 3 hours prior to departure. We did this for our Singapore to Berlin flight which we go into more detail on below.
Oh wait, you thought it was all done?
Nope, one very last add-on is for those with peace of mind, for $55 you can change the flight date or time with no additional fees except that $55 initial fee.
Flight 1: Perth to Singapore
Checking in at Perth Airport
Perth has incredible public transportation, trains run on time, you can go up to Joondalup and down to Fremantle quite easily, but when it comes to trains and buses to and from the airport they are basically non-existent unless you have several hours spare and are happy to make a few bus transfers here and there. Luckily, we have family living in Perth who were kind enough to drop us off, thanks Mum and Dad.
We arrived 2.5 hours before our flight, and the check-in process with Scoot was very smooth. It took 20 minutes to get checked in which is quite good in our experience. As a rule of thumb try to arrive at the airport at least 3 hours before your flight.
After dropping our bags off we headed through security and grabbed a coffee and a burrito whilst watching the planes come and go before using the last of the free airport wifi to download some shows and movies on Netflix. If you don't want to pay for entertainment on the flight, use your phone to get some games or videos and buy a portable charger to keep you going.
We were flying from gate 52, which is one of our favourite spots to leave from in Perth as it has massive windows facing out on to the runway and plenty of comfortable seating and lounge chairs.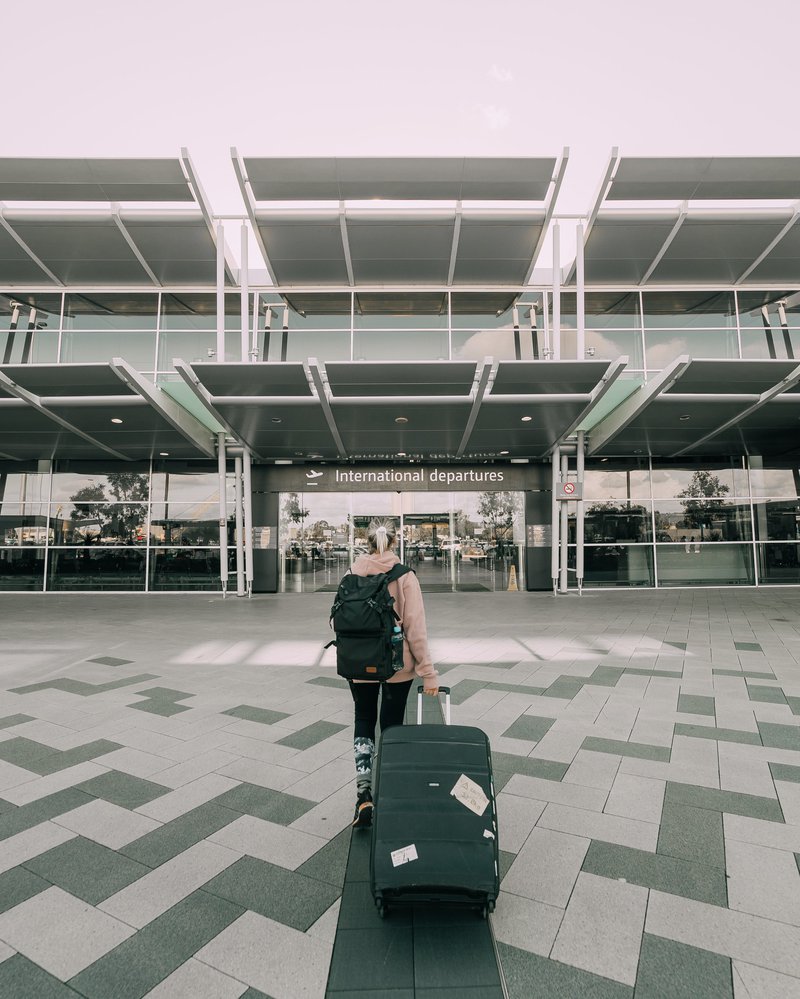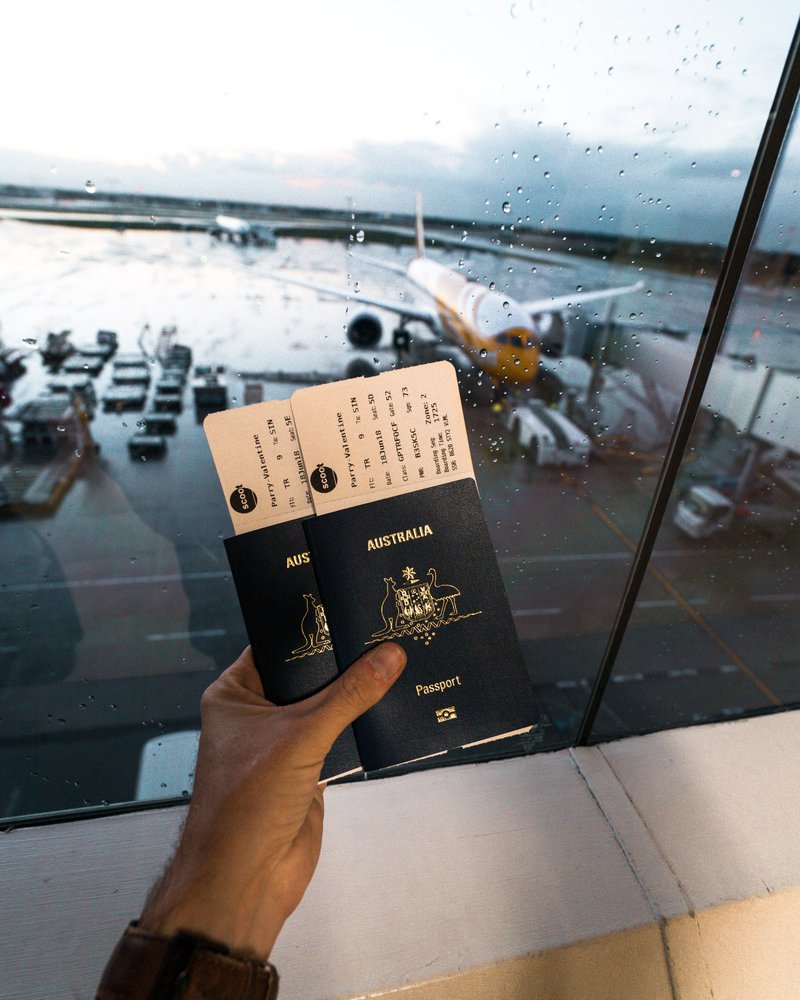 Perth to Singapore in ScootinSilence
We opted to pay the additional fee and book the ScootinSilence seat upgrade. With ScootinSilence you get:
Exclusive and silent cabin (no kids under 12 allowed here)
Additional comfortevery seat comes with an adjustable headrest and you can reserve Super and Stretch seats (where available)
Disembark the aircraft first
The Seat
When we boarded the plane, we were greeted to three rows of comfortable triple seats. The seats in the ScootinSilence section are the same as economy, with a 31-inch seat pitch and 18-inch seat width, but with the added bonus of a headrest.
To compare—on our 12-hour flight to Berlin, we didn't upgrade our seat and it was quite noticeable to not have the headrest.
We were pleasantly surprised that even though we were flying economy, the seats had a much wider legroom and more space to recline the seat than other competing low-cost airlines. The extra seat space and large, open cabin made us feel ready for the flight ahead and not regret our purchase of going low-cost.
There are also several Stretch seats scattered around the cabin. They have a 34-inch pitch giving 50 per cent extra legroom, but that does cost an extra $79.
Baggage
We pre-purchased the fly/bag/eat bundle, which added an additional $60 to each fare. This meant we were entitled to bring on cabin luggage of up to 10kg, and 20kg checked luggage.
We thought it would also be nice to note that the overhead compartments are much bigger than average, and we had no problem fitting in our carry on, so don't worry about rushing on board first to make sure your bag is within arms reach of your seat, there's plenty of space to go around.
Food and amenities
We pre-ordered our meal with our fly/bag/eat bundle. Our vegetarian meal consisted of tomato and mushroom pasta, a large chocolate biscuit and water. Pre-ordered meals are served first, but if you didn't order, there are plenty of options on the in-flight menu.
Airplane food reviews are an art. One we haven't mastered yet, but if we may give our thoughts, all I can say is it was fine. We were full at the end and who can go wrong with a chocolate dipped cookie.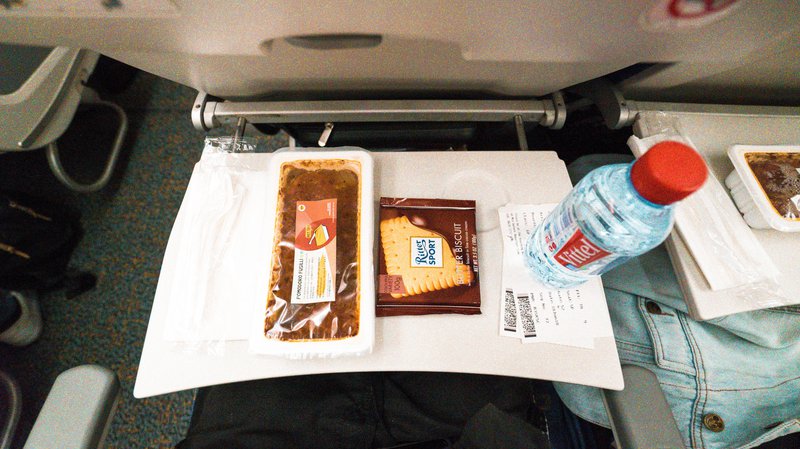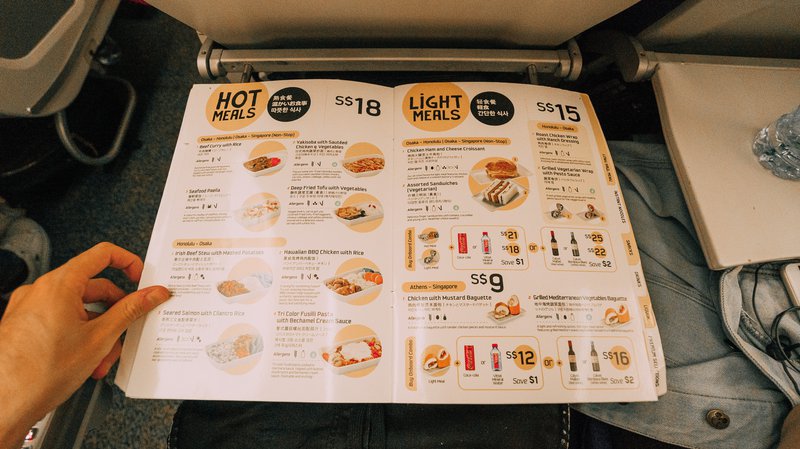 Entertainment
Scoot's new Dreamliner plane has no screens on the seat backs. So, if you want entertainment you will need to download the Scoot app before you board so that you can purchase an entertainment package. Once you are on the plane and logged into the app it will cost $11 to access their selection of movies and TV shows. The selection wasn't amazing, at time of flight (June 2018), the newest releases were The Greatest Showman and the Blade Runner sequel as well as some Adam Sandler movies sprinkled in for good measure.
In-flight wifi is available for quite a pricey fee. For $5.99 you will receive 20MB, with the max amount of 500MB for $65.99! Also, power is available on the flight, but it will cost you $8.
I can confirm you can tweet, best $5.99 spent. We also did a speed test which you can see the results below - very impressed, I got better internet speeds flying over the Indian Ocean than my NBN connection back home.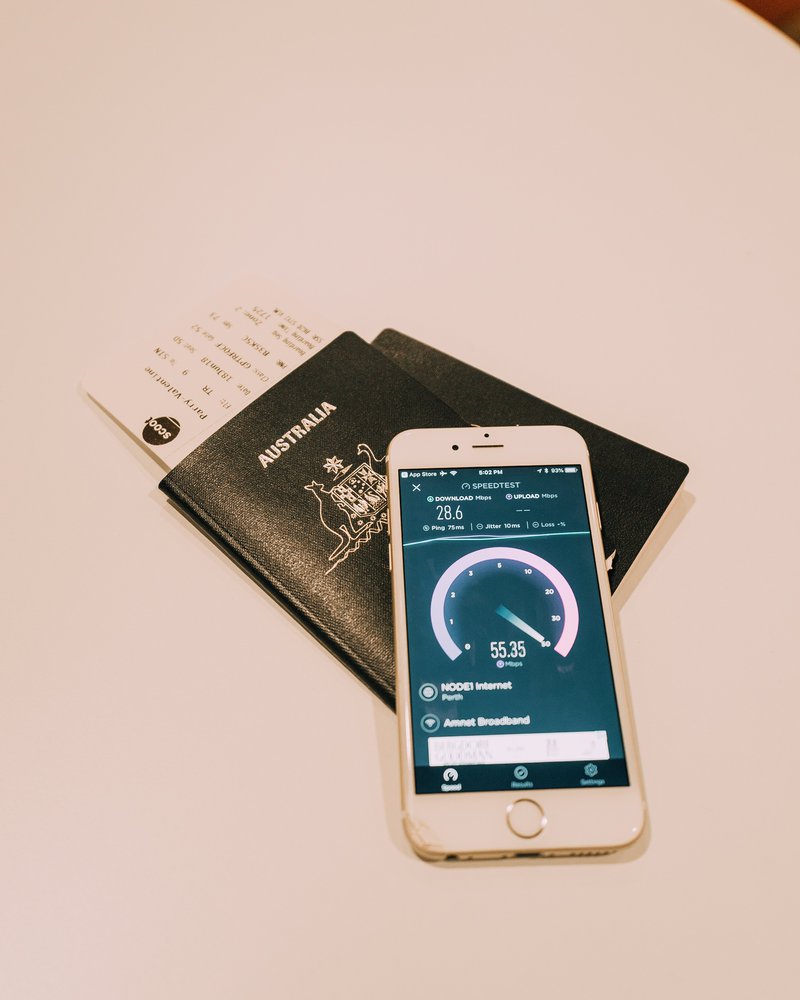 We know that the lack of monitors and entertainment can be considered as a real let down for many, but being able to get from Australia to Europe at such a low price is something you just can't complain about, Netflix has offline downloads available for subscribers, you can also pay a monthly fee to YouTube (called YouTube Premium) that lets you download YouTube videos offline (so you can watch videos in airplane mode).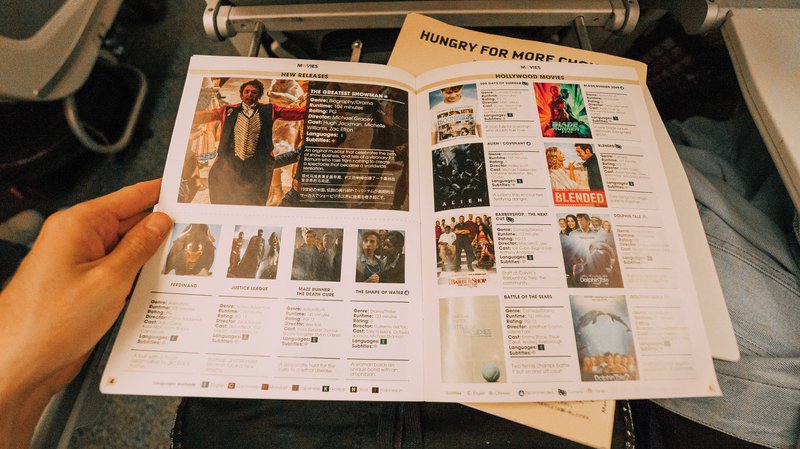 Flight 2: Singapore to Berlin in Economy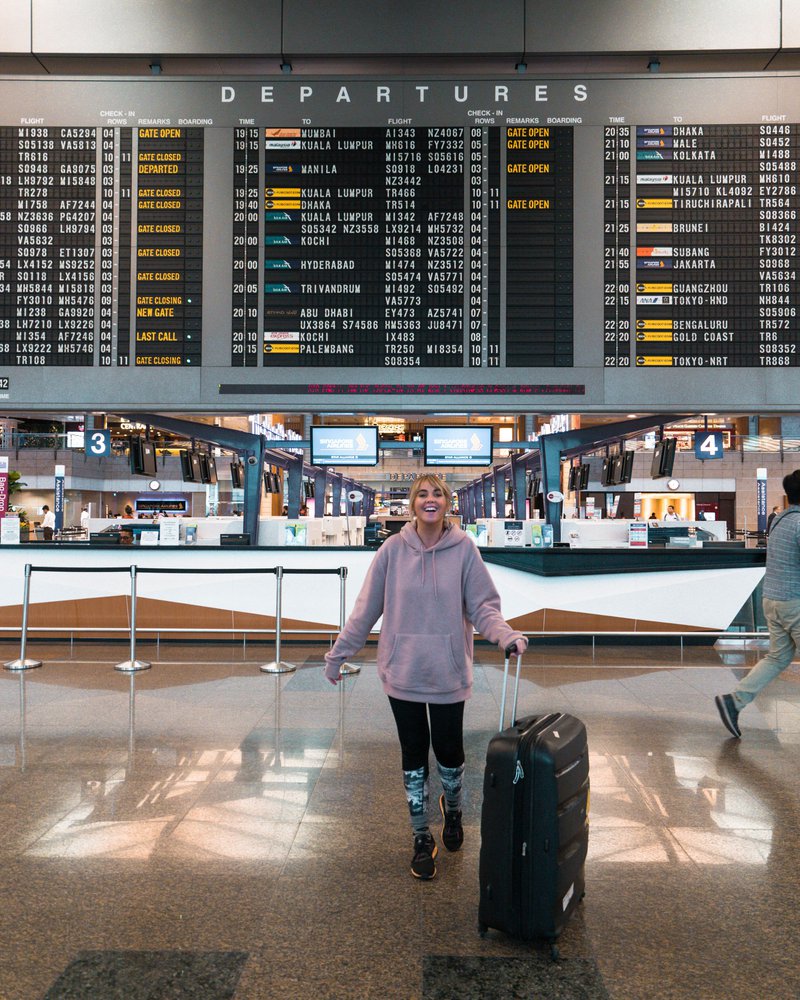 Checking in
Thankfully, the Scoot counters at the Singapore Changi Airport have self check-in systems to use, rather than lining up to speak to an attendant. This made checking in a breeze. Once we put our details and passport number into the kiosk we received our tickets and made our way to the baggage drop off area and literally five minutes later we were making our way through immigration.
Singapore is one of our favourite airports to fly from—there is just so much to do to pass the time. You can honestly see why this airport is one of the top-rated airports in the world. They have a butterfly garden, two free movie theatres and an arcade area—yes it's free for all passengers. We had two hours to kill before boarding, which flew by trying to see all that was on offer at Changi.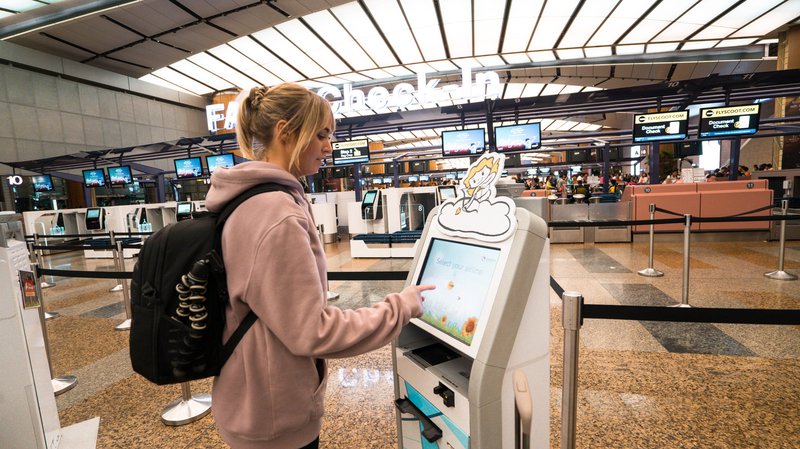 The Inaugural Flight
So let's talk about what it's like going on an inaugural flight, the very first voyage for an airline…it's an experience. Upon checking into the pre-departure room we were greeted by a gigantic yellow signing board to which staff members were encouraging passengers to sign and leave messages on.
There were some fun little boards you could hold up and get photographs and boomerangs with. One of the top guys at Scoot was there to see the flight off and an MC started to get everyone ready. There was a fun atmosphere in the air that isn't present on red-eye flights or flights in general. Usually, it's a miserable hall of sheep waiting to be directed to their holding pen. There was a fun buzz going around and it honestly was very welcoming in comparison to the 100+ flights we have taken the last few years.
As we had booked the ScootInStyle package which gave us lounge access and priority boarding, we were the very first people (yep first passengers) to board the flight—total bragging rights. On the way in (did we mention we were first on the plane?) we were given some German pretzels before finding our seat.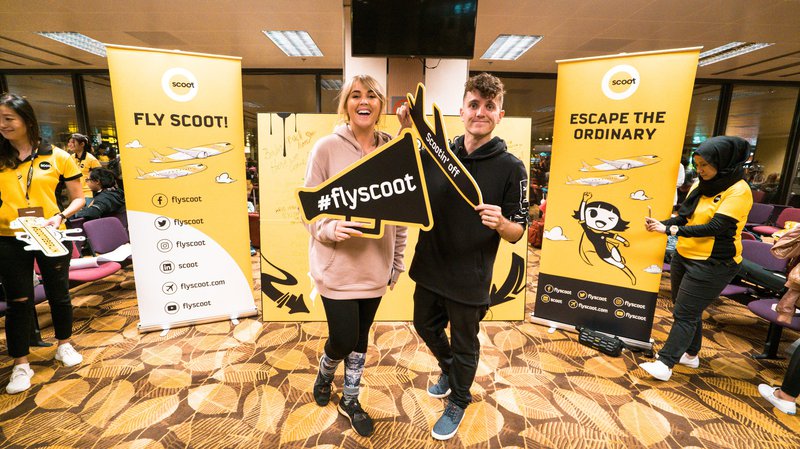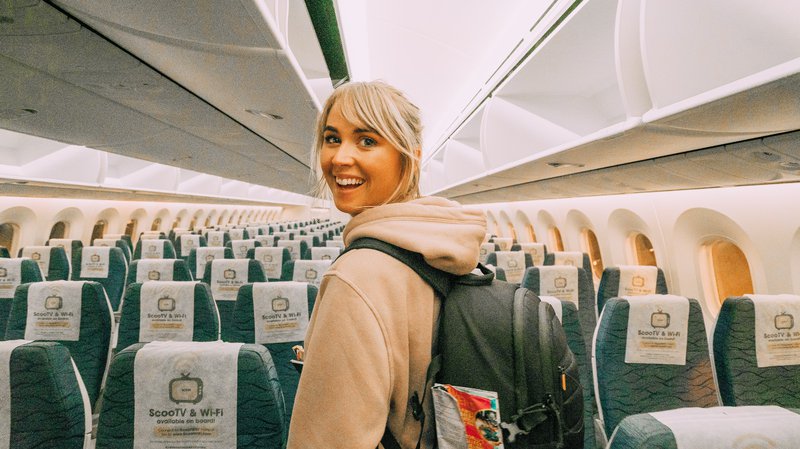 Seat
After flying ScootinSilence on our first leg to Singapore, we were very interested to see if we noticed any difference when compared to economy.
The seat itself was the same, but the headrest was noticeably missing from the economy seats. It also wasn't until we were back in the economy cabin high in the sky that we noticed ScootinSilence seats are at the front of the plane, away from the engine. Not only was there silence from the lack of kids, but silence from the jet noises too.
Besides the fact that we were no longer in the quiet zone, one thing we did miss was having the adjustable headrests—in economy its just a plain head seat which makes it a little uncomfortable to sleep on without having your own neck pillow.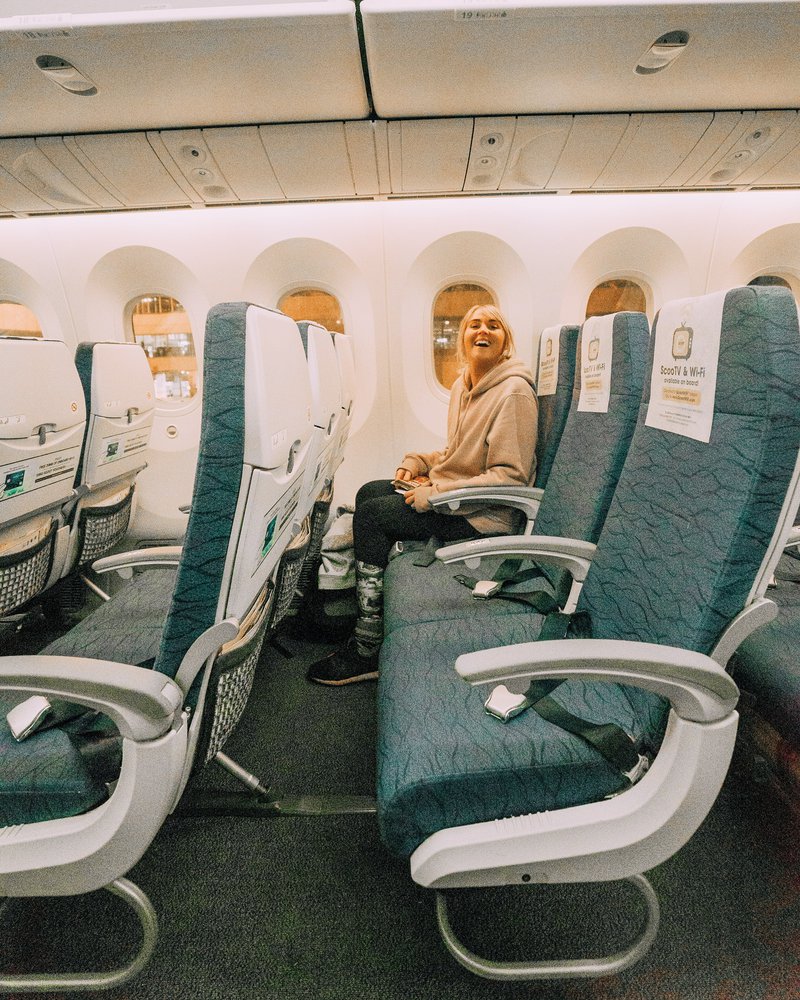 Food and amenities
Just like our flight before, we had pre-ordered our meal with our fly/bag/eat bundle. On the 12-hour flight, we received two meals on our long-haul flight combo.
Our first meal came around 3 hours after our delayed flight took off (so at around 3:30-4am). I was too sleepy to remember the exact time. I chowed down my food and went back to sleep. Our first meal consisted of a veggie wrap, a sunflower seed cookie, apple juice and a bag of cashew nuts.
Later on the flight (about 1.5 hours before landing), we were given our second meal to which we were expecting to be breakfast food. Instead, we were served cheesy pasta with asparagus, cheese and crackers, potato salad, strawberry yogurt and a water.
To be honest, the food wasn't anything special, which has come to be expected from low-cost airlines. However, on a 12-hour flight, there really isn't a whole lot of options to go through and it was nice to have pre-organised food for such a long flight.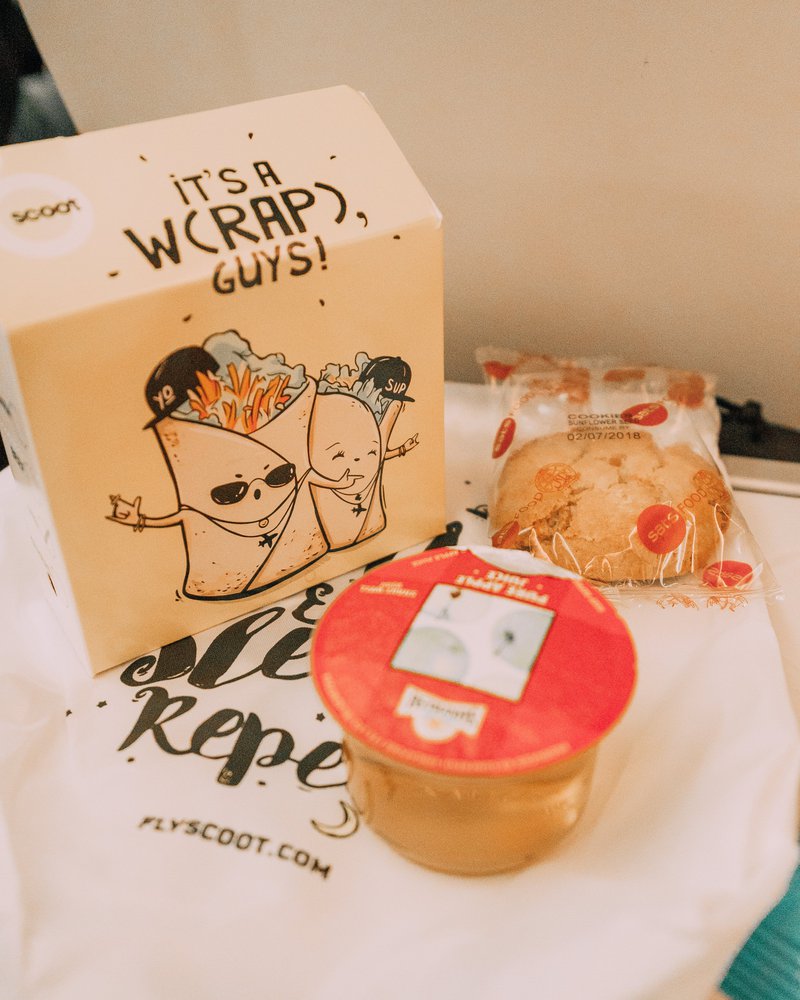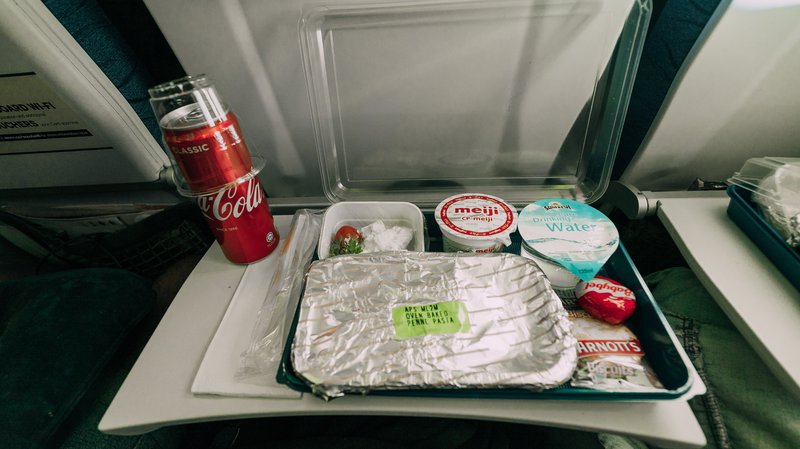 Entertainment
Entertainment was the same deal as the flight before. You had to pay to be able to watch any in-flight movies, use the wifi, or use the charging outlets by your seat.
Service
The service on Scoot's inaugural flight was some of the best we have ever had. The staff dressed up in traditional German clothing during food service and were so happy and excited during the entire flight. Once everyone had slept, awoken and been fed they organised games and trivia questions, giving away money vouchers for future Scoot flights.
These activities made the final few hours of the flight very enjoyable if you chose to engage and jump in on the games to win vouchers. The poor red-eyed MC who obviously hadn't slept much before needing to entertain us all did a great job at providing an atmosphere you never get on flights.
Once we landed we received the fireman's salute (given to all inaugural flights) where our windows were sprayed down as we docked into Berlin. After walking down the stairs, the press were filming and photographing the event and as a token of flying into Germany, we were all given a Berlin bear as a reminder of the flight—a very special touch.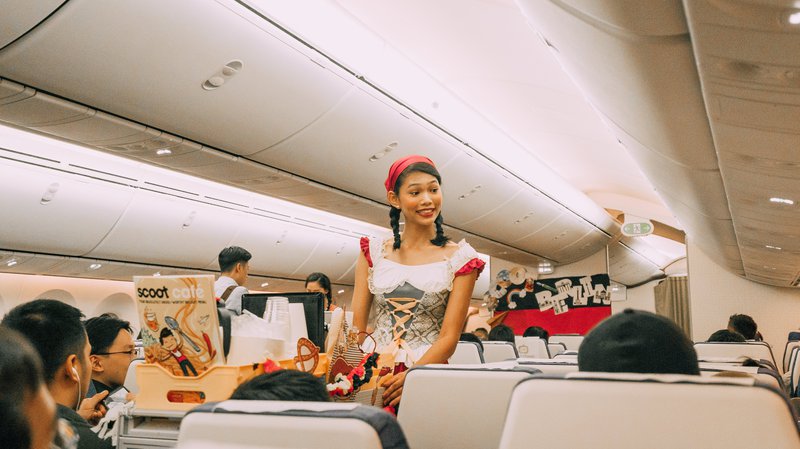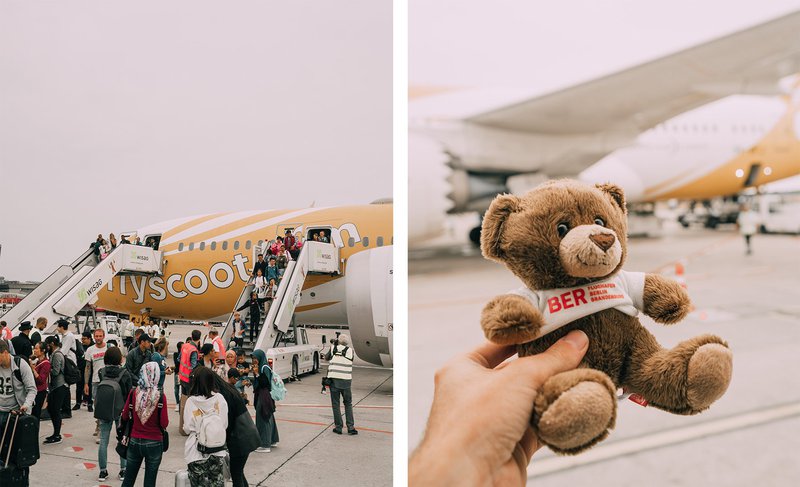 Overall thoughts
Honestly, 12 hours on a low-cost Scoot trip to Europe where most of the flight is during the night was doable. If you are looking to save some money, we can easily recommend this route, especially with the brand new Dreamliner plane flying you there. Food is never going to be memorable, and if you have a phone or iPad you can easily find ways to entertain yourself because at the end of the day the money you saved for sitting in a seat for 12 hours can go into booking an incredible experience on your holiday.