Moomoo offers commission free trading of US stocks, options, and ETFs.
Free Level 2 market quotes and advanced charting options.
Trade during extended hours for US markets and access real-time trading in Hong Kong, Singapore, and China.
Moomoo provides free real-time quotations, financial analysis and charting, and access to news and press releases. Its goal is to be a one-stop shop for trading and researching new investments. Moomoo's accessible and powerful investing platform is geared to investors of any experience level.
The company is headquartered in California and owned by China-based Futu Holdings Ltd.'s wholly-owned subsidiaries, including Futu Inc. and Futu Singapore Pte. Ltd.
See how Moomoo stacks up against the competition in this comprehensive review.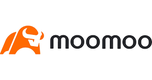 On website
Moomoo
Highlights
Trade blue-chip stocks in US, HK and SG Markets.
Wide array of investment choices such as stocks, stock options, futures, ADRs, Exchange Traded Fund (ETFs) and REITs.
Manage your assets, portfolio and investments across multiple markets.
How it works
The Moomoo app is incredibly user-friendly, allowing investors to create an account and start investing in minutes. You can apply to open a trading account on the trading platform using either the desktop or mobile app.
Follow these steps to get started with Moomoo:
From the main dashboard, select "Open Account."
Set up a secure password and enter your email address.
Fill in your personal details, such as your name, birth date, and social security number.
Fill in your mailing address after selecting your country.
Provide details about your job.
Select your income range and net worth range from the provided options.
Fill out the personal disclosure section.
Sign your name and submit the application.
You can make a deposit once your Moomoo account has been approved, with the first $1,000 available for immediate trading. The rest of your deposit will need time to settle before it can be invested.
Who Moomoo is designed for
Moomoo was created as a platform for smart trading, and investors can profit from reduced fees as well.
For both novice and expert traders, it is free and simple to use. A variety of research tools are available to assist you in making informed investment decisions. If you want to imitate the investment experience before going all in, there's also a demo paper trading feature with real-time data.
You can invest using the mobile app or desktop, whenever it is convenient for you with Moomoo. With your customized set-ups synchronised across many devices, you can start trading on the move or at home. Furthermore, there is no minimum deposit required to start an account.
Tradable assets
Equities. Moomoo offers commission-free trading of US stocks. It also offers real-time trading in Hong Kong stocks and China A-shares. Moomoo also offers margin trading, with almost 8,000 equities accessible for short-selling.
Options. When trading options, keep in mind that the minimum contract size is one contract, which represents 100 shares of the underlying asset.
ETFs. Moomoo provides access to US and Hong-Kong based ETFs, such as Equity, Commodity, Currency, and Bond/Fixed Income.
American Depositary Receipts (ADRs). ADRs for Chinese technology companies like Tencent Holdings Ltd. ADR (TCEHY) and Alibaba Group Holding Ltd (BABA) are well-known ADRs that are available to trade via Moomoo in the US market.
IPOs. Stock subscriptions for first public offerings.
Tradable markets
Customers can access quotes from the New York Stock Exchange, the Shanghai Stock Exchange, the Hong Kong Stock Exchange, and the Forex markets.
Commissions and fees
Moomoo offers commission-free stock and option trading, as well as no platform or options contract costs. You'll only have to pay the following fees.
Stock trading fees
US stocks are tradable commission-free, though mandatory regulatory fees by the SEC and FINRA will be charged, as they would with any broker. For American Depositary Receipt (ADR) trades, a custodian fee of $0.01 to $0.05 per share is charged by the Financial Industry Regulatory Authority (FINRA).
Hong Kong and China shares are charged a commission of 0.03% of the transaction value or, depending on the market, HK$3 or CNH3, whichever is higher. HK share trades also incur a $15 platform fee as well as regulatory fees.
Option trading fees
For sell orders, options incur a fee of $0.65 per contract plus regulatory fees of $0.0000207 by the SEC; a FINRA Trading Activity Fee of $0.000119; an Options Regulatory Fee (ORF) of $0.0379 per contract; an OCC fee of $0.05 per contract for 0 to 2750 contracts or $55 per trade for over 2750 contracts; and an exchange fee that varies by exchange.
Other fees
Domestic outgoing wires: $20 per transaction
Incoming wires (domestic): $10 per transaction
International outgoing wires: $25 per transaction
Incoming international wires: $10 per transaction
Stock transfers outbound: $75 per stock
Useful trading tools and features
Free stock bonus
Get free shares worth anywhere from $3 to $350. Make a deposit of $100 or more into your trading account to receive a second free stock worth up to $1,000. Deposit $5,000 to get 3rd and 4th free stocks valued between $8 and $1,000 each.
Free Level 2 market data
Instead of looking at a price from 15 minutes ago, you can tell what the current bid/offer price is with Moomoo's included Level 2 market data. You can also check market depth and the number and pattern of transactions, helping you see any anomalous patterns such as large volume sales that could undermine your position.
Community
Moomoo has an active in-app social community where users may discuss trades and strategies.
Drawing tools
Moomoo's drawing tools include 29 different chart patterns on the PC and 22 different chart patterns on the mobile app.
Quotes from multiple markets
Moomoo provides market data for the United States, Hong Kong (stocks and futures), and China. Forex quotes are also available.
Extended trading hours
In comparison to its competitors, Moomoo has the longest trading hours. From 4 a.m. to 8 p.m. EST, you can jump in and out of positions as soon as news is out.
Smart orders
Moomoo has pre and post-market trading with advanced stock orders such as stop-limit and trailing stop-loss orders, as well as the ability to execute up to 40 orders simultaneously.
Advanced charting
Moomoo's charting features traditional charts like bars, hollow candles, filled candles, lines, and mountains, as well as advanced multi-charting with over 50 technical indicators, including the VWAP.
Pros and cons
Pros
Commission free trading in US stocks, options, and ETFs.
Extremely competitive bonuses for signing up.
No minimum deposit is necessary to invest online or through a mobile app.
Get sophisticated market analysis tools such as stock screeners and Level 2 market data.
Access to US, HK and Chinese markets.
Newcomers can practice with a demo account and trade risk-free.
No monthly maintenance charges for inactivity.
Cons
Information overload is quite possible for brand new investors.
Commissions are charged if trading HK or China shares.
The learning curve is quite steep because there are so many options to customize your trading experience.
There are no tax-saving retirement accounts.
Alternatives
Webull. Webull offers commission-free trading of US stocks with no minimum account requirement. Similar to Moomoo, Webull offers extended hours trading as well as advanced charting and Level 2 pricing.
Robinhood. Mobile trading platform with attractive pricing structure. There are no commissions or inactivity fees when trading US stocks. Investors have access to fantastic and user-friendly mobile and online trading platforms with the account opening process simple, quick, and entirely digital.
E*Trade. E*Trade is an online and mobile commission-free trading of US stocks, options, and ETFs. In addition to extensive research and a demo trading, E*Trade also offers Prebuilt Portfolios, so you can quickly invest in a portfolio of assets based on your risk level.
Stash Invest. Stash is a subscription-based personal finance app that allows fractional shares of stocks, ETFs, and bonds commission-free with no required minimum account balance. Fund your portfolio through regular automated deposits and roundups on your purchases, or by getting free fractional shares using your linked Shop-back card.
Comparisons
Handy side-by-side comparison of Moomoo against competing brokers.
FAQs
Is MooMoo safe?
Futu, the company's parent, is a registered broker-dealer with the Securities and Exchange Commission in the United States. It is also a member of the Securities Investor Protection Corporation and FINRA.
What is the minimum deposit?
Moomoo does not have a minimum deposit.
How do I deposit funds in Moomoo?
Log in to your already account, locate the depositing interface, and access beneficiary details. After that, choose one of the deposit methods supported by Moomoo, input the deposit amount, and complete the transaction. Funds will be deposited in 1-3 working days.
Does Moomoo have short selling?
Yes. Moomoo clients pay no extra fees for shorting stocks, ETFs, or trading options. There are no commissions or per-contract fees in these trades (US-listed, anyway). It is priced on an annual basis, charged daily, and fluctuates throughout the day.
Does Moomoo allow fractional share trading?
No. Moomoo does not allow users to trade fractional shares.
Can you trade OTC on Moomoo?
No. Moomoo does not allow you to trade over-the-counter (OTC) securities or pink sheet stocks.
Can you day trade on Moomoo?
If you choose to day trade with a cash account, keep in mind that you can only trade with settled funds, and trades take 2 business days to settle.
How do I withdraw money from Moomoo?
If you want to withdraw money from your Moomoo trading account, you should know that there are no withdrawal fees. To begin your withdrawal, log into your account, pick "Brokerage Account," choose the currency account you want to withdraw from, scroll down, and select "Withdraw."
Verdict
Moomoo is an online and mobile trading platform offering commission-free, extended-hour trading of US stocks, options, and ETFs. Moomoo also offers trading of Hong Kong and China A-Shares for a commission.
With free level 2 market data, advanced charting options, and an active social community of traders, Moomoo appeals to investors of every experience level. Moomoo is registered with the SEC and FINRA and has SIPC protection. Although there are no account minimums, Moomoo does not offer fractional share trading, making it less appealing to investors with few funds to invest.