Public.com is a commission-free online broker that offers trading in fractional shares called slices.
Invest in slices of stocks or ETFs based on themes such as sports, artificial intelligence, diverse leadership, or cannabiz.
Public.com has no minimum balance requirement and charges no trading commissions or fees on incoming or outgoing bank transfers.
Public.com is a new commission-free brokerage app that aims to make stock investment more accessible to the general public by offering fractional shares called slices.
Public also encourages social investing and community engagement by allowing users to chat with each other about questions, investment ideas, and company discussions. It is accessible to both iOS and Android users, and it offers over 5,000 stock choices to pick from.
So is it the best broker for you? Read on to learn more about what it can do.

On website
Highlights
Get up to $300 of free stock when you create an account. Terms and Conditions apply.
Invest in popular ETFs from Vanguard, BlackRock, and others by the slice, and do it without commission fees..
Unlock advanced data, unique market metrics, and analyst insights when you upgrade to a premium account.
Investments made in Public are insured for up to $500,000.
Who Public.com is designed for
Public is suitable for a variety of investors, including:
People who do not have a large amount of money yet wish to invest it.
Beginners who are looking for an easy way to start investing.
Investors who want a simple and quick user experience and like automated investments.
Investors that like incorporating a social component into their investment strategy.
Those who want to save money on commissions.
Those who want to invest using a debit card.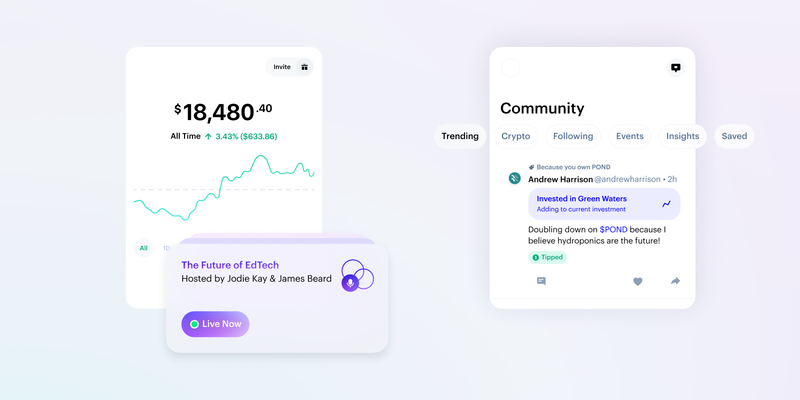 How it works
Because Public is a free investing app, so it all starts with a download.
Download the app from the App Store or Google Play Store.
Make an investor profile. After you've downloaded the app, you'll need to answer a few simple questions before submitting your application. This stage entails entering personal information such as your age (18+ only), social security number, and bank account details.
Choose your stocks and start trading. You can begin investing as soon as you open an account with whatever balance you have. As soon as the transfer is complete, you may begin trading in real time.
Keep track of your investments. It's time to sit back and let the market do its thing after you've picked and invested in your stocks.
Tell your friends about Public.com. When you recommend your friends to Public via the Public referral link, you will be rewarded. And what about the prize? Once your buddy joins an account, you'll get a share of the stock.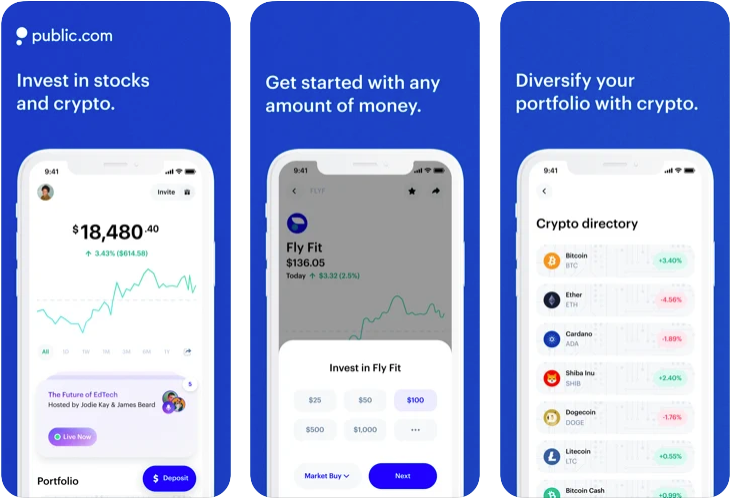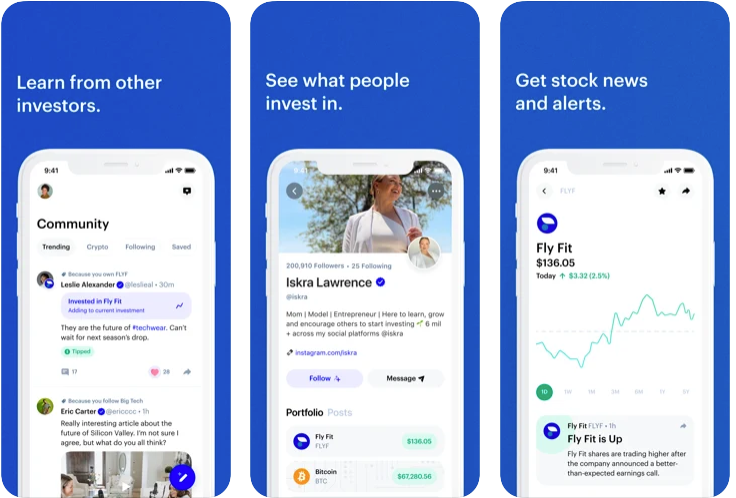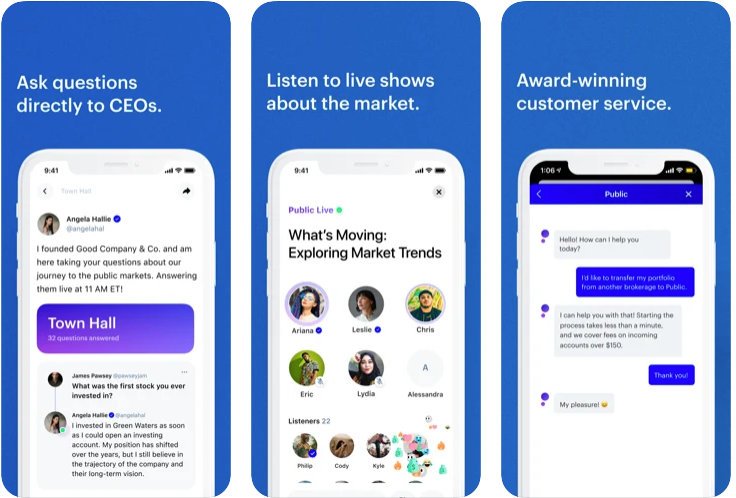 Tradable assets
Stocks. There are over 5,000 stocks available to Public.com. They're divided into several categories or themes so you may learn about new businesses in ways that mirror how you really interact with the world. Examples include home & garden, future ed, space exploration, SaaS companies, and food delivery.
ETFs. It is a group of assets that you may purchase or sell on a stock market through Public.com. They're comparable to mutual funds, but with one difference: an ETF may be purchased and sold like a company stock during business hours when stock exchanges are open. Public.com allows you to invest in ETFs by acquiring entire shares or slices of ETFs.
Tradable markets
All of the available shares are traded on major US stock exchanges such as the NYSE and NASDAQ. Aside from that, the offering is restricted in order to shield investors from high-risk investments.
Commissions and fees
Public is commission-free. It is a completely free tool to use, which is ideal if you're just getting started with investing or have a limited budget. But here's the best part: Public doesn't charge a fee when you invest in any stock, and you can make free fund transfers in and out of your account.
There are a few additional fees for advanced services that must be paid, including:
Phone transactions with a broker: $30
Domestic wire transfer: $30
Overnight checks inside the United States: $35
Returned cheques or stop payments: $30
Outgoing ACAT: $75
Statements on paper: $35
Notable trading tools and features
Free stock bonus. Previously, Public.com offered a $10 sign-up incentive as well as a $10 referral bonus. They're now giving away free stock worth up to $50 to new members, as well as free stock for referrals.
Fractional shares. You can acquire fractional shares, or "slices," instead of placing orders for a predetermined number of shares. You can purchase as many slices as you like.
Social trading. As one of the app's most distinctive features, social trading gives stock trading a social media vibe and allows you to interact with a number of other investors to learn or get trading ideas.
Investing themes. The themes are one of the app's most appealing aspects. Themes help consumers to learn about stocks without having to learn a lot of jargon. Themes allow you to find companies and funds that fit into specific categories.
Dividend Reinvestment Plan. Automatic dividend reinvestment is available, and you can set it up in 30 seconds directly on the app. To set up Automatic Dividend Reinvestment, follow these steps.

In the lower right corner, click the Account Icon.
In the upper right corner, click the Settings Icon.
Click Account at the bottom of the page, and click Dividend Reinvestment.

Account funding via debit card. Public.com is unique in that it allows you to use your debit card to transfer funds. Debit card transactions are instantaneous, but ACH transfers might take three to five days. That implies you don't have to wait to buy or sell a stock.
Pros and cons
Pros
Free investing app. The fact that Public is completely free to use is the most appealing feature for first-time investors. It's a free investing tool since you may invest and transfer money in and out without paying anything to Public.
Debit card fund transfers. You may use a debit card to transfer money using Public.
Encourages community engagement. Public provides both chat support and a community of investors to assist you with both first-time investments and more complex investing possibilities.
Real-time fractional shares. The combination of commission-free trading and fractional investment makes Public a one-of-a-kind platform.
Investing information aplenty. Public does an excellent job of educating the general public on issues that are rarely covered, such as investing trends and best practices.
No payment for order flow. Public does not make money through Payment for Order Flow (PFOF), in which a broker receives rebates on trades routed through a clearing firm.
Cons
New to the market. Founded in 2019, Public is still new to the industry although it already has over a million users.
Limited available investments. Public.com presently only offers trading in stocks and exchange-traded funds (ETFs).
Limited account type. Traditional, taxable brokerage accounts are the only options.
Not a global solution. Public is currently only accessible to investors in the United States.
Alternatives
M1 Finance. A one-of-a-kind blend of automated investment and high customization, allowing clients to build a portfolio that meets their particular needs. The company presently manages over $2 billion in assets and has over 500,000 clients. It's also a top pick for cheap expenses, since it doesn't charge any fees for portfolio management, trading, deposits or withdrawals to a linked bank account.
Acorns. One of the best investment platforms for first-time investors. Acorns allows you to save your spare change and watch your savings grow without you realizing it. Simply link your most frequently used card, and all of your purchases will be rounded up and the difference invested.
Wealthsimple Invest. An online-only financial services company with over $4 billion in assets under management with offices in the United Kingdom and the United States. It offers trading in a portfolio of low-fee funds geared to your investment goals.
Robinhood. As the first commission-free trading app, Robinhood allows users to trade stocks, ETFs, options, and cryptocurrency among its offerings. The Robinhood interface is popular among users because it offers just the appropriate amount of information for the ordinary investor. Advanced traders, on the other hand, may find it restrictive over time.
Comparisons
See how Public.com compares side-by-side against competing services.
FAQs
Is Public.com safe?
Yes. The SIPC (Securities Investor Protection Corporation) insures Public.com up to $500,000 per account for cash or assets missing in your account.
Is Public.com FDIC insured?
No. It is not insured by the FDIC because Public.com is not a bank. It is SIPC insured.
What is the minimum deposit?
Public.com, like many other online brokers these days, does not charge commissions and does not specify a minimum deposit to begin investing.
How do I deposit funds on Public.com?
Your bank is in charge of all deposits. While deposits generally take up to 5 business days to settle into your account, each bank has its unique settlement procedure and timeframe, which is why Public.com suggests reaching your bank if a deposit is taking too long.
Does Public.com have short selling?
No. Short selling stocks and ETFs is not available on Public.com.
Does Public.com do fractional shares?
Yes. Public.com has real-time fractional stock shares. It slices stocks into little pieces so that anybody, regardless of wealth, may own a piece of a public company. Whether you wish to spend $1 or $1,000, fractional shares allow you to invest how and where you choose without having to worry about share pricing.
Can you trade OTC on Public.com?
No. Due to the risk involved with this type of investment, Public.com does not provide stocks listed on the over-the-counter ("OTC") market.
Can you trade options on Public.com?
No. Options cannot be traded on Public.com.
Is Public.com good for day trading?
No. Day trading of stocks is not permitted on Public.com, and accounts attempting to engage in day trading or same-day purchases and sales of securities will be restricted.
How do I withdraw money from Public.com?
You may always start a withdrawal of your Settled Funds immediately on the app if you have a bank account connected. To begin a withdrawal on the app, follow these steps:
In the lower right corner, click the Account Icon.
In the upper right corner, click the Settings Icon.
Select Withdraw Funds from the Banking menu.
Depending on your bank, the settlement process could take up to 5 business days. Keep in mind that the cash worth of free bonus stocks has a 90-day withdrawal limit.
Verdict
Public.com, one of the newest commission-free online brokers, has already attracted over a million users. With no minimum balance requirement and no commissions or fees, it is one of the lowest cost players in the market. Investing via themes and a social chat function encourages users to engage in the Public community and learn together.
Although investment options are limited to just 5,000 stocks and ETFs, Public offers slice or fractional share trading and is a great option for new investors, especially those without a lot of money to invest in the market.