Sezzle is one of America's leading names in the burgeoning buy now pay later sector.
Find out what Sezzle's repayment plan could do for you.
Are you thinking about making a purchase online? Are you wondering if you have enough money in your budget to cover the sticker price? Relax, there's a new financing model available from online and offline retailers offering you the credit you need.
Sezzle is a new financing structure offering you loans when you check out with your favorite online or in-store retailer. Instead of paying with your credit card, you can use Sezzle to cover the transaction costs and pay them off later.
This post unpacks everything you need to know about this innovative payment system.
How does Sezzle work?
Sezzle is a buy now pay later service offering you a chance to make your purchase now and worry about paying it off later with no interest. Founded by Charlie Youakim in 2016, Sezzle is gaining market share with more than 2 million active users in 2020.
Sezzle is available at point-of-sale at online and offline retail outlets, allowing you to take your purchase on credit. With Sezzle, you pay 25% of the purchase price upfront, and then you make three more payments over the next six weeks.
There is no interest on outstanding amounts, but you could run into late payment fees if you miss a repayment. You link Sezzle to your debit or credit card, and the system charges you automatically on your payment due date.
When you use Sezzle in your transaction, the company pays the merchant for your purchase (less a commission fee), and Sezzle becomes your creditor. Using this strategy, the merchant doesn't assume any risk in the transaction. Therefore, Sezzle is gaining in popularity as a payment method with retailers and consumers.
Late payment fees
You can be up to two days late with any repayment, without paying a penalty. However, if you are more than two days late (because there were insufficient funds or credit limit in your account to cover the automated payment) your account will be de-activated. You will not be able to make further purchases until you have re-activated the account and paid a fee, currently $10.
If you know in advance that you are going to be late with a payment, you have the option of rescheduling your payment, to be made up to two weeks later. There's a maximum of three reschedules per order. The first reschedule per order is free, the subsequent ones cost $5.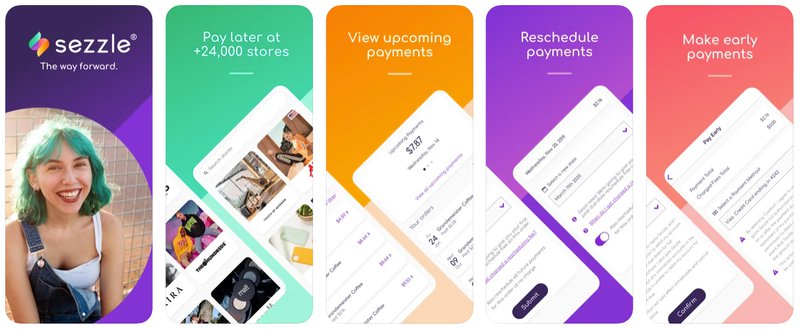 Who is Sezzle designed for?
Sezzle is for anyone looking for fast, easy credit with a high chance of approval. Sezzle doesn't need you to have a minimum credit score, and you don't even need a credit card to open an account.
If you're thinking about financing your next purchase, consider Sezzle as your financing partner. You get interest-free loans with easy repayment terms.
Sezzle is the ideal financing partner for Millennials and Gen Zs. If you find yourself in a position where you cannot build a credit score, Sezzle offers an alternative solution. You get access to financing without the need to prove any payment history with banks or creditors.
Who accepts Sezzle?
Sezzle is available at point-of-sale with thousands of retailers across the United States. Some of the most popular retailers working with Sezzle include the following.
GameStop – Video games and accessories.
Thursday Boots Company – Men's and women's handcrafted boots.
437 – Women's luxury swimwear.
Monos – High quality luggage.
Sezzle and your credit score
To get a credit facility with an institution or a bank, you'll need a healthy credit score, preferably over 700. When you take a loan, your credit score temporarily dips while you're paying off the loan. In the duration, it makes it harder to get credit.
The lender records and reports all your repayment history to the credit bureaus, who use this data when calculating your credit score. Some lenders report both positive and negative activity, so your score could go up or down as a result.
Sezzle does things differently. It says that it does not perform "hard checks" or "hard pulls" on your credit score when initially assessing you for credit. This should mean that your credit score is not negatively affected by your application for a Sezzle account. But they also say "If you open a Sezzle Account, you are providing Sezzle with express authorization to obtain your personal credit report from a credit bureau." This seems to suggest that they could do a hard credit check in some circumstances.
Sezzle also takes a different approach to reporting your repayment activity to credit bureaus. For the standard Sezzle account, they say they do not report any payment activity, either positive (on time payments) or negative (late payments and defaults). But you can choose to join Sezzle Up, and have your payment activity reported. It only makes sense to join Sezzle Up if you are confident about making every payment on time, so that only positive information is reported to credit bureaus.
Is it better to use Sezzle or a credit card?
Credit cards are what most people use to finance our online and offline transactions. However, not everyone has a credit card, and some people rely on debit cards to make their purchases. One of the issues with debit cards is they lack a credit facility.
If you pay your bills on time, and you're responsible with credit, you deserve a credit facility, even with no credit score. Sezzle offers you a loan facility to link to your debit card, giving all the same benefits as a credit card.
With Sezzle, you get to pay off your loan over a few weeks, giving you a chance to accommodate the cost of the purchase into your budget. While Sezzle offers you the financing benefits of a credit card, it lacks some aspects of a traditional credit card facility.
You don't get any rewards program with Sezzle, and there are only limited options for extending the repayment window. However, with Sezzle, you normally get instant approval on your loans and interest-free financing with no APR.
Pros and cons
Pros
Fast access to financing at point-of-sale, with a growing number of stores that accept Sezzle.
No credit check required when applying, so you don't have to worry about your score being affected.
No reporting to the credit bureaus, unless you opt in to Sezzle Up.
Interest-free loans with no APR, which is an interest rate that's much lower than the typical credit card.
One free reschedule per order for late payments, which is very customer-friendly.
Cons
Your first payment acts as a down payment, 25% due at the date of purchase.
Repaying your loans on time doesn't build your credit score, unless you opt in to Sezzle Up.
No rewards program, although you can fund your account with a credit card that does earn points.
$10 late fee for missed payments. This can add up if you keep missing installments.
Alternatives to Sezzle
Afterpay. Afterpay is a point-of-sale loan facility offering loans on small purchases. Like Sezzle, Afterpay splits the repayment into four installments, payable at intervals of two weeks.
Quadpay. Quadpay also offers you interest-free point-of-sale loans, repayable in four installments, with your first one due on the date of purchase.
Klarna. This "Pay in 4" installment payment plan offers you a point-of-sale financing option. You get to take your purchase on credit, with four equal payments every two weeks.
Affirm. This company is a market leader in point-of-sale loans. You get options for credit lines up to $17,500, with up to 12-months to repay your loan.
FAQs
Do Sezzle run a credit check when opening an account?
No, Sezzle say they don't run a credit check on you when you open an account, although they reserve the right to do so. The company does confirm your identity and run a soft credit check, but that doesn't affect your credit score. A standard Sezzle account doesn't report to the credit bureaus. Therefore, your loan payments or missed payments have no impact on your FICO score, unless you have chosen to join Sezzle Up.
How does Sezzle make money?
Sezzle makes money by charging the retailer a commission on your transaction. However, Sezzle doesn't charge you any interest on your outstanding balance, and there are no other fees involved unless you miss or reschedule a payment. Find out more about their business model here.
What are the account funding options?
You can link your Sezzle account to your credit or debit card to make easy automated payments. Sezzle will automatically debit your account for the installment amount each month until you finish paying the loan.
Is it possible to earn rewards points while spending with Sezzle?
No, Sezzle doesn't have a rewards program, but it does have a promotion program called Sezzle Spend, involving credits to your Sezzle account.
Can I request a credit limit increase?
Yes, you can request a credit limit increase with Sezzle if you have a good payment history. Sezzle doesn't have a specific requirement listed on its site to qualify for a limit increase. However, after you pay off your first loan, ask them for a credit limit increase and see if you are eligible.
What happens if I miss a payment?
If you miss a payment with Sezzle and are more than two days late, your account will be temporarily de-activated. You won't be able to make more purchases until you re-activate your account and pay a $10 fee. Any outstanding amounts roll over to your next payment date.
How do I close my Sezzle account?
If you want to close your Sezzle account, navigate to the official website homepage and select your account profile. At the bottom of the options list, you'll see the tab for closing your account. Click on it and follow the prompts. You'll need to ensure you settle all outstanding amounts before closing your account.